Popular train routes closed due to new surge of Covid-19 wave
Amid the surge of new Covid-19 wave and a decrease of tourism demands, Railway operators have cancelled several trains to popular tourist destinations from Friday.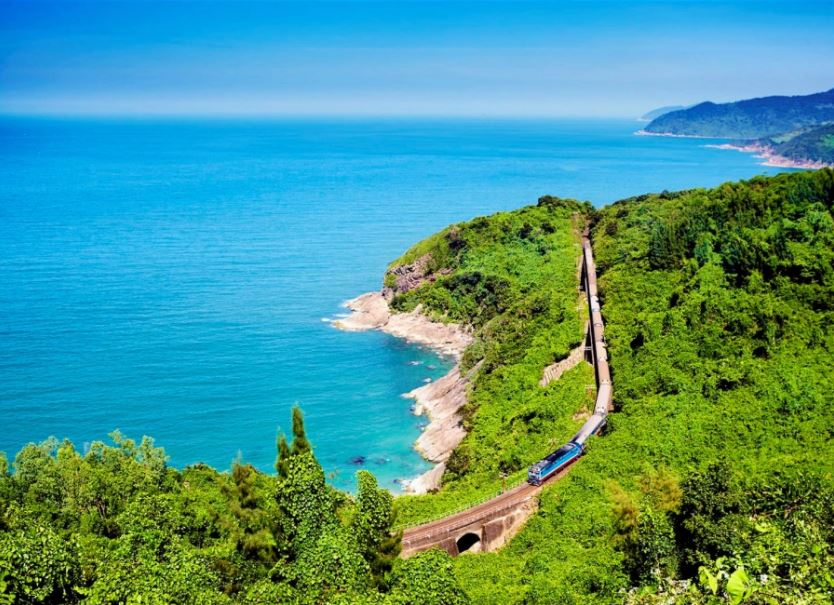 Vietnam Railway (Photo: Wikipedia)
Hanoi Railway Transport JSC, the northern operator, has cancelled trains from Vinh, capital of central Nghe An Province, to Hanoi starting Friday.
It also announced the suspension of trains connecting Hanoi with northern port city Hai Phong, home to Do Son Beach and UNESCO heritage site Cat Ba National Park, and northern Lao Cai Province, famed for resort town Sa Pa, according to VnExpress.
A company representative said train travel demand often decreases in May since many people had already returned to their hometowns during the Reunification Day (April 30) holiday while Hanoi and northern provinces are struggling with a new wave of Covid-19, leaving many areas under lockdown.
Travel destinations in Hanoi, Hai Phong and northern provinces like Quang Ninh, Ha Nam, Thai Binh and Nam Dinh have stopped receiving tourists amid the surge in community transmissions.
Saigon Railway Transport JSC, the southern operator, will suspend several trains from Ho Chi Minh City to Nha Trang, a popular beach town in central Khanh Hoa Province, from Sunday.
Tourists cancel trips because of Covid-19 pandemic
With community transmissions resurfacing, many travelers have canceled tours to coronavirus-hit travel destinations like Hanoi and Da Nang.
As of Thursday morning, Hanoi had recorded 27 community transmissions, 22 of them linked to the cluster at the National Hospital for Tropical Diseases in the capital's Dong Anh District, a frontline facility in the Covid-19 fight. Several parts of Hanoi are now under lockdown while all tourist destinations have been closed.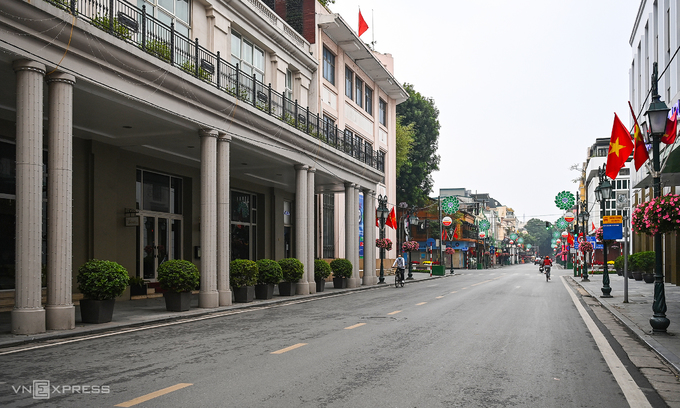 Trang Tien Street near Hanoi's Hoan Kiem Lake is left deserted during Covid-19 pandemic (Photo: VnExpress)
Bui Thanh Tu, marketing director of a Hanoi-based travel agency, said in the year to April 28, when the new outbreak began, the number of customers booking tours through his company had reached 3,000, five times higher than the same period last year. However, everything has changed. Hanoi has now recorded 27 domestic infections and Tu's company started seeing tour cancelations en masse. His company estimated to lose VND100 million ($4,350) a day as a result.
Avoiding the crowds during the Reunification holiday (April 30-May 3), Le Thu Hang in HCMC and her family planned to visit the central beach city of Da Nang and Hoi An in neighboring province Quang Nam from May 11-15.
The resurgence of community transmissions in Da Nang and Quang Nam, however, forced her to cancel the trip though she had paid nearly VND20 million ($870) for air tickets.
Unable to get a refund, Hang was allowed to postpone her hotel booking to within the next six months
"I regret the money but my husband has a history of type 2 diabetes. Therefore, we can't risk our lives to travel at this time," she said, adding "there would be other occasions to travel, while we only have one life to live."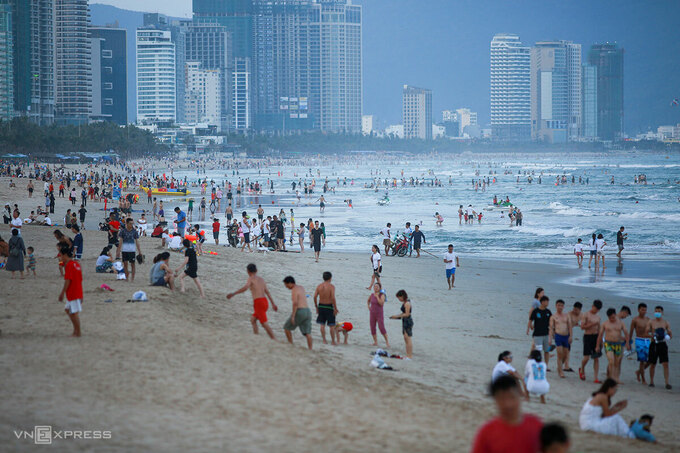 People flocked to a beach in Da Nang City on April 29, 2021. Photo by VnExpress/Nguyen Dong.
Without foreign tourists due to border closures and flight suspension, travel companies had been banking on domestic tourism to survive as the summer holiday season approaches, but the new wave has dashed their hopes.
According to statistics from travel agencies in HCMC, many people have canceled their tours planned for the end of May, June and July, the peak months of the summer travel season.
Nguyen Minh Man, head of marketing at HCMC-based TST Tourist Co., said the new outbreak came right at the peak of the summer travel season and if the outbreak lasts until the end of May or June, domestic tourism would succumb.
Since April 27, Vietnam has recorded 176 Covid-19 community transmission cases of the new coronavirus with various clusters in 19 cities and provinces, mostly in northern and central regions. Before then, the country had been clean for over a month.
Leading the infection number is Hanoi with 72 cases, and Vinh Phuc and Ha Nam Provinces with 26 each.
Most attractive egg stone beaches in Vietnam

Possessing magnificent scenes with hundreds of multi-shaped and multi-colored stones, the following egg stone beaches capture the hearts of any visitors stepping on them for ...