Delicious Banh Can dishes in Nha Trang that you must try
Banh Can, or rice cake with quail eggs, originally from the Cham minority, was adapted by Nha Trang locals to create a new, unique flavour.
No one truly knows when Banh Can was first made, only that it came from Ninh Thuan Province, and it is one of the most famous dishes of Cham minority here.
Over the dish's long history, Vietnamese people from different places have created many ways to make Banh Can more diverse and delicious, such as eating it with more kind of sauces, adding shrimps, squids, and beef into the dish.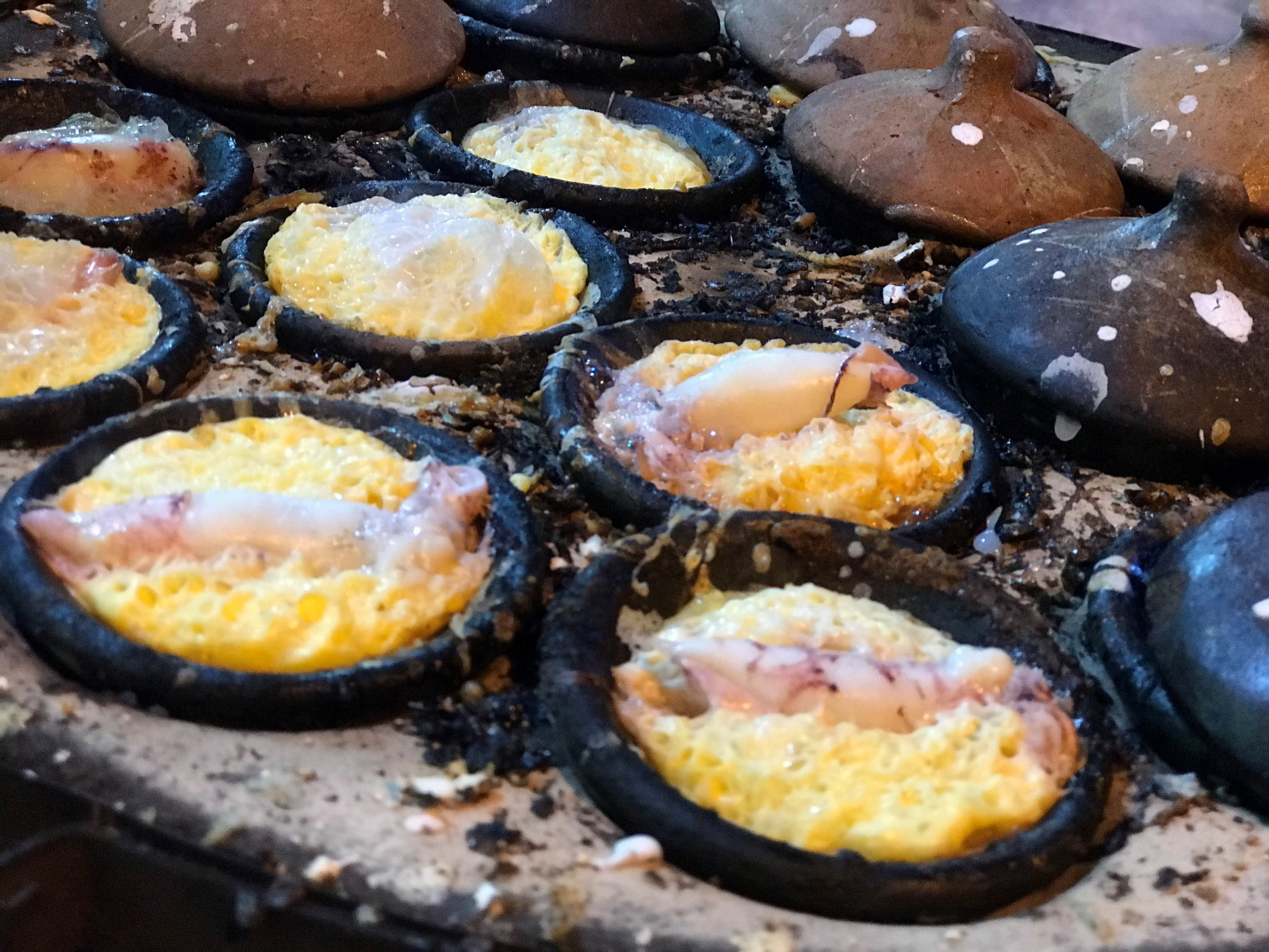 Banh Can has a similar shape with Banh Khot (Vietnamese savory mini pancakes), a popular dish from Vung Tau, Vietnam, but the ingredients are totally different. Banh Khot is fried rice flour cake and uses oil to fry while Banh Can is baked rice flour cake. (Photo: Dantri)
Ms. Tu, who has made Banh Can for more than 30 years on Thap Ba Street (Nha Trang), shared her secret: "The main ingredient of Banh Can is the rice flour mixed with water. To make it delicious , I will make it from old rice, mixed with cold cooked rice, so that the cake will be crunchy, fluffy and has a sweet, perfect flavour." (Photo: Dantri)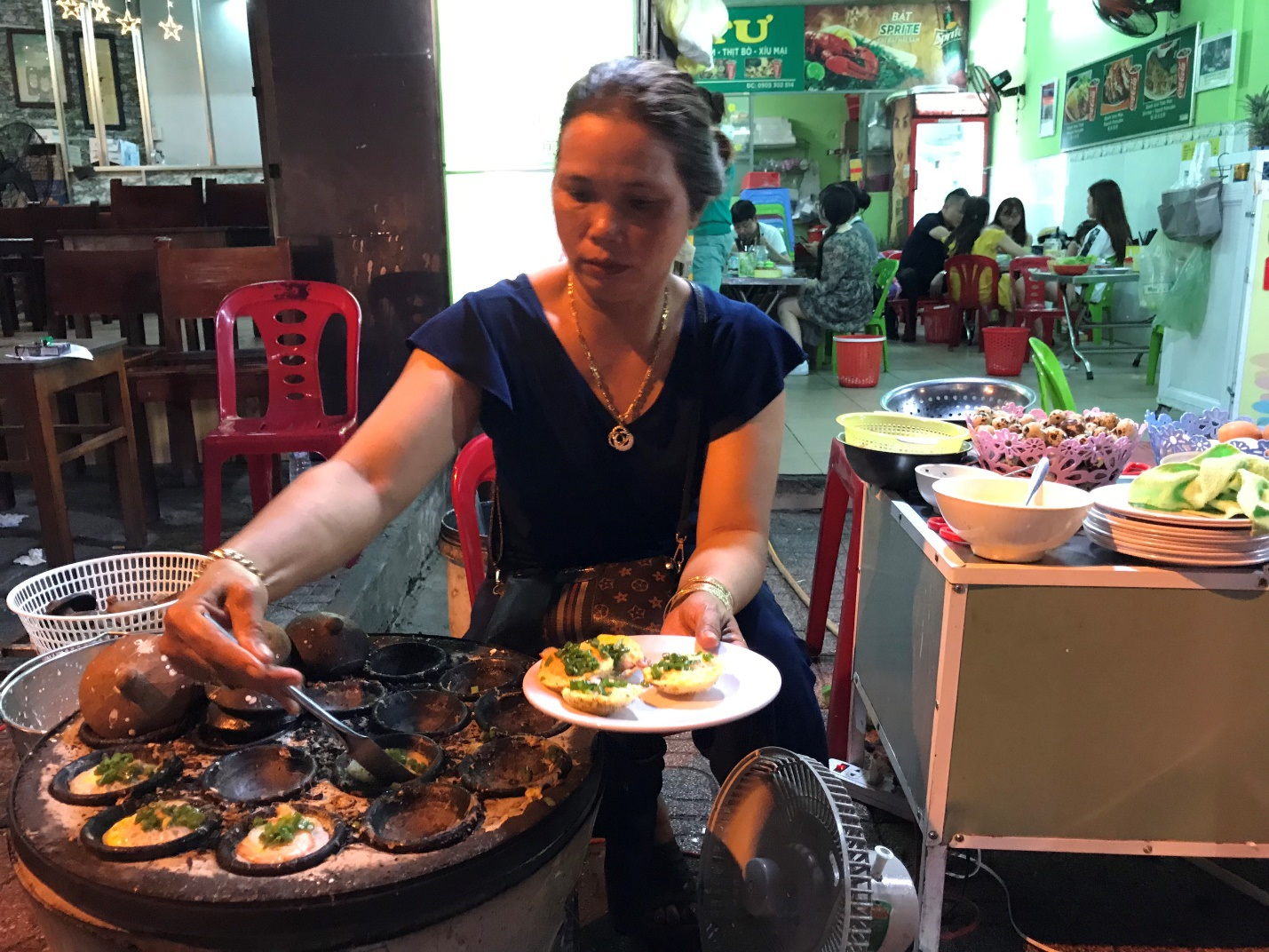 Before that, Ms. Tu used to peddle around Nha Trang City, and only opened her small street vendor, which is located on Thap Ba Street, for more than 10 years. She sells approximately about 1000 banh can a day, and other traditional dishes. (Photo: Dantri)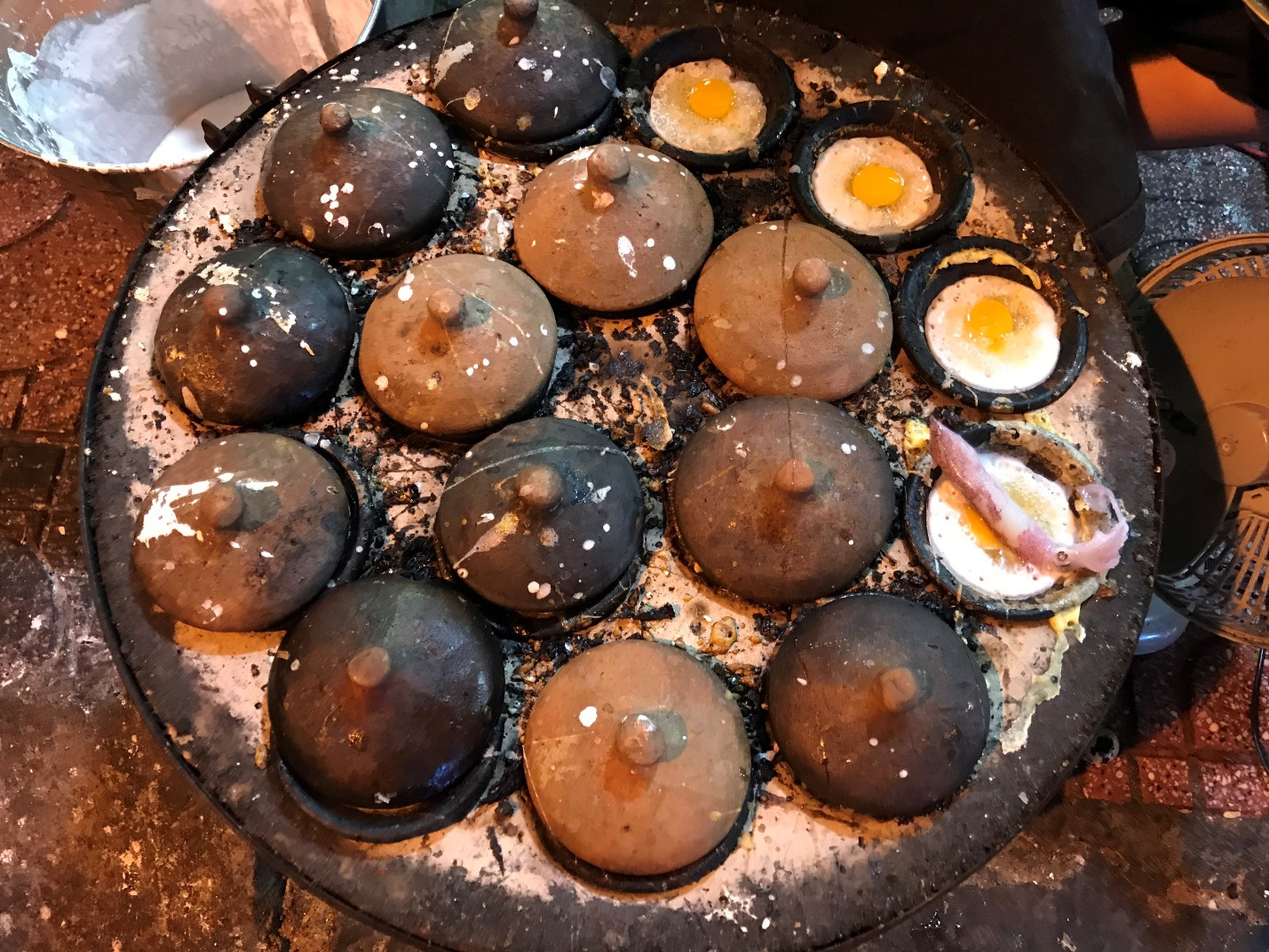 The round oven is topped with a round cast iron tray about 60cm in diameter that has more than a dozen round moulds to pour the batter into. (Photo: Dantri)
You can also add squids, spawns, or beef meat on top of the cakes before cooking them.
After several minutes, when the cakes start smelling good, open the lid of the mold to see if the top is dry or not, then use a chopstick to gently pry around the rim. If the cake is no longer sticky, then it's perfectly done. (Photo: Dantri)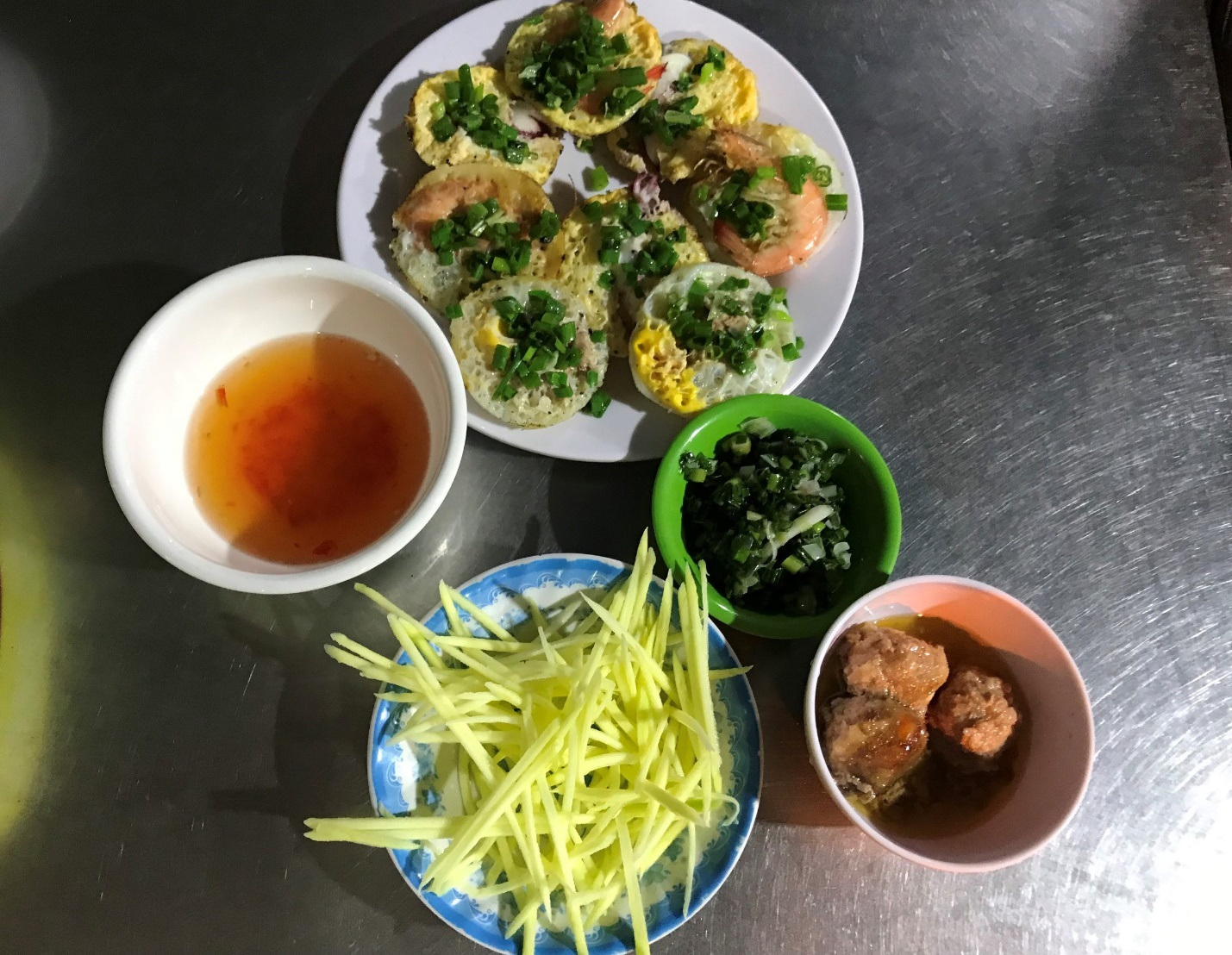 The best way to enjoy banh can is by dipping it with sauce that's made with fish sauce, lime, chili, and garlic. Some vendors offer banh can with raw vegetables, pork meatballs, and shredded green mango. (Photo: Dantri)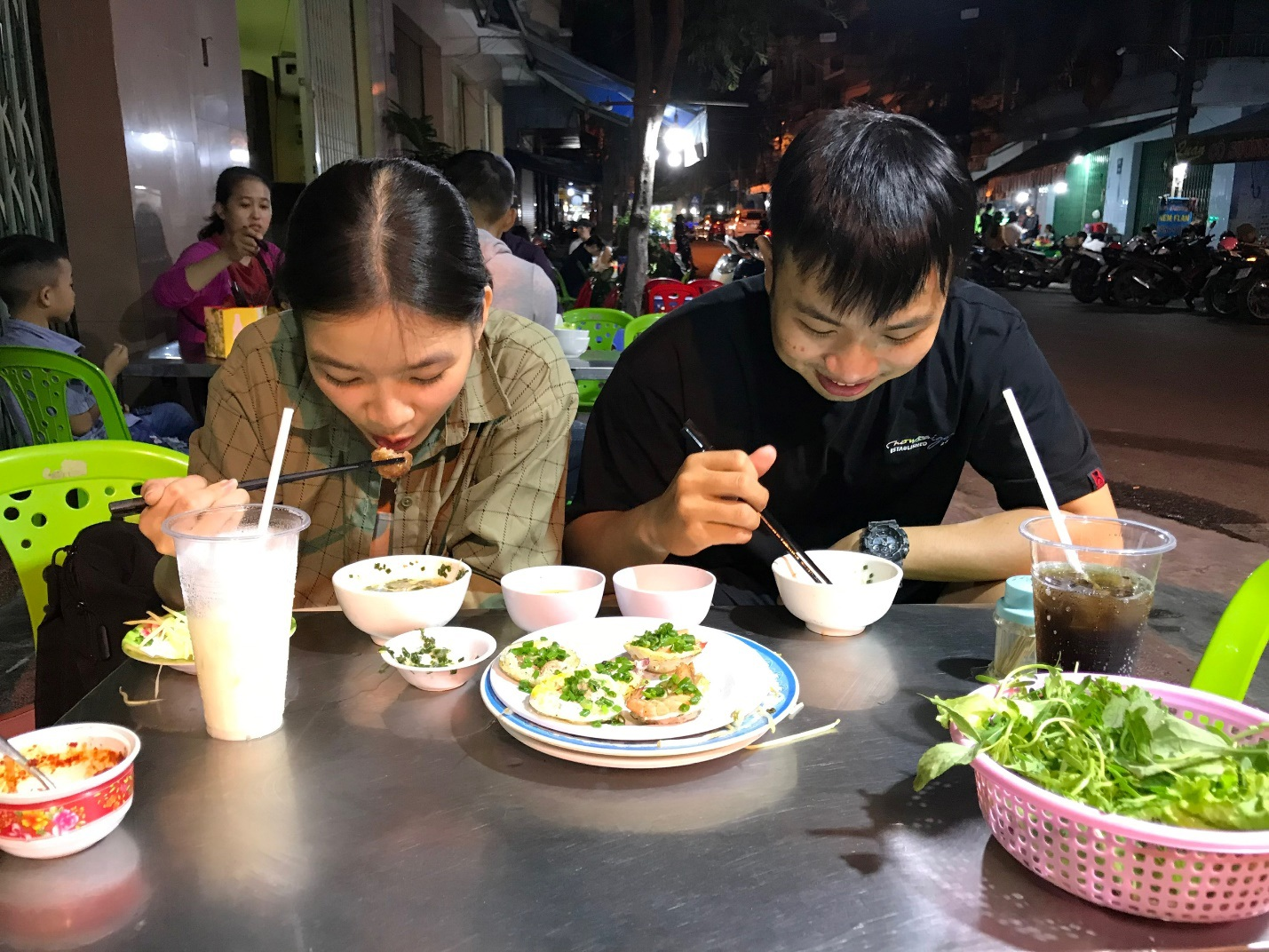 There are many places to buy these but only on the streets. It is an afternoon or evening snack or meal. This cake is very popular in Southern Vietnam; you can find it easily in random food street vendors. There can be many fillings. Quail eggs (Trung cut), squid (Muc), prawns (Tom), beef (Bo), chicken eggs (Trung Ga) and small snails (Hen) are some of the combinations. (Photo: Dantri)