Postpone Tokyo Olympics, to hold next year
Prime Minister Shinzo Abe and International Olympic Committee President Thomas Bach agreed Tuesday to postpone this summer's Tokyo Olympics due to the coronavirus pandemic, the Japanese leader said.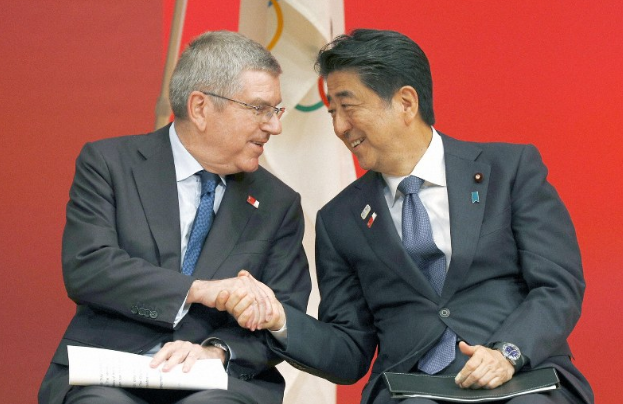 In this July 24, 2019 file photo, International Olympic Committee chief Thomas Bach, left, and Japanese Prime Minister Shinzo Abe shake hands in Tokyo, during an event marking the start of the one-year countdown to the opening of the 2020 Tokyo Olympics. (Kyodo)
According to Kyodo News, after speaking with Bach on the phone, Abe told reporters that they will aim to hold the Olympics and Paralympics next year.
It is the first time ever that the quadrennial sporting event has been postponed.
More than 380,000 people have been infected and over 16,000 who contracted the pneumonia-causing COVID-19 have died, according to data compiled by Johns Hopkins University.
As the World Health Organization has warned that "the pandemic is accelerating," scores of Olympic qualifiers and major sports tournaments have been canceled, while countless travel restrictions have been imposed across the globe.
The IOC said Sunday it would study alternative plans for the Olympics, initially due to begin July 24, and make an assessment within the next four weeks.
The announcement also left open the possibility of a spring Olympics.
Yoshiro Mori, president of the Tokyo 2020 organizing committee, Tokyo Gov. Yuriko Koike and Japan's Olympic minister Seiko Hashimoto joined the teleconference.
The Canadian Olympic and Paralympic committees have said they will not send teams to the Tokyo Games if they go ahead this summer as scheduled.
Abe spoke by telephone on Tuesday morning with Canadian Prime Minister Justin Trudeau and said the IOC's decision to consider various options is in line with Tokyo's stance that the games should be held in their complete form, according to the Japanese Foreign Ministry.
Trudeau told Abe that holding the Olympics and Paralympics in Tokyo will demonstrate that the world has overcome the new virus and Canadian athletes are looking forward to participating, the ministry said.
Entry ban
Japan will also impose an entry ban on foreign travelers from 18 European countries and Iran to limit the spread of the novel coronavirus, Foreign Minister Toshimitsu Motegi said Tuesday.
The measures would be the broadest set of border controls implemented by Japan so far amid the spreading pandemic, which has killed more than 15,000 people worldwide and threatens to trigger a global recession and derail this summer's Tokyo Olympics.
The countries to be subject to the entry ban are Andorra, Austria, Belgium, Denmark, Estonia, France, Germany, Italy, Iran, Liechtenstein, Luxembourg, Malta, Monaco, the Netherlands, Norway, Slovenia, Spain, Switzerland, and the Vatican.
Foreign travelers who have been to any of these countries within 14 days of arriving in Japan will be turned away. The measures will be finalized soon by a government task force chaired by Prime Minister Shinzo Abe, a government source said.
Motegi also said Japan will likely extend its suspension of visas issued to Chinese and South Korean nationals past the March 31 deadline because the coronavirus remains a threat.
Japan has already closed its doors to some regions in Italy, Spain, Switzerland and Iran, in addition to the whole of Iceland and San Marino as well as parts of China and South Korea./.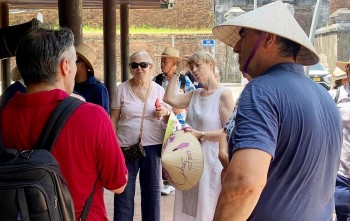 National
Vietnam News Today (Mar. 29): Vietnam to issue e-visa to foreigners of all countries; Vietnam, China beef up defence ties; Outbound tours prove popular during April holiday; Vietnam International Travel Mart 2023 to spotlight cultural tourism.