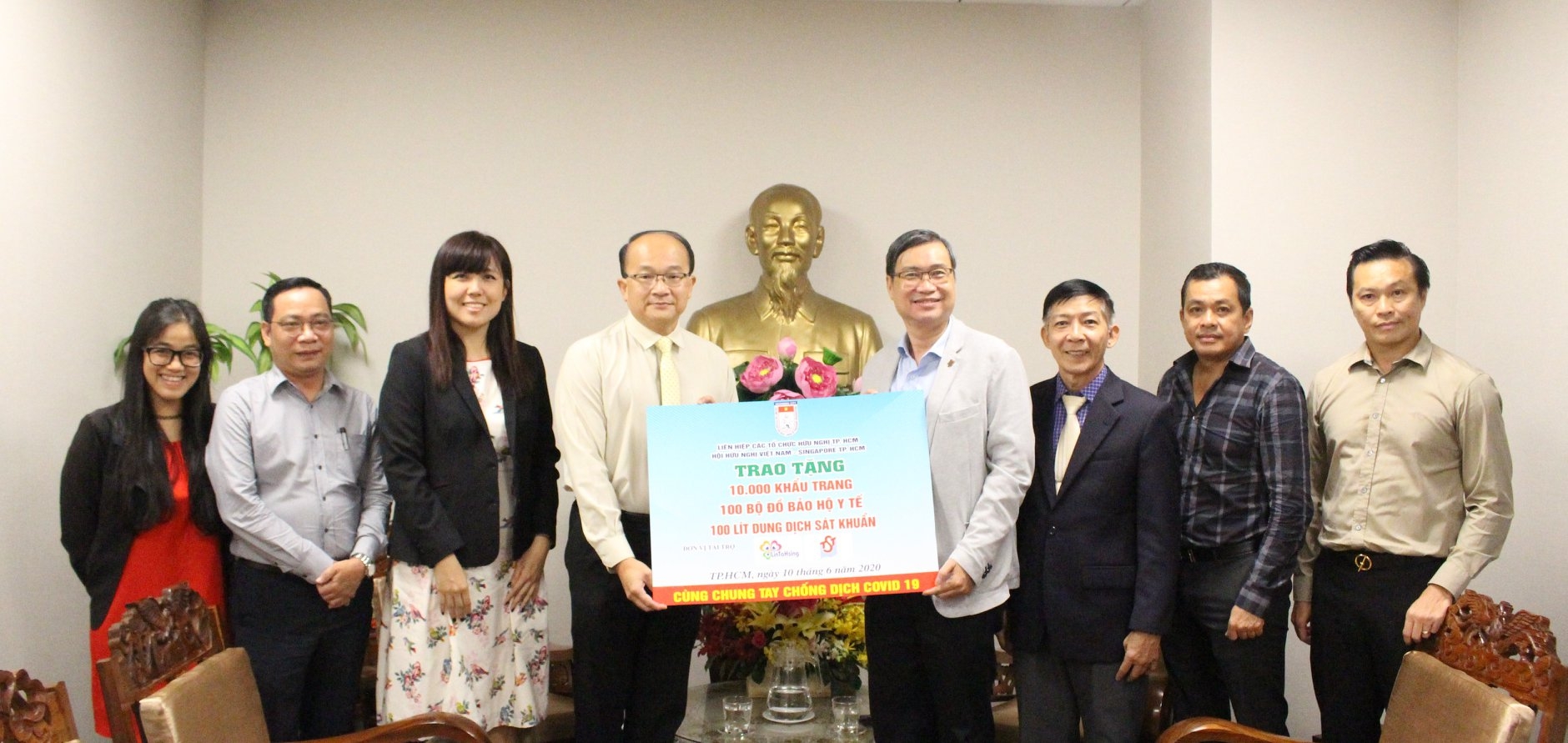 HUFO Chairman Vuong Duc Hoang Quan offering the representative board signifying the gift. Photo: HUFO
On June 10, leaders of the HUFO, the city's Vietnam - Singapore Friendship Association received a courtesy visit from the Consul General of Singapore in HCM City.
Participating in the meeting with Consul-General of Singapore to HCM City Roy Kho Ngee Seng were Vuong Duc Hoang Quan - Chairman of HUFO and other representatives from the Vietnam - Singapore Friendship Association in the city and donors.
In this meeting, the leaders of HUFO and the Friendship Association informed the Consul General on the peace and friendship activities between the two people during the past time, and expressed the wish for more meaningful events and opportunities to promote a better connection and friendship between the two nations.
On this occasion, the leaders of HUFO and the city's Vietnam - Singapore Friendship Association also handed over 10,000 masks, 100 protective suits and 100 liters of sanitizers to assist the Singaporean in the fight against COVID-19.
On behalf of the Singapore Consulate-General in HCM City, Consul-General Roy Kho received from and expressed his thanks to the HUFO and the Vietnam-Singapore Friendship Association for the kind gesture and warm friendship.
This is not the first time that the HUFO and its members had channeled contributions for the fight agaisnt the COVID-19 both inside and outside Vietnam.
The funding comes after the HUFO, in collaboration with the city's Vietnam – Laos Friendship Association on June 9 presented to a delegation of the Consulate General of Laos 5,000 antibacterial masks and 100 litres of disinfectant solution as a gesture of supporting Lao students studying in the city deal with the COVID-19 crisis.
The HUFO will continue to co-ordinate efforts alongside relevant agencies to provide financial support and donate medical supplies and equipment in the near future to the diplomatic missions, international communities living, working, and studying in the city to help them overcome COVID-19 challenges./.
NGO prepares food for Quang Nam's needy families

Children's Hope in Action (CHIA), a grassroots non-government organisation (NGO) based in Hoi An town, just delivered 200 food packages to underserved communities in three mountainous districts ...
Hannah Nguyen