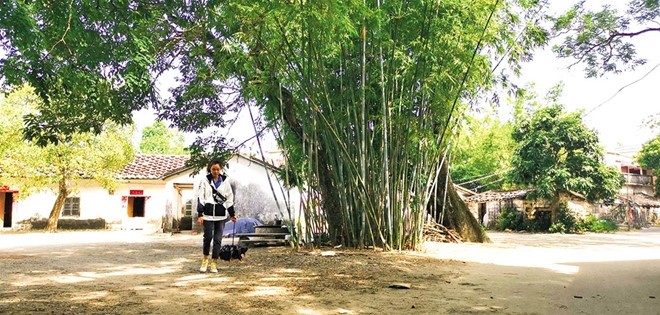 Most of Wanwei island's inhabitants are Vietnamese nationals. Source: Baothanhnien
"We are all Vietnamese"
"Are you Vietnamese? Here, we are all Vietnamese" – this is the first saying we heard once stepping into a dining place at Wanwei, Jiangping town, Dongxing district, Guangxi province, China. Mai Huong, who works at the restaurant, smiled and welcomed as she saw us talking in Vietnamese.
Huong said that most of Wanwei island's inhabitants are Vietnamese nationals. Around 500 years back, Hai Phong fishermen who went catching fish on the sea had traveled their way to the areas of Wanwei and two nearby islands to settle. Since then, they have been living on these islands for generations. Older generations taught their offsprings language and passed down culture.
The meal we had in the middle of Wanwei island made us feel like home. We were served with rice, boiled vegetables, fried fish, steamed squid without chilies, especially a small bowl of fish sauce. In Chinese cuisine, there's no fish sauce, Chinese people use soy sauce and peanut oil instead. They also favored spicy dishes, thus chili is a must-have ingredient on almost every dish.
Hoang, the restaurateur, cheerfully shake our hands after plating small bowls of fish sauce and chilies on the table. He shared how happy he was every time he welcome Vietnamese customers. "My family make the fish sauce from scratch and keep it for Vietnamese customers only, Chinese people don't use fish sauce", Hoang said.
According to Hoang, there are around 6,000 Vietnamese living on Wanwei island. He is the 10th generation residing here, using Vietnamese as the main language. His children and grandchildren use Chinese at school, but speak Vietnamese at home. The more surprising thing is, at King people's village, visitors can use Vietnamese currency to exchange, they can also buy various "made in Vietnam" goods that they can hardly find in China's other areas.
Preserve to enrich Vietnamese identity on China land
On the way leading to Wanwei island is a big sign wrote "Kinh's village". Right at the center of the island is the Kinh museum where life and origins of early Vietnamese residents who explored and built up community here are recreated. There's an old banyan tree, and under it is a stone with the phrase "The South nation missing tree". The elderly in the village tell their offsprings this tree is over 200 years old, but can't remember exactly who planted this tree. They only know that there's a poem inspired by this tree to teach moral lessons: being a Vietnamese people, no matter where you're living, working, you must never forget your origin, your national culture.
In Vietnamese village, the monochord, the symbol of Vietnamese traditional music, is highly treasured and preserved. Wanwei residents perform with their monochord at every festival. On regular days, the monochord is toured around China.
To Hai Tran, a monochord artist (graduated from National Central University of China and Hanoi-Vietnam National Academy of Music) from Kinh village, is not only famous in Vietnam or China, but also in other countries. He is the first artist to release a 11-song music set for the monochord called "Hai Van ma anh".
Tran is now 45, yet still devotes himself to perform and teach the art to next generations. With the traditional Ao Dai and the monochord, artist To Hai Tran has introduced and spread Vietnamese cultural identity around the world.
Vietnamese women in Wanwri love Ao Dai and wear the costume everyday. Especially, they wear the traditional which has long lap, slender pants with conical hat. On festive occasions, they put on colorful Ao Dai and sing Vietnamese songs.
During the last week leading to Lunar New Year, the descendants pay a visit to their deceased's' graves. Families often butcher cattle and poultry – a portion enough for 3 New Year days – before New Year's Eve to avoid killing animals on the first three days of the new year. And like their forefathers, they still prepare traditional dishes to offer their ancestors and invite them home during New Year days.
Another interesting thing is that the Vietnamese on the island are good at practicing the tradition "First Lunar day for paternal relatives, Second Lunar day for maternal relatives". On the second day of Lunar New Year, married women will bring children to visit their birth parents. The kids are then received lucky money from grandparents.
Vietnamese people's life in the villages has changed a lot now. The residents not only catch fish but also know how to take advantage of the sea's abundant resources, earning money from tourism activities and trade. "Many are now tour guides or interpreters for Vietnamese and Chinese people", Hoang said.
Wanwei is only 25km from Mong Cai international border gate, with a large flow of Vietnamese people who are traveling to or doing business in China. Chinese people also love to visit Wanwei. The island's seafood is plentiful and seems to be more special than other regions because of its Vietnamese style. Vietnamese families here all have spacious house, car, wealthier ones even own hotels, fancy restaurants.
Off the sea, right across the sea is Vietnam's Tra Co beach. The homeland is only about a boat trip away, Wanwei-based Vietnamese often visit their ancestors and neighbors. And whenever they live, they are still proud of their roots, still preserve and pass down traditional values to their descendants./.
Translated by Le Hang