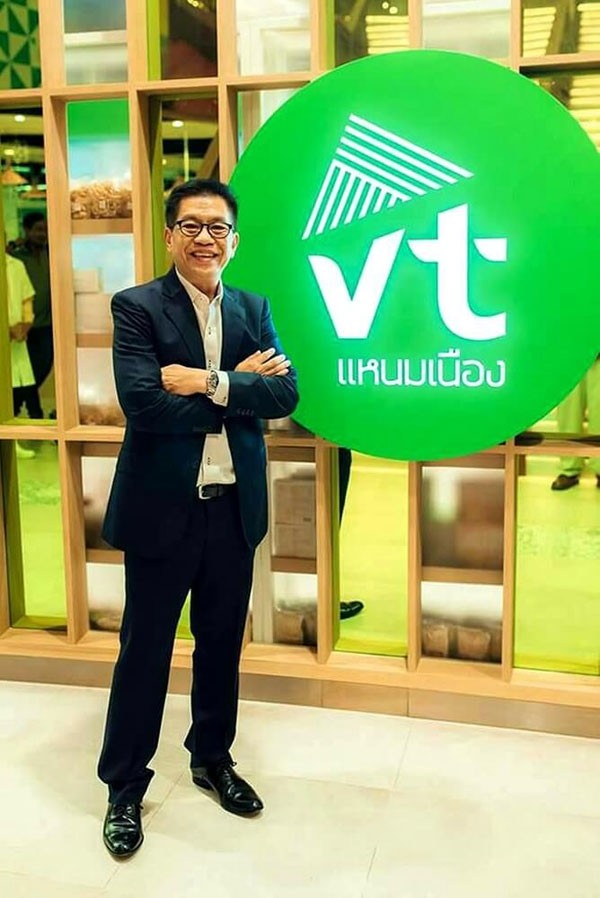 Ho Van Lam (known as Thong Kunthangvawat in Thai), Chairman of Thai-Vietnamese Business Association is the owner of "VT Namnueng".
Family recipe
Ho Van Lam (known as Thong Kunthangvawat in Thai), Chairman of Thailand - Vietnam Businessperson Association is the owner of "VT Namnueng". Lam is his family tradition's successor, making Vietnamese grilled spring rolls a favorite and familiar dish of the Royal Thai and local people.
Namnueng is literally "nem lui" (minced pork skewer), a specialty of Hue – a dreaming city in central Vietnam. As Thai can not pronounce the word "nem lui", Ms. Vy Saerueng, Lam's mother changed the name into "nem nuong" (grilled spring rolls), which is pronounced "namnueng" in Thai.
"This business is our family legacy, therefore, I knew and memorized the recipe from my mom since I was little. During the tough years when our family first moved to Thailand, her income from selling spring rolls at street vendor had brought eight of us siblings up. She learned the dish's secret recipe from my dad, who brought from Vietnam to Thailand".
Choosing to run a business with family heirloom recipe, Lam was determined to do it big. With the management experience he gained previously with his tailor shop, Lam devised a detailed plan to step by step expand the chain to a wider scale, hoping to Vietnamese culinary culture in general and grilled spring rolls in particular to customers across Thailand.
Lam said that he will keep researching and developing his grilled spring rolls market to Thailand's other provinces and cities on the principle of ensuring the brand reputation. To this end, the dish's quality must be top priority. In other words, all VT Namnueng stores must put the dish's quality a top priority. Ingredients like pork, vegetables, etc., must be imported from reputable companies and fully-met food hygiene and safety standard.
Besides, to manage the quality of the whole chain, all restaurants must commit to following his formula lest they will be closed. He also hires excellent workers to monitor and check restaurants' quality regularly.
Grown up and succeeded in Thailand, Lam has never forgotten his roots. He always feels grateful towards his parents, his home country for passing him the secret recipe of the well-known, popular grilled spring rolls. With that in mind, he named the chain's brand after the initials of his parents (V in his mother's name Vy, T in his father's name Tuan, which coincides with the abbreviations Viet in Vietnam and Thai in Thailand).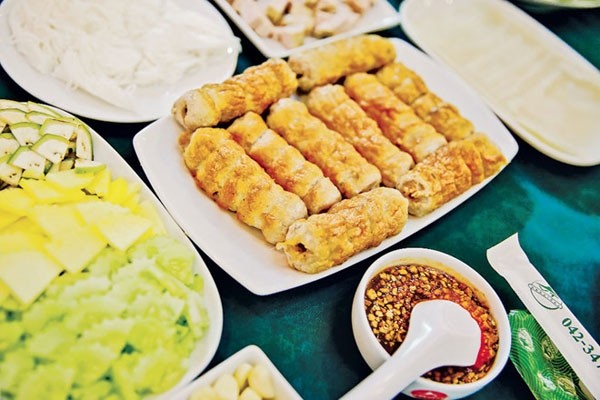 Grilled spring rolls is a combination of various fresh ingredients, including pork, fresh herbs.
Favored by Royal amily and people
In Udon Thani province, Northeast Thailand, the VT Namnueng brand is loved by a large number of diners, and become a familiar address for those who want to explore Vietnamese cuisine.
The 1,800-meter-square VT Namnueng restaurant on Phosri, the busiest street of Udon Thani, is frequented by flows of guests on a daily basis. Not only famous in Udon Thani, VT Namnueng also owns a chain of restaurants in 39 different provinces and cities across the country. The popularity of the "VT Namnueng" brand has been leveling up Vietnam's culinary culture oversea.
Grilled spring rolls is a combination of various fresh ingredients, including pork, fresh herbs. Besides, the dipping sauce that goes with the dish adds a lot to the taste and attractiveness.
Perhaps these are what makes Thai diners start to try and "fall in love" with "namnueng". However, the chain had adjusted the dipping sauce's flavor to suit the taste of Thai people. Thus, Vietnamese people might feel a little difference enjoying the dish in Thailand.
For Thai people as well as Vietnamese Thai, Lam's grilled spring rolls is an indispensable part when it comes to cuisine. It is also the main dish in festive, celebratory events, formal meetings in Thailand. The Royal Thai Family members are also very much into VT namnueng's grilled spring rolls. They order the dish on most of special occasions.
Along with managing 39 VT Namnueng restaurants, Lam also takes an active part in community activities. As the Chairman of Thai-Viet Business Association, he wishes to further strengthen trade exchange activities between the two countries.
He also hopes that young Vietnamese people, as well as businessmen who have been successful overseas always keep head their hearts towards the beloved Vietnam Fatherland, as well as never stop trying, developing themselves and contributing to home country./.
Translated by LH