President Ho Chi Minh's stop in Sri Lanka, en route to save Vietnam
June 14, 2021, marking 110 years of the ship Amiral Latouche Tréville, departing from Nha Rong Wharf, carrying the patriotic young man Nguyen Tat Thanh – Former President Ho Chi Minh, docked at Ceylon Island (Sri Lanka).
Former President Ho Chi Minh had two more visits to Sri Lanka, according to the recorded documents. One visit was on the way he traveled from Italy to Thailand in June 1928 and the other was on the way he returned to Vietnam after negotiations with France at Fontainebleau in October 1946, according to Baoquocte.
With the extraordinary will and determination during the journey of seeking ways to bring Vietnam's revolution to victory, President Ho Chi Minh has not only become a beloved leader of the Vietnamese people but also a person inspiring and supporting the national liberation movements in many countries in the world, including Sri Lanka.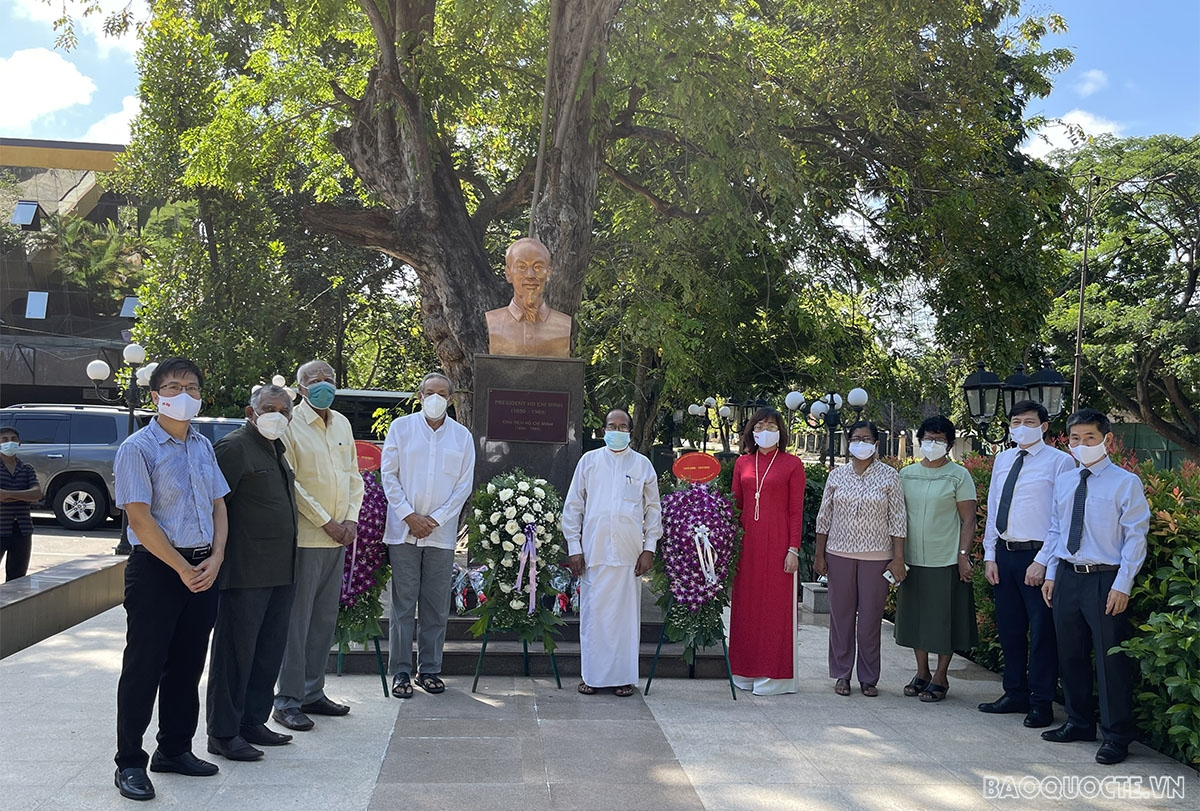 Sri Lanka – Vietnam Solidarity Association and the Vietnamese Embassy in Sri Lanka offer flowers on the 131st birthday of President Ho Chi Minh. Photo: Baoquocte
It can be said that President Ho Chi Minh's visits to Sri Lanka and the great affection of the people in Sri Lanka for him have set a foundation for the close relationship between Vietnam and Sri Lanka. Sri Lanka was one of the first countries to officially establish diplomatic relations with Vietnam (July 21, 1970).
Close friendship and multifaceted cooperation between the two countries has been cemented by many friendly interactions. Vietnam and Sri Lanka have witnessed 53 high-level visits of the two countries' leaders. Sri Lanka remains a treasured ally to Vietnam.
A variety of bilateral cooperative mechanisms such as the Joint Committee on Economic, Scientific and Technological Cooperation, Political Consultations, Joint Sub-Committee on Trade between Vietnam and Sri Lanka have been established, apart from continuously collaborative progress in the fields of trade, investment, agriculture, education, defense and security, culture and people-to-people exchanges.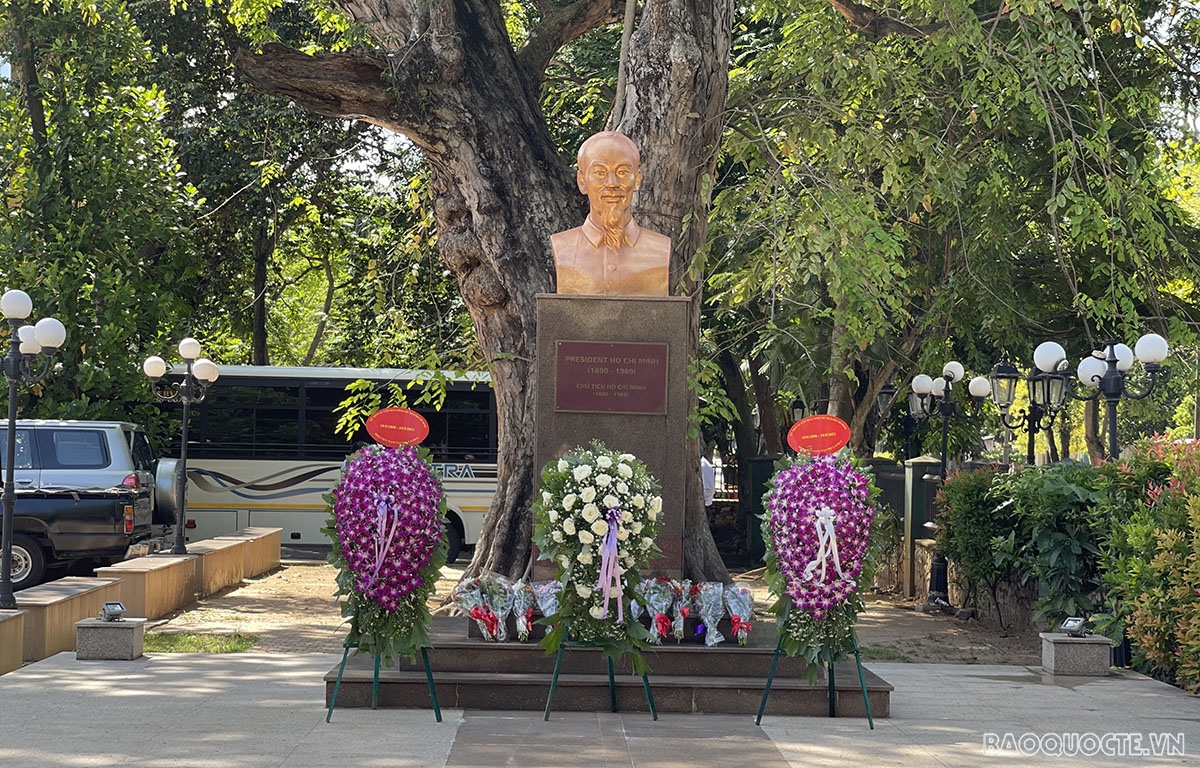 President Ho Chi Minh's monument was inaugurated in November 2013 in the Colombo capital, Sri Lanka. Photo: Baoquocte
Although the bilateral trade turnover has been stood at a modest level (about more than US$ 300 million), it has many potentials and opportunities to be lifted to US$ 1 billion in the future.
Generations of leaders and people of Sri Lanka have always had admiration, respect and affection for President Ho Chi Minh. The fact that Sri Lanka agreed to allow Vietnam to build and inaugurate the President Ho Chi Minh's monument and Vietnam – Ho Chi Minh space in the campus of the Colombo Public Library in 2013, the only monument of a foreign leader located in the country's public area, is a vivid and lasting symbol of the long-standing good relations between the two countries.
Since then, President Ho Chi Minh's monument has not only become a tourist site for visitors and residents in Sri Lanka, but it has also been a place for many organizations such as the Communist Party of Sri Lanka, Sri Lanka – Vietnam Solidarity Association to hold activities to celebrate and educate the younger generation on the relations between the two countries as well as the life and career of President Ho Chi Minh.
The Ambassador of the Socialist Republic of Vietnam Ho Thi Thanh Truc presented her credentials to President Gotabaya Rajapaksa at the President's House on March 30.
President Rajapaksa and the Vietnamese Ambassador then exchanged views on the current bilateral relations and the future development cooperation.
Offering congratulations from the Vietnamese government and people to the President, Ho Thi Thanh Truc said that Vietnam had given top priority to relations with Sri Lanka.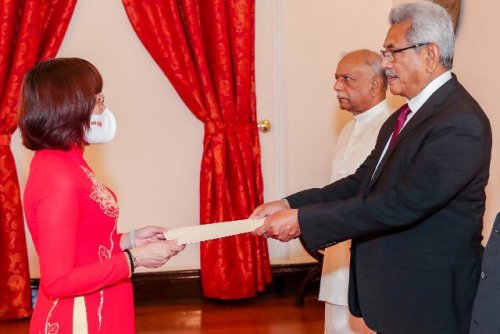 Photo: Colombopage
The Ambassador commended Sri Lanka for its support during the difficult period Vietnam faced. The Ambassador said during her tenure, she would do everything possible to further strengthen cooperation and friendship between the two countries, the Colombopage reported.
Appreciating the long-standing friendship between Vietnam and Sri Lanka, the President briefed the Ambassador on his government's socio-economic vision. "Agro-economy development, poverty alleviation and raising the income of the rural people are some of our priorities," he said.
The President requested Vietnam to identify and take advantage of the investment opportunities in the Sri Lankan economy, pointing out that trade and tourism between the two countries could be further developed.
The Vietnamese Ambassador assured that she would give high priority to encouraging Vietnamese businessmen to invest in Sri Lanka and to develop trade and tourism.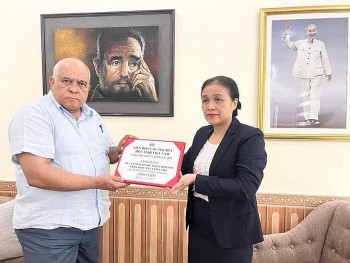 Focus
According to Cuba's News Agency Prensa Latina, on August 16, President of Vietnam Union of Friendship Organizations Nguyen Phuong Nga said that Vietnamese people will always stand by and support Cuba no matter what difficulties our friend is facing.