President Phuc Pledges to Seek Legal Status for Cambodia's Ethnic Vietnamese
President Nguyen Xuan Phuc has promised to support Cambodia's ethnic Vietnamese to soon have legal identities as they are not registered citizens in either country
During a meeting on Wednesday with officials at the Vietnamese Embassy and representatives of businesses and the Vietnamese community in Cambodia, President Phuc said "there is no community that has encountered as many difficulties as the ethnic Vietnamese in Cambodia."
It is because of their "uncertain legal status," and many of them do not have any identity documents such as ID cards or passports, he said.
Phuc was in Cambodia for a two-day state visit on Dec. 21-22 at the invitation of King Norodom Sihamoni, VNE reported.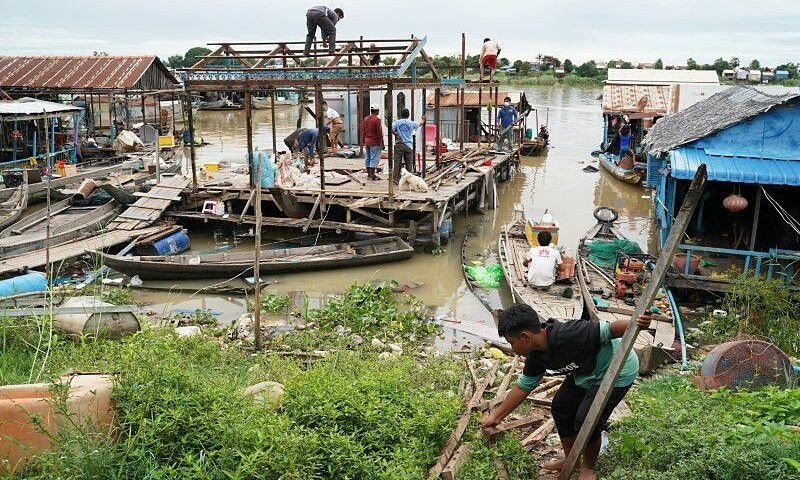 Residents of Vietnamese origin demolish their floating houses on the Tonle Sap river after they were ordered to leave within one week of being notified by local authorities in Prek Pnov district, Phnom Penh, Cambodia, June 12, 2021. Photo: Reuters
Sim Chy, head of the Khmer-Vietnamese Association in Cambodia, told the meeting that the ethnic Vietnamese community is facing even more difficulties due to the plan to relocate them by the Cambodian government.
Cambodian had earlier this year announced a plan to dismantle or relocate floating houses, fish farms, and boathouses or any other unregulated and illegal structures along the Tonle Sap River in Kampong Chhnang Province and Phnom Penh City.
The reason given for this relocation is that the floating village dwellers "seriously affect water biodiversity, damage water quality, pollute the environment and affect the beauty of Phnom Penh, as well as affect the health of people who use unclean water."
The decision affects thousands of ethnic Vietnamese as many of them are not eligible for the resettlement policy of the Cambodian government, because they are recognized neither as Cambodian nor as Vietnamese citizens.
Sim asked the Vietnamese head of state to suggest the Cambodian government soon issue an official document on the rights of ethnic Vietnamese people who have registered as foreigners living in Cambodia, as well as have a decision to recognize them as expats and grant them permanent residence cards.
He also asks the Vietnamese leader to propose the Cambodian authorities simplify the process and procedures for those who have fulfilled the obligations of foreigners in the immigration category.
President Phuc said he will discuss with competent authorities to come up with feasible and effective solutions so that the ethnic Vietnamese community in Cambodia will soon have their legal status and settle down.
He also called them to "comply with the laws of the host country, take care of their business, and be exemplary."
"Embassies must promptly advise people of Vietnamese origin on regulations related to outstanding and border issues," said the president.
According to the Khmer-Vietnamese Association, there are currently 30,000 ethnic Vietnamese in Phnom Penh.
Between the late 19th century and early 20th century, the French sent thousands of Vietnamese to Cambodia to work on their rubber farms and through the years, a Vietnamese community took root in the new land.
This community became a genocidal target under the Khmer Republic and Khmer Rouge governments in the 1970s. Thousands were killed and many more sought refuge in Vietnam.
The Khmer Rouge invaded Vietnam and killed tens of thousands of Vietnamese between 1975 and 1979.
On the plea of Cambodian revolutionaries, Vietnamese soldiers entered Cambodia in January 1979, launched a retaliatory attack on the Khmer Rouge and succeeded in freeing Phnom Penh and large parts of Cambodia from their grasp.
After the war ended, the ethnic Vietnamese returned to Tonle Sap, where their parents, grandparents and they were born, only to discover that they had been labeled as "illegal immigrants."
As the Cambodian law only allows Cambodian citizens to buy land, thousands of ethnic Vietnamese settled in villages on stilts. After the pioneers, two more generations of Vietnamese Cambodians have been born in Cambodia, living with no official documentation of their existence until these days.
According to the Cambodian Overseas Vietnamese Association, over 1,500 Vietnamese families live in floating villages by Lake Tonle Sap, the largest freshwater body in Southeast Asia.
Highlights of President Phuc's State visit to Cambodia
Photo: VOV
Cambodia King Norodom Sihamoni hosted a ceremony to warmly welcome President Phuc and his entourage at the Royal Palace.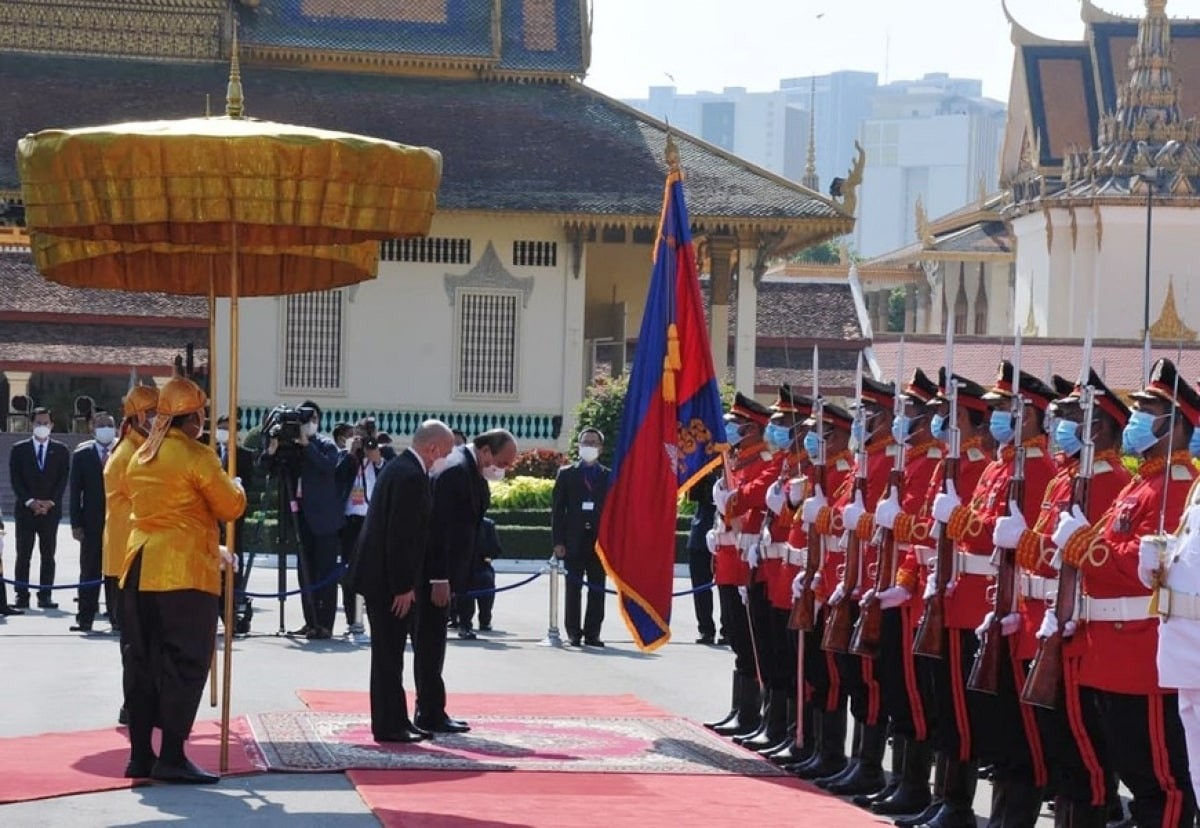 Photo: VOV
At the State-level welcoming ceremony, both King Sihamoni and President Phuc review the guard of honour, as reported by VOV.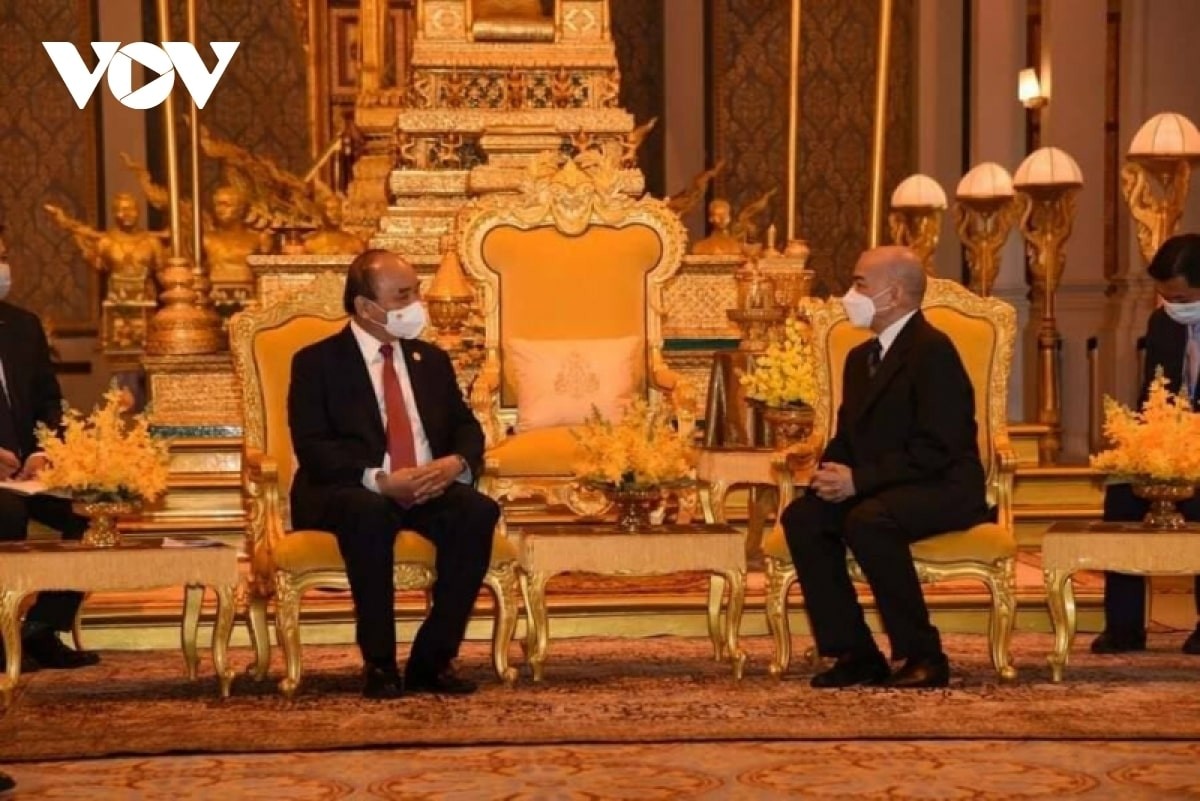 Photo: VOV
Meeting with President Phuc at the Royal Palace, King Sihamoni highly appreciates the historical significance of the visit, which he says will contribute to forge closer ties between Cambodia and Vietnam.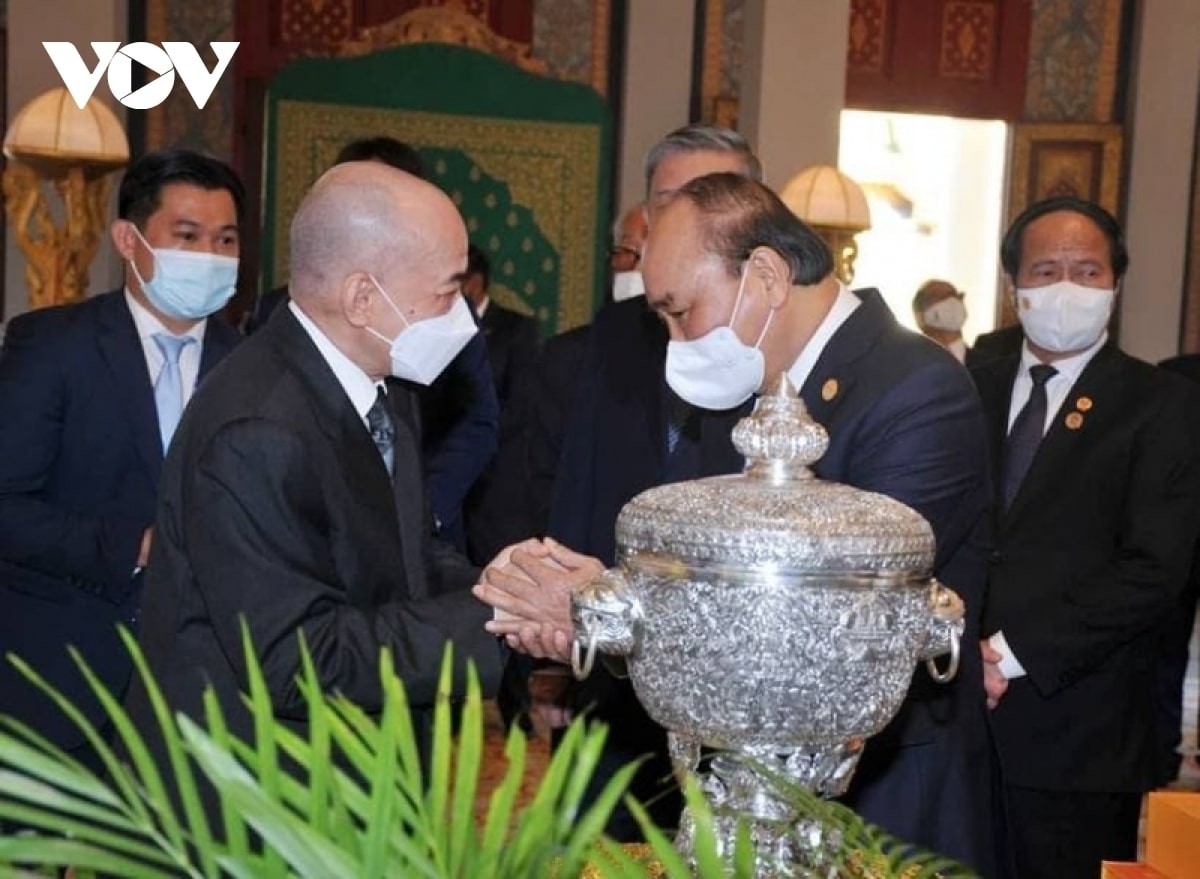 Photo: VOV
The two leaders affirm they will continue to give the highest priority and do their best to cultivate the increasingly fruitful relationship between the two countries.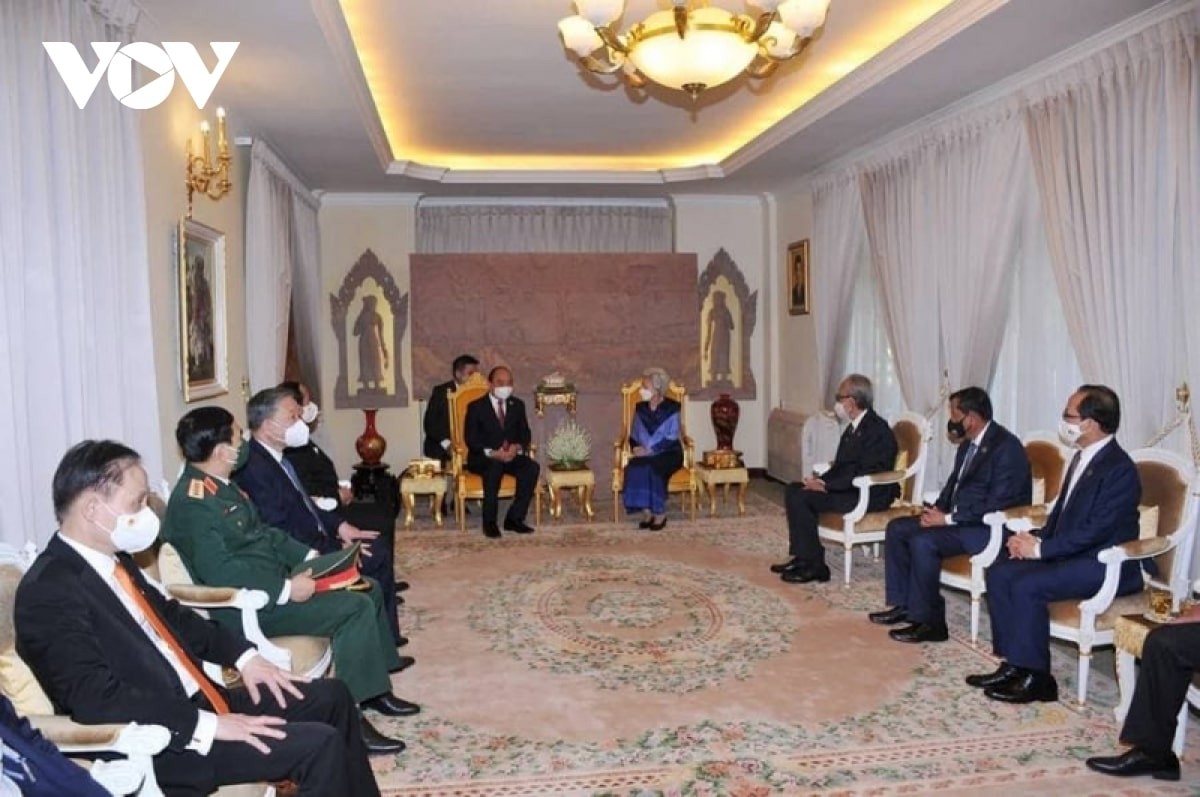 Photo: VOV
The same day, State President Nguyen Xuan Phuc pays a courtesy visit to Her Majesty Queen Mother Norodom Monineath Sihanouk.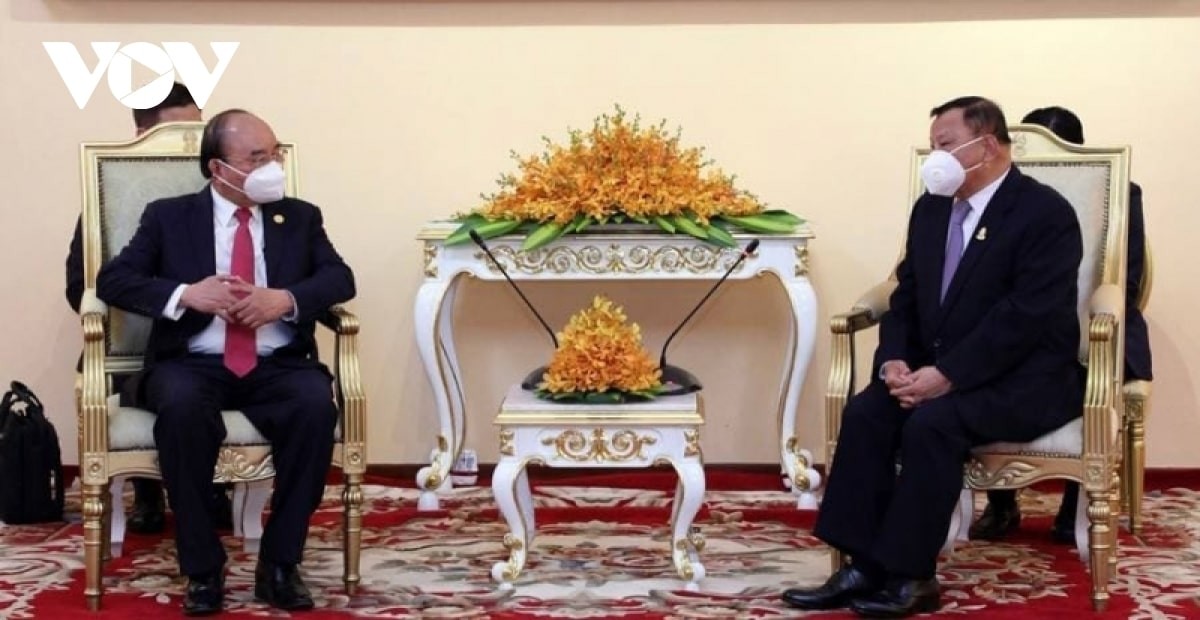 Photo: VOV
Meeting with Senate President Say Chhum, President Phuc agrees that the legislative bodies of the two countries should continue to support and create a more favourable legal corridor for strengthening economic, trade and investment connectivity and local cooperation, especially between border localities.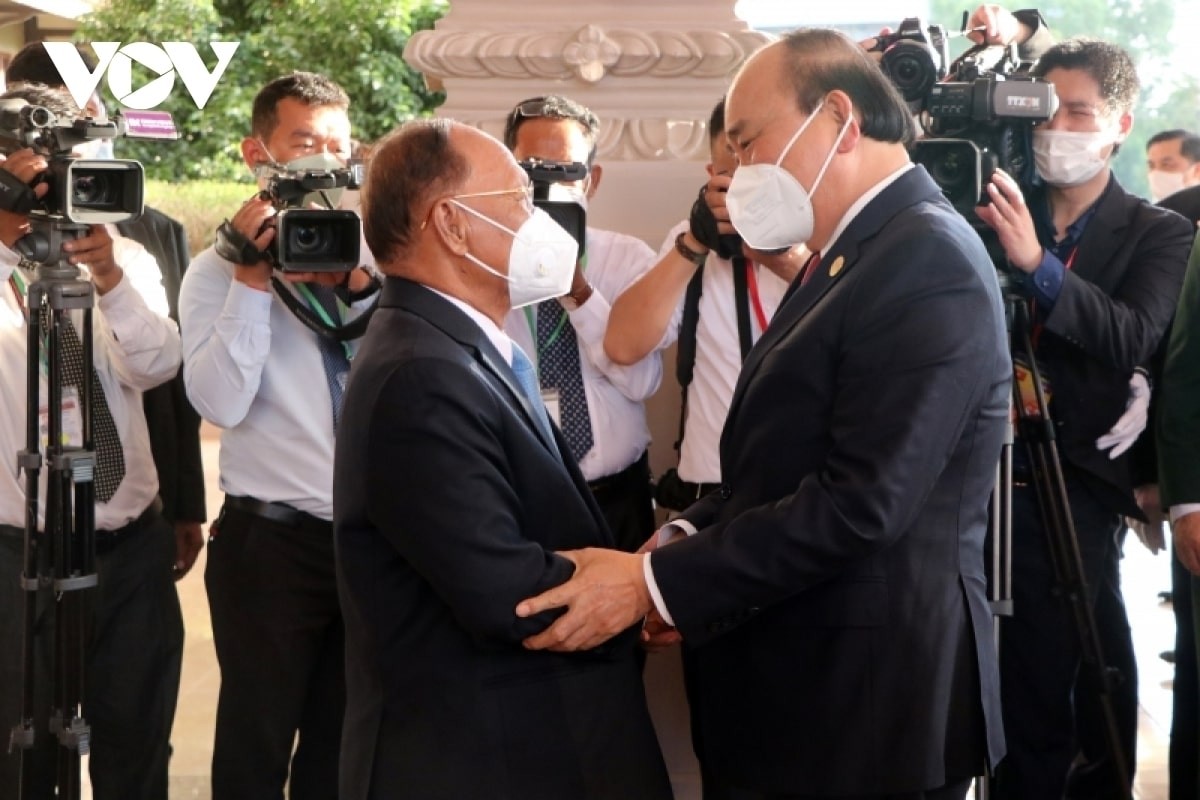 Photo: VOV
During a meeting with National Assembly Chairman Heng Samrin, the two leaders emphasize that Vietnam and Cambodia are two close neighbours, that have treasured the tradition of solidarity, mutual support and assistance. They regard the Vietnam-Cambodia relations as invaluable assets that should be maintained, preserved and developed by the two countries' generations.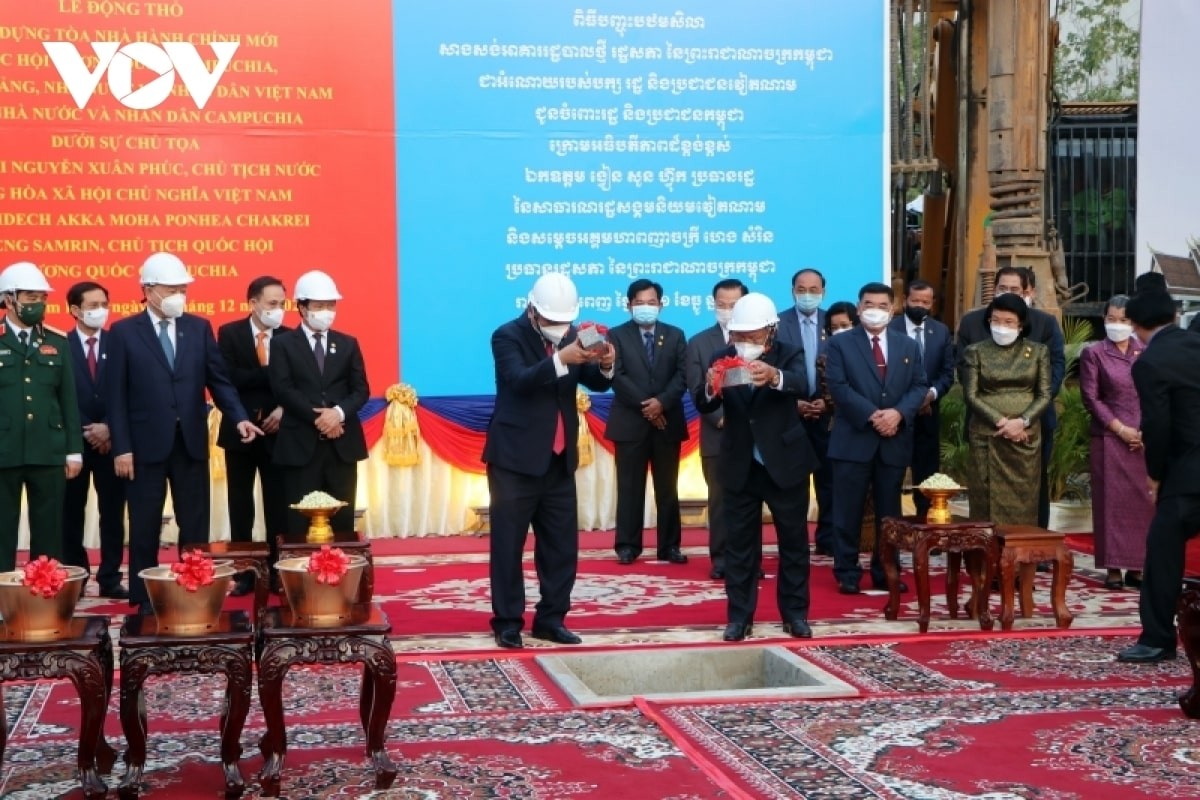 Photo: VOV
Chairman Heng Samrin and President Phuc attend a groundbreaking ceremony of a new administrative building of the Cambodia National Assembly - a US$25 million gift from the Party, State and people of Vietnam to Cambodia.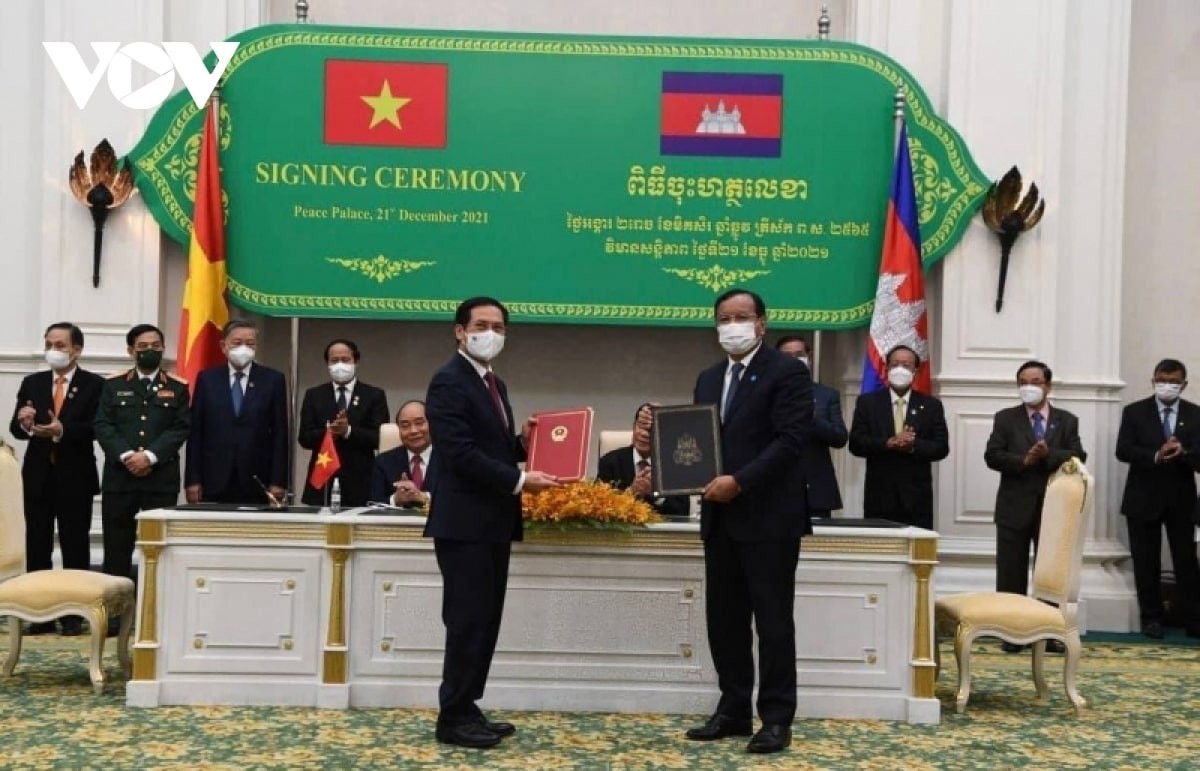 Photo: VOV
Meeting with Prime Minister Hun Sen, President Phuc affirms that Vietnam will strongly support Cambodia in successfully assuming the role of ASEAN Chair in 2022, making a positive contribution to peace, stability, cooperation and development in the region and the world at large.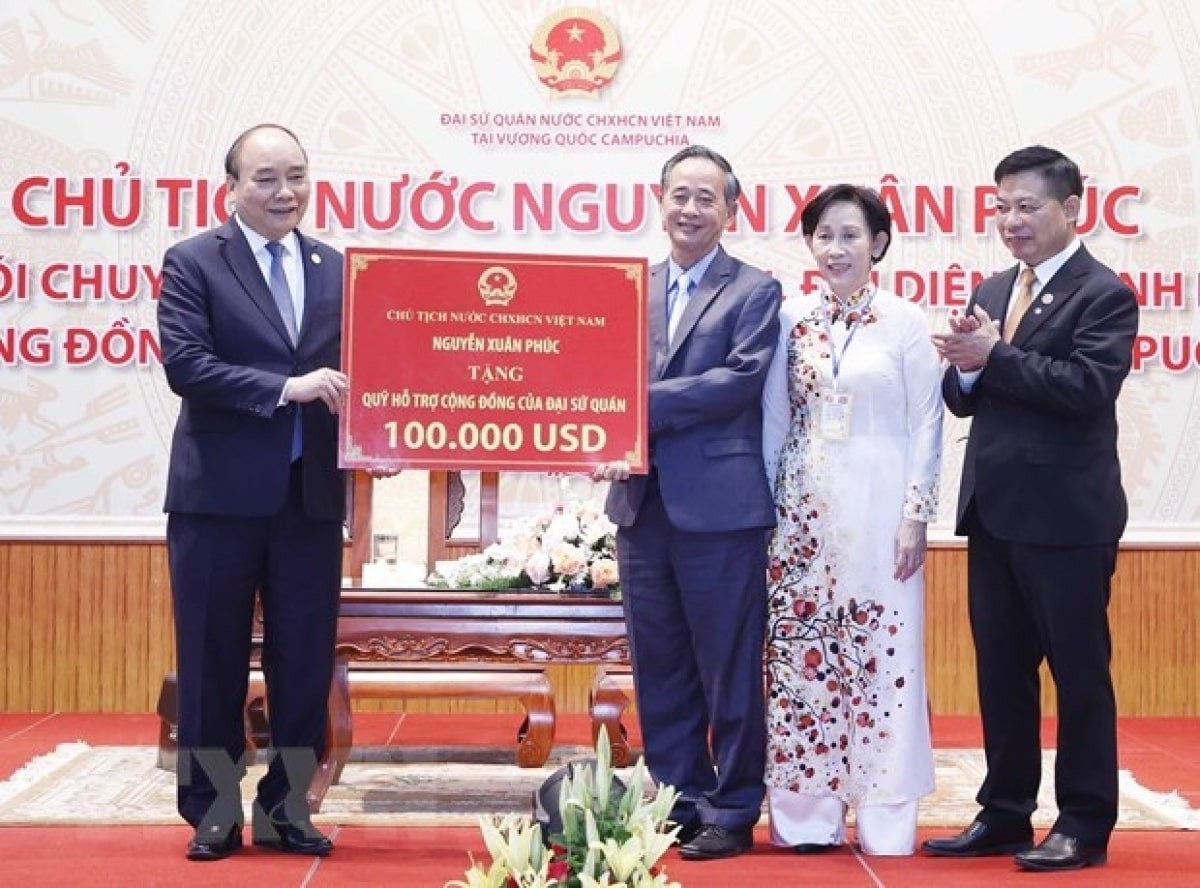 Photo: VOV
PM Hun Sen and President Phuc witness the signing of seven cooperation documents in the fields of security, defense, border cooperation, trade, education and justice between the two countries.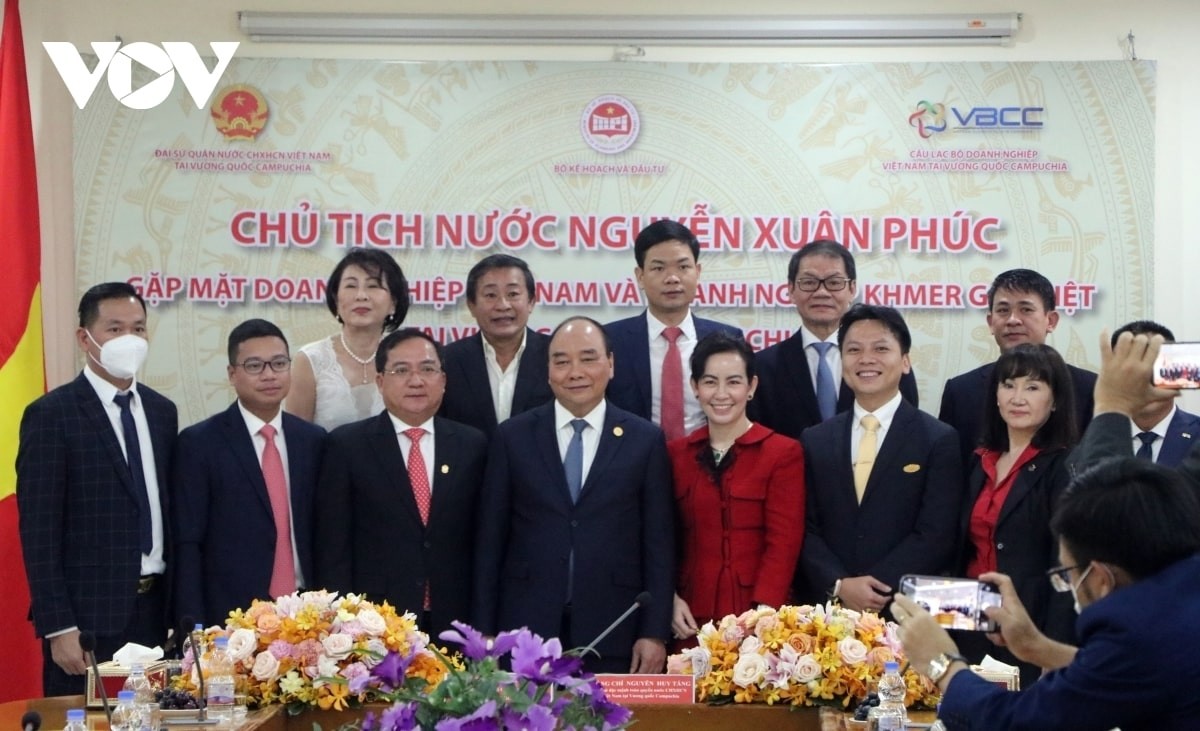 Photo: VNA
Meeting with representatives of the Vietnamese community in Cambodia, President Phuc asks them to pay attention to educating the young generation about the Vietnamese language and Vietnamese culture. In the photo: President Phuc presents US$100,000 to the community support fund of the Vietnamese Embassy in Cambodia. (Photo: VNA)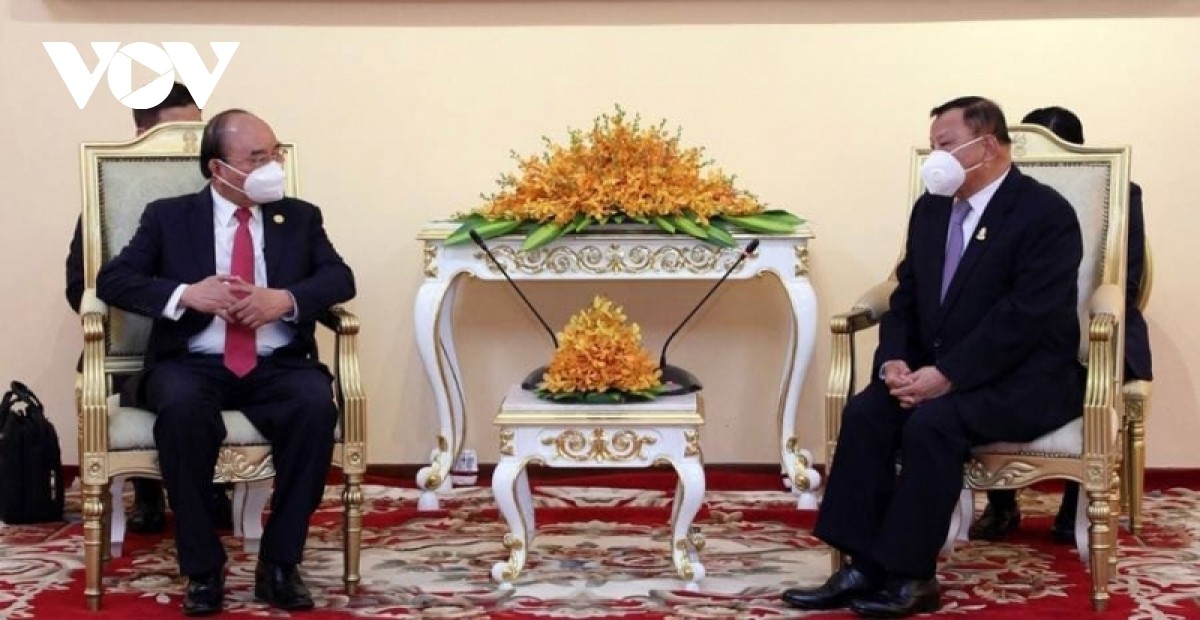 Photo: VOV
Before leaving Cambodia, President Phuc meets with 30 Vietnamese businesses and Khmer businesses of Vietnamese origin in Cambodia. He says he will direct ministries and branches to strengthen cooperation with their Cambodia counterparts to support Vietnamese businesses in overcoming difficulties.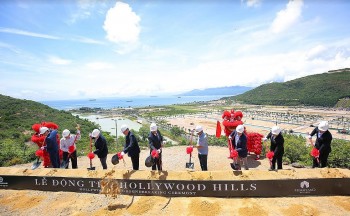 Economy
On October 2, at Hai Giang peninsula (Quy Nhon city, Binh Dinh), Hung Thinh Corporation held the groundbreaking ceremony of Hollywood Hills by YOO Inspired by Starck – a subdivision at MerryLand Quy Nhon. The event marks the first time that the world's No.1 ranked design and branded residence company YOO Inspired by Starck is officially present in Vietnam, with a collection of villas designed by creative director, Philippe Starck.