Overseas Vietnamese Committees Strengthen Cooperation
The State Committee for Overseas Vietnamese (OV) and Ho Chi Minh City's Committee for OV Affairs have signed a cooperation program to strengthen partnership during 2022-2025.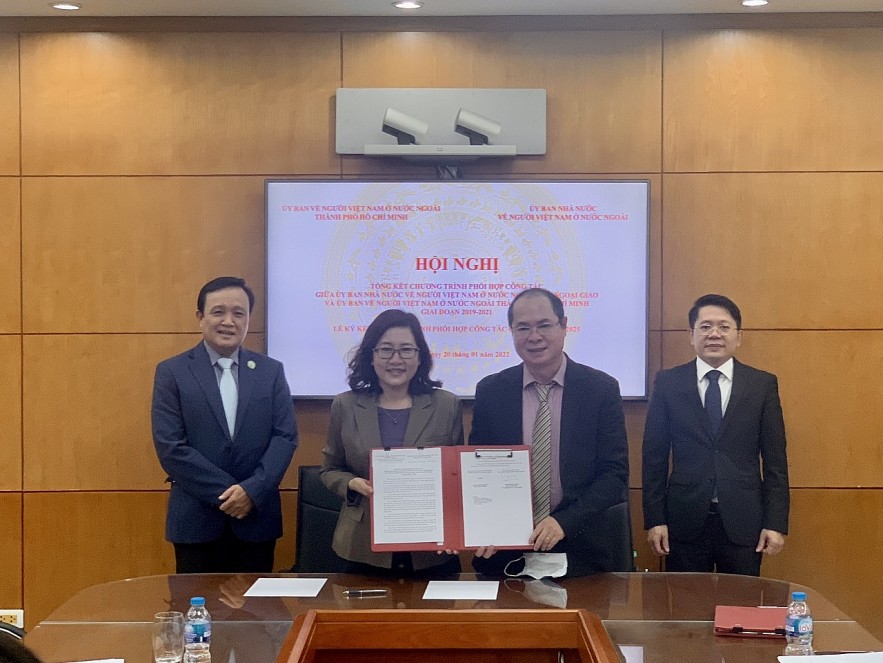 Representatives of State Committee for OV Affairs under the Ministry of Foreign Affairs and Ho Chi Minh City's Committee for OV Affairs sign an agreement to strengthen cooperation. Photo Vietnam Times
At the signing ceremony, the two sides reviewed cooperation over the past three years with fruitful outcomes.
The two committees have worked together to adapt to the pandemic and maintain online and offline activities to connect with the OV community.
Information exchange has been maintained regularly to give consultation to the Ministry of Foreign Affairs and Ho Chi Minh City People's Committee.
The two sides agreed to study and set up policies and laws, strengthen communication work, call for the contribution of OVs and attract Vietnamese resources overseas.
The State Committee for OV Affairs and Ho Chi Minh City's Committee for OV Affairs will offer consultations to Party and State leaders on OV affairs policies, make administrative reform and carry out OV policies to create favorable conditions for Vietnamese people living abroad, ensure their legitimate rights, and help them stabilize their lives and integrate abroad.
Under the partnership program, the committees will also encourage OVs to preserve traditional values and promote their attachment to the homeland.
The two committees will foster cooperation to connect domestic and overseas resources, promote national solidarity, especially to encourage young people, prestigious and influential individuals to make contributions to OV associations and groups; at the same time, attract overseas human resources to contribute to national development.
State Committee for OV Affairs and Ho Chi Minh City's Committee for OV Affairs have proposed sending their staff to join the Government's action programs on OV affairs.
Currently, about 5.3 million Vietnamese people are living in 130 countries and territories around the world. The community has become an increasingly important economic and brainpower resource for national development, especially amid Covid-19.
Last year, the community donated over VND80 billion (USD3.52 million) and a large number of medical supplies and equipment to the National Covid-19 Vaccine Fund.
Despite Covid-19, they sent about USD18.1 billion of remittance to Vietnam, a 5.2 percent rise over 2020.
Deputy Foreign Minister Pham Quang Hieu, head of the State Committee for OV Affairs, said in 2022, the committee would focus on promoting national solidarity among OVs, and optimizing resources from the Vietnamese community abroad for national development.
At the same time, the committee will continue to support the community in improving their legal status in the host countries to settle down, showing the responsibility of the Party and State in caring for the community.
Along with supporting teaching the Vietnamese language among the community, the committee will also work harder to provide more information on the situation back in Vietnam.
"Xuan Que Huong" (Homeland Spring) Program 2022, the biggest annual event held for OVs on the Lunar New Year Festival, will be held on January 22, the 20th day of the last lunar month of the Year of the Buffalo.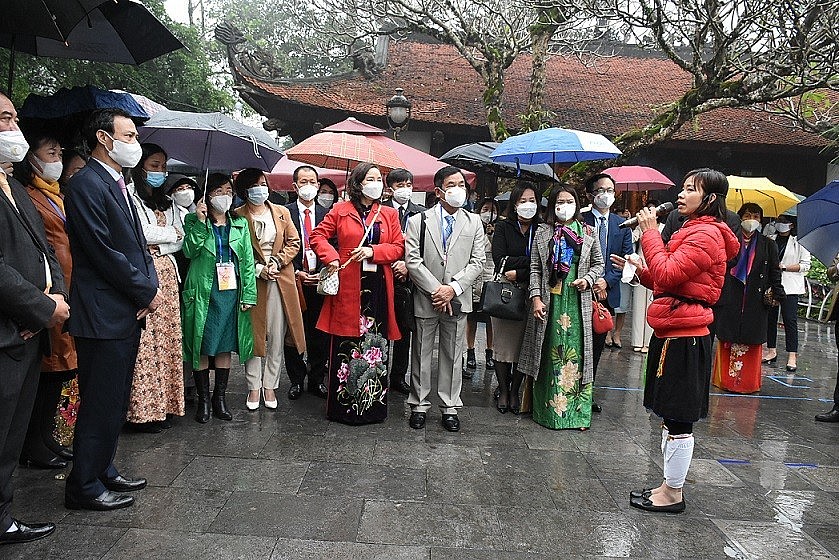 60 overseas Vietnamese who attended Homeland Spring Program 2022 visited Tay Thien Pagoda in Vinh Phuc Province on Saturday. Photo The World And Vietnam Report
The program will feature diverse activities, including incense offerings to national ancestors, carp releasing, tributes to President Ho Chi Minh and heroic martyrs, meetings with Party, State, and Vietnam Fatherland Front (VFF) leaders, and art performances.
State President Nguyen Xuan Phuc will take the podium during the program to extend New Year wishes to OVs, Vietnam News Agency reported.