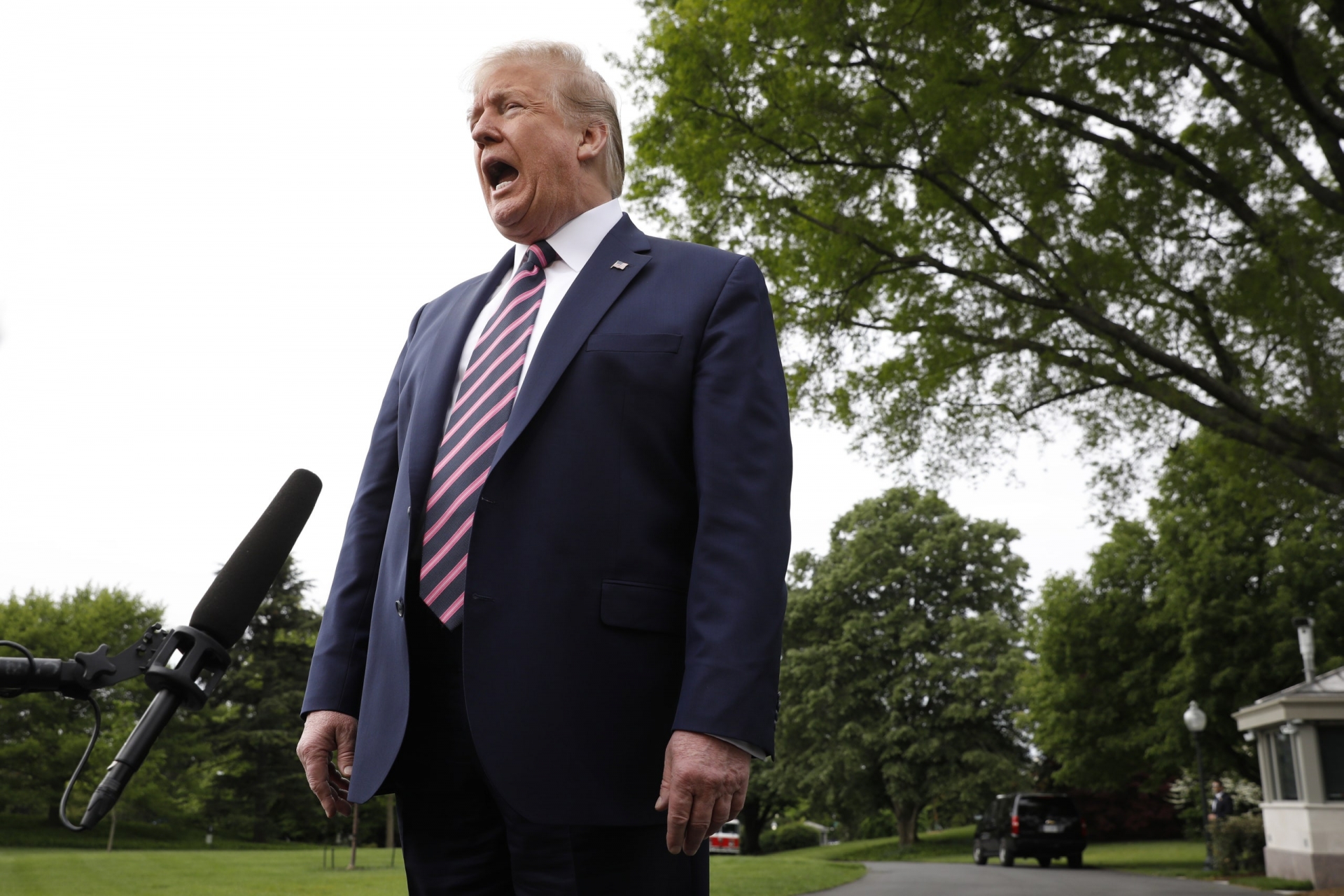 (Photo: Getty Images)
World news today: Trump Attacks Kimmel & Colbert, Proves Again He Doesn't Understand Ratings
President Donald Trump isn't a fan of the media, and apparently isn't much for late night television hosts, either. In a tweet put out on Tuesday, Trump sent some praise to Greg Gutfield, the host of the The Greg Gutfeld Show on Fox News. In doing so, the president didn't mince words about some other talk show hosts, Cameroon Magazine reported.
"Wow! Congratulations to Greg Gutfeld, a one time Trump Hater who has come all the way home," Trump wrote amid a series of inflammatory social media posts that attacked, among others, the "Fake News Lamestream Media" and "Do Nothing Democrats."
"His Ratings easily beat no talent Stephen Colbert, nice guy Jimmy Fallon, and wacko 'last placer' Jimmy Kimmel. Greg built his show from scratch, and did a great job in doing so."
Since posting this, Fallon or Colbert have yet to show any reaction, though Kimmel seems to have made his response. The host of Jimmy Kimmel Live posted a tweet about Trump about three hours after the initial post.
"I can think of no better metaphor for this presidency than Donald Trump not wearing a face mask to a face mask factory while the song 'Live and Let Die' blares in the background", he tweeted.
"Happy Cinco de Mayo Mr. President! Thanks for the shout-out—now get back to work royally fucking everything up!", Vanity Fair quoted the host.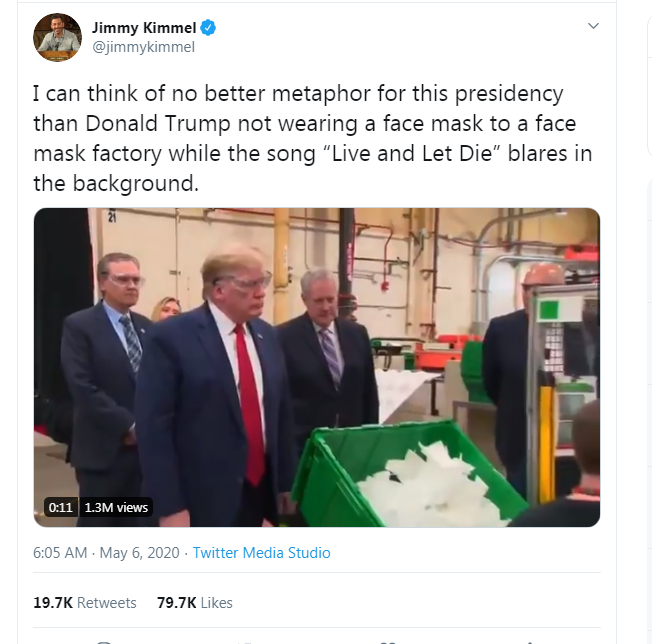 Jimmy Kimmel tweets (Photo: Capture)
This isn't the first time Trump has sent a shot at one of the late night hosts. In 2016, Trump appeared on The Tonight Show for a segment during his presidential campaign. On it, Trump and Fallon engaged in a hilarious hair segment in which Fallon rubbed his hand through Trump's hair. Two years later, Trump brought the moment back up, criticizing Fallon for saying that he would have done the segment differently.
On The Late Show in the beginning of April, Colbert expressed his frustration with Trump over his handling of the press briefings, specifically how he would berate reporters during the process.
"Trump doesn't understand that no one cares about these hissy fits any more. All of this drama no longer plays to the camera, sir, not even to your own supporters," Colbert said, per Vanity Fair. "Because it doesn't matter who you voted for—everyone just wants to know the truth, 'cause that's how you stay alive. So grow up and do your damn job. We have to; you should too. » Trump never responded to his commentary, however, according to Cameroon Magazine.
World news today: Coronavirus death riddle: Chinese researcher Dr Bing Liu killed in murder-suicide
Chinese coronavirus researcher, 37, who was "on the verge" of making 'very significant findings' related to the coronavirus in the pandemic fight has been shot dead in a suspected murder-suicide in Pittsburgh.
A well-respected University of Pittsburgh Medical Center researcher was said to have been on the verge of 'very significant findings' related to the coronavirus when police say he was killed in an apparent murder-suicide.
Dr Bing Liu, 37, was alone at his home in the 200 block of Elm Court in Ross Township on Saturday afternoon when another man - identified as 46-year-old Hao Gu - allegedly entered the residence through an unlocked door and opened fire.
Liu was struck by bullets in the head, neck and torso, and died of his injuries.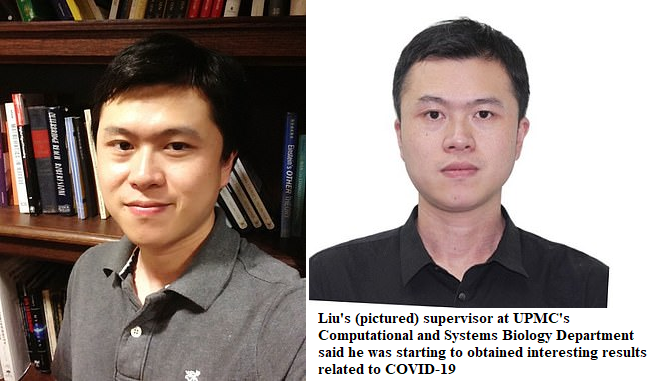 The researcher was making great strides during the coronavirus crisis (Credit: University of Pittsburgh)
His wife was not home at the time of the homicide, the Pittsburgh Post-Gazette reported. The couple do not have children. Liu is survived by his wife and parents, who still live in China.
Dr Liu was a research assistant professor at the University of Pittsburgh's School of Medicine with an expertise in "computational modeling and analysis of biological systems dynamics."
The school said he was an "outstanding" and "prolific" researcher who stood out during the COVID-19 crisis.
Dr Ivet Bahar, head of the Computational and Systems Biology Department, told the Post-Gazette that Liu had only recently begun researching COVID-19 and 'was just starting to obtain interesting results'.
The university said: "Bing was on the verge of making very significant findings toward understanding the cellular mechanisms that underlie SARS-CoV-2 infection and the cellular basis of the following complications."
The body of a second man, Hao Gu, 46, was found in a nearby car in Ross Township, according to People.
Cops did not say how Dr Liu and Gu knew each other, and have not speculated on possible motives.
Police said Gu then returned to his car parked 100 yards away at Charlemagne Circle and turned the gun on himself.
Cops believe Gu died from a self-inflicted gunshot wound.
World news today: Independent broadcaster ABS-CBN shut down by Philippines Government in 'crushing blow' to press freedom
The National Telecommunications Commission ordered ABS-CBN, one of the country's oldest and most influential networks, to stop operating after its 25-year congressional franchise licence expired.
The network's application for a renewal has been pending in Congress, which is controlled by President Rodrigo Duterte's allies, but hearings have been delayed, in part by a coronavirus lockdown.
The agency's top officials had previously agreed to grant the broadcaster a temporary operating licence while the application was pending, due to a need for information during the pandemic.
"Millions of Filipinos will lose their source of news and entertainment … when people need crucial and timely information as the nation deals with the COVID-19 pandemic," the media giant said in a statement.
Media watchdogs accused the government of muzzling independent media like ABS-CBN that have reported critically on key decisions by the Duterte administration.
Government officials denied the closure was a press freedom issue, insisting that everyone must comply with the law.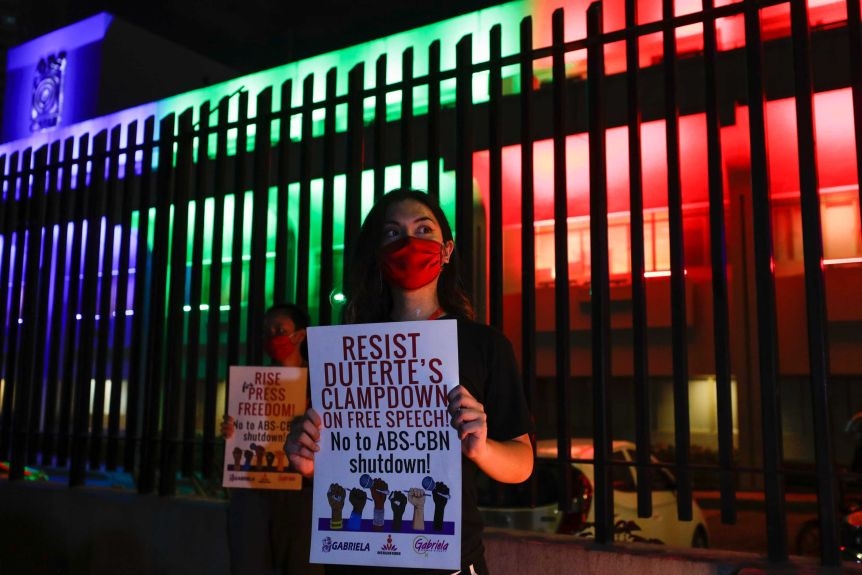 (Photo: ABC)
Representative Franz Alvarez, who heads the congressional committee on legislative franchises, told ABS-CBN that he was surprised the commission backtracked on its pledge to allow the broadcaster to temporarily continue operations. Many senators had agreed to the temporary license.
Mr Alvarez added that the company's franchise renewal application would remain active, and the network said it will pursue efforts to reopen.
"ABS-CBN remains committed to being in the service of the Filipino and we will find ways to continue providing meaningful service to them," the company said.
At least two other media organisations, including a leading newspaper, the Philippine Daily Inquirer, have come under attack from Mr Duterte for critical reporting.
The government separately accused an online news organisation, Rappler, of violating the ban on foreign ownership and sought its closure. Rappler denied the allegation and continues to operate, according to AP and ABC news.
World news today: EnergyCasino continues 'stellar growth' with Red Tiger
Operator EnergyCasino is to bolster its range of igaming titles on offer to players after inking a partnership that will see the integration of games from online casino games provider Red Tiger.
As a result of the deal, EnergyCasino Players will now have access to Red Tiger's range of titles, including Pirates' Plenty – Battle for Gold, Mystery Reels, and the recent release Piggy Riches MegaWays.
Alongside the firm's suite of titles, the Malta-based supplier will also be providing engagement features enabling EnergyCasino in a bid to "create compelling campaigns for their players," such as daily jackpots, smart spins and tournaments.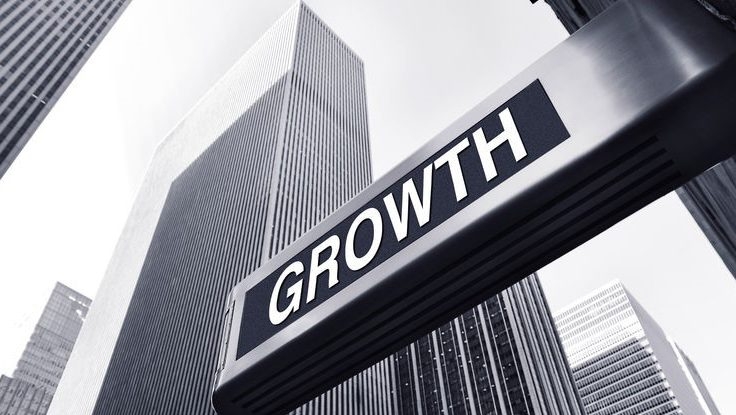 (Photo; Casino Beats)
Marcin Sobieraj, casino manager at Energy Casino, commented: "Delivering the best possible experience to our customers is paramount at EnergyCasino, and we're delighted to be expanding our portfolio of developers with this Red Tiger deal.
"The company has demonstrated innovation with its top-tier game mechanics and award-winning titles, and we look forward to a successful partnership together."
Earlier this week Red Tiger asserted that hard work and dedication was paying off after linking-up with Pronet Gaming, the latest in a string of distribution agreements entered by the firm thus far in 2020.
Chris Looney, commercial director at Red Tiger, said: "EnergyCasino has enjoyed stellar growth and we're excited about the mutual opportunities presented by our partnership.
"We're excited to see how our games perform, alongside the unique software that underpins them", Casino beats reported.
World news today: Adele looks unrecognizable in rare Instagram post thanking fans and essential workers
Social media users have been left stunned after pop queen and 16-time Grammy winner Adele revealed her dramatic post-divorce weight loss in a rare Instagram post.
The British songstress, who celebrated her 32nd birthday on May 5, has been largely absent from the public eye following her divorce from charity entrepreneur Simon Konecki.
In the candid post, Adele thanked her fans for the birthday love, writing "I hope you're all staying safe and sane during this crazy time".
She also made note of the coronavirus pandemic, thanking first responders and essential workers "who are keeping us safe while risking their lives".
"You are truly our angels," she said.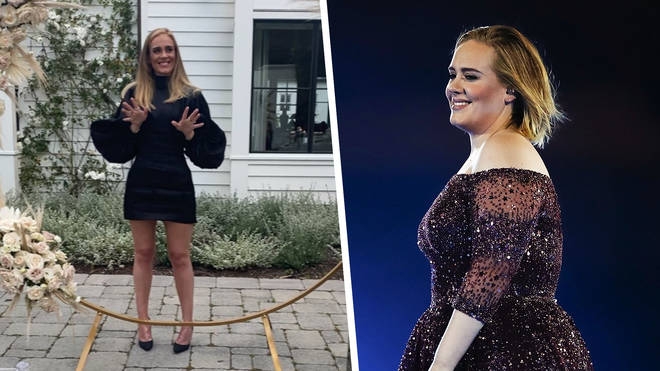 (Photo: Capital FM)
Fit for her son
The singer made headlines in December 2019, showing off her trimmer figure in a series of holiday snaps shared on social media.
"After Adele started working out, she never looked back. She was instantly a changed person with a different mindset," a source told PEOPLE magazine.
The star also revealed she now works out with a personal trainer.
"For her, it's not about losing weight," the source previously told the publication.
"She has taken a more serious interest in improving herself and is actually having a great time."
In April 2019, Adele split from husband Simon Konecki, with whom she shares seven-year-old son, Angelo.
"She wants to stay healthy for her son's sake, and though it's been challenging for her to keep a new workout routine, she is sticking with it," the source said.
Jasmine Le