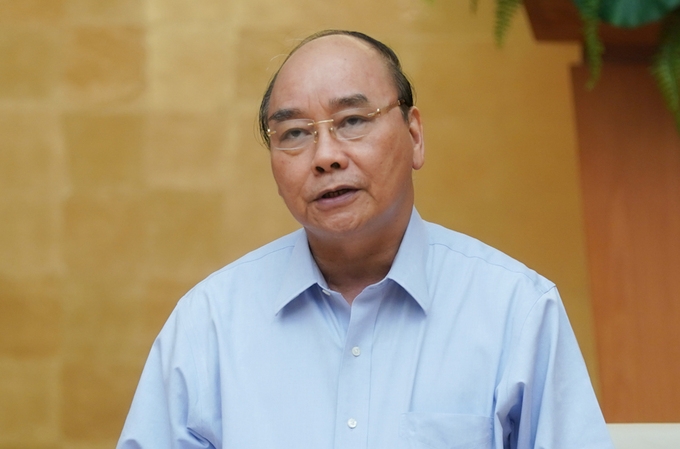 PM Nguyen Xuan Phuc chaired the meeting on COVID-19 prevention and control on April 28. Photo: VGP
He made the affirmation while chairing a meeting on COVID-19 prevention and control.
The Prime Minister expressed his delight to see no new case of COVID-19 infection reported in the community for 12 consecutive days. With 270 cases among 100 million people, Viet Nam's ratio of infection cases per million inhabitants is among the lowest in the world, he said.
However, the Prime Minister noted that localities must seriously maintain COVID-19 prevention measures, especially in the upcoming holiday. The authorities must ensure a safe holiday for the people, focusing resources to control the spread of the coronavirus.
The Prime Minister also allowed the export of medical masks, COVID-19 medicines and medical supplies to help other countries to fight the COVId-19 pandemic.
As of April 28, the world recorded more than 3 million cases of COVID-19 infection in 218 countries and territories, 211.600 deaths.
Out of 270 cases of COVID-19 infection in Vietnam, 222 have successfully recovered, 48 are under treatment. Three most critical cases have made positive progress, of whom patients no.20 and 161 have been weaned off ventilators and are now practicing breathing on their own.
The steering committee also said five recovered patients tested positive for the coronavirus again are being monitored at health facilities.
Recently, the National Institute of Hygiene and Epidemiology has collaborated with Nagasaki University of Japan to research and develop antibody test kits. The Ministry of Health is currently implementing procedures to recognize kits for mass production, VGP reported.
Jennifer Tran