Promoting Vietnamese Culture to The World
"Vietnam experienced a successful 2022 with many achievements in culture. That result partly comes from Vietnam's tireless efforts in promoting its language and culture globally," said Professor Elena Tyumeneva, School of Foreign Languages (Russian Foreign Ministry).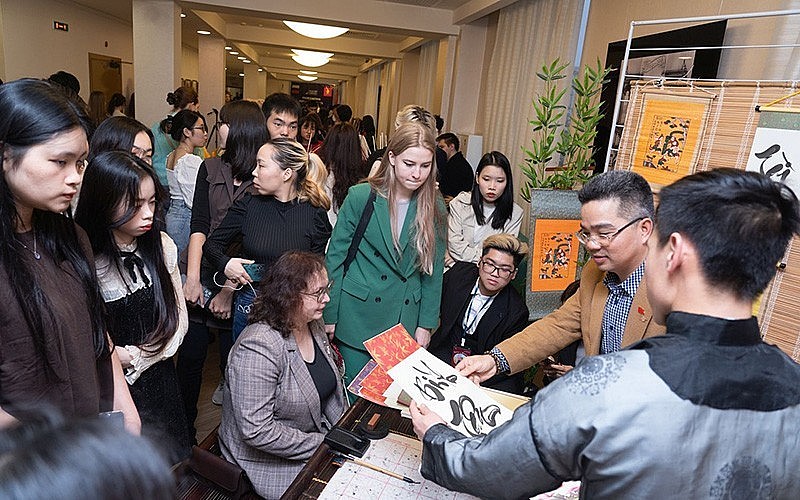 International students learn about calligraphy at Vietnam Festival held in Russia.
Professor Elena Tyumeneva said that in recent decades, for various reasons, many people choose to live in countries that are not where they were born.
Around the world, it seems that the struggle for cultural influence is intensifying, as separation from home raises concerns about cultural identity.
In that context, the mother tongue plays an important role to connect and promote national culture. Professor Tyumeneva said the decision to make September 8 the annual day for honoring the Vietnamese language abroad is necessary, contributing to promoting Vietnam's national interests and strengthening the Vietnamese-speaking community.
According to the Russian expert, efforts to promote Vietnam's language and culture are appreciated. Exhibitions, cultural and art events, and concerts of Vietnamese artists abroad have achieved great success.
More people are interested in Vietnamese cinema and literature. All these events give people a chance to know Vietnamese history and culture.
As a teacher of Vietnamese, Professor Tyumeneva expressed her happiness at keeping close contact with the Vietnamese Embassy in Russia. The professor recognized the great efforts of the Vietnamese diplomatic mission, including the promotion of Vietnamese culture.
Looking back at 2022, Professor Tyumeneva said that Vietnam has effectively used its soft power "cultural diplomacy" to promote its cultural and human values to the world.
Russian expert was impressed with Hue Festival honoring cultural heritages, where there are many cultural activists from countries. Besides organizing major domestic events, Vietnam has also participated and won many prizes at major international competitions.
The professor looks forward to seeing the best representatives of Vietnamese culture and art in the international arena.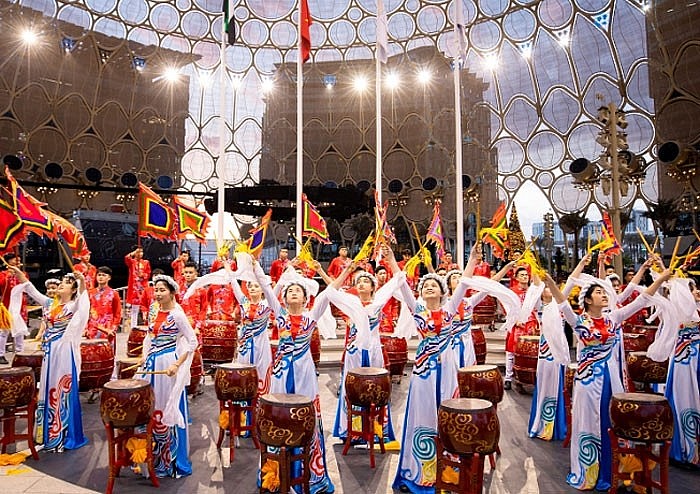 Promoting Vietnamese culture. Photo: Minh Phuong
In Russia, Professor Tyumeneva and Russian students expressed their joy in participating in important and memorable holidays in Vietnam's history, as well as Vietnam Culture Day, scientific conferences, lectures, and seminars.
More people are interested in learning Vietnamese in Russia. Many universities in Moscow, Saint Petersburg, Vlapotok, Kazan have Vietnamese language classes.
According to the professor, there are more experts on Vietnam every year. Many of them engage in diplomatic work. Others continue to develop commercial, economic and cultural ties with Vietnam or work in other fields. All of them make important contributions to strengthening the friendship between the two countries, based on respect and deep understanding of cultures and traditions.
Regarding tourism, Professor Tyumeneva said that foreign tourists have long loved Vietnam because of the beauty and hospitality of the "S-shaped Land."
On social networks, visitors share their impressions of Vietnam, introducing destinations, customs, traditions, history, and culinary culture. In Russia today, people understand the word "pho bo" (Vietnamese beef noodle soup) without a translator. Even people who have never been to Vietnam love this dish.
The professor is also looking forward to Vietnam's water puppetry performance at the international festival scheduled to be held in Moscow in 2023.
Vietnamese Culture Shines in France

On January 14, the Association for the Promotion of Vietnamese Culture (APCV) organized a special cultural and artistic program in Paris. This is one of ...