Tet Holiday 2023
Tet On The Canvas: Artists in Vietnam Recreate the Zodiac In New Exhibition
A collective of artists in Vietnam have created a two week long art exhibition, reflecting on the past twelve years through the signs of the Vietnamese Zodiac. Jason Law visited the event to speak to the people involved and check out what's on show.
For many of us, the New Year is a time to reflect on the events of the past year, while preparing mentally, spiritually and physically for the next one. As the Vietnamese New Year approaches, one art exhibition in Hanoi is taking a unique approach to celebrating Tet, by looking back on the past twelve years of the Zodiac sign, expressed through various forms of art.
Arch was abuzz on launch night (Photo: Jason Law)
Spanning across two floors at Arch Café & Bar, over a two-week period surrounding the Tet holiday weekend, the Tet Zodiac exhibition showcases the work of eleven eclectic artists from a range of backgrounds. Each was tasked with visually representing one year from 2010-2022, along with its corresponding zodiac animal. The work on display is creatively diverse and includes paintings, collages, digital art, video and even an interactive communal color-in.
The event was put together by 35-year-old Canadian expat Duncan Griffiths who holds three full-time jobs as a high school IELTs teacher, a married father of one, and a thought-provoking, experimental artist. He sat down with The Vietnam Times on the launch night of the show to talk about his inspiration and process.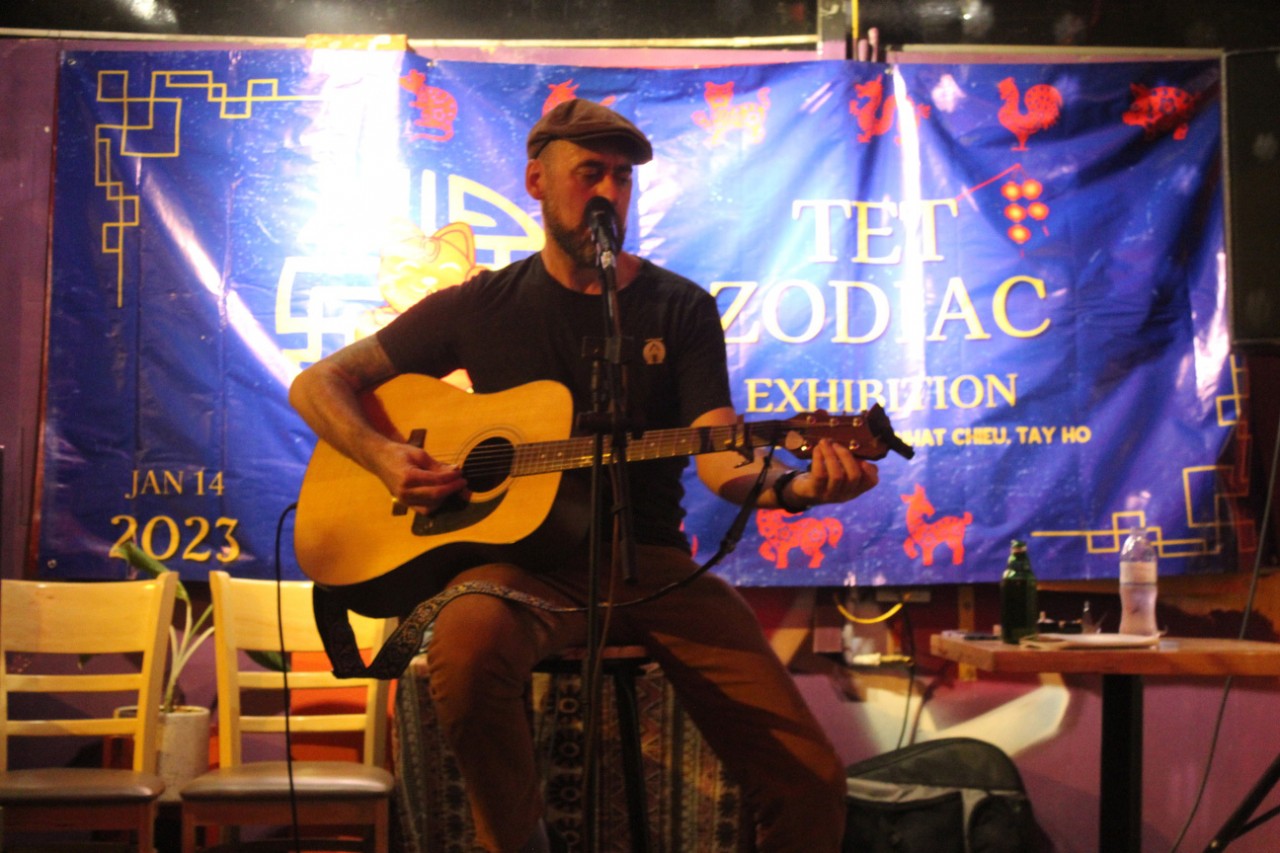 Canadian Musician Mathieu Lacombe played on the opening night (Photo: Jason Law)
"The idea for this art exhibition came to me during the Tet holiday three years ago when I was biking around Jeju island in South Korea. I was following the story of the COVID-19 outbreak via YouTube and I got this vibe thinking about 2020 being the Year of the Rat, and how in Western civilization a rat would symbolize pestilence and disease and there's this new virus spreading around, and it felt like synchronicity to me," explains Duncan.
As many great artists do, Duncan sees the world in an unusually unique way, finding connections between seemingly unconnected things in life, and uses this perspective to create. After making the connection between the Year of the Rat and the pandemic, he drew a picture of rats wearing gas masks (before Banksy did it!) and so his first steps were taken towards creating this ambitious exhibition.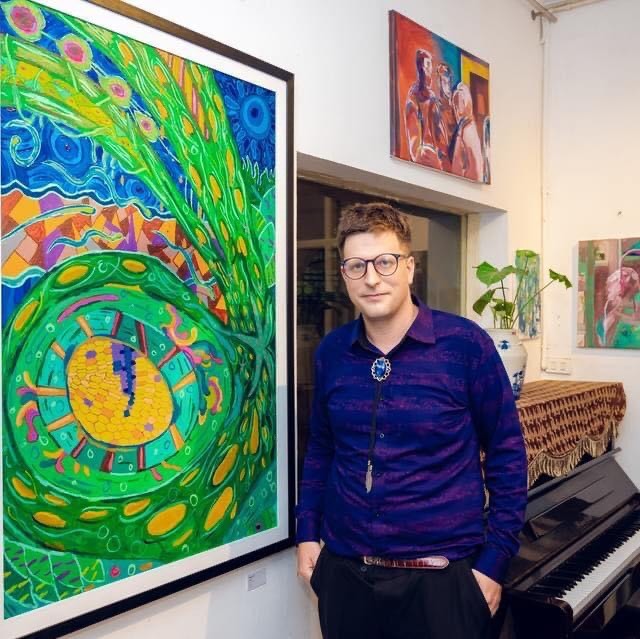 Artist Duncan Griffiths with his past work (Photo courtesy of Duncan Griffiths)
The idea of 'synchronicity' was massively inspirational in the formation of the exhibition. On paper, synchronicity means simultaneous events occurring which seem to have a meaningful significance but have no discernible causal connection – in this case, the year of the rat and COVID-19. To Duncan, it isn't a term that's so easily defined.
"There's no easy answers, you can get into all kinds of things. The thing is the Western mind always wants easy scientific answers but sometimes there are things beyond easy answers, they're concepts," he explains. "Even when I was younger, I noticed this kind of unspoken connection to the seasons and the cyclical passing of time. It's like when you come into school and there's a feeling of school almost being over, spring is here, there's a scent in the air and we all know it instinctively – this is the time for this to happen. There's this deep internal rhythm that I think the zodiac is in cycle with, a grander rhythm also with a connection to animals, like with the rat and disease."
The cat ears he's wearing to commemorate the Vietnamese year of the cat wiggle as he articulates at a speed that can be hard to keep up with.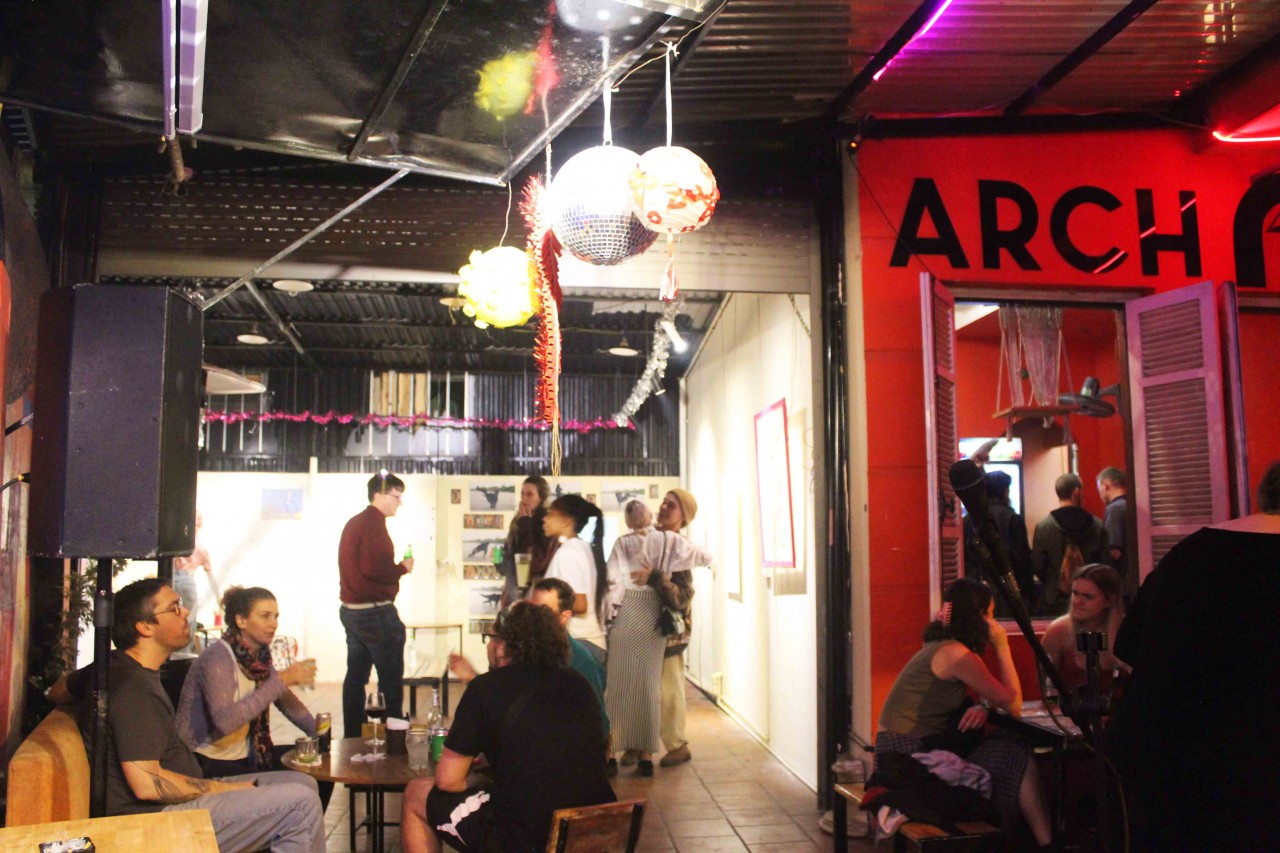 The ground floor space at Arch Cafe and Bar (Photo: Jason Law)
He elaborated that although the Rat might signify disease in the West, it can have various meanings across different countries and cultures.
"I don't know what the rat signifies here in Vietnam, but in the story of the Jade Emperor, the rat was the clever one that jumped off the buffalo's head to get to first place, so it's clever, it's opportunistic."
The varying interpretations of the animals of the Zodiac add an intriguing layer to all of the work on display at Arch. Amidst the buzzing crowd that had gathered there on Tet Zodiac's opening night, Duncan's painting of the Year of the Rooster hangs proudly against the plain white walls customarily seen in art galleries. His image is striking and detailed and even perplexing, particularly when he delves into the complicated nature of the synchronicities and meaning behind it. "What my Rooster piece is about, it's 4chan, it's kind of all the degenerates on the internet. Honestly, it's weird, they got themselves convinced that there's this pattern, this golden ratio for posting things and I can't even keep up with it, the whole concept is really far out."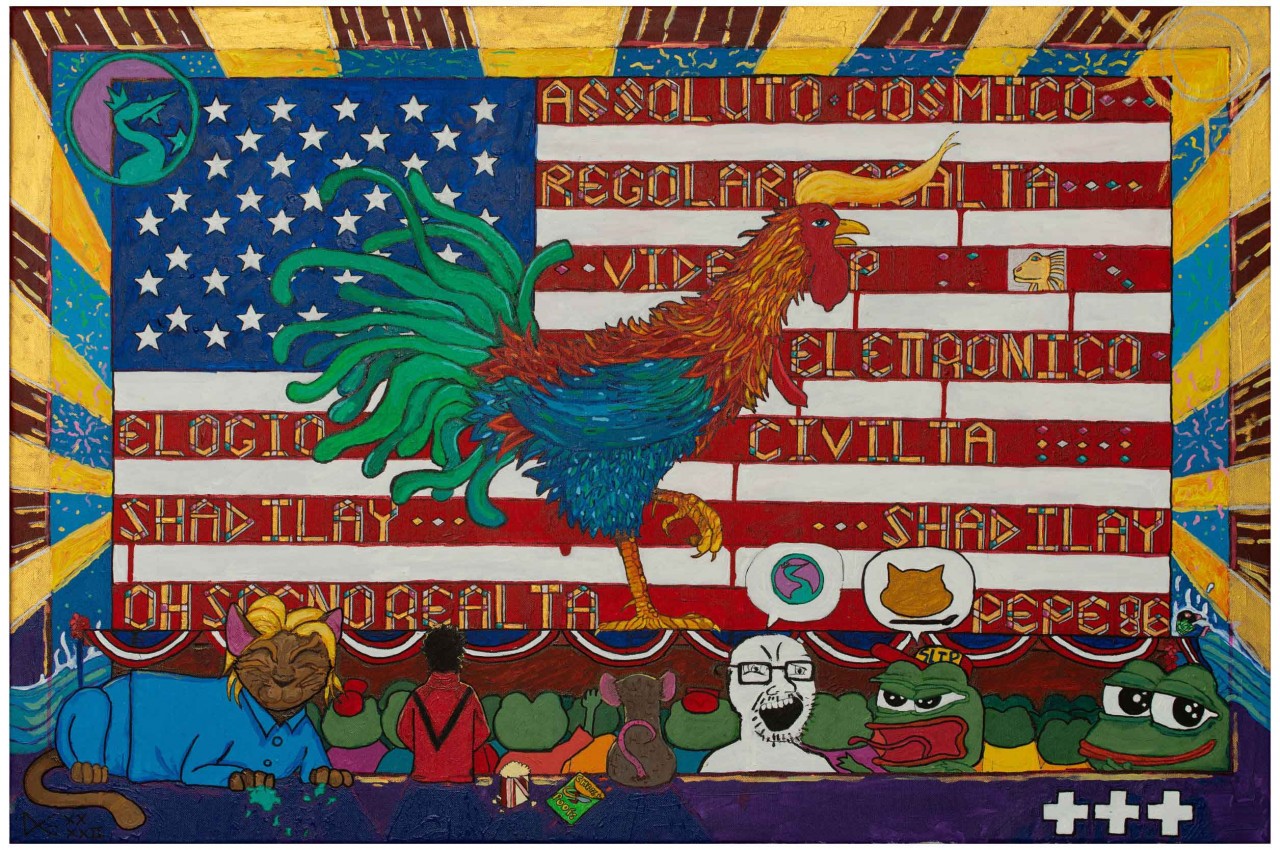 Duncan Griffith's complex Year of the Rooster (Photo: Jason Law)
He goes on to describe the concept, which involves a wide-spanning and intricate tapestry of connections and ideas, including World of Warcraft, Laugh Out Loud (LOL) and KEK, Kek the Egyptian frog Goddess of Chaos, the online meme of Pepe the frog, an Italian band called P.E.P.E and the lyrics to their song 'Shadilay', and two of Aesop's fables, one about a young mouse, and 'The Frogs Who Wished for a King'. It seemed like explicating the thought process behind it all was as difficult as it was to follow!
He combines this chain of connections with his deep interest in the 2017 U.S. inauguration of Trump into the piece. It's evidently clear that a ton of overlapping thoughts went into the artwork, which makes seeing it all the more encapsulating.
When Duncan began organizing the event in September 2022, he posted on Facebook looking for fellow artists to collaborate with in bringing his dream to life. He drew in the interest of several expats and Vietnamese artists, who each picked one zodiac animal. He explained the concept of the show to them using his 2020 rat drawing to demonstrate the synchronism between COVID-19 and the year of the rat and asked them to each create a piece of art that features a zodiac animal and a relevant event from their respective year.
For some artists, this meant associating their animal with a politically or culturally important event. For others, it was about depicting what that year meant to them as an individual. Either way, it is clear that both ideas are inexorably linked.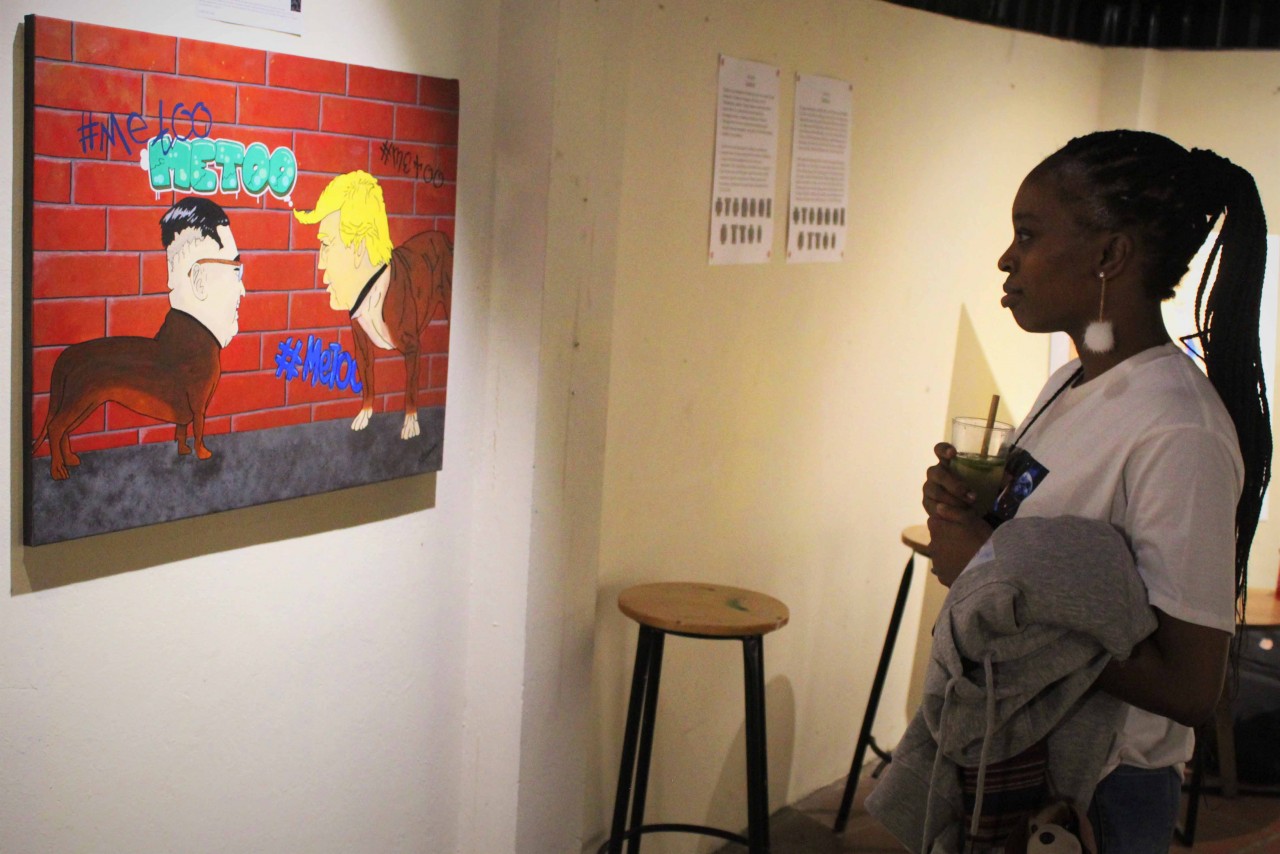 Liz Blanco's Year of the Dog pieces draws in attention (Photo: Jason Law)
One such artist is Elizabeth Blanco (or Liz) from Chicago, Illinois. On the opening night of the show, Liz was there to introduce visitors to her work – not that any encouragement was needed to draw attention to her eye-catching and provocative paintings.
Liz missed the September calling for artists posted by Duncan, so when she came onboard with the project later on, her favorite zodiac animals of the Monkey and the Dragon were already taken. She was initially disheartened to be given the year of the Dog as dogs were an unfamiliar subject matter for her.
"Dogs are very open to interpretation," Liz explains. "If I said the word 'dogs' to you, you might think of cute puppies. If you look at the Year of the Dog and traits of the Zodiac, it's loyalty and friendship. But in our culture we do have expressions that are negative with dogs like 'bad dog', or 'you can't teach an old dog new tricks.'"
After being assigned her Zodiac year and researching events of 2018 to incorporate into her project, what stood out to Liz was the #MeToo movement.
"It was the Me Too movement but it was also all these men that had committed these crimes against women and were constantly in the spotlight. The list was so long, you know it was Harvey Weinstein, Jeffrey Epstein, Brett Kavanuagh, Bill Cosby, Donald Trump".
For Liz, the year wasn't just socially or politically important- "2018 was a difficult year for me personally. I was in a bad relationship when all of that was going on, so when people were hashtagging 'Me Too', it was even more personal for me to do it. And when I did it, my mom hashtagged it and it was devastating to find out my mom had been through that. There were so many women who had been silent for so long".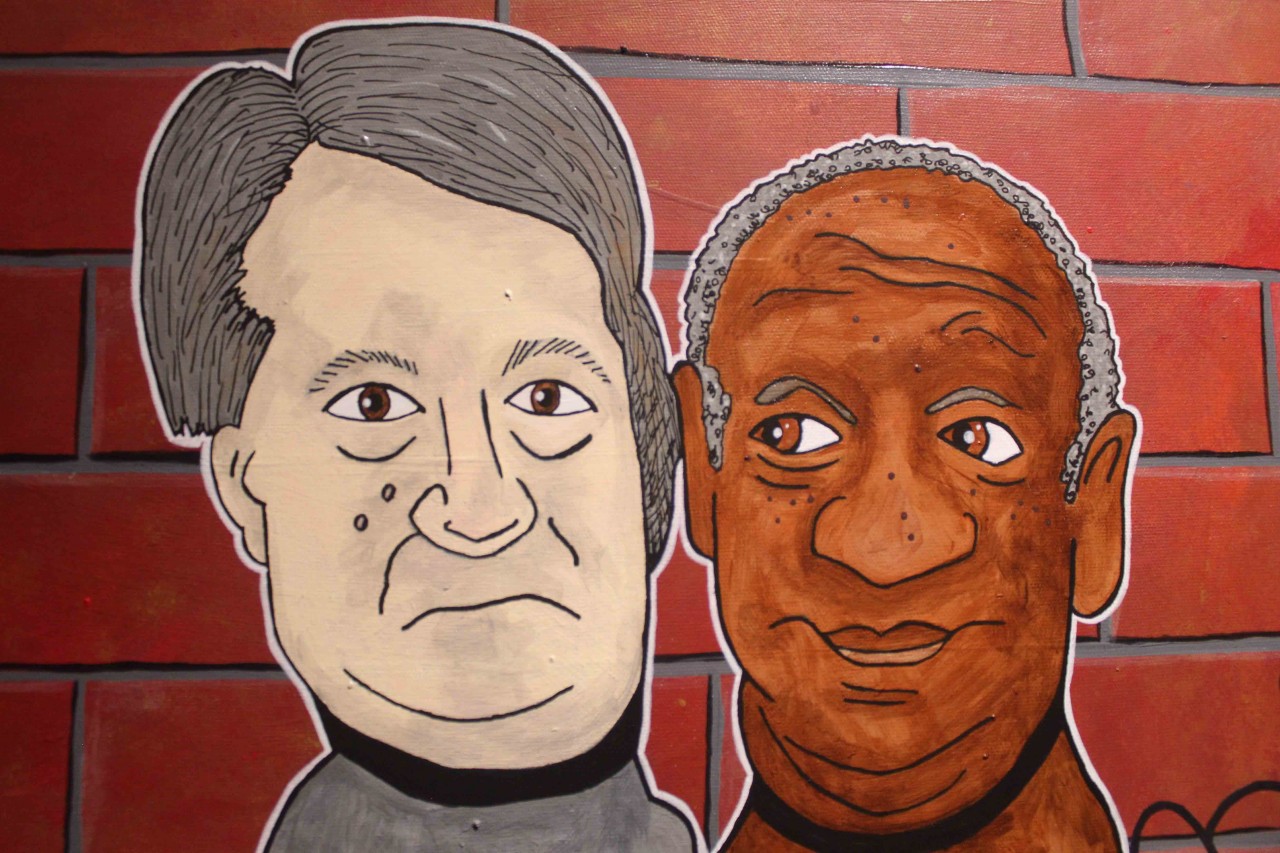 Bad dogs (Photo: Jason Law)
During the percolation phase of her artistic process, as she reflected on her own experiences and those of women everywhere in the Year of the Dog, the synchronicity began to form in Liz's mind. "As my idea took shape, I was almost overwhelmed with 'bad dogs' that I could put into my painting. I actually had to eliminate some of them just for time and painting size" she says.
Her collection of paintings features a few notorious public figures' heads on the bodies of dogs, with the Me Too hashtag on the walls behind them. Although a lot of consideration and self-expression went into the work, the connection is immediately apparent when looking at the images. With Liz's additional insight into what the paintings meant to her, they become even more compelling.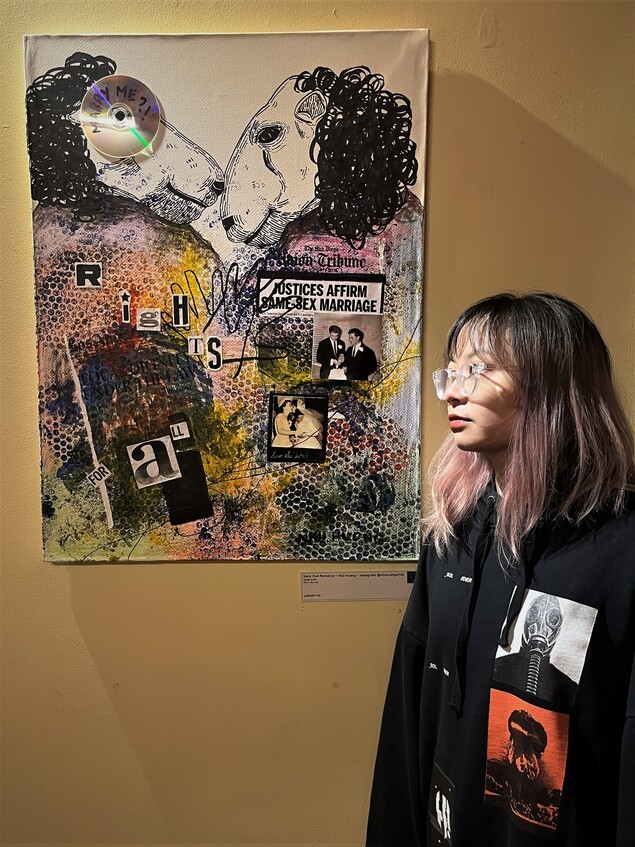 Artist Nhu Huong and one of her Year of the Sheep pieces (Photo courtesy of Nhu Huong)
As the exhibition is open during Tet, the likelihood of visitors meeting the featured artists and hearing about their creative process is low. Fortunately, Duncan and Arch have got that covered. Each display has an accompanying short biography of the respective artist, and a description of what each year meant to them.
Vietnamese graphic designer Duc Anh Le created a lenticular printing (an image that changes based on the angle of observation) which connects the year of the snake with the 2013 Russian meteor catastrophe. Thematically, it combines feelings of chaos and vulnerability brought about by nature, with the wonder and mystery of space.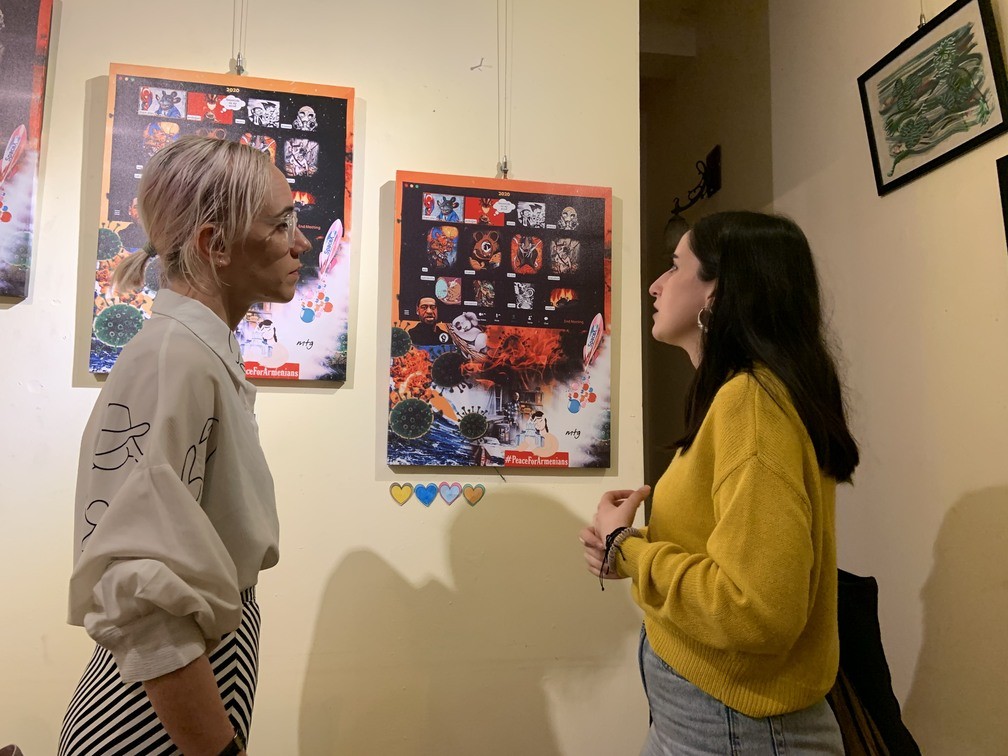 Artist Mary Grygoryan talks to a visitor about her Year of the Rat digital art (Photo courtesy of Duncan Griffiths)
Mary Grygoryan, an Armenian expat artist, created three intricate digital collages combining the "horrendous craze of 2020" with the imagery of a Zoom call filled with rats whose usernames are all of the worst things to come out of that year. Anyone alive through the Year of the Rat would probably have at least a few names to add to the list! She invites the viewer to become a part of the conversation by sticking a heart underneath their favorite of the three pieces.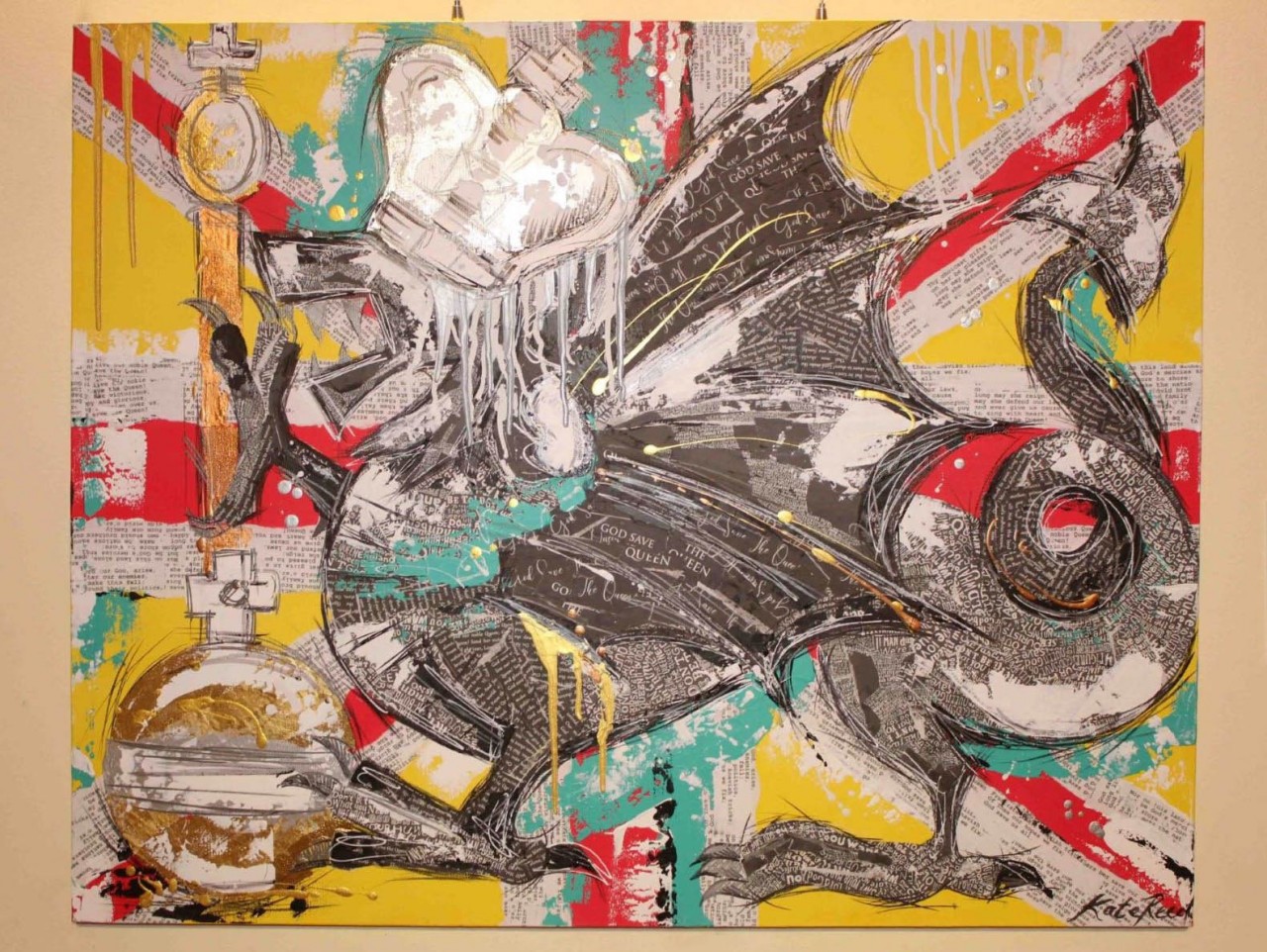 Kate Reed's intricate Year of the Dragon. Best seen in person! (Photo: Jason Law)
Kate Reed is an artist and art teacher based in HCMC who sent her artwork all the way up to Hanoi via post. Due to her dual-nationality of British and South African, 2012 was of significance to Kate because of Queen Elizabeth II's Diamond Jubilee and the South African diamond gifted to her. She put together various materials to create a complex, Western-styled Dragon featuring lyrics to 'God save the Queen' by The Sex Pistols.
One of Duncan's contributions to the gallery is a (formerly) colorless, black-outline picture of a cat that invites visitors to color it in by section. As we begin 2023, nobody can predict what the future might bring, and so the audience collaborates to collectively depict the Year of the Cat before it's even begun.
A visitor contributes to the communal depiction of the coming Year of the Cat (Photo: Jason Law)
These are just a few of the deeply engaging works of art on display at Arch during Tet, all intertwined through the theme of synchronicity and the Zodiac. A lot of the artists' passion, imagination and hard work went into making this exhibition a reality, but none of it would've been possible without the venue and its owner, Kyle Gonzales.
Kyle is a 30-year-old Canadian expat with a constant smile on his face and a welcoming character. Since opening Arch in 2020, he's worked towards building a creative and cultural hub where artists can freely express themselves, whether they're a first timer or have previous experience in their form of artistry.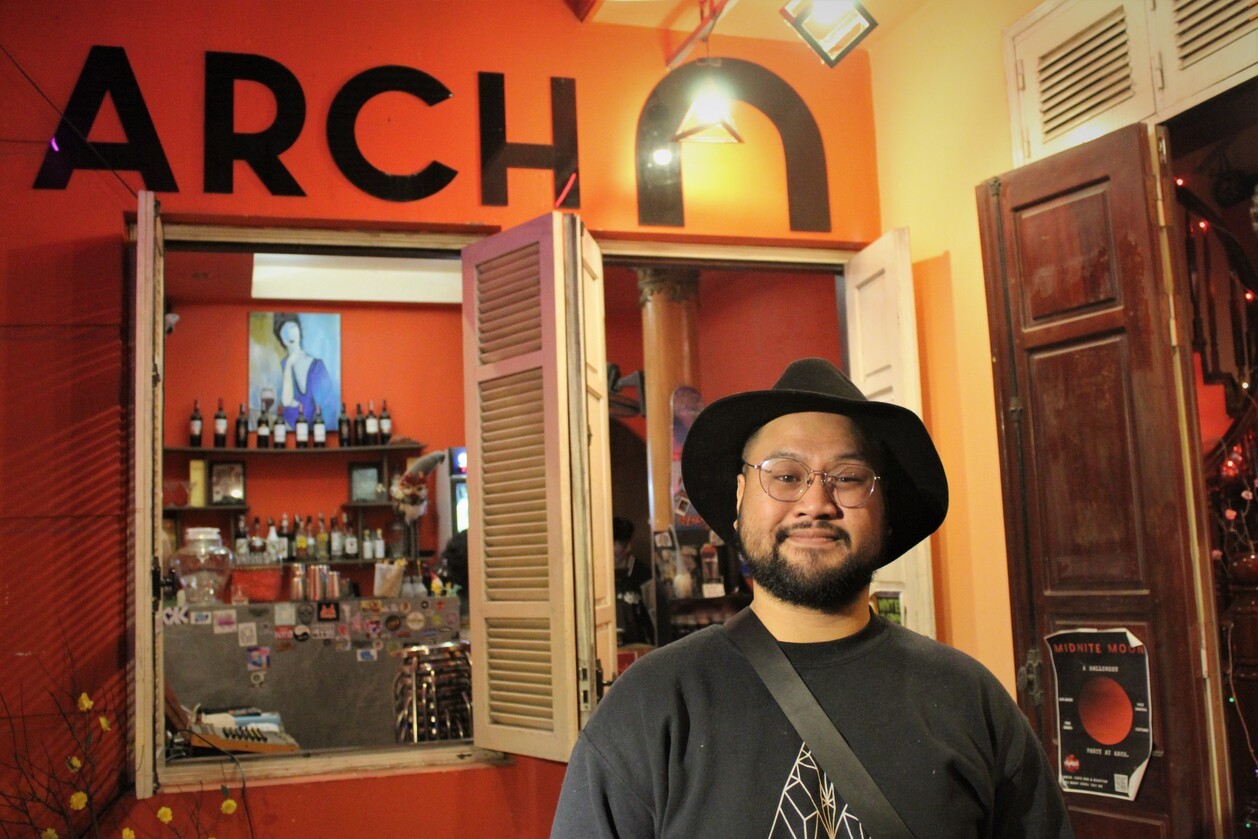 Proud owner of Arch, Kyle Gonzales (Photo: Jason Law)
When Duncan approached Kyle with his idea in the summer of 2022, Kyle enthusiastically encouraged him to put it all together and assured him that Arch would handle the logistics of it. "What I really liked about Duncan was that he was a first-time exhibitioner, right? And we've done a lot of firsts for people, just because we provide the space for them to do it. We know how hard it can be for artists to make it, and we want to give them that freedom!"
When Kyle speaks, his energy and enthusiasm is contagious – this isn't about business for him, it's about showcasing the innovative talent of anybody willing to share it.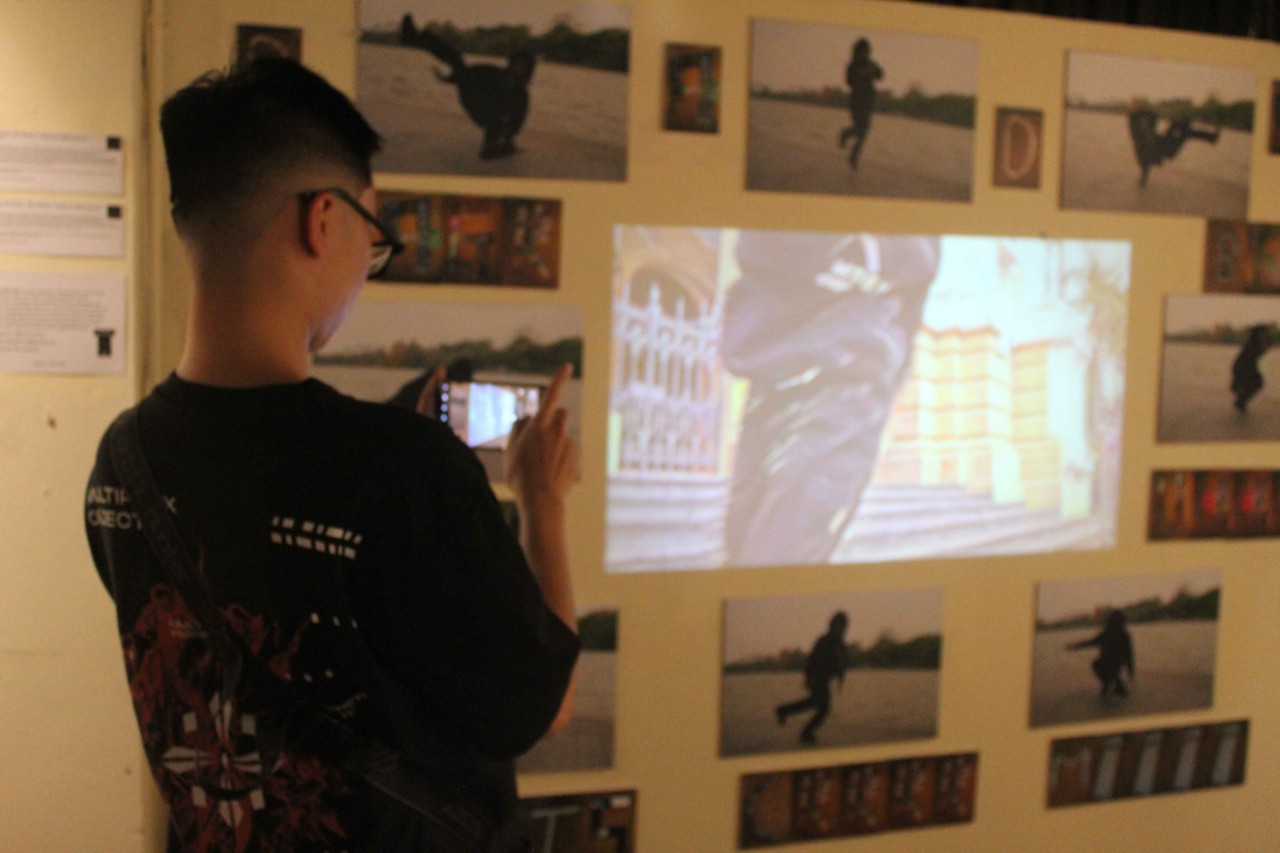 A visitor checks out the video and photography display (Photo: Jason Law)
Kyle used his expertise in running Arch and its past exhibitions to assist Duncan in the setup of the event. Speaking about Duncan's early uncertainty on how to get a collective of artists together, Kyle supportively told him "Just do an artist callout! You have what you want to do, just put it out there! And after he posted on Facebook it just snowballed from there."
The organizing of the event drew in both new and more seasoned artists, putting them together in one place. Arch's space allowed their ideas to converge and for fellow artists to find like-minded people and work together to create something remarkable.
With the year coming to an end, the Tet Zodiac exhibition is an unmissable place to reflect not just on the past year, but the past twelve years. How they've been perceived and received by an assortment of diverse minds results in a colorful, creative display, with each piece competing for the viewer's attention.
Whether you are a Cat, or a Pig, or a Buffalo, or even a Dragon, there is something for you at this special exhibition.
The Tet Zodiac Exhibition launched on January 13th and will be running until January 28th at ARCH Cafe Bar & Rooftop.
On Saturday, January 28th, Arch will be hosting a closing night event where The Brighter Days Radio Show will be playing live.
Arch will remain open during the Tet Holiday dates too, so for those staying in Hanoi, there's at least one place that isn't closed!
Arch Cafe Bar & Rooftop can be found at 143 Nhat Chieu Ward, Nhat Tan, Tay Ho, Hanoi.