6 Atlanta police officers charged with excessive force
According to TMZ, the Atlanta police officers involved in the violent arrest and tasing of 2 black college students who were in their vehicle during protests this weekend are now facing charges ... on the heels of 2 of them losing their jobs.
The Fulton County DA has charged 6 cops for using excessive force during the incident with Messiah Young and Taniyah Pilgrim Saturday night. Four of the cops have been charged with aggravated assault -- Mark Gardner, for tasing Pilgrim; Ivory Streeter, for tasing Young and pointing a gun at him; Lonnie Hood for using a Taser on Pilgrim and Young; and Willie Sauls for pointing a Taser.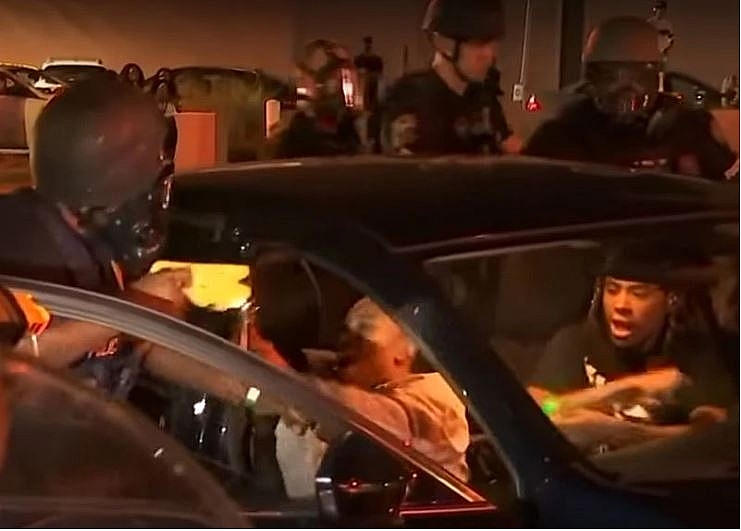 Two Atlanta cops were fired after video showed them dragging two college students from their car and tasing them by way of enforcing a curfew. Friends identified the two as 20-year-old Spelman College student Teniyah Pilgrom and 22-year-old Messiah Young, a graduate of Morehouse College, The Atlanta Journal-Constitution reported. (CBS News 46 via YouTube)
Another officer, Armond Jones, has been charged with aggravated battery for forcefully throwing Young down on the street and pointing a gun at him. The sixth officer, Roland Claud, is charged with criminal damage to property ... the couples' car.
Mayor Keisha Lance Bottoms fired both Gardner and Streeter almost immediately after learning of the incident, and the other 4 were placed on desk duty. The students claim they were out getting food when they got caught in traffic and the chaos around them. They later spoke about the scary ordeal, saying they felt lucky to be alive ... and demanded change so similar incidents stop happening.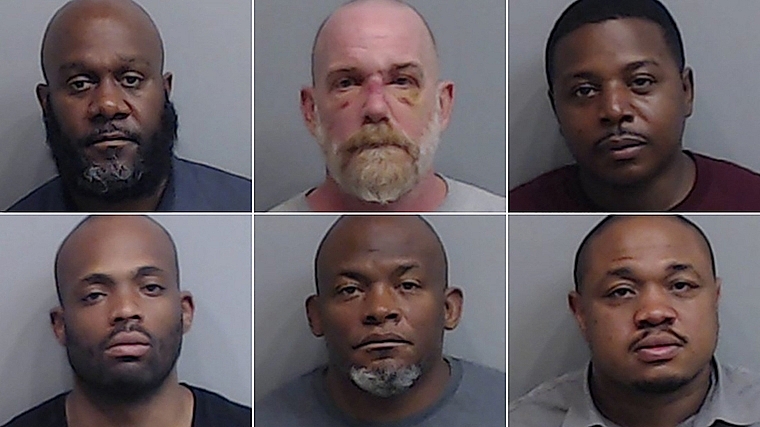 Fulton County Sheriff's Office
Ex-defense chief Mattis denounced President Trump for heavy-handed use of military force
In an extraordinary rebuke, former defense secretary Jim Mattis on Wednesday denounced President Donald Trump's heavy-handed use of military force to quell protests near the White House and said his former boss was setting up a "false conflict" between the military and civilian society, The Washington Post reported.
"I have watched this week's unfolding events, angry and appalled," Mattis wrote.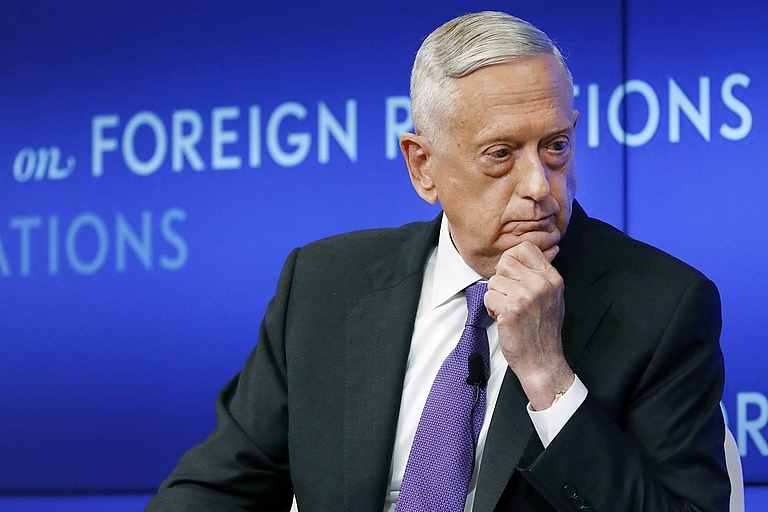 In this Sept. 3, 2019, file photo former U.S. Secretary of Defense Jim Mattis listens to a question during his appearance at the Council on Foreign Relations in New York. Mattis issued a statement Wednesday, June 3, 2020, on the recent protests around the United States. (AP Photo/Richard Drew, File)
The criticism was all the more remarkable because Mattis has generally kept a low profile since retiring as defense secretary in December 2018 to protest Trump's Syria policy. He had declined to speak out against Trump, saying he owed the nation public silence while his former boss remained in office. But he's speaking out after this past week's protests in response to the death of George Floyd in police custody.
Mattis had a scathing description of Trump's walk to a historic nearby church Monday to pose with a Bible after law enforcement forcibly cleared Lafayette Square of mostly peaceful protesters.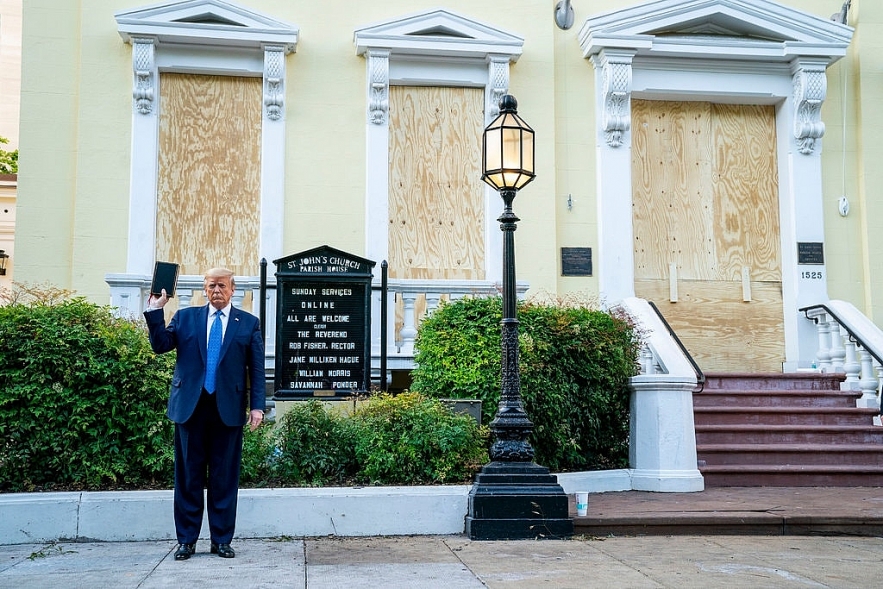 The authorities used riot-control tactics to disrupt peaceful protests outside the White House to clear a path for President Trump's walk to St. John's Church in Washington on Monday night. Photo: Doug Mills/The New York Times
He said he never dreamed troops "would be ordered under any circumstance to violate the Constitutional rights of their fellow citizens — much less to provide a bizarre photo op for the elected commander-in-chief, with military leadership standing alongside."
Mattis said of the protesters that Americans should not be distracted by a small number of lawbreakers. He said they are rightly demanding that the country follow the words of "Equal Justice Under Law" that are on display at the U.S. Supreme Court.
"The protests are defined by tens of thousands of people of conscience who are insisting that we live up to our values — our values as people and our values as a nation," Mattis said.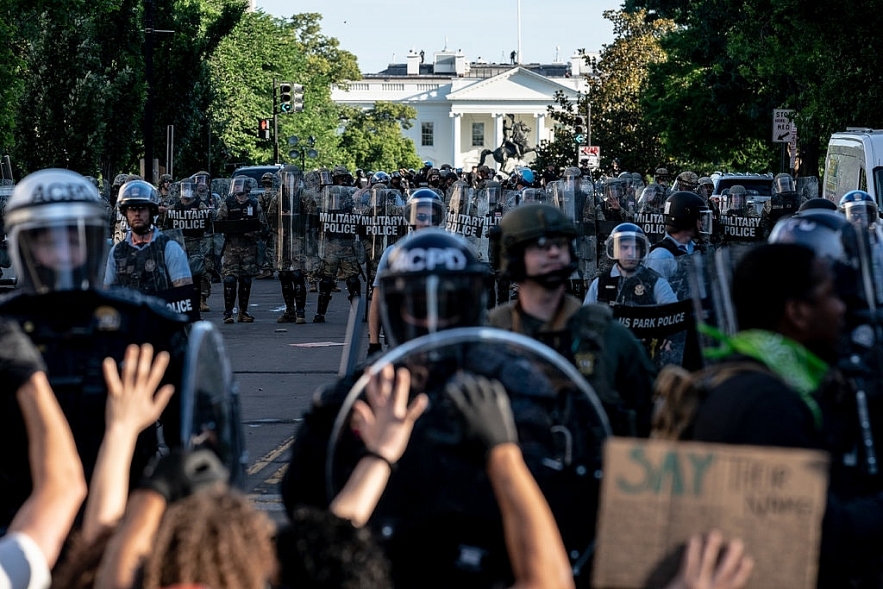 The police advanced on protesters outside the White House on Monday. Photo: Erin Schaff/The New York Times
Peaceful protesters are still out in Washington and some cities while curfew approaches
In Washington, DC, large numbers of protesters are still on the streets even as the evening curfew approaches. Crowds are lingering near Lafayette Park, though they have been pushed farther back from the White House than previous days, said CNN Correspondent Alex Marquadt on the scene.
Protests have been peaceful all day, he said -- earlier today, crowds were singing and cheering together, and the mood was light. But as night falls, "the mood is changing," Marquadt said. Though things are still peaceful, there is a sense of tension with protesters facing a line of troops in camouflage.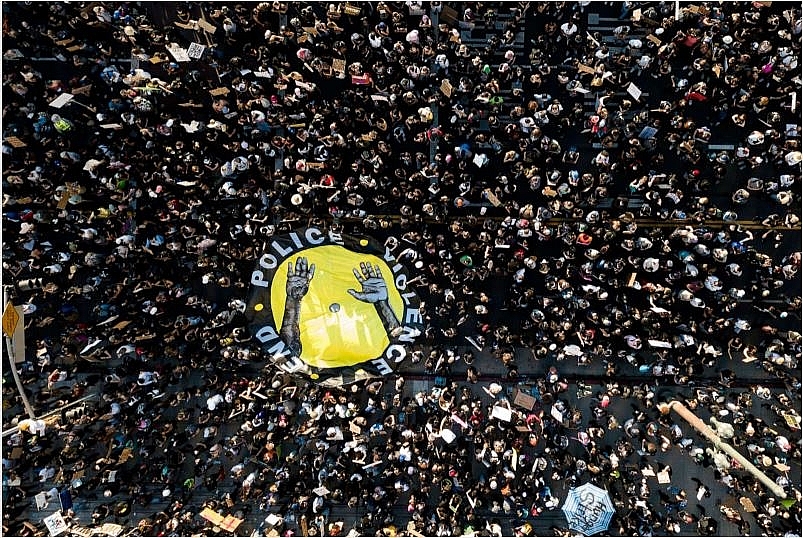 Protestors in the US over Floyd's death. Photo: ABC News
"We're trying to determine whether they are active duty or National Guard," Marquadt said. "We know that around 2,000 to 3,000 National Guard (members) have been called up. Not just from D.C., but around the country. There are 250 soldiers who have been sent up here from Fort Drum and Fort Brag in North Carolina."
In Los Angeles, curfew is scheduled to kick in at 9 p.m., just minutes away now -- but there are still crowds of protesters marching through the city's downtown.
Protestors in the US over Floyd's death. Photo: ABC News
"This group has been here for hours and just recently started walking back and forth -- the police are preventing them from walking through certain streets here in downtown LA," said CNN Correspondent Kyung Lah from the scene. "For hours we saw them staging outside of city hall, and now they are walking."
When curfew kicks in, police are expected to move in and enforce it even if the protesters are being peaceful, Lah said. The same thing happened last night -- protesters stayed outside the mayor's residence for hours after curfew, and were eventually removed and detained by police, though the arrests were largely peaceful and calm.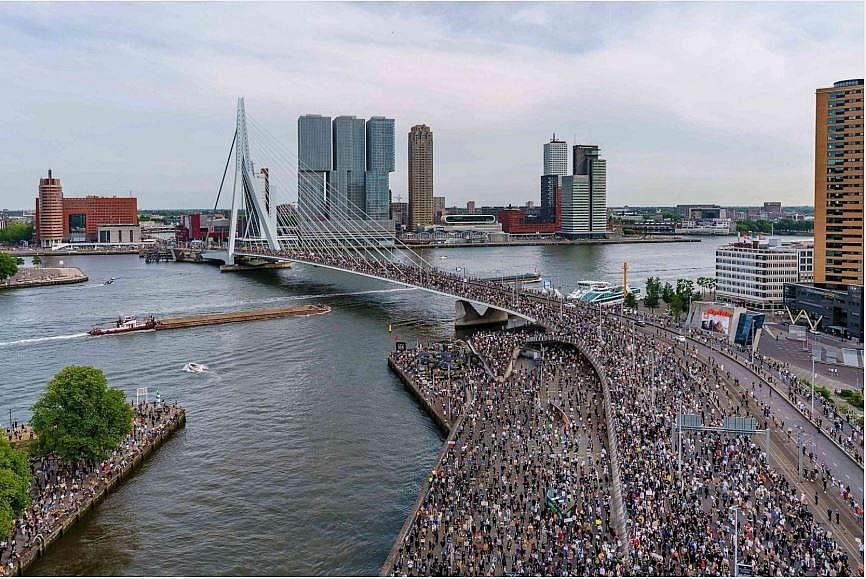 Protestors in the US over Floyd's death. Photo: ABC News
Final autopsy report concluded George Floyd's death resulted from cardiopulmonary arrest
According to CNN, George Floyd's death was due cardiopulmonary arrest – or the stopping of his heart – according to the final autopsy results released by the Hennepin County medical examiner.
The report from Dr. Andrew Baker says Floyd's neck was compressed when former officer Derek Chauvin's knee was on it for more than eight minutes, but does not conclude that it was the direct cause of his death.
The new report does indicate that Floyd had a number of bruises and cuts on his head, face, mouth, shoulders, arms and legs. But it found no evidence that any of those injuries directly would have killed him.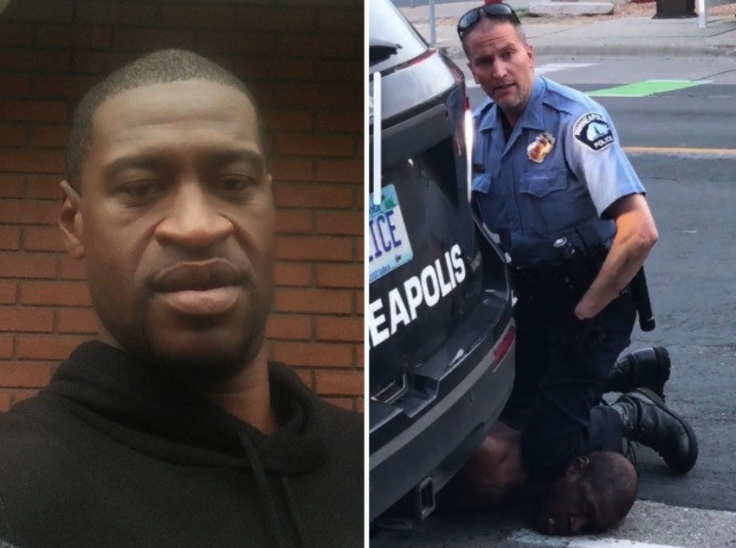 Georege Floyd (left). Photo by IB Times.
An independent autopsy commissioned by the Floyd family disagreed with the conclusion of the county, saying that Floyd died of "asphyxiation from sustained pressure."
The autopsy says Floyd had heart disease and a history of high blood pressure. A preliminary toxicology report found moderate levels of fentanyl and methamphetamine. The family's independent autopsy did not include a toxicology report.
The county autopsy also indicates that Floyd had recently tested positive for coronavirus, although there is no indication that it was a factor in his death.
All four former officers relating to George Floyd's death are now in custody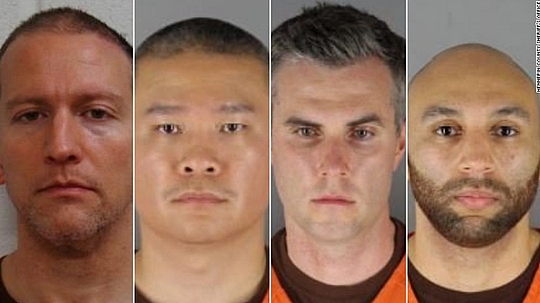 Derek Chauvin, Tou Thao, Thomas Lane Kiernan, and J. Alexander Kueng. Hennepin County Sheriff's Office
As CTV News reported, the former Minneapolis Police officer who pressed his knee into George Floyd's neck was charged on June 3 with a new, more serious count of second-degree murder, and the three other officers on scene during his killing were charged with aiding and abetting second-degree murder.
"I strongly believe that these developments are in the interest of justice for Mr. Floyd, his family, our community and our state," Minnesota Attorney General Keith Ellison said in announcing the charges. The announcement came more than a week after Floyd was killed while in police custody in Minneapolis, sparking nationwide protests that call for the end to police violence against black citizens.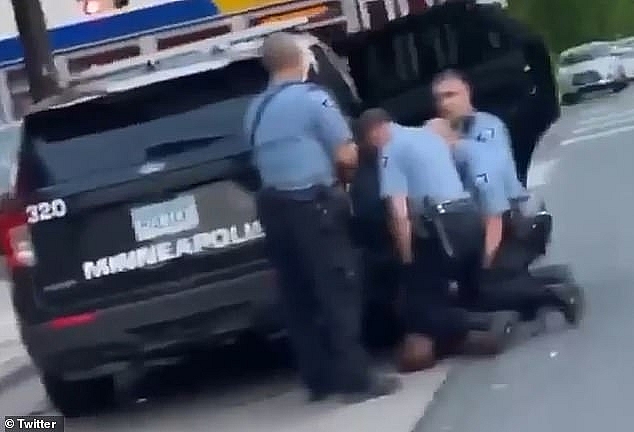 Four former officers involving in Floyd's death. Photo: Daily Mail,
Derek Chauvin, who pressed his knee into Floyd's neck for nearly nine minutes, had previously been charged with third-degree murder and second-degree manslaughter. The new second-degree murder charge says that he killed Floyd "without intent" in the course of committing assault in the third degree, according to an amended complaint.
Thomas Lane and J. Alexander Kueng, who helped restrain Floyd, and Tou Thao, who stood near the others, were not initially charged. Lane, 37, Kueng, 26, and Thao, 34, are now charged with aiding and abetting second-degree murder and aiding and abetting second-degree manslaughter.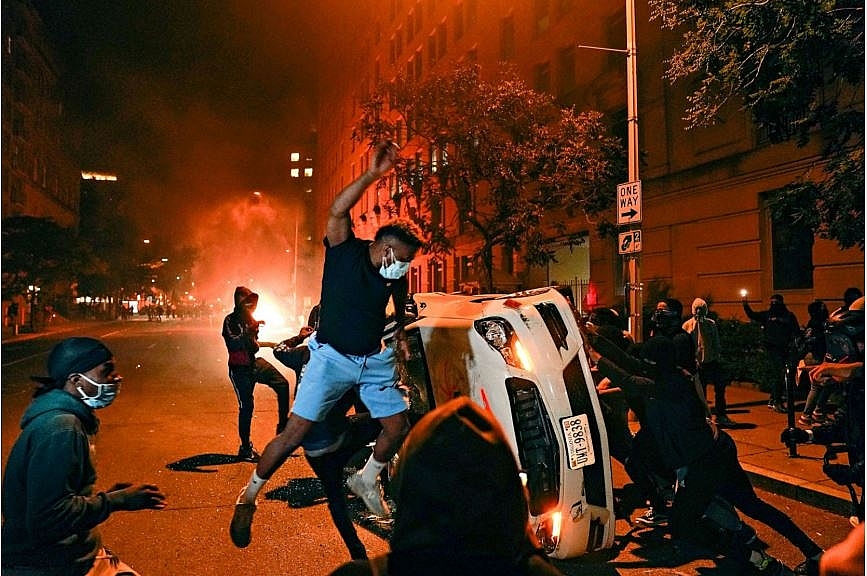 Riots in the US over Floyd's death. Photo: ABC News
Second-degree murder and aiding and abetting second-degree murder are punishable by up to 40 years in prison. Manslaughter and aiding and abetting manslaughter are punishable by up to 10 years in prison.
According to the video and the criminal complaint, Chauvin kept his knee on Floyd's neck as Floyd pleaded that he could not breathe, as witnesses protested that he was dying, and even as Lane twice asked to turn him onto his side. Still, Chauvin kept his knee in position for almost three minutes after Floyd became unresponsive, the complaint states.
Ruby Lee