Protests in America update: President Trump says no defunding or disbanding of police
President Trump says no defunding, dismantling or disbanding of police, judge sets $1-$1.25 million bail for Derek Chauvin, peaceful protests continue across the US, thousands pay tribute to George Floyd at public viewing in Houston and investigate why rubber balls being used on protesters in New Orleans are remarkable news updated today.
President Trump says no defunding, dismantling or disbanding of police
According to ABC News, President Donald Trump on Monday sent a clear message during a White House roundtable with members of law enforcement: The police are doing a "fantastic" job. "There won't be defunding, there won't be dismantling of our police and there is not going to be any disbanding of our police," he said at the afternoon event.
"We want to make sure we don't have any bad actors in there, and sometimes, you'll see some horrible things like we witnessed recently, but 99 - I say 99.9, but let's go with 99% of them are great, great people, and they've done jobs that are record setting - record setting," Trump said.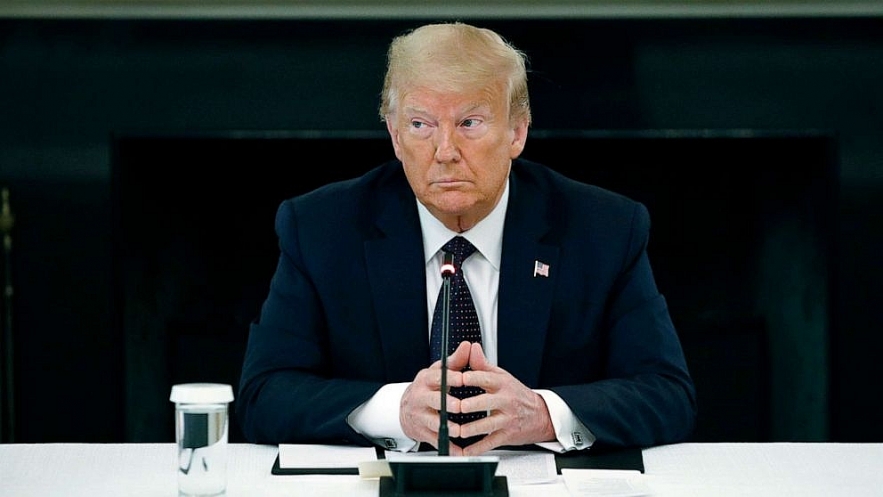 President Donald Trump listens during a roundtable discussion with law enforcement officials, June 8, 2020, in the State Dining Room of the White House. Photo: Patrick Semansky/AP
The president repeated that country's current crime statistics are "among the best numbers we've ever had in terms of recorded history. There's a reason for less crime, it's because we have great law enforcement. I'm very proud of them," he added.
Trump made the comments surrounded by top administration officials and half a dozen external participants that included attorneys general from Florida and Kentucky, the national president of the Fraternal Order of Police, the president of the International Association of Chiefs of Police, and representatives of police departments in Illinois and Colorado. The roundtable comes on the heels of Minneapolis City Council announcing Sunday that it would disband the city's police force in the wake of Floyd's death and long-standing issues with police conduct.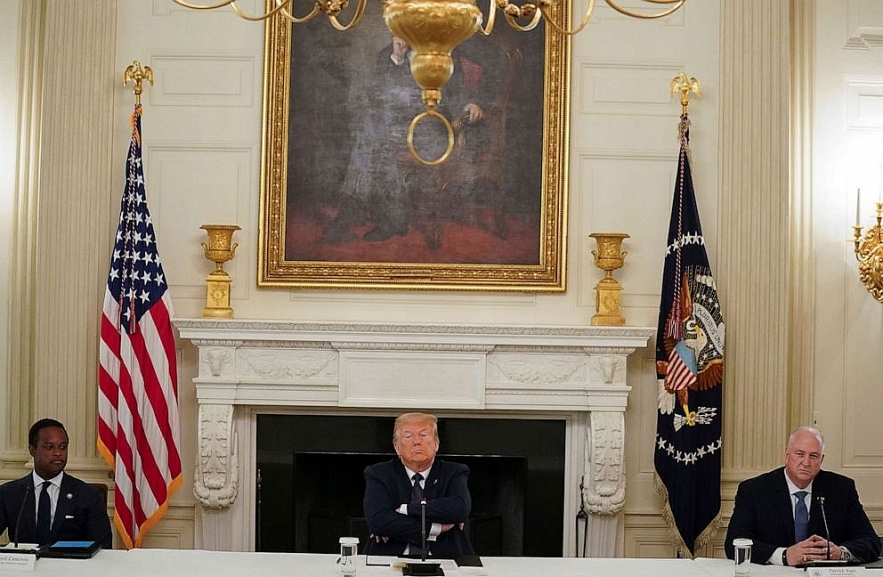 President Donald Trump is flanked by Kentucky Attorney General Daniel Cameron and Fraternal Order of Police National President Patrick Yoes during a roundtable discussion with law enforcement in the State Dining Room at the White House, June 8, 2020. Photo: Kevin Lamarque/Reuters
"They want to end the police department -- quote end the police department in Minneapolis -- end. What does that mean? End it," Trump said, noting he saw reports in the papers. "They abandoned their police precinct, something I've never seen before. You had a mayor that asked them to abandon, and now they've abandoned the mayor, it looks like."
Trump called it the "opposite of far thinking" but said once he brought in the National Guard "it was like magic." He said the roundtable would continue to discuss how policing can be done "in a lot more gentle fashion."
"But we can't give up the finest, law enforcement anywhere in the world is nothing like it," Trump said. "So we're going to be discussing some ideas and some concepts and some things, but we won't be defunding our police. Trump added, "I guess you might have some cities will want to try but it's going to be very, very sad situation."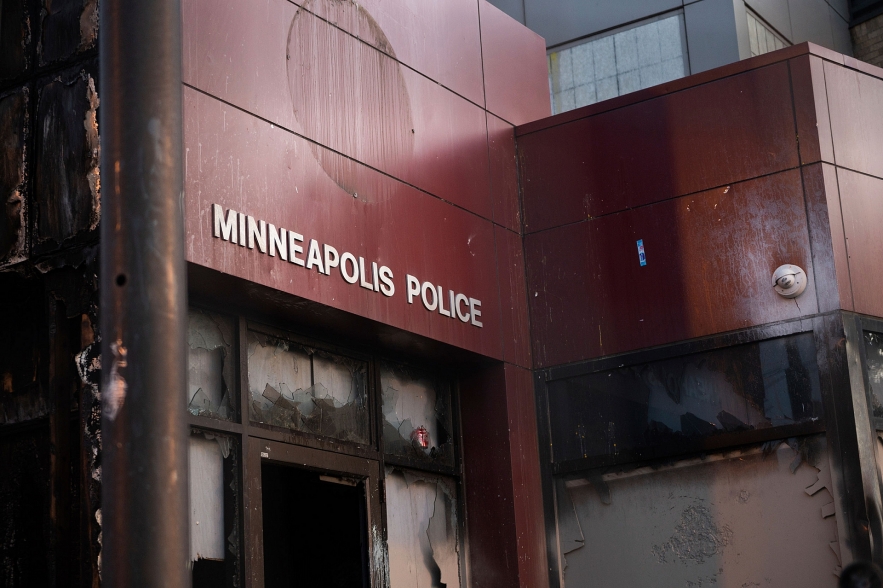 The Minneapolis Police Department 3rd Precinct after being destroyed by protesters n May 29. Zach D Roberts/NurPhoto/AP
Peaceful protests continue across the US
Today marks the 14th day of protests across the US following the death of George Floyd. Ex-Minneapolis police officer Derek Chauvin, who pressed his knee on Floyd's neck for nearly nine minutes as the man begged for his life, had his bail set at $1.25 million during a Monday hearing, CNN reported.
Floyd's death sparked two weeks of global protests that saw some of the largest crowds yet over the weekend. While the earlier days of unrest included buildings on fire and looting, protests have since remained mostly peaceful.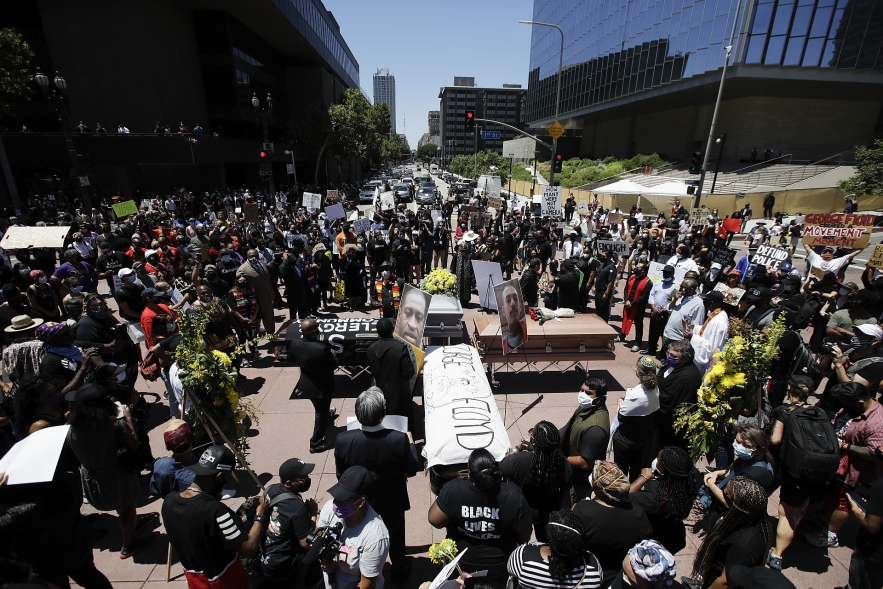 Caskets are laid out in the shape of a cross on June 8, in Los Angeles during a protest over the death of George Floyd. Photo: Marcio Jose Sanchez/AP
Peaceful protests over the death of George Floyd have continued in New York City with thousands of demonstrators, most of them wearing masks, walking through Manhattan without a looming curfew.
The city had been scheduled to leave its 8 p.m. curfew in place through at least Sunday night. But Mayor Bill de Blasio announced in the morning that it would be nixed, saying, "Yesterday and last night we saw the very best of our city."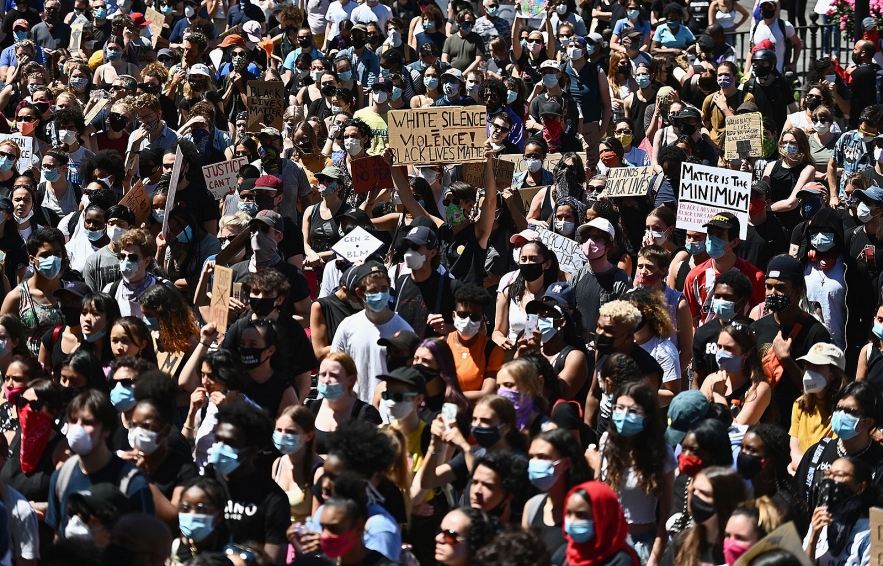 Protesters gather in front of Borough Hall in New York. Angela Weiss/AFP/Getty Images
In brief, demonstrations today have stayed largely calm, with fewer arrests and violent confrontations than the previous week. Peaceful protesters are still out in cities like Atlanta, Washington, DC, and Seattle. There were clashes in New York between protesters and police, but authorities say the city was still quieter than before, with no reported instances of looting.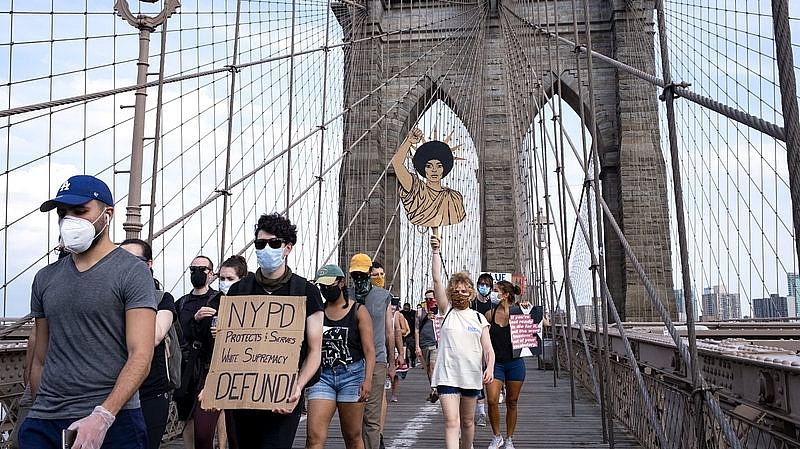 Protesters and activists walk across the Brooklyn Bridge Saturday in New York. Cities saw some of their biggest gatherings of the past two weeks on Saturday. Photo: Craig Ruttle/AP
Judge sets $1-$1.25 million bail for Derek Chauvin
Bail for the white former Minneapolis police officer charged with murdering African American George Floyd, whose death ignited two weeks of protests, was raised by $250,000 to $1.25 million at a hearing on June 8, Today Online reported.
Former officer Derek Chauvin, 44, has been charged with second and third-degree murder and manslaughter in Floyd's May 25 death in Minneapolis by kneeling on his neck for nearly nine minutes. Chauvin made his first court appearance by video link. He was handcuffed in an orange jumpsuit and sitting at a small table, the Minnesota-based Star Tribune said after the hearing. Access was limited to a small group of reporters.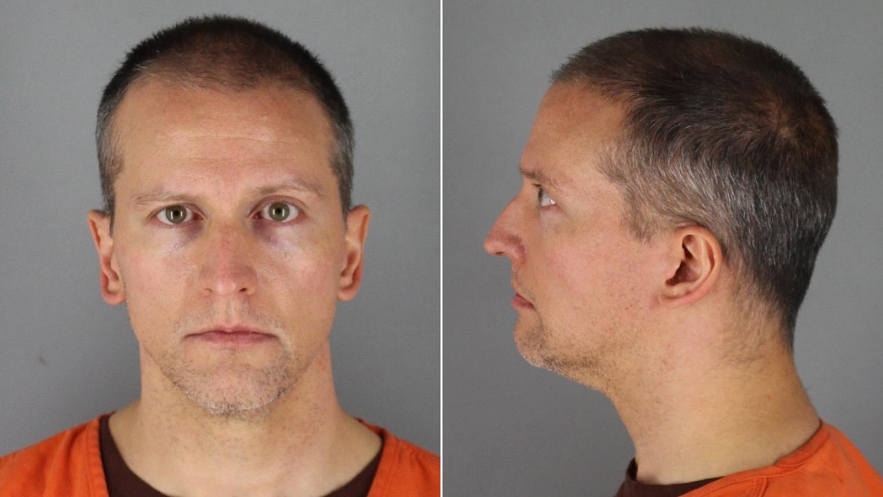 Derek Chauvin. Photo: Hennepin County Sheriff's Office
Minnesota Assistant Attorney General Matthew Frank argued that the "severity of the charges" as well as the strength of public opinion against Chauvin made it more likely that Chauvin would flee if set free, the Star Tribune reported.
Chauvin's bail was raised to $1.25 million from $1 million without conditions, and to $1 million from $750,000 with conditions, according to a conditional release order signed by Hennepin County District Judge Jeannice Reding.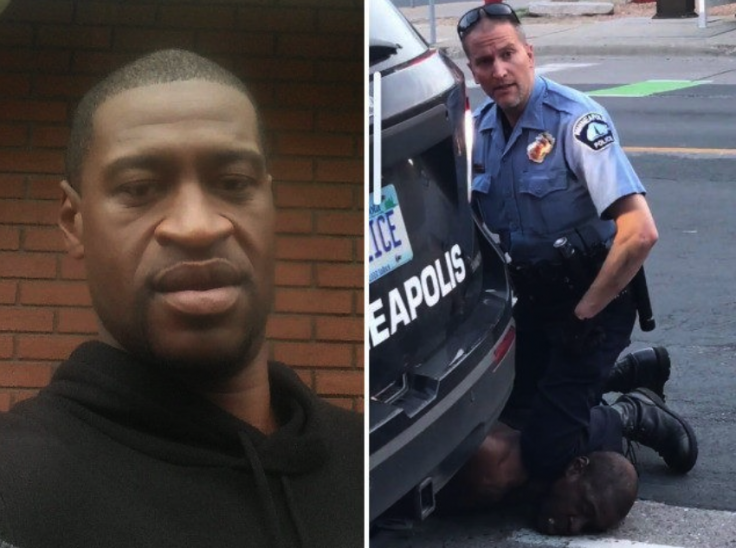 Scene of the incident on May 25. Photo: IB Times
The conditions include prohibitions against working in law enforcement and contact with Floyd's family. Chauvin would also have to surrender any licenses or permits for firearms to qualify for the lower bail amount, the order said. Chauvin and his attorney did not object to the bail conditions, the Star Tribune reported.
Thousands pay tribute to George Floyd at public viewing in Houston
Thousands of people have arrived in Houston to pay tribute to George Floyd in his hometown after his death sparked a wave of protests across the US and beyond, Telegraph reported.
The public viewing at the Fountain of Praise church in southeast Houston, Texas, marks the last of three public memorial services for the 46-year-old before he is laid to rest in a private funeral on Tuesday.
A demonstrator reads messages left in front of the White House's recently erected security fence now turned into a memorial against police brutality and the death of George Floyd. CREDIT: AFP
CBC also reported that the last chance for the public to say goodbye to George Floyd drew thousands of mourners Monday to a church in his native Houston, as his death two weeks ago continues to stoke protests in the U.S. and beyond over racial injustice.
In a reflection of the weight of the moment, the service drew the families of Black victims in other high-profile killings whose names have become seared in the country's conversation over race - among them Eric Garner, Michael Brown, Ahmaud Arbery and Trayvon Martin.
"It just hurts," said Philonise Floyd, Floyd's brother, sobbing as he ticked off some of their names outside The Fountain of Praise church. "We will get justice. We will get it. We will not let this door close."
Guests walk in the heat to the visitation in Houston on Monday. (Eric Gay/The Associated Press)
In the searing Texas heat, mourners wearing T-shirts with Floyd's picture or the words "I Can't Breathe" — the phrase he said repeatedly while pinned down by a Minneapolis police officer — waited for hours to see his body, dressed in a brown suit in an open, gold-coloured casket. One man in line fainted, while others waiting sang Lean on Me.
Some knew Floyd from the nearby housing projects where he grew up. Others travelled for hours or drove in from other states. Those who couldn't make it created their own tributes: In Los Angeles, a funeral-style procession of cars inched through downtown as the viewing began in Houston. In Tennessee, residents of Memphis held a moment of silence.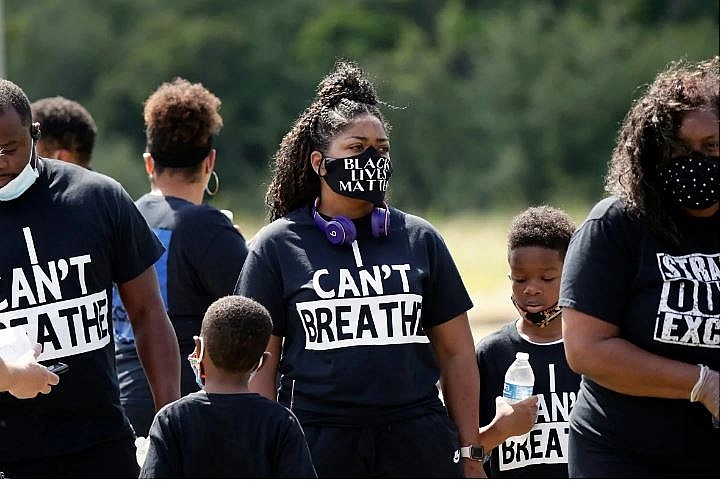 Guests arrive at the public visitation, some after travelling for hours. (Eric Gay/The Associated Press)
Floyd died May 25 after a white Minneapolis police officer pressed his knee into his neck for nearly nine minutes. His death, which a bystander recorded, has inspired international protests and drawn new attention to the treatment of Black Americans by police and the U.S. criminal justice system. Two weeks after Floyd's death, the impact of his death continued to resonate both at home and abroad.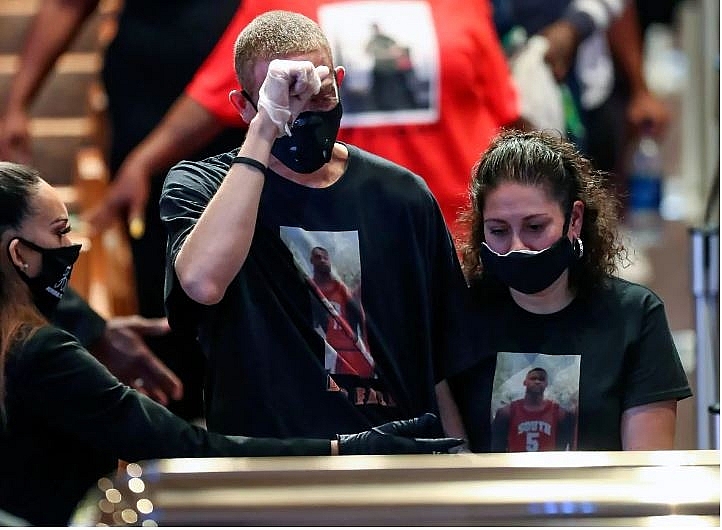 A man wearing a T-shirt with an image of George Floyd as a Yates High School basketball player reacts as he views Floyd's casket during a public visitation on Monday at The Fountain of Praise church in Houston. (Godofredo A. Vásquez/Houston Chronicle via The Associated Press, Pool)
New Orleans police superintendent says they're investigating why rubber balls were used on protesters
The New Orleans police chief acknowledged Monday that police fired rubber balls at protesters on a Mississippi River bridge last week, and apologized for having said otherwise at a news conference the following morning, US News reported.
New Orleans Police Superintendent Shaun Ferguson said his office is investigating why rubber balls were used on protesters in New Orleans on June 3. Previously, Ferguson said police only used tear gas on protesters, but on Monday said an investigation has shown rubber balls were also used. Ferguson said neither he nor the commanding officer on scene authorized the use of rubber balls, CNN reported.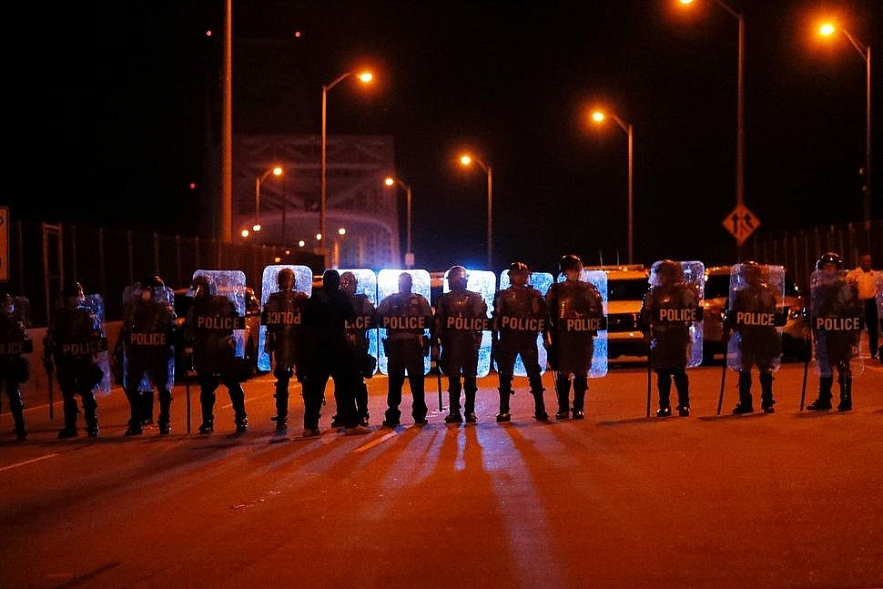 Police line up as protesters attempt to take over the Crescent City Connection bridge, which spans the Mississippi River in New Orleans, Wednesday, June 3, 2020, during a protest over the May 25 death of George Floyd, who died after being restrained by police in Minneapolis. (AP Photo/Gerald Herbert)
Ferguson said that in the 22 years that he has been with the department, rubber balls, though a part of their arsenal, have not been used as dispersal method. Ferguson said they are investigating the incident and communication breakdown. "Wednesday night started as a peaceful protest, but unfortunately it escalated to an encounter that none of us would like to see happen. It resulted in citizens being hurt. It resulted in officers now being hurt. So, we know this is something we would never want to see as a result of interaction between our officers and our citizens. Our number one goal is the safety of our community, the safety of our officers," Ferguson said.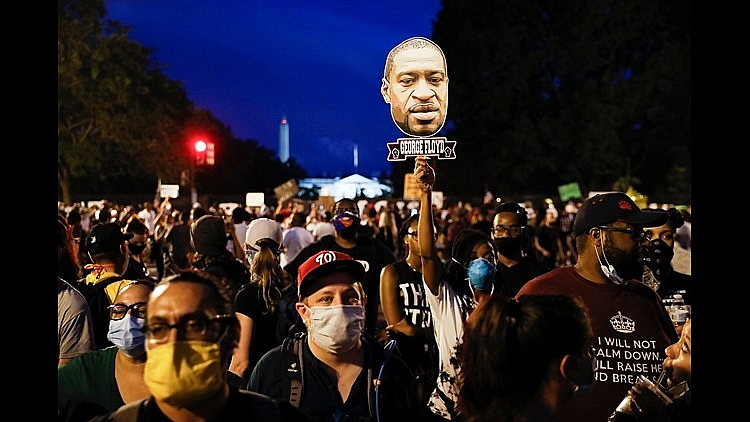 Protestors in the US over George Floyd's death. Photo: ABC News
He added: "This is a dark hour that particular night. But this does not define the citizens of New Orleans, this does not define our police department." The police department plans to release more information on the incident and investigation on Tuesday afternoon, according to a department spokesperson.