Protests in America update: Bail set for Seattle man accused of shooting protester after driving into crowd
San Francisco to aid victims of police violence, bail set for Seattle man accused of shooting protester after driving into crowd, Senate confirms first black air force chief, Biden calls for "racial justice" during emotional George Floyd funeral speech and an emergency police reform bill passed are remarkable news updated today.
San Francisco offers money to aid victims of police violence
Victims and witnesses of police violence will be eligible for funeral expenses, help with medical bills, counseling and other services under a policy San Francisco's liberal top prosecutor announced June 9, CNBC reported.
The policy change by District Attorney Chesa Boudin comes as the U.S. reels from the deaths of George Floyd and other people of color at the hands of police. In the San Francisco Bay Area, protesters are marching against the recent fatal police shootings of two young men.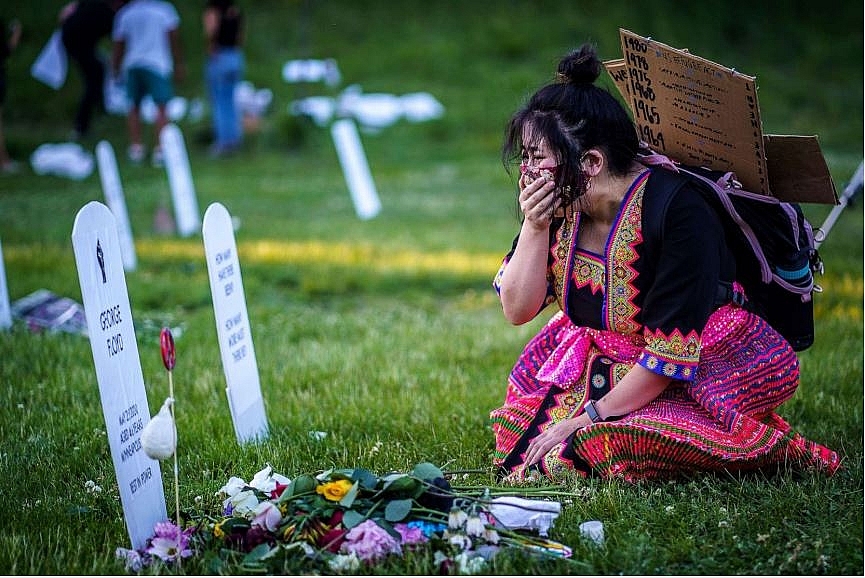 Abby James, 32, cries front of an installation created by Anna Barber and Connor Wright called "Say Their Names" to honor victims of police brutality, on June 7, 2020, in Minneapolis. Photo: ABC News
Boudin, a former deputy public defender who won office last year as part of a national wave of progressive-minded prosecutors, said it is essential that victims of police violence receive the help that any other crime victim would receive.
"The bottom line is that people should not have to rely on a GoFundMe page to pay for a funeral of their son or daughter when they've been killed by law enforcement," he said.
People gather in Barcelona, Spain, Sunday, June 7, 2020, during a demonstration over the death of George Floyd, a black man who died after being restrained by Minneapolis police officers on May 25. Photo: ABC News
The policy change aims to backfill state compensation laws that exclude victims who lack law enforcement corroboration for the crimes they were subjected to or who were perceived to have contributed to the violence, his office said. Boudin's office will allow corroboration through medical records and other documents.
"Folks from black, brown and disenfranchised communities are not often acknowledged as victims. They're often seen as complicit in their own victimization, stripped of their identity altogether," said Tinisch Hollins, California director for Crime Survivors for Safety and Justice, who joined Boudin at a press conference.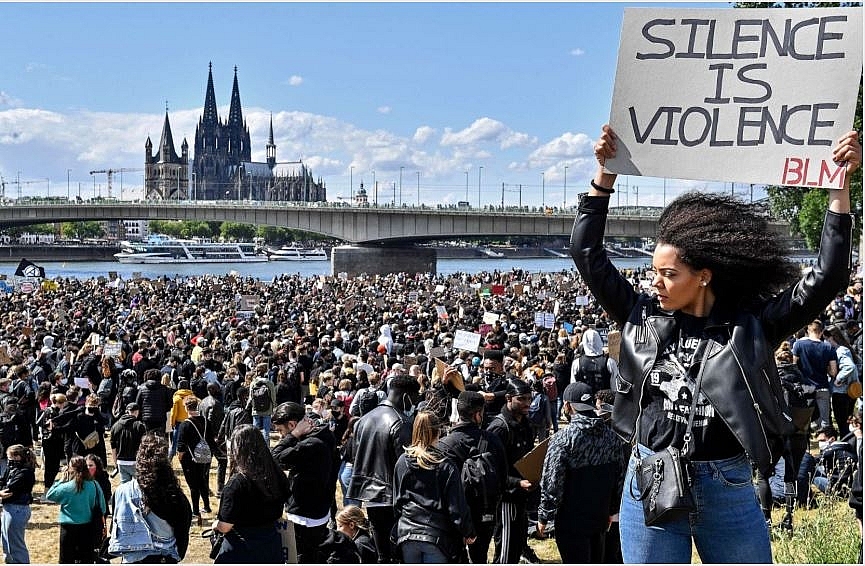 People gather in Barcelona, Spain, Sunday, June 7, 2020, during a demonstration over the death of George Floyd, a black man who died after being restrained by Minneapolis police officers on May 25. Photo: ABC News
The president of the San Francisco Police Officers' Association said all crime victims should receive support but called the move a political ploy by Boudin, whom the union considers too lenient. "He hasn't looked to expand services or seek justice for rape victims, for assault victims, or robbery victims in our city," Tony Montoya said in a statement. "He's done the opposite by refusing to hold criminals accountable."
Senate confirms first black air force chief
According to New York Times, the Senate on June 9 confirmed General Charles Brown to serve as the Air Force chief of staff, making him the first African American to lead a military service branch. Vice President Mike Pence presided over the Senate for the vote, and Brown's historic nomination was approved unanimously, 98-0. He is the second African American officer to sit on the Joint Chiefs of Staff, following Colin Powell, who served as chairman.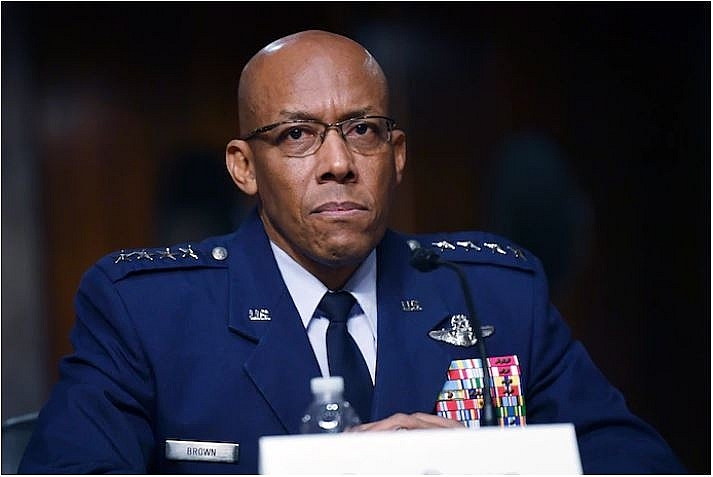 Gen. Charles Q. Brown was confirmed by the Senate on June 9 as Air Force chief of staff. Photo: Kevin Dietsch/AP
President Trump nominated Brown to serve as chief of staff of the Air Force in early March and his nomination was reported out of the Senate Armed Services Committee in mid-May. But Brown's nomination was held by Senator Dan Sullivan, a Republican from Alaska, over questions about where the Air Force should base the KC-46 aerial refueling tanker, according to Defense News.
The president celebrated Brown's confirmation, albeit a bit prematurely, with a post on Twitter, calling it a "historic day for America!". "Excited to work even more closely with Gen. Brown, who is a Patriot and Great Leader!" Mr. Trump tweeted before Brown was confirmed.
Brown is replacing General David Goldfein, who is retiring. He currently serves as commander of Pacific Air Forces, a position Brown has held since 2018. The Air Force general also served as deputy commander of U.S. Central Command. A veteran combat pilot, Brown has logged more than 2,900 flying hours, including 130 combat hours.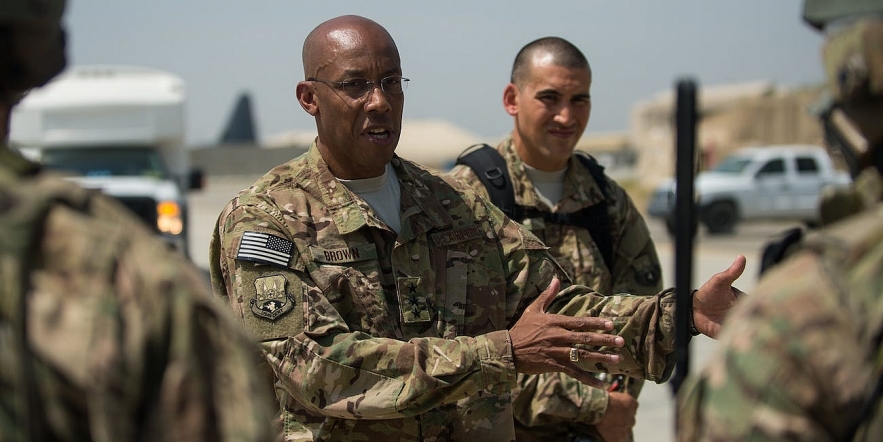 US Air Force Lt. Gen. Charles Q. Brown Jr., then head of US Air Forces Central Command, talks to airmen at Bagram Air Field in Afghanistan, July 25, 2015. US Air Force/Tech. Sgt. Joseph Swafford
Brown's confirmation comes as the nation has faced two weeks of civil unrest following the death of George Floyd, 46, in Minneapolis in late May. He addressed Floyd's death in a nearly five-minute-long video shared online, during which he said he was "thinking about how full I am with emotion — not just for George Floyd, but the many African Americans that have suffered the same fate as George Floyd."
"I'm thinking about a history of racial issues, and my own experiences that didn't always sing of liberty and equality," Brown said. "I'm thinking about living in two worlds, each with their own perspectives and views." Reflecting on his career in the Air Force, Brown said he was often the only African American in his squadron and only African American senior officer. "I'm thinking about wearing the same flight suit, with the same wings on my chest as my peers, and then being questioned by another military member: 'Are you a pilot?'" Brown said in the video, which has amassed 2.9 million views.
Biden calls for "racial justice" during emotional George Floyd funeral speech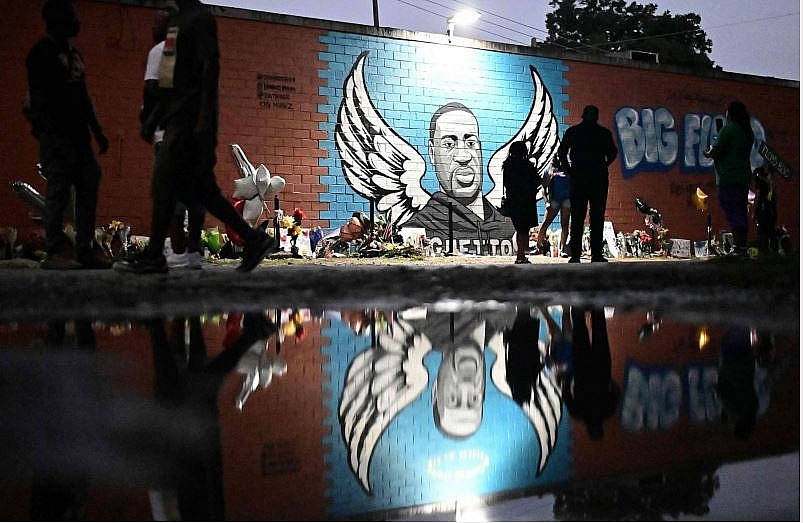 People stand in front of a mural of George Floyd in Houston, Texas on June 8, 2020. Photo: ABC News
Joe Biden delivered remarks at George Floyd's memorial service in Houston, appearing via livestream a day after meeting with Floyd's family, The Guardian reported. The presumptive Democratic presidential nominee, whose son Beau died of brain cancer five years ago, said he connected with the family's grief.
"As I've said to you privately, we know. We know you will never feel the same again," Biden said to the Floyd family, going on to describe "the burden" of having to grieve in public. The former vice president then directly addressed Floyd's daughter, Gianna. "Little Gianna - as I said to you when I saw you yesterday, you are so brave. Daddy is looking down and he is so proud of you," Biden said.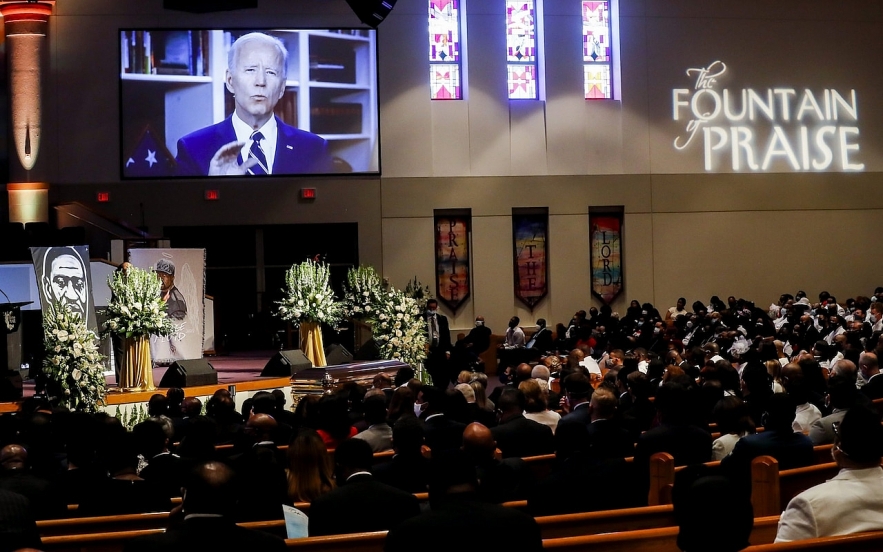 Former Vice President Joe Biden gives a video-taped message during the funeral for George Floyd at The Fountain of Praise church in Houston, Texas. Photo: Shutterstock
The presidential candidate concluded his remarks with a call for change. "Today, now is the time, the purpose, the season to listen and heal," Biden said. "Now is the time for racial justice. That's the answer we must give to our children when they ask why. Because when there is justice for George Floyd, we will truly be on our way to racial justice in America. "And then, as you said, Gianna, your Daddy will have 'changed the world.'"
Moments earlier he asked, "Why, in this nation, do too many black Americans - wake up knowing they could lose their life - in the course of living their life?", CNBC reported.
"Why does justice not roll like a river nor righteousness like a mighty stream? Why?" he said. "Ladies and gentlemen - we cannot turn away. We must not turn away," Biden continued. "We cannot leave this moment thinking we can once again turn away from racism that stings at our very soul and from systemic abuse that still plagues American life."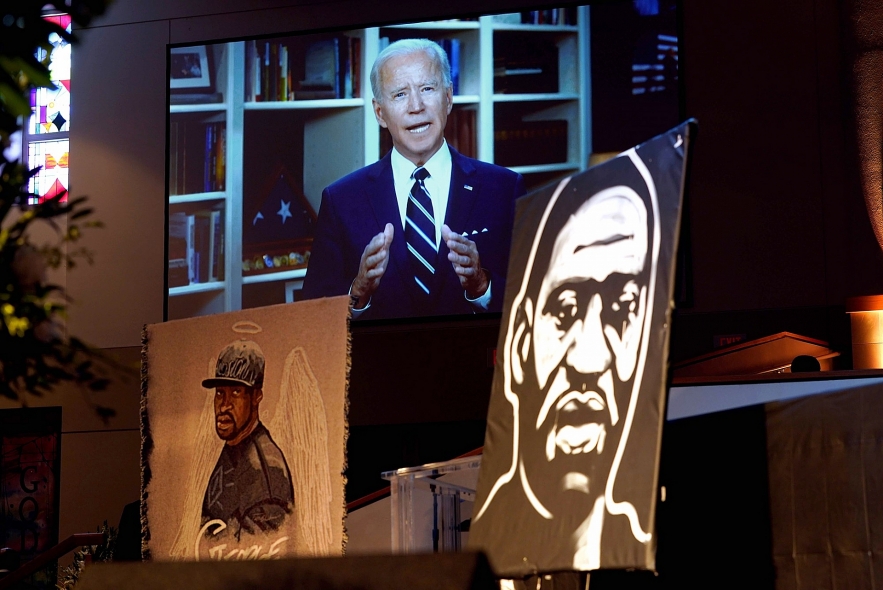 Joe Biden speaks via video link as family and guests attend the funeral service for George Floyd at The Fountain of Praise Church on June 9, 2020, in Houston. Photo: David J.Phillip/Pool via AFP
Addressing the Floyd family, the presumptive Democratic presidential nominee offered his sympathy that the family had to grieve in public, but assured them their "numbness… will slowly turn, day after day, season after season, into purpose." The former vice president's speech was met with applause, nods and affirmative responses.
Biden had taped the address Monday. He also on Monday had traveled to Houston to meet privately with the Floyd family, the Biden campaign said earlier this week. The campaign said it had decided that because Biden is protected and accompanied by Secret Service, his presence at the funeral would have caused too much logistical trouble.
Bail set for Seattle man accused of shooting protester after driving into crowd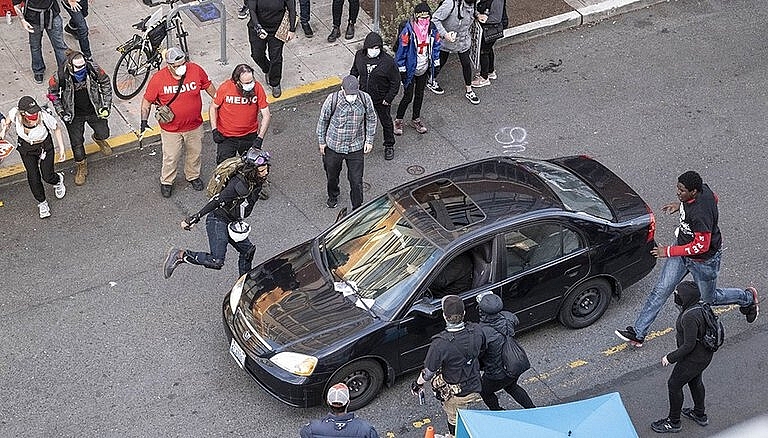 A man drives into the crowd at 11th Avenue and Pine Street on Sunday, injuring at least one person, before exiting the car and brandishing a firearm. (Dean Rutz / The Seattle Times)
A 31-year-old Seattle man accused of driving through a crowd and shooting a protester in Seattle's Capitol Hill neighborhood Sunday night was arrested and held on investigation of first-degree assault, king5.com reported.
The King County Prosecuting Attorney's Office requested that Nikolas Fernandez be held on $350,000 bail. The judge set the bail at $200,000 but lowered it to $150,000 after Fernandez's family spoke about "his community ties and inability to pay," according to the prosecutor's office. The incident occurred around 8:20 p.m. Sunday near 11th Ave. and E. Pine Street where large crowds have been gathering for more than a week to protest the death of George Floyd, a black man killed in Minneapolis police custody.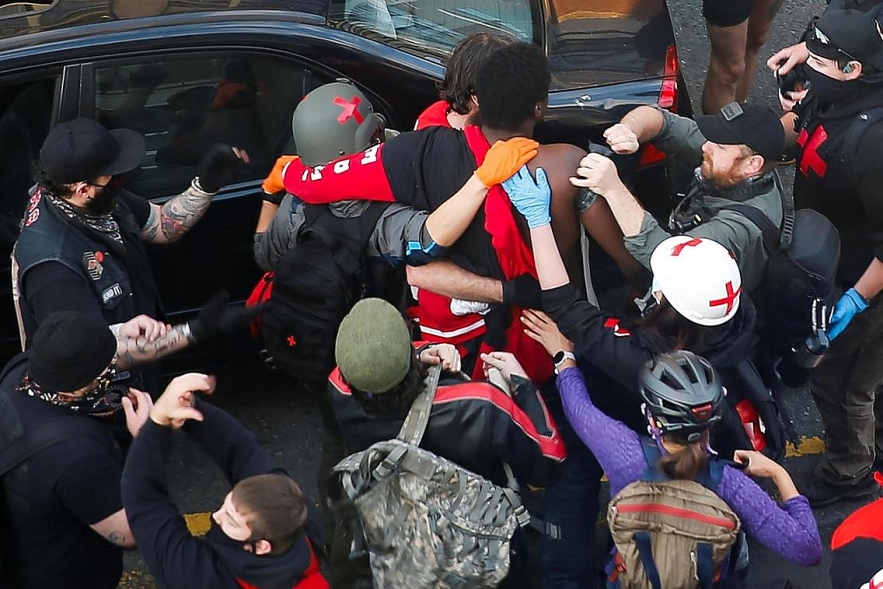 The man was shot in his arm. Photo: thenational
According to the statement of probable cause, Fernandez said he was driving in the area of the protests and thought he could get through the crowd. He told police that protesters started kicking his car, yelling at him, and that people were trying to grab him through the open driver's side window.
Fernandez said the man he shot, identified as 27-year-old Daniel Gregory, grabbed him and the vehicle's steering wheel through the open window, according to the statement of probable cause. Fernandez told police he was "fearing for his life" when he fired a single shot at Gregory. Fernandez thought he shot Gregory in the chest, according to the statement. Gregory was shot in the upper right arm and was treated at Harborview Medical Center. He suffered a broken arm as a result of the gunshot wound.
Video posted on social media shows protesters getting out of the way of a black sedan driving towards the crowd. Gregory told detectives he saw the car turn a corner and drive past him "picking up speed," according to the statement of probable cause.
The incident in Seattle amid protestors. Photo: Daily Mail.
Gregory described the driving as "insane" and yelled at the driver to stop. He told detectives that he grabbed and was going to yank the steering wheel, but said he realized that might cause the car to veer into the crowd. Gregory held onto the steering wheel but let go and punched the driver in the face, then the vehicle came to a stop, the statement said.
Fernandez is scheduled to appear in court again on Wednesday afternoon. According to the statement of probable cause, Fernandez told officers that his brother worked at the East Precinct and that "he does not want to do anything to shame him." The statement does not say if Fernandez's brother is a police officer or if his statement was confirmed to be true by police.
The Washington, D.C. Council just passed an emergency police reform bill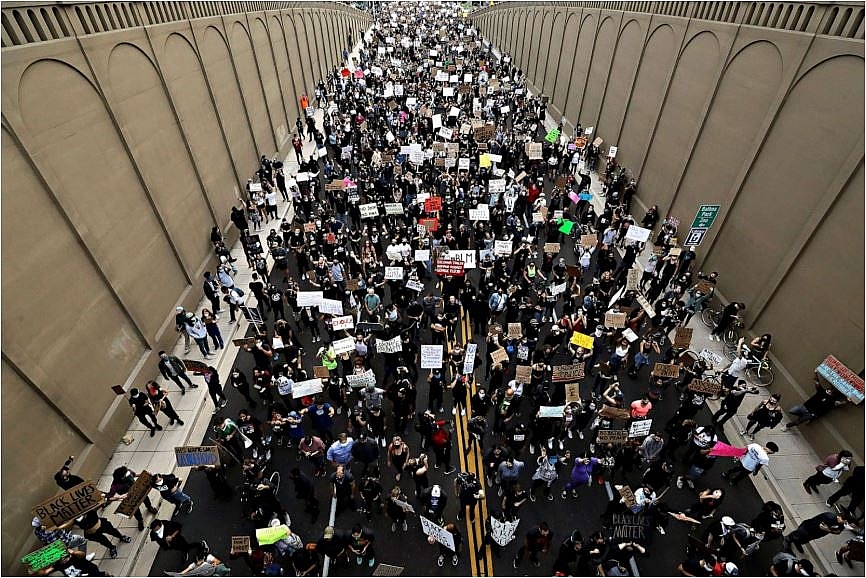 Protesters against the death of George Floyd and police brutality march, June 4, 2020, in San Diego. Photo: ABC News
According to CNN, the Washington, D.C. Council, the legislature for the United States capitol, unanimously passed an emergency bill to reform policing in the city.
The measure bans police from using chemicals such as tear gas and pepper spray on protestors, as well as "less-lethal projectiles" like rubber bullets and stun grenades. It also makes it unlawful for police to restrain someone by the neck, as in a chokehold. The bill also prevents the Metropolitan Police Department from hiring law enforcement officers who were fired from a policing job in another jurisdiction, or resigned ahead of pending disciplinary action or termination.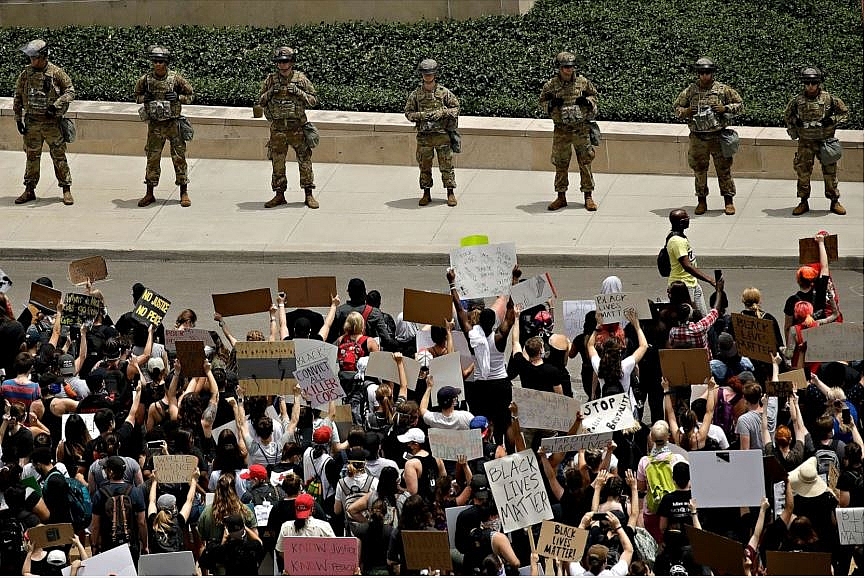 Demonstrators gather at police headquarters in downtown Kansas City, Mo., June 5, 2020, as they protest the death of George Floyd. Photo: ABC News
Tuesday's vote enacts the changes for 90 days, the Washington Post reported, which can be extended to 225 days with a second vote. The council must hold public hearings and vote again in order to make the measures permanent.
Councilmember David Grosso wanted an additional amendment capping the city's police force at 3,500 members. However, Grosso's fellow members voted that down. The District currently has 3,863 sworn officers.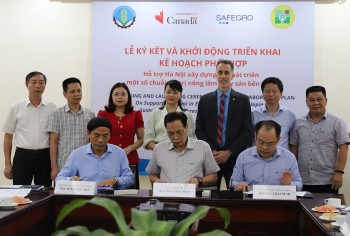 Make in Vietnam
As Vietnam furthers its international intergration, building agro-forestry-fishery high value chains is crucial for the sustainable development of the agriculture sector.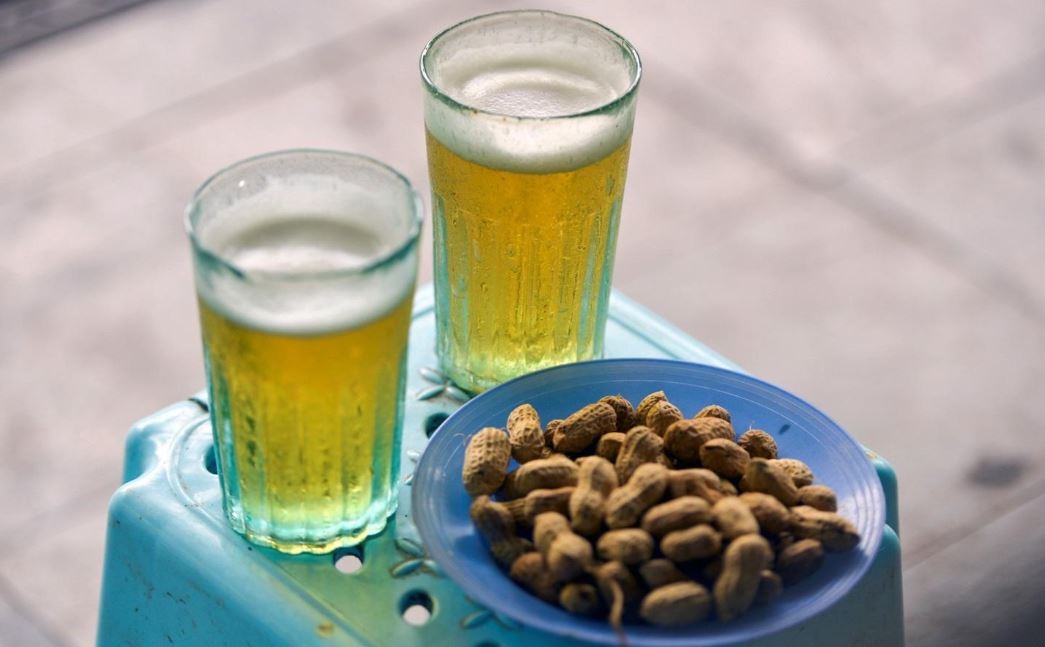 World
Among Vietnamese best beer destinations voted by foreign travelers, Hanoi is followed by Ho Chi Minh City, Hoi An, Nha Trang, and Da Nang.
August 06, 2022 | 14:54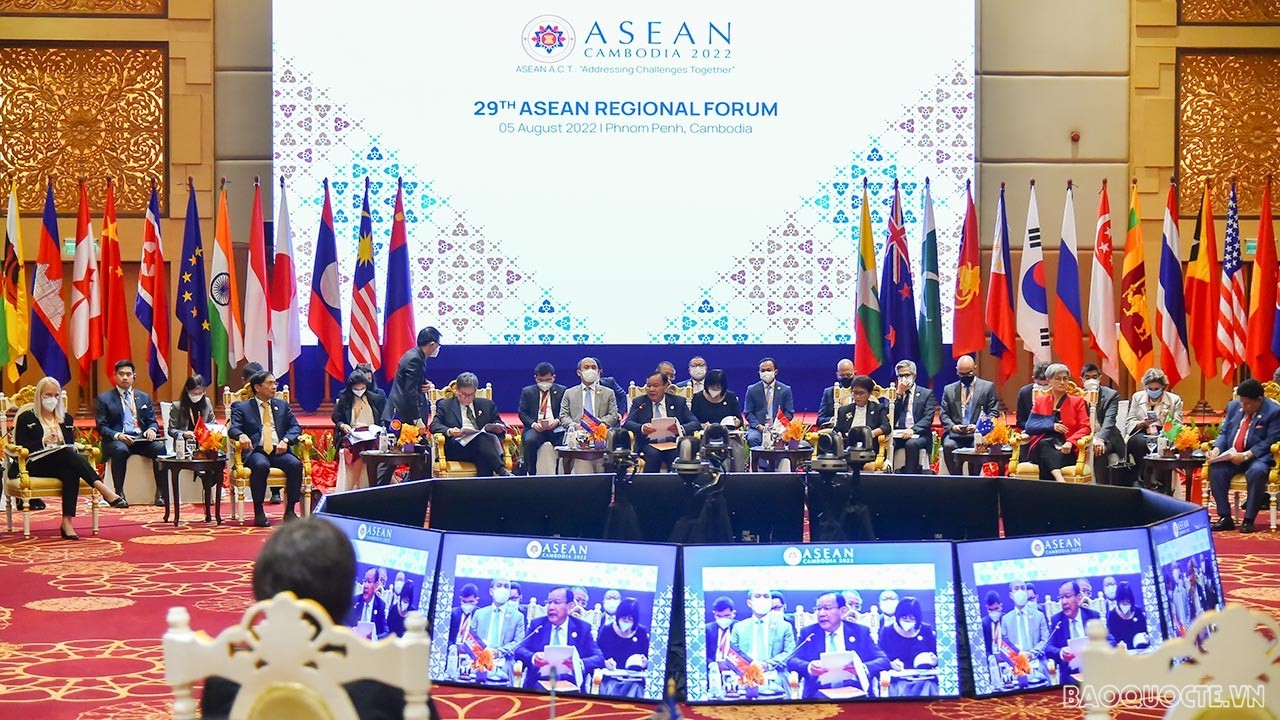 World
Foreign Minister Bui Thanh Son attended the 29th ASEAN Regional Forum (ARF) that took place in Phnom Penh, Cambodia on August 5 within the framework of the 55th ASEAN Foreign Ministers' Meeting (AMM-55), and held several bilateral meetings on the sidelines of the event.
August 06, 2022 | 09:12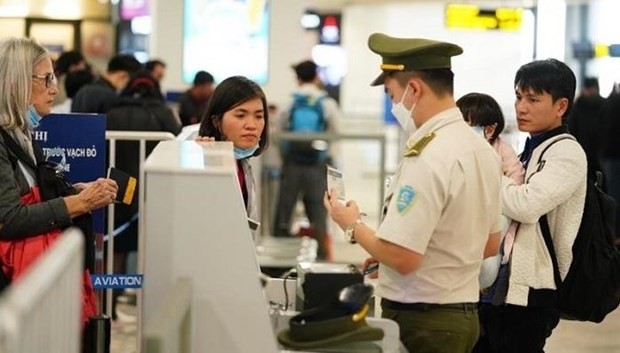 World
The Ministry of Health has asked localities nationwide to monitor foreign arrivals from countries with monkeypox as an early response after infections were spotted in the region.
August 05, 2022 | 16:11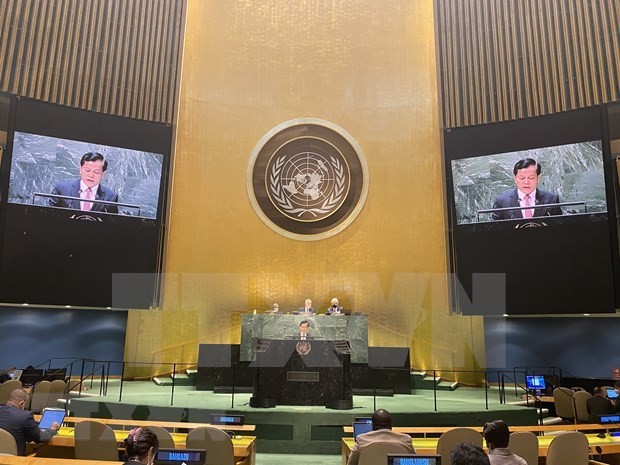 World
Deputy Foreign Minister Ha Kim Ngoc had a meeting on August 3 with United Nations (UN) Secretary-General Antonio Guterres who highly valued Vietnam's active and responsible contributions to the common work of the organisation, especially the country's strong commitments in the fight against climate change, and promised to continue supporting Vietnam in this work.
August 04, 2022 | 16:57