Quang Binh presents medical equipment to Laos provinces
Once again, Vietnam is helping is neighbors in the coronavirus fight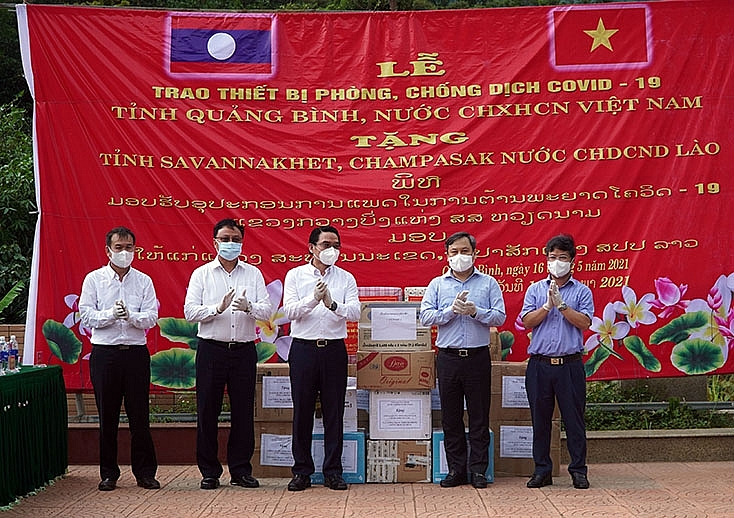 At the handover ceremony.
Vietnam's central Quang Binh Province has held a ceremony to hand over medical equipment to Savannakhet and Champasak provinces in Laos to assist them in the Covid-19 fight at the Cha Lo-Na Phau international border gate.
Speaking at the handover ceremony, on behalf of the Party, authorities and people of Quang Binh, Secretary of the Provincial Party Committee Vu Dai Thanh said Vietnam and Laos had grappled with new Covid-19 waves. The two countries have cooperated and supported each other in fighting against the novel coronavirus.
To help Savannakhet and Champasak provinces over come difficulties posed by the disease, Quang Binh gifted them with medical equipment and supplies including ventilators, oxygen concentrators, infrared thermometers and protective clothes worth 2.2 billion VND (about 95,600 U.S. dollars).
Secretary Vu Dai Thang said that Quang Binh would stand side by side with Lao provinces in their Covid-19 battle. Apart from presenting medical equipment, he said that Quang Binh would share its experience in Covid-19 prevention and control as the province is among 10 localities in Vietnam that have not reported any infections.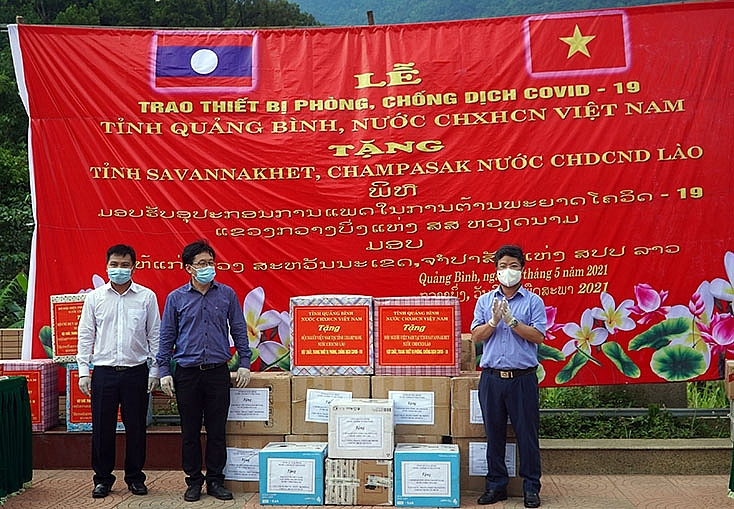 The handover ceremony.
Thang took this occasion to ask Savannakhet and Champasak authorities to support Vietnamese people living in the provinces.
He also requested the armed forces of the two provinces and Quang Binh ramp up the border control to avert illegal entry and exit, and foster solidarity thereby building a peaceful, friendly and safe Vietnam-Laos border.
Leaders of Savannakhet and Champasak provinces extended their thanks to Quang Binh, adding that the aid and experience in Covid-19 prevention and control shared by Quang Binh would help them to soon stamp out the pandemic.
The health ministry of Laos on May 16 reported 21 new Covid-19 cases, including 10 domestic infections.
After 25 days of lockdown, the Laos capital Vientiane City has recorded 11 community cases. However, most other cities and provinces have detected no new local infections.
The ministry warned of the rise in Covid-19 cases among women and children, saying it was preparing personnel to cope with the third wave of the pandemic.
The country has counted 1,591 cases so far, of which 1,400 were locally transmitted.