Quang Nam police present medical equipment, supplies to Sekong police (Laos)
Quang Nam police have handed over medical equipment and supplies to Sekong provincial police (Laos) to support it in the Covid-19 fight.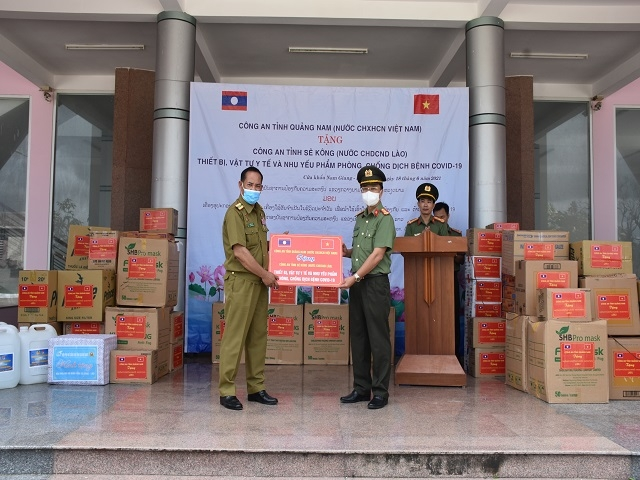 Lieutenant Colonel Nguyen Thanh Long, deputy director of Quang Nam provincial police, hands over the aid to Sekong police. Photo: Baoquangnam
The delegation of Quang Nam provincial police led by Lieutenant Colonel Nguyen Thanh Long, deputy director of the provincial police on June 18 visited and presented medical equipment and supplies worth a total of VND 300 million (US$ 13,074) to the police of Sekong province (Laos) to support it in the Covid-19 battle.
Long said Quang Nam police would continue to stand shoulder by shoulder with Sekong police in fighting against the novel coronavirus.
The representative of the Sekong police thanked Quang Nam police for assisting it in the difficult time posed by the pandemic, adding that the gift was a sign of special solidarity and great friendship between the two provinces.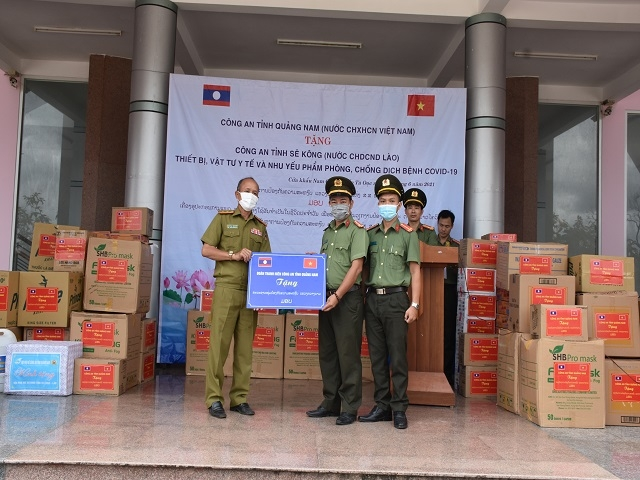 Photo: Baoquangnam
On this occasion, the delegation of Quang Nam province handed over gifts to the customs force and border guards at the Nam Giang- Dak Ta Ooc border gate.
According to Laos' Ministry of Health, on June 22 noon, Laos confirmed 13 new Covid-19 cases, including two found in the community in Vientiane and 11 imported cases, raising the national count to 2,067.
On the afternoon of June 21, representatives of Laos - Vietnam Joint Venture Bank (LaoVietBank) went to the headquarters of the Vietnamese Embassy in Laos to hand over 50 million kip (about US$ 5,297) to support Vietnam's Covid-19 vaccine fund.
On behalf of LaoVietBank, Nguyen Duc Vu said that responding to the call of the Vietnamese Ambassador to Laos, LaoVietBank launched a fund-raising program and collected 50 million kip to donate to Vietnam's Covid-19 vaccine fund, Nhan Dan newspaper reported.
Vu also said the donation demonstrated LaoVietBank staff's responsibility and affection towards the community, expressing his hope that Vietnam would soon stamp out the pandemic and restore the economy.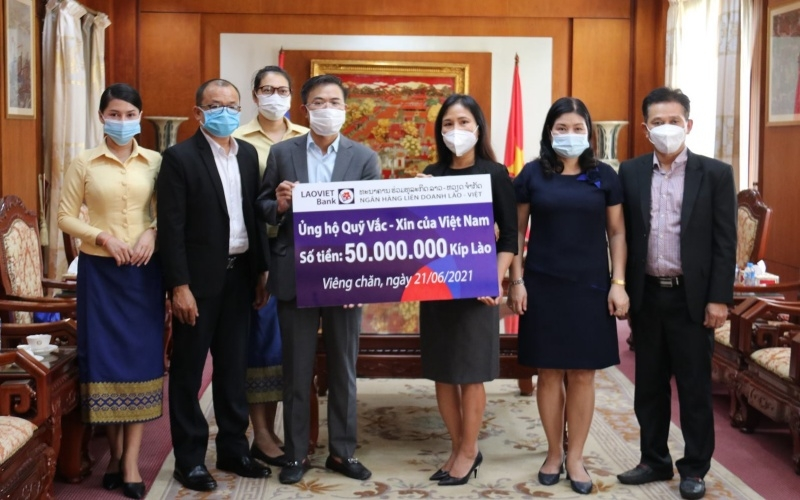 Representatives of LaoVietBank hand over the aid to the Vietnamese Embassy in Laos. Photo: Nhan Dan Newspaper
The embassy's Envoy Trinh Thi Tam expressed her appreciation for LaoVietBank's noble gesture, adding that despite encountering many difficulties, Lao agencies, enterprises and localities had assisted Vietnam in its Covid-19 fight in various forms. She said that the gifts showed affection and solidarity between the two Parties, two States and two peoples of Vietnam and Laos.
Sharing difficulties caused by Covid-19 that LaoVietBank has suffered, Tam hoped that it would soon overcome the hard time and continue making important contributions to the socio-economic development of Laos and Vietnam.
Earlier, on June 2, LaoVietBank provided financial aid and necessities to students at the National University of Laos.
On May 3, it handed over medical equipment and supplies, worth a total of over US$ 10,000, to the Lao National Taskforce Committee for Covid-19 Prevention and Control to support the country in combating the pandemic.
As of June 21, in Vientiane capital alone, the Vietnamese Embassy in Laos has received nearly US$ 26,700 to assist Vietnam's Covid-19 prevention and control and vaccine fund.
The Covid-19 vaccine fund will be used for buying Covid-19 vaccines from abroad and for supporting the production of made-in-Vietnam vaccines towards fulfilling the target of inoculating 70 percent of Vietnam's 98-million population.
Vietnam needs 150 million doses of vaccines to administer about 75 percent of its population this year, with a total cost amounting to VND 25.2 trillion.
The fund has received more than VND 5.972 trillion worth of donations from 332,578 organizations and individuals as of June 21.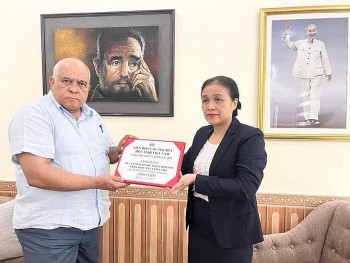 Focus
According to Cuba's News Agency Prensa Latina, on August 16, President of Vietnam Union of Friendship Organizations Nguyen Phuong Nga said that Vietnamese people will always stand by and support Cuba no matter what difficulties our friend is facing.