Vietnamese-Lao joint venture presents over US$ 21,000 to support Vietnam's Covid-19 fight
On June 15, UNITEL, the joint venture between Lao Telecommunications and Vietnamese military-run telecommunications group Viettel presented 200 million kip (US$ 21,169) to the Vietnamese Embassy in Laos in support of Vietnam's Covid-19 vaccine fund.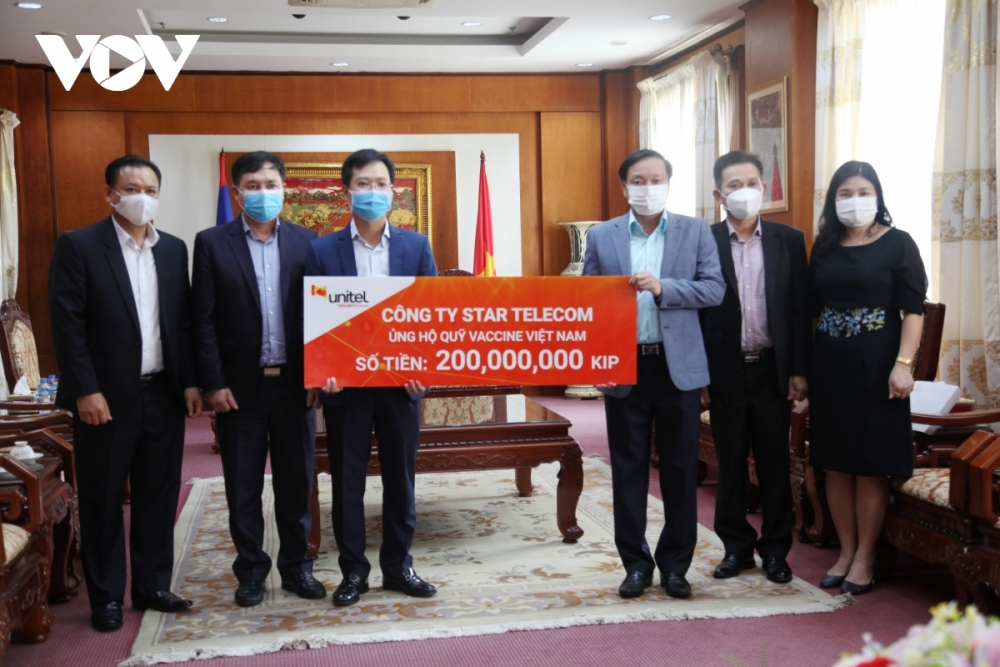 Vietnamese Ambassador to Laos Nguyen Ba Hung receives donation of 200 million kip from UNITEL. Photo: VOV
Luu Manh Ha, general director of UNITEL, handed over gift to the Vietnamese Embassy in Laos with the desire to share difficulties and contribute to Vietnam's efforts in fighting against the novel coronavirus.
Vietnamese Ambassador to Laos Nguyen Ba Hung expressed thanks to UNITEL for its valuable assistance, adding that the donation was a sign of special solidarity and great friendship between the two parties, two states and the people of Vietnam and Laos.
Previously, on June 14, Thongsavanh Vongsamphan, deputy secretary and governor of Vientiane province handed over 100 million kip (US$ 10,000) to the Vietnamese Embassy in Laos to assist the northern Hai Duong province in the Covid-19 fight.
From June 8-12, representatives of several Lao provinces such as Phongsaly, Luang Namtha, Luang Prabang, Xayaburi went to the Vietnamese Consulate General in Luang Prabang to present gifts to support Vietnam in Covid-19 prevention and control.
Nghe An hands over military-civil medical station to Borikhamxay province (Laos)
On June 14, at Cau Treo International Border Gate in Ha Tinh province, the People's Committee and Vietnam Fatherland Front of Nghe An province held a ceremony to hand over the Nam On military-civil medical station and medical supplies to Borikhamxay province (Laos) to support it in Covid-19 battle.
Speaking at the ceremony, Vice Chairman of Nghe An People's Committee Bui Dinh Long said that with medical supplies and the medical station, Nghe An province wanted to join hands with the Party and people of Borikhamxay in preventing and controlling the pandemic. He added that Nghe An would always stand shoulder to shoulder with Lao in general and Borikhamxay province in particular in combating the Covid-19 pandemic.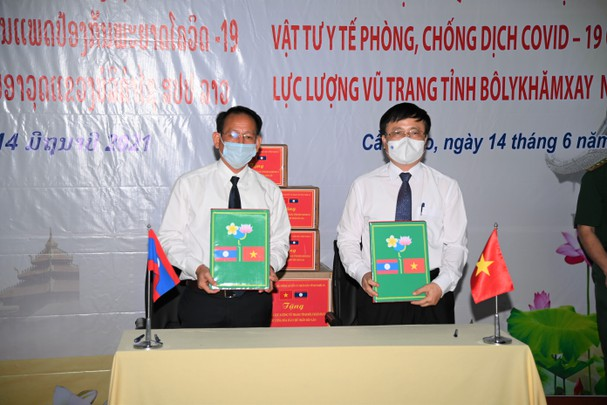 At the handover ceremony of medical supplies and station to Borikhamxay province. Photo: Baonghean
The Nam On military-civil medical station has important significances, demonstrating the special friendship and solidarity between Vietnam and Laos in general and Nghe An and Borikhamxay in particular. The work is included in the contents of the cooperative agreement between Nghe An and Borikhamxay provinces. It was built with a budget of VND 15 billion aided by Nghe An.
The medical station is expected to enhance the health care service, examining and treating people in districts of Xaychamphone and Thanh Chuong (Nghe An), contributing to boosting socio-economic development in the border areas.
On this occasion, Nghe An also gifted Borikhamxay province food and medical supplies worth a total of VND 400 million. Although the donation is not large, it shows the care and affection of the people of Nghe An for the people of Borikhamxay province.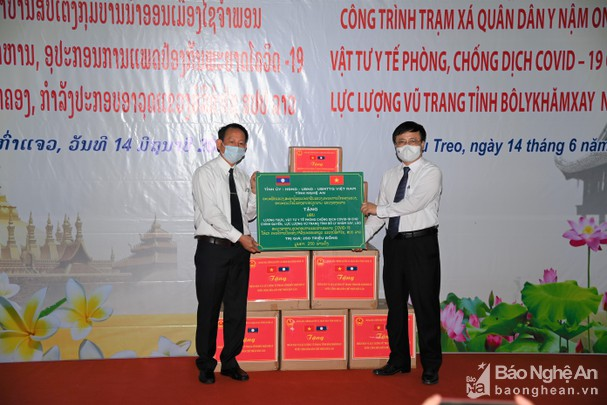 Photo: Baonghean
Vice Chairman Long highly appreciated the leadership, direction and close coordination between the functional forces in the border districts of Nghe An and Borikhamxay provinces. He said that the two sides had done a good job in Covid-19 prevention and control, especially exchanging information on the pandemic situation, protecting, managing and patrolling the border to prevent illegal entry and exit.
On this occasion, Deputy Governor of Borikhamxay province conferred the Development Medal of the President of the Lao People's Democratic Republic to the collective of Nghe An province. Borikhamxay province also awarded the Certificate of Honor of Merit to the collectives of Nghe An province and its border guards as well as Provincial People's Committee Vice Chairman Bui Dinh Long.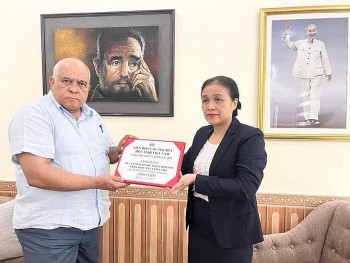 Focus
According to Cuba's News Agency Prensa Latina, on August 16, President of Vietnam Union of Friendship Organizations Nguyen Phuong Nga said that Vietnamese people will always stand by and support Cuba no matter what difficulties our friend is facing.