Vietnam assists Laos provinces in Covid-19 fight
Vinh Phuc and Thua Thien Hue provinces have presented medical equipment and supplies to Laos to assist in coronavirus fight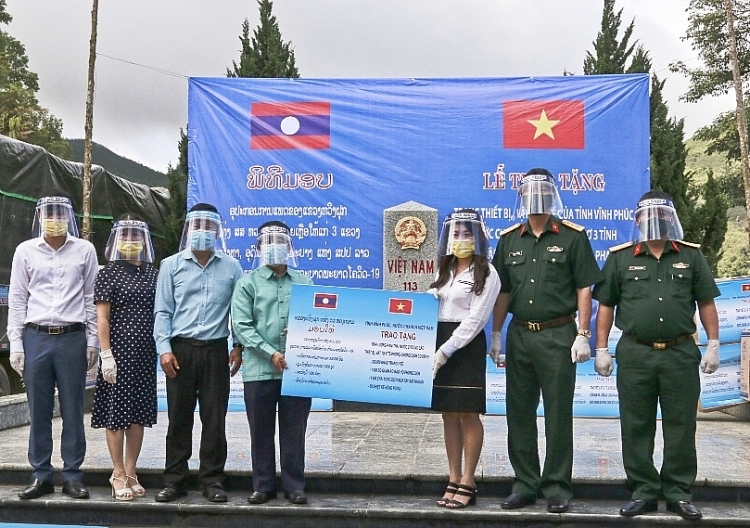 Nguyen Thi Sam, deputy director of Vinh Phuc Department of Foreign Affairs (third from right) hands over medical equipment and supplies to the northern provinces of Laos.
Authorized by the Party Committee and People's Committee of Vinh Phuc province, the provincial Department of Foreign Affairs on June 17 held a ceremony to hand over medical equipment and supplies to three Lao northern provinces (Luangnamtha, Luang Prabang and Oudomxay) to support them in their battle against Covid-19.
Vinh Phuc supported Luangnamtha province with 300,000 medical masks, 1,000 sets of medical protective clothing, 1000 bottles of hand sanitizer and 50 infrared electronic thermometers. Luang Prabang and Oudomxay provinces each received 150,000 medical masks, 750 sets of medical protective clothing, 500 bottles of hand sanitizer and 25 infrared electronic thermometers.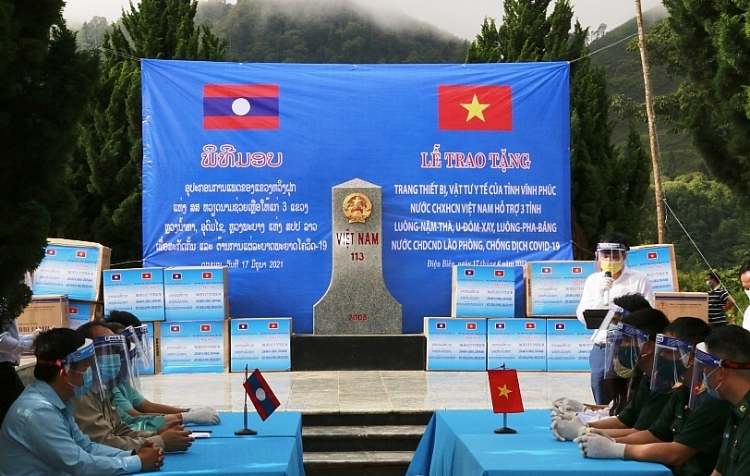 At the ceremony.
The donations, worth a total of VND 857 million (US$ 37,108), showed the affection of Party Committee and people of Vinh Phuc province towards Laos and support in combating the novel coronavirus, thereby contributing to solidarity and friendship between Vietnam and Laos.
Vinh Phuc provincial delegation visited and presented gifts to Tay Trang international border guard gate station and Dien Bien Phu city military high command.
On June 17, at the La Lay border gate in Quang Tri province, Thua Thien Hue province also organized a ceremony to present medical equipment and supplies to Salavan and Sekong provinces (Laos) to support them in the Covid-19 fight.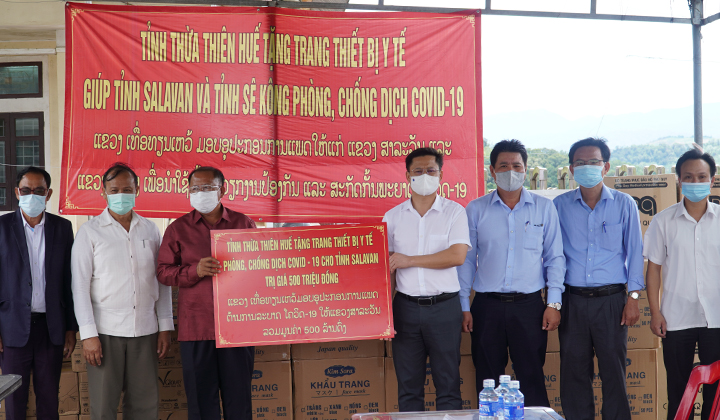 Presenting medical equipment and supplies to Salavan province.
The aid included 3,000 boxes of medical masks, 3,300 sets of protective suits, 3,000 bottles of antiseptic solution, 80 body temperature-measuring machines and 6,000 pairs of medical gloves.
At the ceremony, Vice Chairman of Thua Thien Hue People's Committee Nguyen Thanh Binh said that the province would always stand shoulder by shoulder with Salavan and Sekong provinces in fighting against the novel coronavirus, adding that with a strong determination of Laos provinces would beat the pandemic.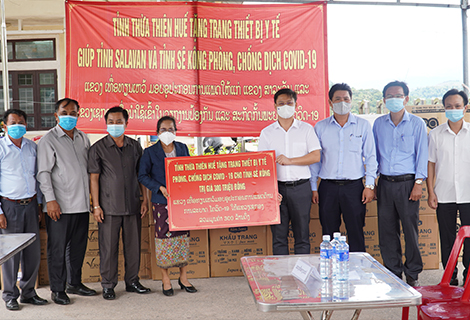 Presenting medical equipment and supplies to Sekong province.
Leaders of Salavan and Sekong provinces expressed their thanks to Thua Thien Hue for its timely and valuable assistance, adding that the donations were a great encouragement for them to curb the spread of Covid-19.
The Vietnamese Ministry of National Defense presented its medical equipment aid for the Laos Ministry of Defense at a symbolic handover ceremony in Hanoi on June 17, which was attended by Laos Ambassador to Vietnam Sengphet Houngboungnuang.
Speaking at the event, Lt. Gen. Vu Chien Thang, director of the ministry's Department for External Relations, lauded efforts of the Lao's people's army in helping the Lao government fight against Covid-19.
The aid was made considering Laos' need to assist the neighboring country in bringing back normal life for locals and recovering its economy, Thang said.
According to the official, the Vietnamese ministry and its units have sent experts and offered medical equipment and materials to Laos in support of the nation's Covid-19 prevention and control.
As scheduled, the department will hand over the aid to representatives of the Lao Defense Ministry at the Cau Treo international border gate in the central province of Ha Tinh on June 20.
Laos reported 13 new Covid-19 cases on June 18, including seven domestic cases in the capital city.
The national count has reached 2,047, with three fatalities.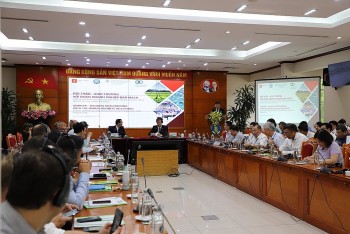 National
A Danish agriculture and food delegation visited Hanoi and Ho Chi Minh City on August 16-19 to exchange opportunities for cooperation and making business with their Vietnamese potential partners.