Quang Ngai's district receives mobile handwashing systems to combat COVID-19
World Vision Vietnam has recently delivered eight mobile handwashing systems for children and the community in Minh Long district, Quang Ngai province - one of the localitis in Vietnam reports coronavirus infection in community.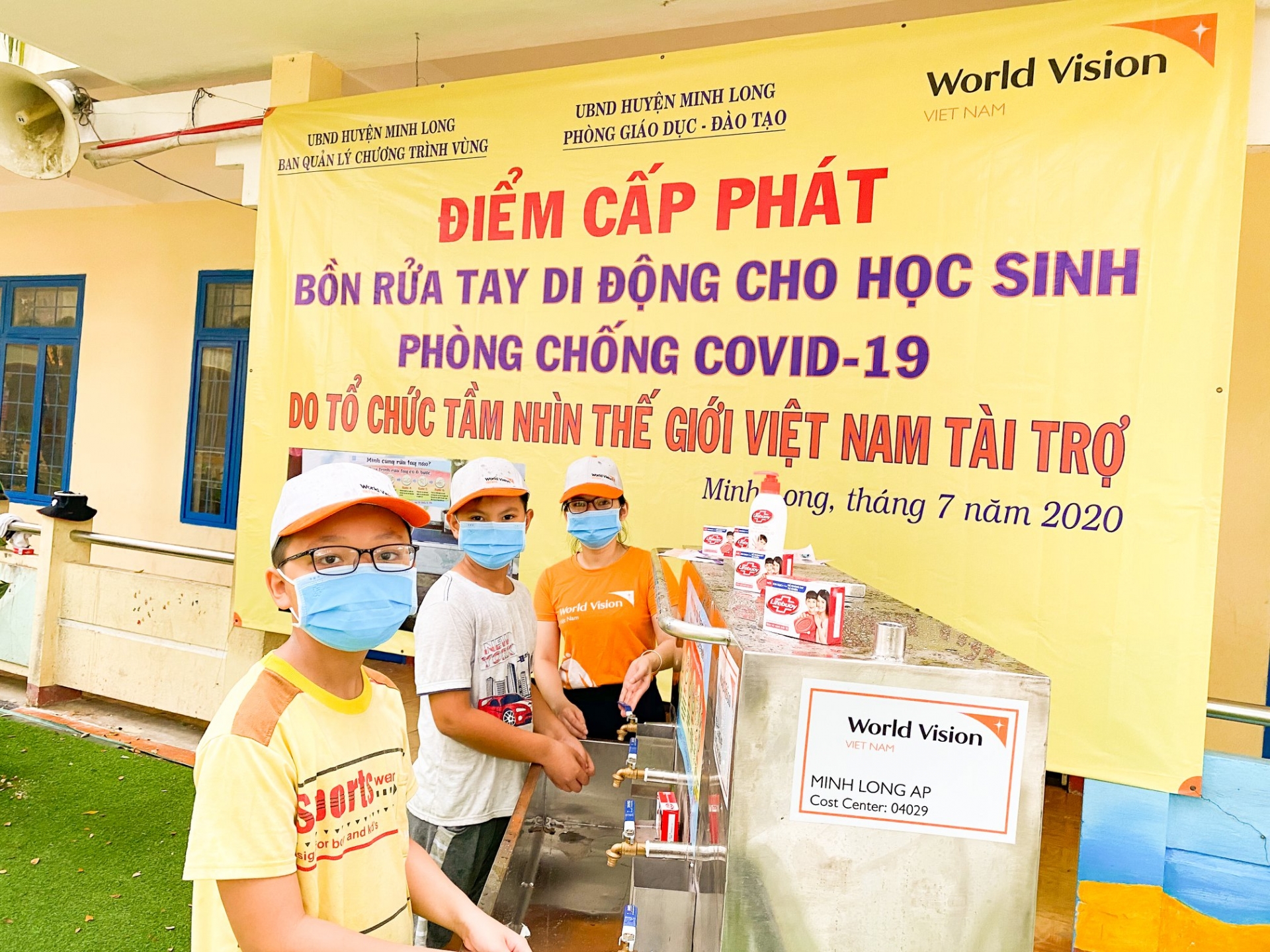 The virus has spread to 14 localities and provinces across the country, including Quang Ngai. Photo: World Vision Vietnam
Vietnam confirmed on August 7 afternoon that an additional 34 people have tested positive for the SARS-CoV-2 virus, including 32 cases closely linked to Da Nang, the epicenter of the latest outbreak, and two imported cases.
As of 6 pm August 7, Vietnam has reported 784 coronavirus cases, of which 314 cases returned from epidemic hit areas overseas and were placed in quarantine upon their arrival. 10 patients have died of COVID-19 and other underlying illnesses.
14 localities where locally transmitted infections have been confirmed were Da Nang, Quang Nam, Dak Lak, Ho Chi Minh City, Quang Ngai, Hanoi, Thai Binh, Dong Nai, Ha Nam, Lang Son, Bac Giang, Thanh Hoa, Quang Tri and Hai Duong.
With the number of people infected with coronavirus increasing around the world on a daily basis, the World Health Organization (WHO) has advised everyone to regularly and thoroughly clean their hands to to protect the body and the surroundings from the risks of COVID-19 infections.
In a growing effort to protect Vietnam's most vulnerable children and families against the new development of the COVID-19 pandemic in Vietnam, World Vision Vietnam has timely supported 8 mobile handwashing systems for children and the community in Minh Long district, Quang Ngai province. At the event, they were also equipped with the handbook on "10 things to help children overcome stress during the COVID-19 season."
This activity belongs to World Vision Vietnam's COVID-19 National Response and Recovery Program. The program, with a budget of VND 18.5 billion (USD 800,000), will be implemented from April to September 2020 and is expected to support more than 1.7 million people in 35 Area Programs of World Vision Vietnam (present in 35 districts across Vietnam's 14 provinces and cities), of which 612,034 people are direct beneficiaries.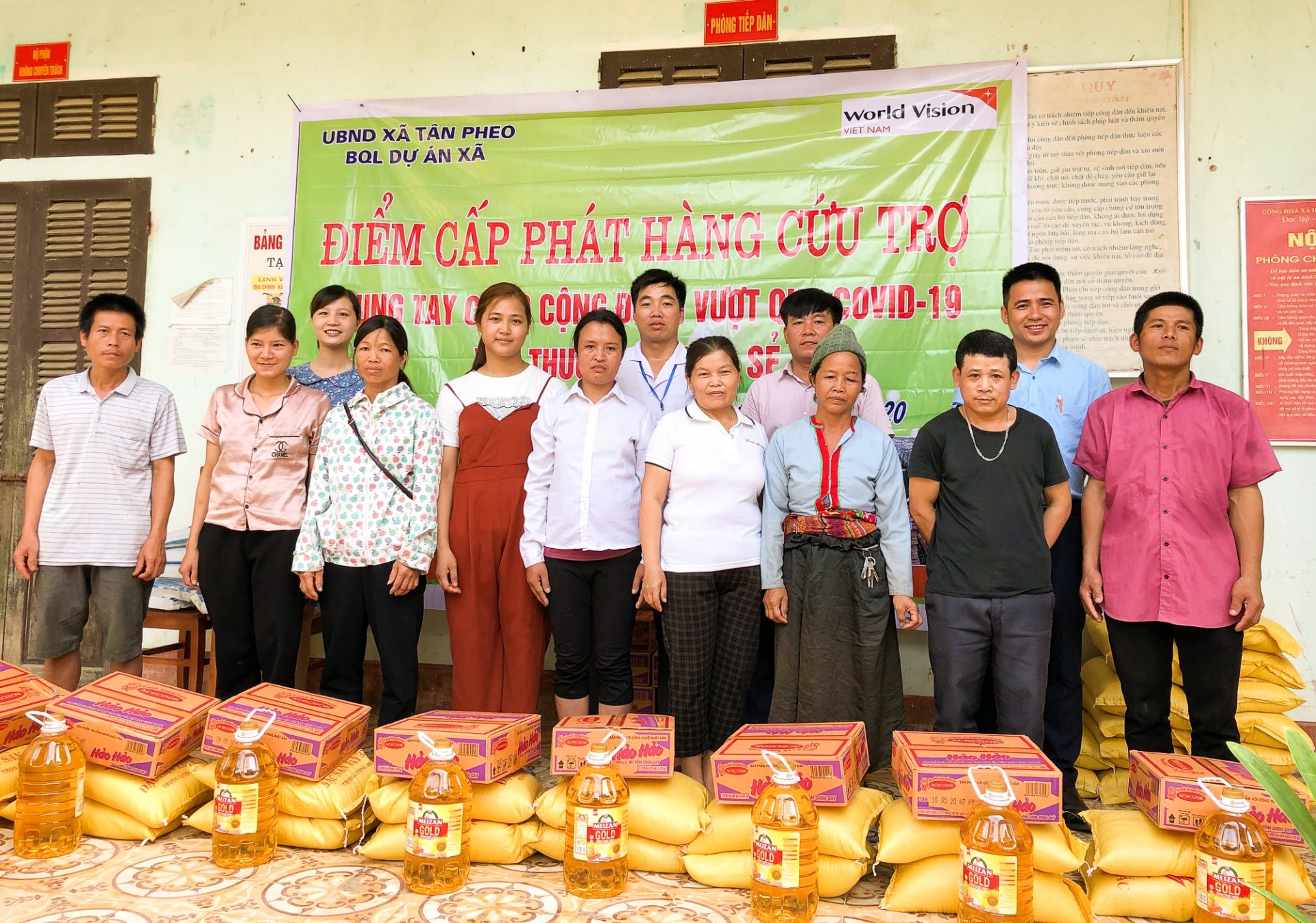 Food-aid support distributed to households with most vulnerable children in Hoa Binh. Photo: World Vision Vietnam
Moreover, in response to COVID-19's aftershocks, World Vision Vietnam has also launched its national response and recovery program. In Da Bac district, Hoa Binh province, World Vision Vietnam has collaborated with the district's Department of Labor - Invalids and Social Affairs, Red Cross and the Center of Culture, Sport and Communication to distribute food-aid support for households with most vulnerable children (i.e., rice, instant noodle and cooking oil).
World Vision Vietnam also provided commune management boards and commune health centers with necessary medical equipment to ensure the safety of the community during the pandemic, including body temperature meters, body protective gears and medical masks.
Together with basic necessities, World Vision Vietnam continues to work closely with local authorities to support households-in-need with livestocks and livelihoods skills to ensure food security in all project areas of Hoa Binh province.
World Vision is a Christian relief and development organization working to create lasting change in the lives of children, families and communities living in poverty. As a child-focused organization, World Vision's work focuses on children, ensuring they are protected and their basic needs are met.
Since 1990, World Vision has implemented many relief and development programs, partnering with the Vietnamese government, other non-governmental organizations and communities. World Vision's long-term development programs are currently operated in 35 districts of 14 cities and provinces throughout Vietnam./.
Travel
As the monsoon rains fall in Hanoi and Ho Chi Minh City, Time Out Dubai suggets savvy travelers to head to the central coast of Hoi An city, where good food, good weather and good vibes are.