Quang Ngai's Potential "Homely Tourism" Post-Covid
Quang Ngai province's tourism has been in the process of improvement, albeit at a slow pace. The reason for this, however, is not a lack of investment.
Ly Son, a Quang Ngai island famed for its scenic beauty and unique seafood experiences, has recently gained attraction for its connection to the Hoang Sa - Truong Sa archipelagos. The pivot to patriotism has boosted its value to domestic travelers, especially younger people. They come to the island to visit the Hoang Sa Navy Squadron Relics, an important piece of national history regarding Vietnam's sovereignty and guardianship of the disputed archipelagos.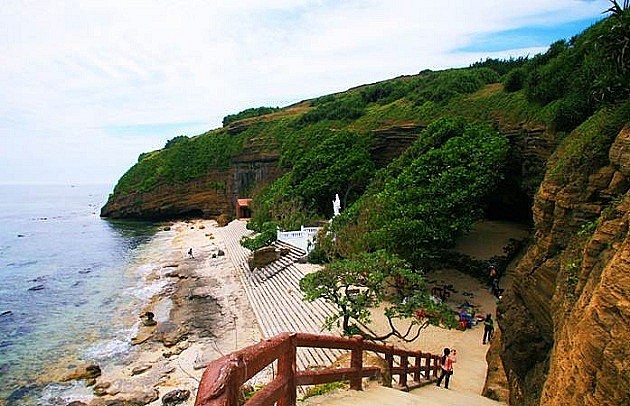 Path to Chua Hang (lit. cave pagoda), Ly Son Island. Photo: Internet
Dao Be (literally translated to "small island") is an islet under Ly Son District that has recently gained tourist traction for the adoption of homestays. The familial hospitality model has been an attractive alternative to traditional touristic establishments, as travelers highly value the local warmth and friendliness that can be intimately experienced, and are much more eager to return. This "homely tourism" model is one that Quang Ngai ought to disseminate, especially after Vietnam's reopening post-Covid.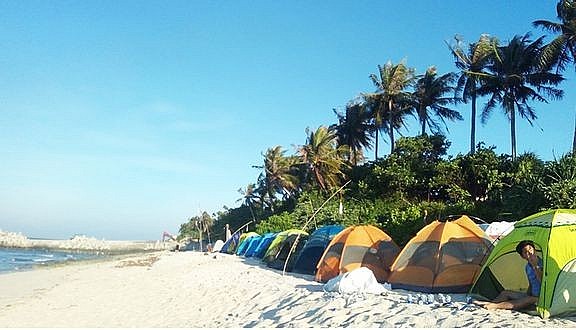 A camping homestay at Dao Be, Ly Son. Photo: Foody
The homestay model and ecotourism go hand in hand, as it encourages travelers to venture into nature and experience the localities as locals would. Quang Ngai's pristine natural beauties include 130 kilometers of beach, some of which unexploited. By allowing locals rather than hospitality corporations to host tourism, the province can minimize the damage to its nature, all the while creating affordable travel opportunities and attract more tourists.
Ba To district is famed for its revolutionary history, but the province has yet to take advantage of this unique experience for tourism. A mountain trekking tour, following the path of the revolution, can be a hugely popular attraction to the history-keen young person. Ba To's distinct cuisine, from mountain staples to ethnic dishes, can be experienced at pit stops on the trek. At the end of the tour, the area's famous wild honey can be a great souvenir to promote. A tour like this can not only promote local tourism, but also is exciting opportunity to provide national historical knowledge.
The mountainous terrain of Ca Dam is also underdeveloped as a tourist attraction. An altitude of 1,500m provided Ca Dam with a unique climate perfect for both the daring explorer, or visitors seeking a mountain retreat. To better use the area, roads from Quang Ngai City to Ca Dam needs to be improved, as well as new paths up the mountain, namely a vehicle path and a trekking path. Lodging at the peak of Ca Dam can be homestays, alongside with homes from rudimentary materials for travelers seeking an experience.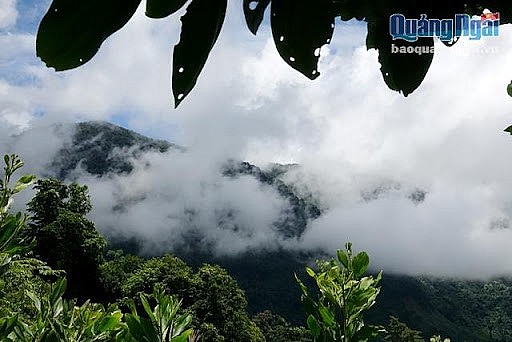 Ca Dam Mountain landscape. Photo: baoquangngai.vn
Nghia Hanh's agriculture can be enticing to visitors looking for a farmland retreat. Fruit tree farms with traditional farmhouses are great assets to a relaxing experience. This model of tourism is widely popular in Western countries, especially during the Covid-19 pandemic.
These areas are uniquely capable of driving tourism with their variety of experiences, making Quang Ngai highly appealing to a wide range of travelers, while leaving visitors longing to revisit.
Quang Ngai has great potential in tourism, though hampered by the Covid-19 pandemic. Nonetheless, as Vietnam reopens, Quang Ngai can become a top domestic travel destination for the restless travelers after lockdown.