Quang Tri: Project RENEW launches newly-built workshop for blind association
Project RENEW on June 23 held a ceremony to inaugurate a workshop with manufacturing equipment worth nearly VND 182 million (USD 7.800) for the Vinh Linh district Blind Association of Quang Tri province.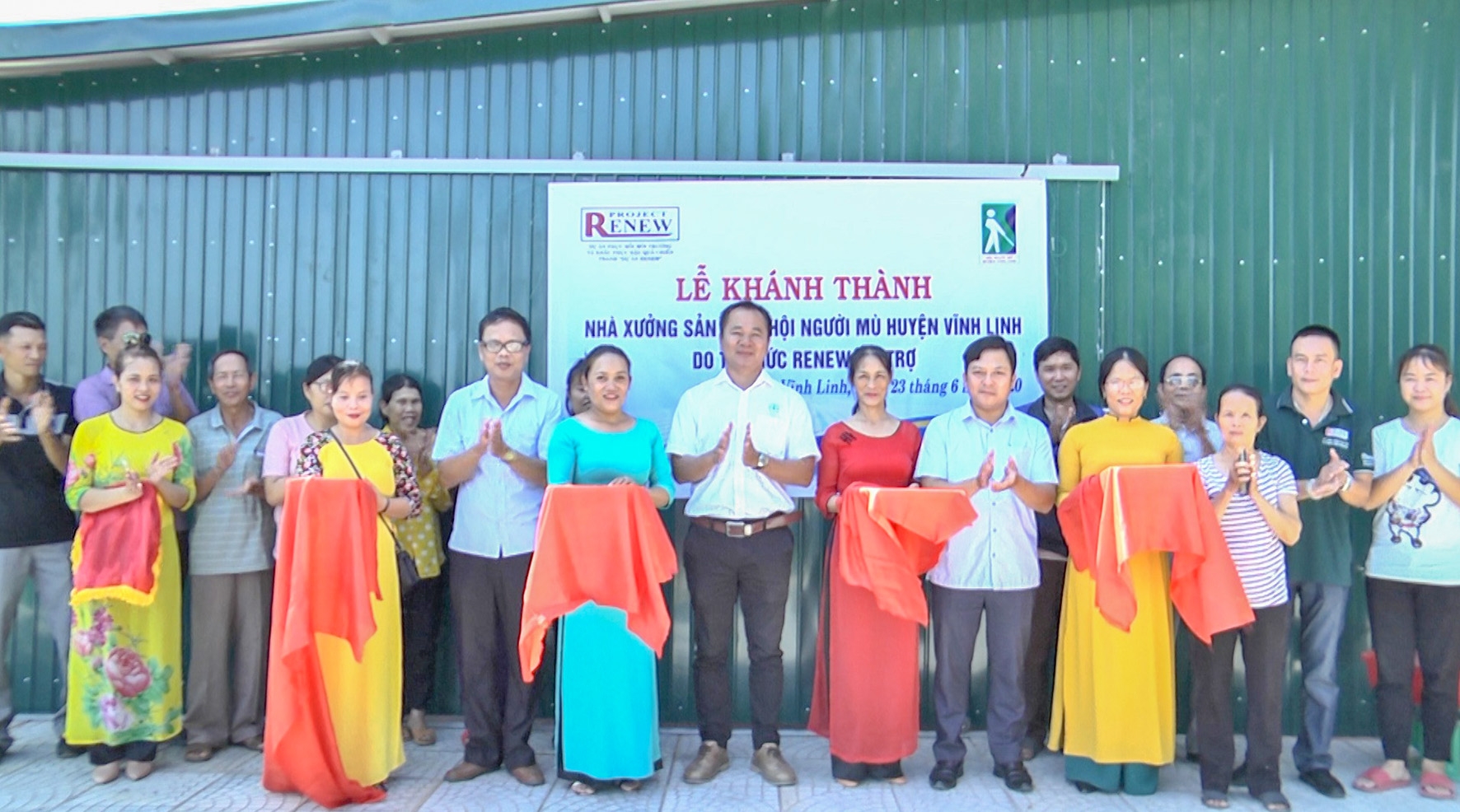 This will be the venue for the Association of the Blind in Vinh Linh district to organize vocational training classes as well as deploy production activities for members. Source: Nguyen Hong/Quang Tri newspaper
The facility will serve a venue for vocational training and for the Association members to participate in production to generate independent income.
Vinh Linh district ranks number two in terms of the blind people in Quang Tri province. In 2018 and 2019, RENEW organized two vocational courses coupled with equipment worth nearly VND 140 million (USD 6.000) for the local blind people and provided 20 breeding cows worth VND 170 million (USD 7.300) to those with extremely disadvantaged circumstances.
Victim Assistance and Disability Support are an integral part of Project RENEW's humanitarian work in Quang Tri province. The project assists victims of Unexploded Ordnance (UXO) and AO and other disabled families to restore their lives and livelihoods through provision of needed support to maximize their potential for development and integration into society.
On the same day, Battle Area Clearance (BAC) teams managed by the Norwegian People's Aid/Project RENEW (NPA/RENEW), unearthed a cache of explosive ordnance buried in a dirt road that runs through our clearance site in Thai Lai village of Vinh Thai commune, Vinh Linh district.
A total of 156 anti-aircraft 12.7mm ammunitions were found and safely removed from the dirt road for safe disposal.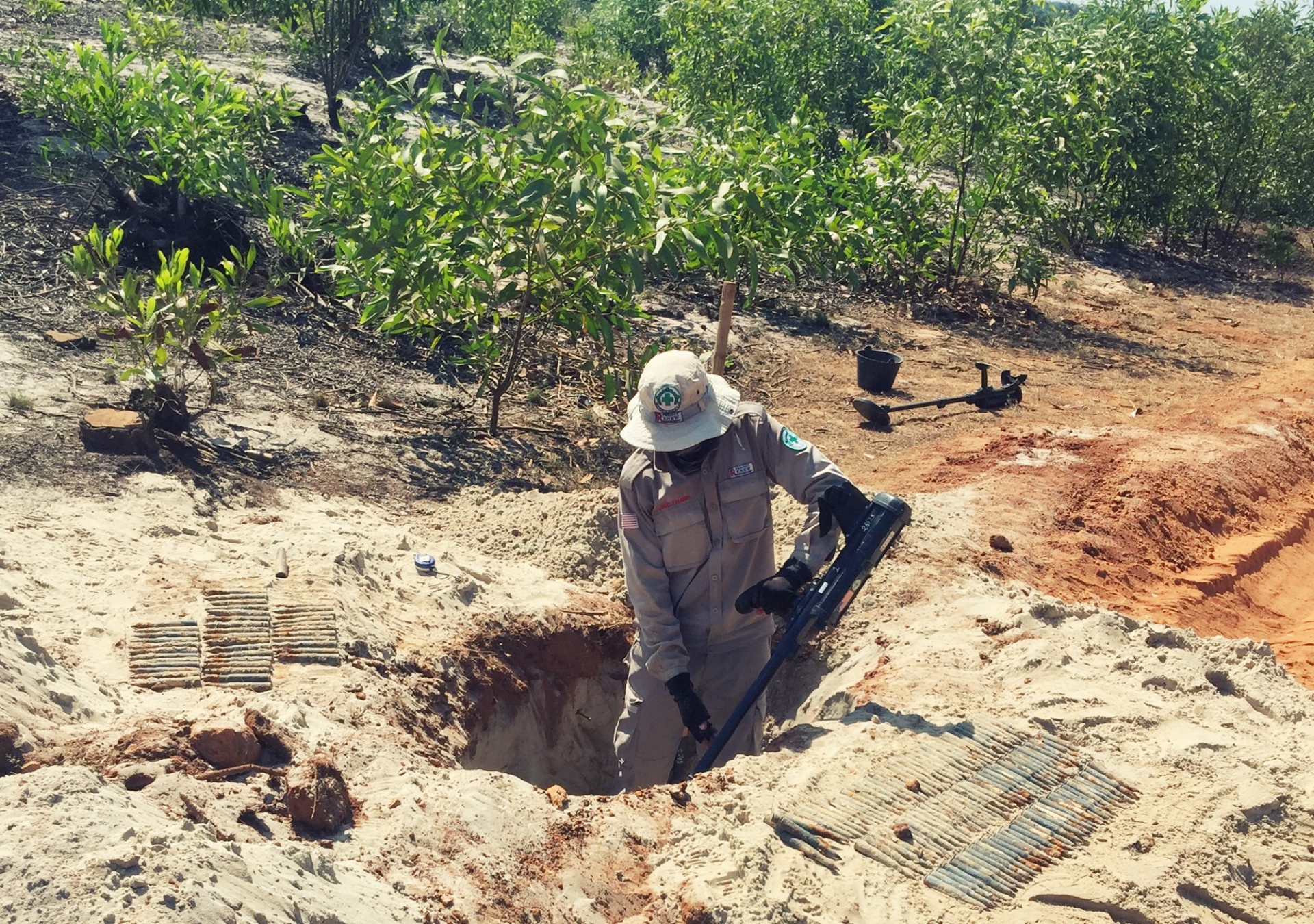 NPA/RENEW clearance teams found caches of explosive ordnance underneath a dirt road traveled by hundreds of local people and vehicles every day. Source: NPA/RENEW
This is the second time NPA/RENEW's BAC teams have found explosive ordnance underneath the same dirt road since they were deployed to clear a confirmed hazardous Area in Thai Lai village on June 15.
The teams found a cache of 19 mortar rounds, projectiles and fuzes about 50 meters away from the pit where these anti-aircraft ammunitions were located. There are about hundreds of local people and vehicles traveling on this road every day.
Despite working under a harsh weather condition with average daytime temperature that reaches 40 degrees Celsius, NPA/RENEW's BAC teams have been working productively. So far, they have cleared nearly 120,000 square meters of land, locating and safely destroyed 43 cluster munitions and 202 items of other explosive ordnance.
All of the explosive ordnance found on the site is always safely destroyed by the end of a working day to ensure safety for local villagers.
NPA Clearance and Survey Program, implemented at Project RENEW, is funded by the US Department of State and the DFID - UK Department for International Development. This is a cooperation project between NPA and Quang Tri province Department of Foreign Affairs.