Quang Tri Race to Become UXO-Free in 2025
Quang Tri is doing its best to become the first province to be safe from UXOs.
The central province of Quang Tri and international organizations worked hard to reach the goal of becoming UXO-free province in 2025.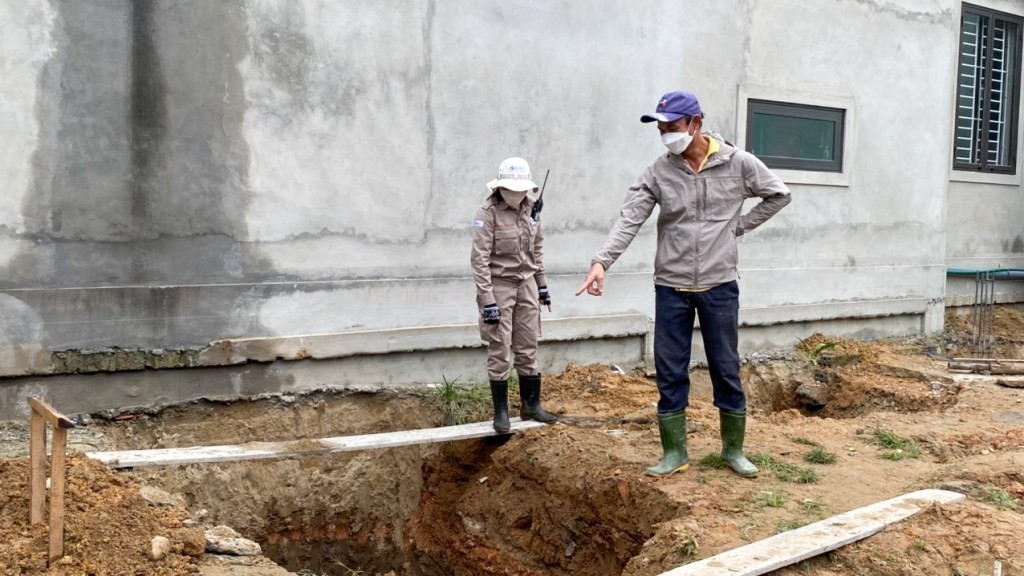 RENEW emergency response team allows Quang Tri's resident to continue building his new home without interruption. Source: RENEW
45-year-old Vo Thanh Chung planned to pour concrete for the foundation of his new home in Cam Lo Village of Thanh An Commune, Cam Lo District last week. However, after a worker found a wartime munition in one of the foundation posts, Chung immediately told his men to stop working and made an emergency call to the hotline of Quang Tri's Mine Action Center (QTMAC) asking for urgent assistance.
The tasking information was quickly relayed from the QTMAC dispatcher to Project RENEW's all-women emergency response.
Upon arrival at the construction site of Chung's house, the team found a munition that was partly exposed at the depth of half a meter. After investigating the explosive, the team leader concluded that it was a 105mm illuminating projectile without a fuse.
They informed the host that the munition was safe to move, so she and her team would remove the projectile and transport it to the central demolition for disposal.
Surprised to see an all-women team respond to his emergency call, Chung said he was impressed, thanking the team for their timely intervention, which permitted him to complete his plan to pour the concrete for his new home's foundation by the end of that day without interruption.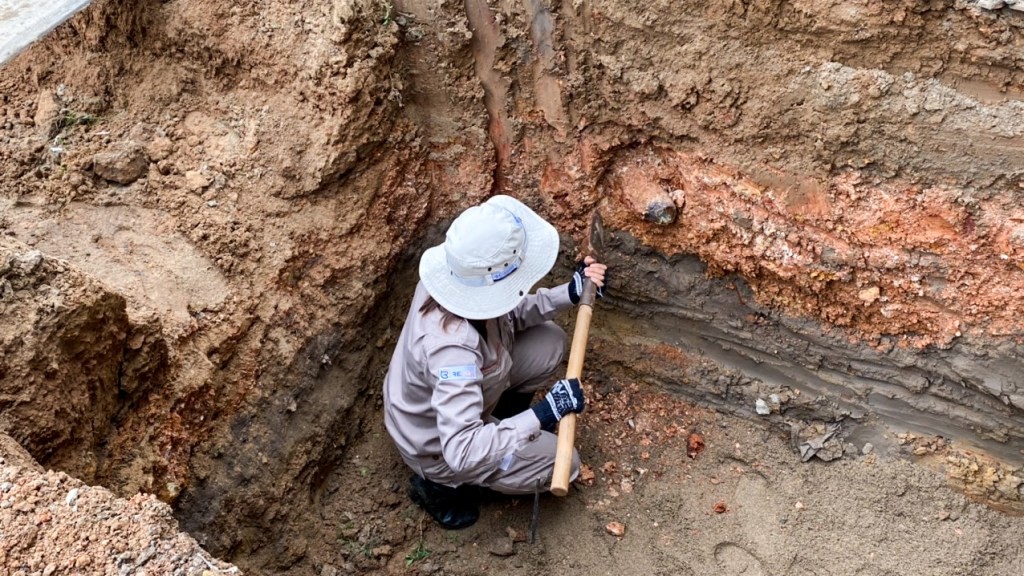 Team Leader investigates the munition from the foundation to make sure it is safe to remove. Source: RENEW
Since December 2021, thanks to funding from Friends of Project RENEW, a U.S.-based non-profit organization and other generous donors, Project RENEW has been able to add this all-women emergency response team – the first in Vietnam – to the existing survey and clearance operations.
Among the contributors is David Wells, a U.S. Army adviser in Vietnam in 1969-70, an early supporter of the Vietnam Veterans Memorial Fund, which later helped create RENEW.
Another is Ray Wilkinson, a U.S. Marine Corps combat correspondent in Quang Tri in 1968, who came back to teach English voluntarily for Dong Ha high school students in 2016. Before the Covid-19 outbreak, Wilkinson taught English for the managerial and field staff of Project RENEW.
Consisting of six members, the all-women team is responsible for responding to discoveries of explosive ordnance called in to the hotline number. In addition, the team conducts disposal of explosive ordnance found by technical survey teams of RENEW/Norwegian People's Aid (NPA).
So far the team has conducted 166 explosive ordnance disposal tasks, safely destroying 753 dangerous munitions of different types since they were deployed on the ground.
Over 25,000 ha of land cleared
Quang Tri is the most polluted locality in terms of unexploded ordnances (UXO) in Vietnam, with over 82 percent of its land area contaminated. War-left landmines and bombs have killed over 3,430 people and injured 5,100 since the war ended in 1975.
Since 1995, the local authorities have cooperated with international organizations to carry out demining activities.
Quang Tri has so far cleared over 25,000 ha of land from war-left landmines and other UXO and safely handled 765,000 UXO items, VNA reported Thursday.
The local authorities have also worked hard to support thousands of landmine victims, and raise awareness of local students and residents of the dangers of mines and UXOs.
Besides funding from the budget, the locality has mobilised over USD 110 million from donors for the settlement of wartime UXO consequences.
The mobilization of aid has helped Quang Tri train technicians, and equip them with modern equipment and devices in mine clearance.
Hoang Nam, vice chairman of the provincial People's Committee , on Feb.17 spoke at the conference on the review of 10 years of implementing the national action program to address post-war explosive remnants in Vietnam 2010-2020 and orientation of mission for 2021-2025 which took place in Hanoi.
According to Nam, Quang Tri is striving to become the first locality in Vietnam to be safe from UXOs left over by the war in 2025.
The locality aims to clean up about 3,000 ha of contaminated land and mobilise USD 10 million each year from foreign non-governmental organisations for the task.
It will strive to complete the zoning of land areas contaminated with cluster bombs and announce dangerous areas to the public, and build policies on human resource development serving bomb and mine clearance in the 2021-2025 period.
Each year, up to 60,000 people can access education programmes on bombs and mines, and 1,300-1,500 victims and their families are expected to receive support in healthcare and livelihood development.
By 2025, all local schools will include bomb and mine education in their curricular.
Prime Minister Pham Minh Chinh, Head of the National Steering Committee on the Settlement of Post-War Unexploded Ordnance and Toxic Chemical Consequences, attended and directed the conference with the participation of leaders of central ministries, provinces, representatives of foreign embassies, international organizations, and non-governmental organizations.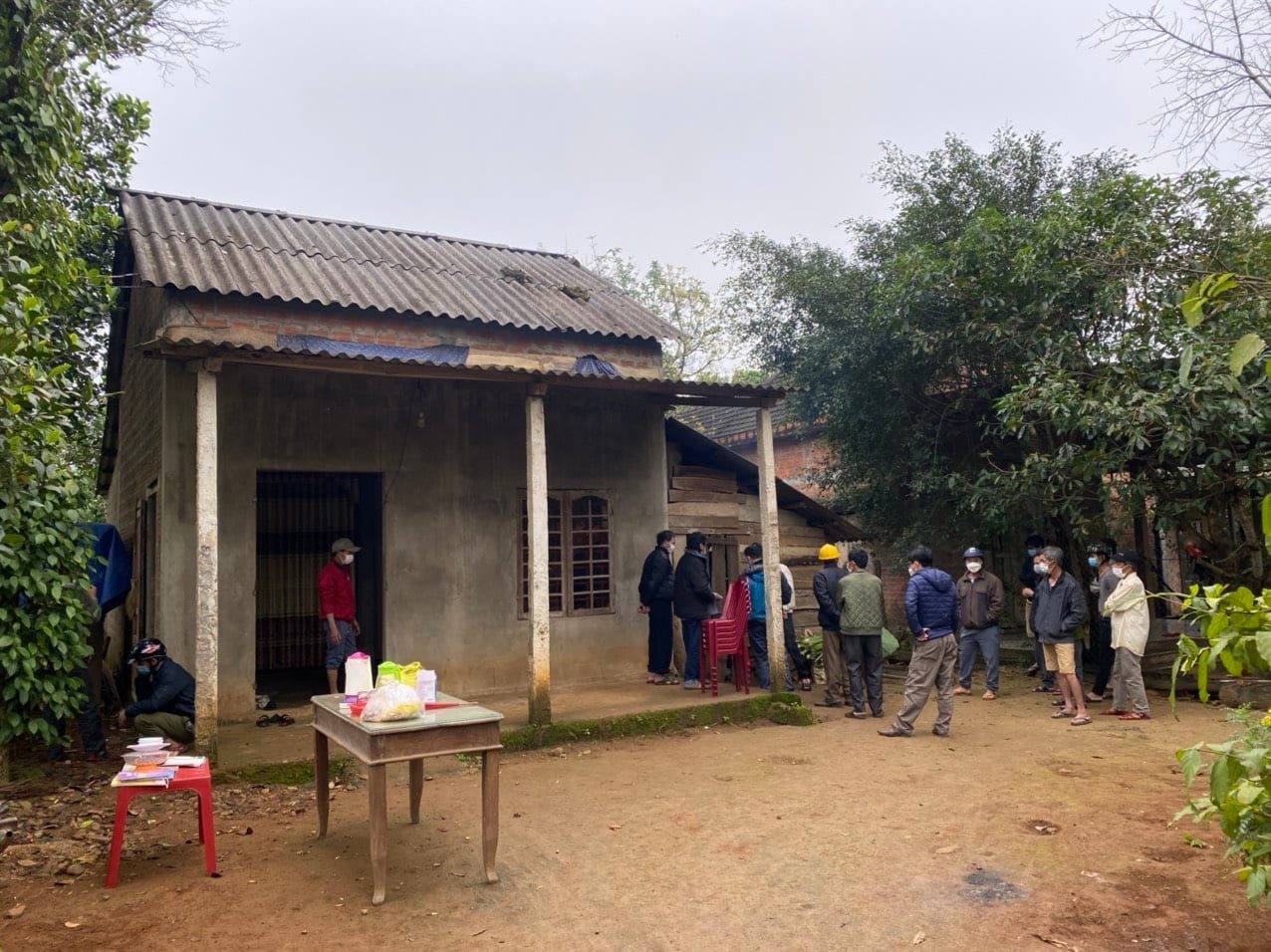 At 13:30 on February 16, 2022, there was an explosion caused by unexploded ordnance leftover from the war in Phuong An 1 Village, Cam Nghia Commune, Cam Lo District, Quang Tri Province. Source: QTMAC
On Feb. 16, just a day before the conference, a man was tragically killed by an explosive remnant of war in Quang Tri. This incident sadly reminds us that the war still claims lives, long after it ended.
Further effort is needed to stop these casualties and to protect human and properties from the threat caused by the deadly legacies of war.
After receiving reports of the accident, QTMAC immediately dispatched officers to the scene and coordinated with local authorities to verify the information. Initially, it was determined that the explosive was an 81mm mortar shell.
QTMAC also sent condolences to the victim's family.
This is the first unfortunate accident after nearly five years since 2017, there have been no accidents from unexploded ordnance in Quang Tri province.