Reasons Why Some Expats Press Pause on Tet Traveling
Usually, Tet is a time for expats to explore new regions of Vietnam. This year, however, many are choosing to stay home.
"Du xuân," or spring trip in Vietnamese, always seems like a good time guaranteed since there is so much to explore.
Expats like to get out of town and explore a new destination of Vietnam for the holiday. Also, as the nation's domestic tourism rebounds after months of lockdown, plenty of resorts and tour packages offer major discounts to jumpstart the struggling industry. This is a perfect excuse for expats to have a brief adventure during the holiday.
But there are also expats with other plans during Tet that not included flying across the S-shaped land, laying on the beach of Nha Trang and Phu Quoc or driving motorbikes through beautiful mountain passes.
Let's find out why many would rather stay put instead of traveling this holiday season!
"Travel? Thanks, but no thanks!"
"Even though the pandemic wrecked all of my plans in 2021, I'm hopeful in 2022. My only wish is for school to open again, so I can see and teach my students in person who I miss dearly," said Samantha, an Australian living in HCMC.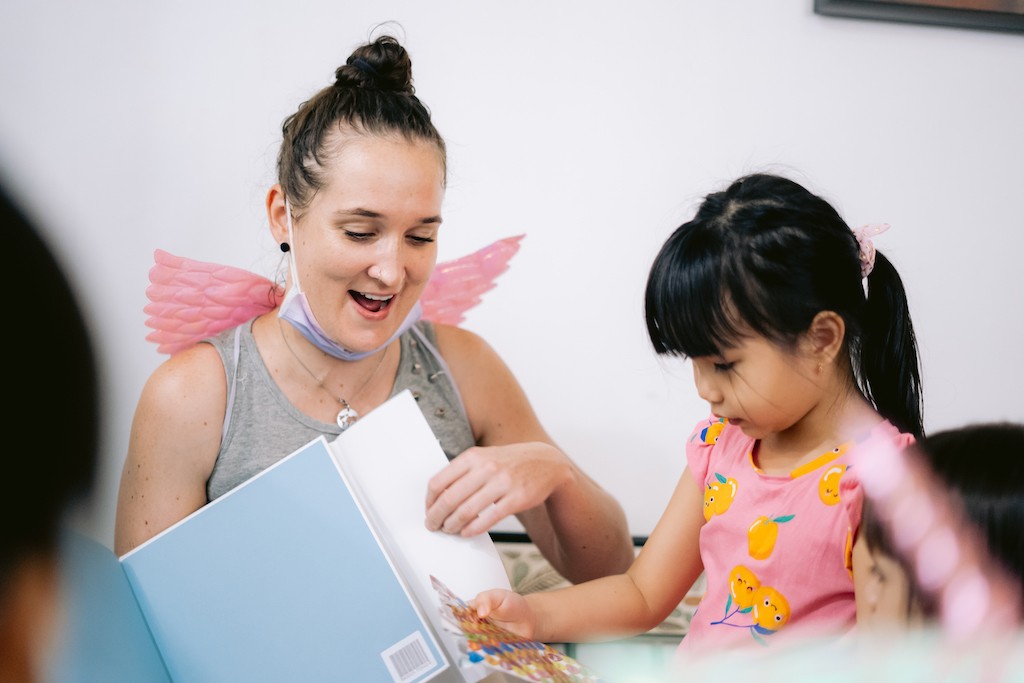 Photo: Banh Mi Cochinchine
Samantha said that she has no plan to travel to outside of Saigon, adding that she has great plan in-stored for when schools reopen so she will start preparing during the holiday.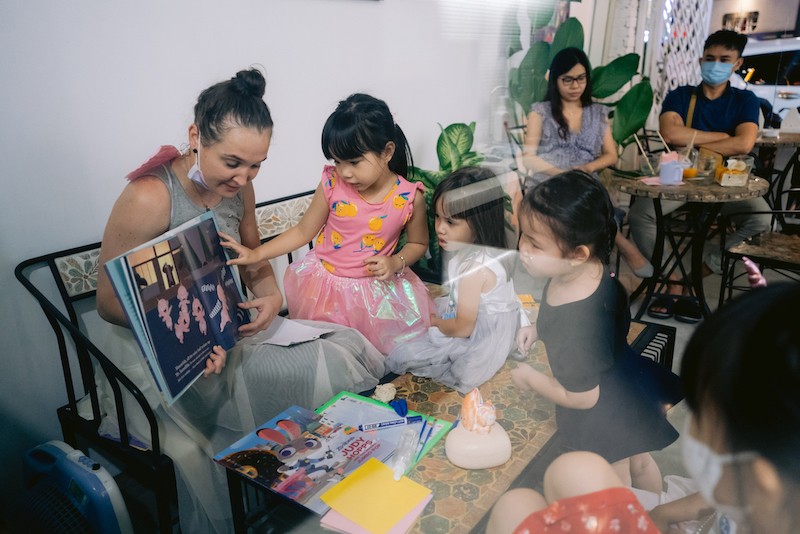 "Teaching and playing with children is my passion," said Samantha. Photo: Banh Mi Cochinchine
For the last two months, Samantha has been instructing a language exchange program called Story Night in Thao Dien city. Every weekend nights, kids aged 3-11 can join her to play, paint and read, all in English and all for free. This project is run by Banh Mi Cochichine Bakery.
Like Samantha, Alex (South African) has been doing remote work for almost two years. Moving his business online, leaving HCMC for Hoi An are also how Alex coped with the social distancing regulations in Vietnam.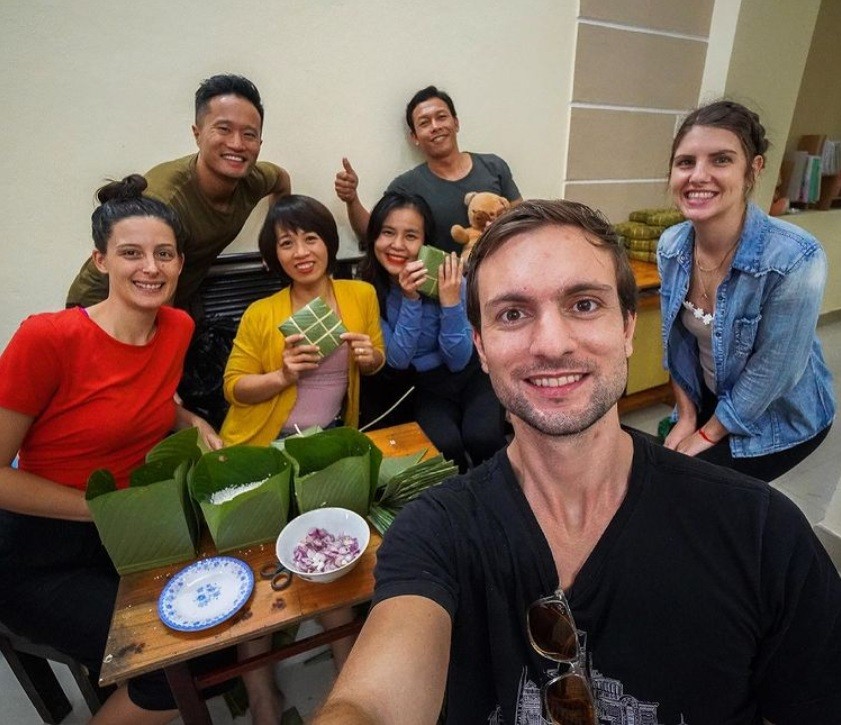 This year, Alex (second from right) is perfectly content with cozy, closed friends only, parties indoors. Photo; Alex Stevenson
Located in Hoi An, Alex enjoys the relaxing and peaceful town so the lack of public activities is not a dampener. It cannot take away the joy of having survived the pandemic that has raged for two years now.
"I love traveling, there are many places I wanted to visit, especially the north of Vietnam. I also want to travel overseas. But now is not the time. I had lived in Vietnam since 2015 so I had had quite a lot of fun experiences celebrating Tet with both locals and expats."
Instead of going out or traveling, which can be a hassle these days, the male expat is perfectly content with cozy parties indoors with his friends.
"Two years is enough, Covid 19!"
This year will mark the fourth year that Mohamed lives in Hai Phong city. Photo: Mohamed Fayed
Having lived in Hai Phong for three years, Mohamed (Egyptian) is much frustrated when he recalled 2020 and 2021 Tet holiday. For him, he has not yet fully fell the spirit of Tet holiday since most of the time he is stuck inside.
Mohamed just exhorted the virus to leave: "Please, let the pandemic end in 2022. Two years is enough, Covid-19!".
Still, he prefer to be safe than sorry.
"I feel traveling during this sensitive time would be unnecessary spending," said Mohamed, adding that he would love to get out of Hai Phong for one or two days to go to Hanoi but only for his work, otherwise he sees no point to take such risk.
"Even if it's a small party, we will still have lots of fun and create good memories,", Mohamed explained that his group of friends enjoy outdoor activities and might go on some day trip in Hai Phong to take pictures.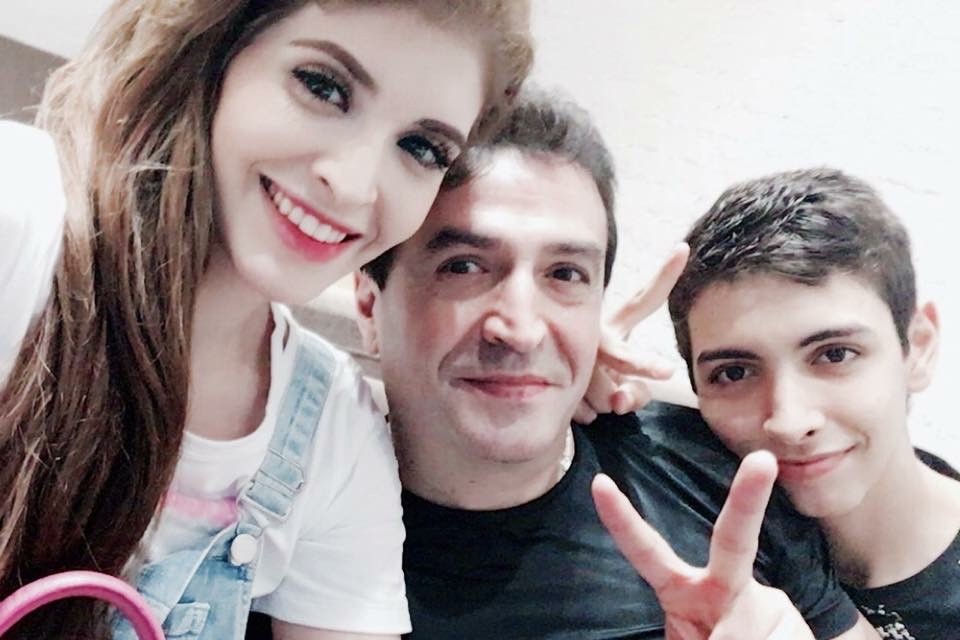 Rufino Aybar (right) with his dad and sister are familiar with Vietnamese custom. Photo: Rufino Aybar
Having lived in Hanoi for 10 years, 23-year-old Rufino Aybar (Spainish) and his family will continue their traditional Vietnamese Tet celebration. They opted for family parties, visiting relatives, hanging out with friend, etc.
"The way my family celebrate Tet is not much different from that off any other Vietnamese family since I moved here 20 years ago when my Spanish dad married my Vietnamese mom. I love Tet because I get to spend time with our extended family from my mother's side."
Whether travel or no travel, the New Year holiday is certainly a time of hope for expatriates in Vietnam. Many of them fervently hope the pandemic will soon go away so that everybody can get back to their normal life.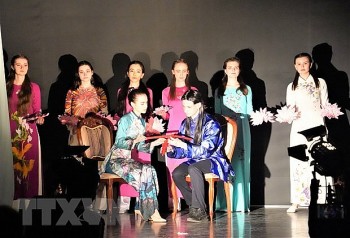 Overseas Vietnamese
Two exchange programmes were held in Russia, attracting manyemany and students of Vietnamese studies from leading universities in Russia.