Rice ATM Inventor Makes Oxygen ATM for Covid Patients
Hoang Tuan Anh, the inventor of a "rice ATM," just co-created free oxygen tank exchange booths for Covid patients quarantined at home.
The oxygen tank exchange booths, also called Oxygen ATM, have been running since August 2. The initiative was co-developed by the Director of PHGSmart home Company CEO Hoang Tuan Anh and the Vietnam Young Entrepreneurs Association. Hoang Tuan Anh was the first to build free rice-dispensing machines (rice ATMs) to help people affected by Covid in Ho Chi Minh City when the pandemic broke out in early 2020.
The initiative "Oxygen ATM" establishes exchanging booths to provide free oxygen tanks at home for Covid patients. Six Oxygen ATMs have been built in Districts 7, 8, 10 and Tan Phu, Binh Tan and Binh Chanh districts. The booths run from 8 AM to 5 PM every day.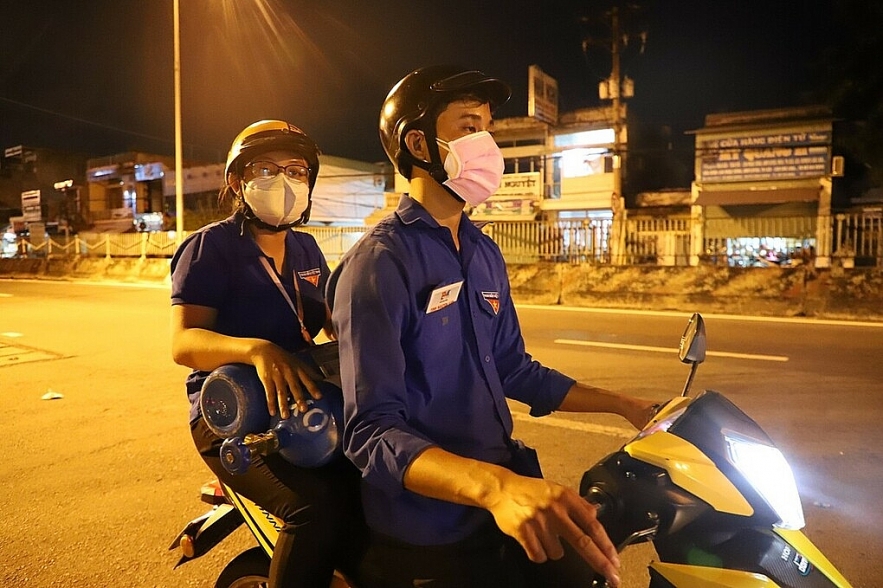 Volunteers delivering oxygen tanks to Covid patients. Photo:

Hoang Tuan Anh
Covid patients in need of exchanging oxygen tanks can contact the hotline (+84) 796 55 5564. Volunteers will bring filled oxygen tanks to the patients' doors by motorbike. The Oxygen ATMs will lend oxygen tanks for free to those who do not have oxygen tanks to exchange and those with disadvantaged backgrounds.
The idea of establishing oxygen tank exchange booths came to Tuan Anh after he saw Covid patients quarantined at home struggling to get new tanks when they ran out of oxygen. While tech-based services were limited, oxygen decantation centers across the city had scarce supply.
In just two days, Tuan Anh's group received hundreds of calls from Covid patients who wanted to exchange or borrow oxygen tanks. Facing the overwhelming demand, Tuan Anh's Oxygen ATMs were overloaded.
Tuan Anh's initiative has raised over VND 1 billion of funds and received support from the Vietnam Young Entrepreneurs Association in Ho Chi Minh City. With this, the group will build more Oxygen ATMs to address current issues. It is expected that the next booths will be open across 11 districts and Thu Duc city.
"We will implement 24 Oxygen ATMs. Binh Chanh district and Thu Duc City will have more booths than others," Tuan Anh said.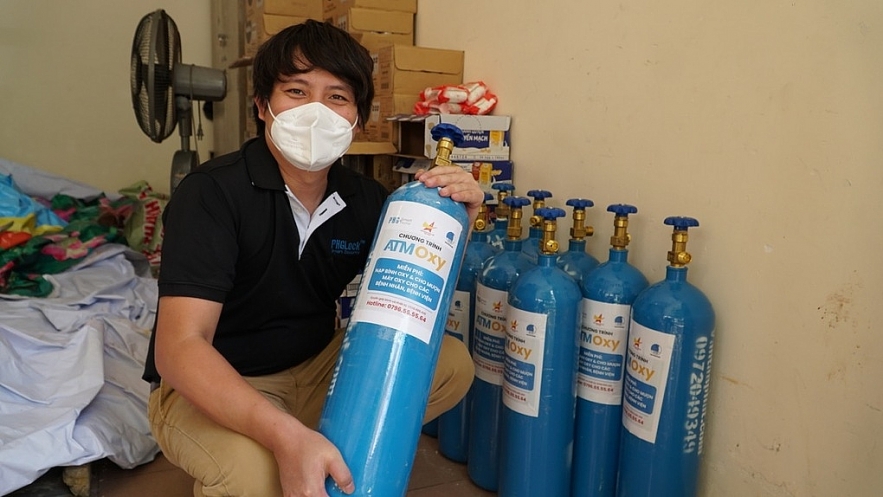 Hoang Tuan Anh, CEO of PHGSmarthome Company. Photo:

Hoang Tuan Anh
The Oxygen ATM group plans to assist hospitals to exchange oxygen tanks for free. Tuan Anh calculated that hospitals normally changed tanks every 5 – 7 days. If a 40-liter oxygen tank could be used in 4 – 24 hours, hospitals would regularly release about 5 – 6 empty tanks. The Oxygen ATM group would enhance daily service to increase oxygen tank usage capacity.
Tuan Anh applies a different approach to run the Oxygen ATM initiative. While it is easy to distribute rice and other types of food, for oxygen, there are limited supply and strict feeding and decanting procedures to follow. PHGSmarthome plans to work with the Ho Chi Minh City Department of Health to provide online guidance on exchanging and operating oxygen tanks for Covid patients.
Tuan Anh said the project needed extra support from businesses, donors and suppliers to provide assistance to patients lacking sources of oxygen.