Young Vietnamese Doctor Creates Self-Decomposing Facemasks
Using shrimp and crab shells and sugars from corn starch and sugarcane, Nguyen Hoang Chinh (31) has created antibacterial, self-decomposing facemasks that can filter fine particles and droplets less than 2.5 micrometers.
In mid-2020, after reading about recycling plants reusing disposable medical facemasks, Dr. Nguyen Hoang Chinh from Ton Duc Thang, a public research university in Ho Chi Minh City, believed many people had been making use of disposable facemasks' limited decomposability to earn profits, affecting public health. Chinh thought of creating highly antibacterial and decomposable facemasks that were environmentally friendly.
Having earned a PhD. in nanomaterials, Chinh had advantages in finding the right materials. Chinh and his research team prioritized natural materials that could decompose and resist bacteria easily. Chinh realized that many materials were microbicidal but were not safe for the skin. Some materials could filter fine particles but were not airy.
After conducting various experiments, Chinh's research team chose chitosan from shrimp and crab shells and polylactic acid from the sugars in corn starch and sugarcane as the main materials for the facemasks. While chitosan had highly active antibacterial characteristics as it could impact the bacterial cell membrane, polylactic acid could create nano-scale materials to prevent droplets. Chinh's group combined these materials to create a new material that was antibacterial, highly decomposable and safe for the skin.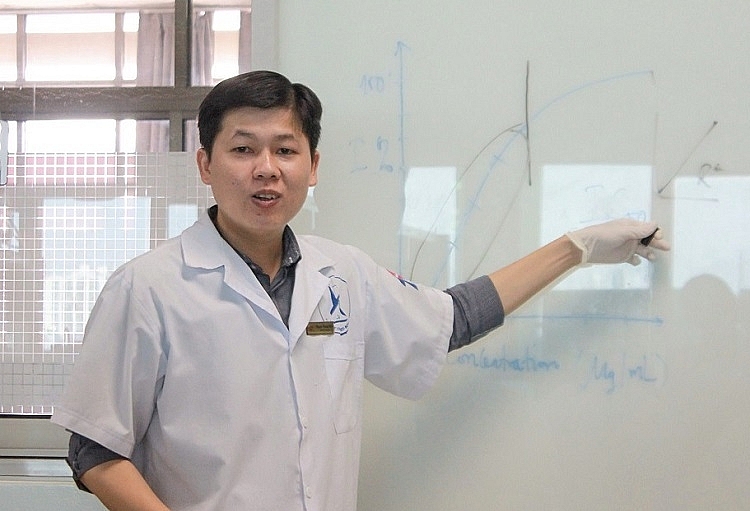 Dr. Nguyen Hoang Chinh. Photo: Nguyen Hoang Chinh
Instead of inserting two separate layers of materials into the facemasks, Chinh's research group used electrospinning technology to create one single layer of nanomembrane to maximize chitosan and polylactic acid's airiness.
Chinh said this was the first time electrospinning was used to create facemask materials. The challenge and most critical point in applying this technology was identifying the right ratio between different materials to ensure the membrane's activeness and durability. In addition, as the material might lose its mass due to its high decomposability, the group had to preserve the materials at room temperature and dry space and add silver nanoparticles to increase the facemasks' antibacterial ability.
After much experiment, the group created a membrane with a fiber diameter of several hundreds of nanometers and a distance between fibers of just 0.3 micrometers. Chinh said the fiber's size helped to prevent droplets and particles less than 2.5 micrometers and kill bacteria attached to the surface.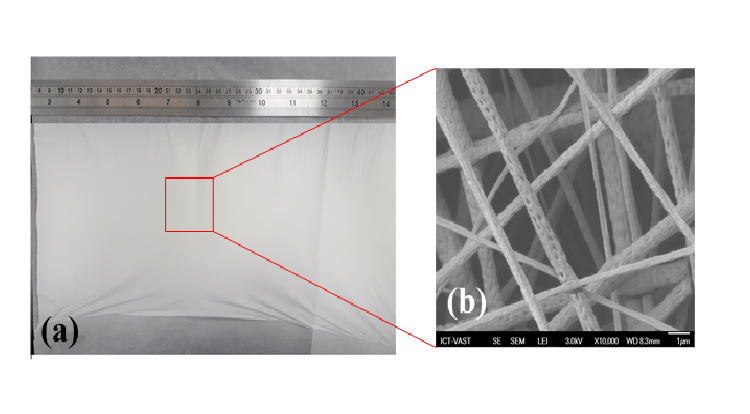 Nanofibers magnified 100 times under a microscope. Photo: Nguyen Hoang Chinh
Experiment results showed that Chinh's facemasks were 99.9% effective in killing bacteria and filtering fine particles. The facemasks did not cause skin irritation and started to decompose within 8 weeks in the lab environment. Under the impacts of microorganisms in the natural environment, the facemasks might decompose faster.
After a year of researching the nanomembrane, the group is working on improving the product's thickness to bring comfort to users. Chinh's research group plans to launch the product early next year.
Other than the self-decomposing facemasks, Chinh has been researching on synthesizing environmentally-friendly materials such as applying nanofiber to purify water and air in health and industry.
Chinh received the prestigious Golden Globe Awards of the Ho Chi Minh Communist Youth Union and Ministry of Science and Technology in 2020. In the field of applying nanotechnology in medicine, Chinh has 37 articles published in scientific journals in Vietnam and abroad and has been reviewing for 16 ISI journals.