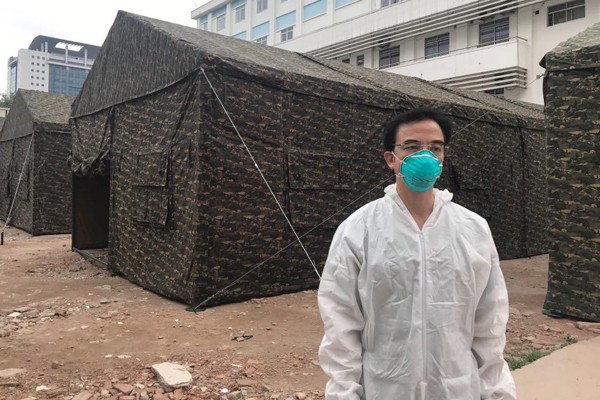 Bach Mai Hospital Director Nguyen Quang Tuan (Photo: VNS)
Bach Mai Hospital has been under lockdown since Saturday after it was linked with the nation's biggest cluster of COVID-19 cases – 25 new infections, with both patients and staff infected.
"We have isolated all medical staff, doctors and patients of the hospital. The current number of people present at the hospital is approximately 3,500, of which, there are 800 patients who cannot be discharged or transferred to lower levels and 552 patients with end-stage renal failure that require dialysis," Tuan told VNS reporters. "We are determined not only to treat our patients but also to prevent the spread of infection or cross-infection in the hospital".
The director added that conditions inside the hospital are still good, and the staff's spirit is stable.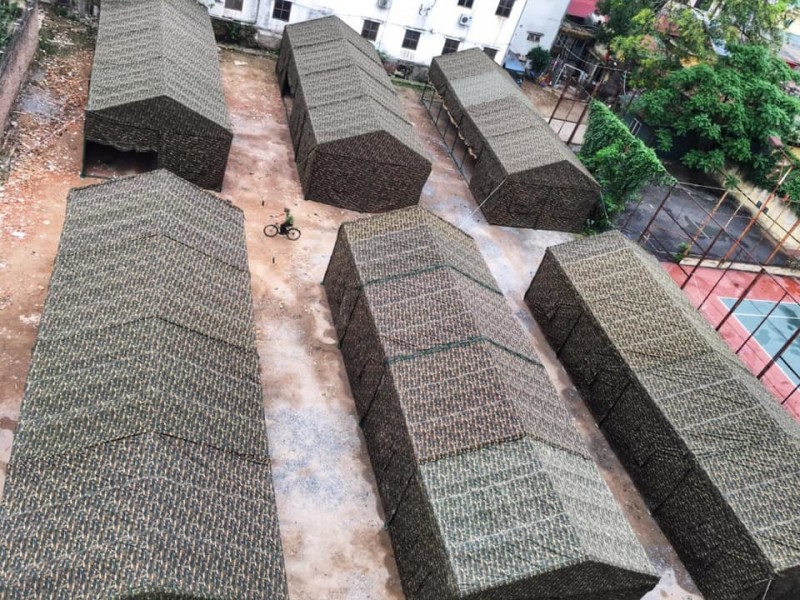 The field hospital is set up inside Bach Mai Hospital's campus (Photo: VNS)
However, according to VnExpress, the hospital now doesn't have enough food and necessities to meet this large demand.
The 3,500 people trapped inside, including doctors, nurses and other staff, cannot go outside to purchase even the most basic things like toothbrushes and toothpaste. The hospital has had to provide such necessities for them, said Tuan. It is difficult for essential supplies, either ordered by the hospital or provided by the community, to get through checkpoints at the hospital, he added.
Additionally, as Bach Mai's cafeteria has been identified as a major source of Covid-19 infection, it has been closed and all its employees quarantined. This happened after several employees of the Truong Sinh Company, which supplies food and water to the hospital, were found infected. Despite Bach Mai having already hired another company to provide meals for those inside the hospital, their nutritional quality has been wanting, Tuan said.
"We also need special meals for patients with diabetes, young patients and so on," he said.
The lack of nurses and doctors to treat patients has also been a challenge, as over 200 doctors and nurses of Bach Mai have had to be quarantined, many in their own homes, after having had close contact with Covid-19 patients.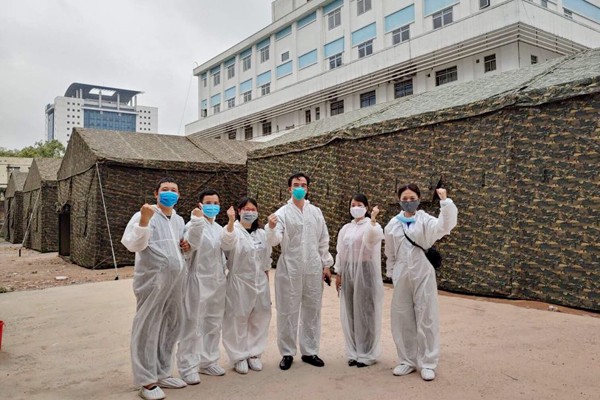 Despite the current shortages of medical staff and daily neccessities, doctors's spirit remains strong (Photo: VNS)
The current number of doctors and nurses inside Bach Mai cannot carry out their tasks for long if they don't have enough necessities including food, Tuan said.
Hanoi, with 77 Covid-19 infections, is the locality with the highest number of cases among Vietnam's current tally of 194. Of these, 55 have been discharged from hospitals, including the largest single-batch release of 27 from a Hanoi hospital Monday morning.
The Bach Mai Hospital, in Dong Da District, has been identified as a major Covid-19 outbreak area in Hanoi. At least 25 confirmed cases were found to be associated with the hospital.
The Covid-19 pandemic has so far claimed more than 34,000 lives in 199 countries and territories.
Jasmine Le