Russia man's first time trying boiled snails - Vietnam's iconic street food, with video
For the 22-year-old Ilya Andreev, his first bite of boiled snails is way more flavorful and delicious than he imagines.
(Video: VNE)
On a cold winter day, Andreev was taken by his friend, Phuong Dung, to a famous snail street stall in Hanoi Old Quarter, downtown Hanoi. As the duo entered the small, yet crowded stall, pull up a plastic stool and took their seat, Phuong showed the Russian young man how to use the small stick to pull the snail's flesh out of its shell.
"It's big", Andreev said as he staring excitedly at a snail. He then used the small stick to pull the flesh out, dipped it into the dipping sauce and took a big bite.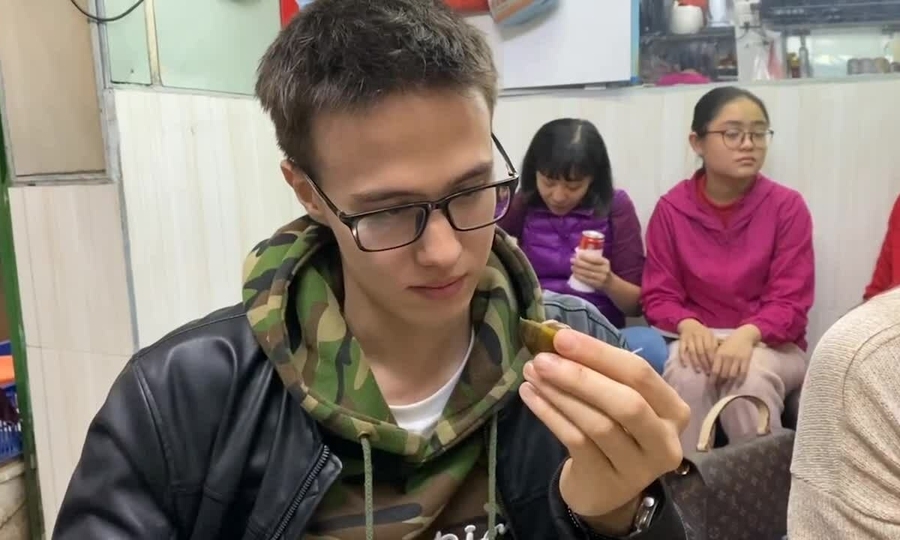 Ilya Andreev looks carefully at the snail before trying (Photo: VNE)
"It tastes more delicious than it looks. It's super flavorful and fragrant, I really like it. There's chili, lemongrass, pepper, so yummy!", he said while finishing the rest of the bowl.
"You can't believe what I've just tried. It's such an unforgettable experience", he was quoted by VNE. "Boiled snails, it's something pleasantly spicy and sweet, with the delicate taste of salt. Perfect blend of flavors".
Suggested address for boiled snails (ốc luộc) experience
Ốc Hà Trang
Oc Ha Trang is located on Dinh Liet street, which is between beer street and Hoan Kiem lake. It is an outdoor street restaurant and you'll be able to see the staff washing and preparing baskets of snails during the day before opening. The snail dishes here are famous for the well-preserved soft texture and fragrant and fresh ingredients such as lemongrass and ginger for the sauce, according to LokaLien.
Address: 1A Đinh Liệt, Hàng Đào, Hoàn Kiếm, Hà Nội, Vietnam
Opening Hours: 15:00 – 22:30
Price range: 50,000 – 100,000VND per dish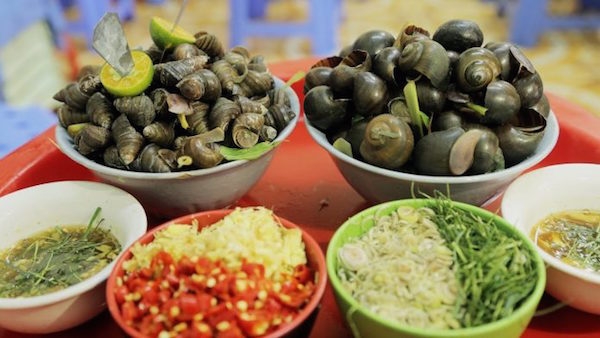 Ốc Bà Câm
This restaurant is located on the Food Street Hanoi nearby the famous train street. It is a place acknowledged by many locals for the freshness of ingredients and unique flavoured dipping sauce prepared by the owner Mrs. Cam. Affordable price is another reason for attracting many young Vietnamese to come and enjoy an amazing meal.
Address: 5 Tong Duy Tân, Hang Bong, Hoan Kiem, Hanoi, Vietnam
Opening Hours: 16:00 – 22:00
Price range: 15,000 – 33,000VND per dish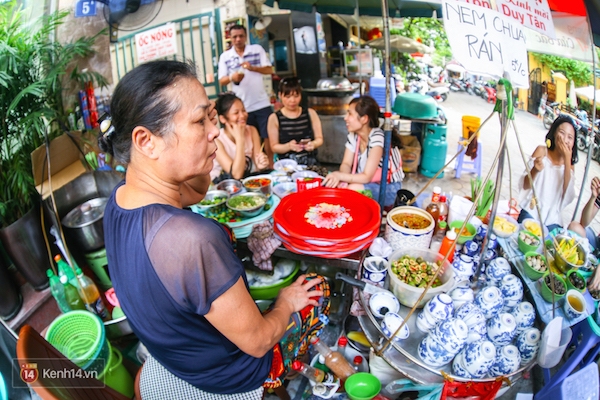 (Photo: Kenh 14)
Ốc Chị Lệ
This one is always on top of the list of local sources and their menu is extensive. So here, you can expect to have a proper full meal. There are many side dishes other than snails, which are delectable. It is highly recommended to try the butter fried clams and garlic bread along with snails.
Address: 88 Cua Bac, Quan Thanh, Ba Dinh, Hanoi, Vietnam
Opening Hours: 15:00 – 23:00
Price range: 15,000 – 80,000VND per dish
Ốc Ông Thu
Ong Thu means Mr. or grandpa Thu and he's the owner of this very typical and traditional Vietnamese street vendor. He's been in business for over 20 years and he opens his little street pop-up restaurant in the evening. His menu is simple with only boiled snails accompanied with delicious dipping sauce. I think this option is the most down-to-earth and fun Vietnamese experience you can have.
Address: 56 Hang Bac, Ba Dinh, Hanoi, Vietnam
Opening Hours: 18:00 – 22:00
Price range: 25,000 – 50,000 VND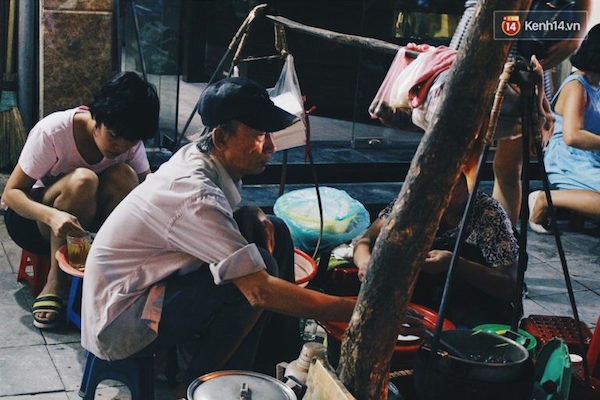 Hưng Ốc
Hung Oc is located in a local neighbourhood outside of the Old Quarter. This street, Luong Dinh Cua is full of snail restaurants and I think you can't go wrong with any of the restaurants here. In this street, it's more about the snails with coconut sauce than one specific restaurant. I personally love snails with sauces than simply boiled or steamed and I really enjoyed both tamarind and coconut sauce dishes here.
Address: 7 Luong Dinh Cua, Kim Lien, Dong Da, Hanoi Vietnam
Opening Hours: 11:00 – 22:30
Price range: 30,000 – 50,000VND per dish