Russia's second Covid-19 vaccine is 100% effective
Russia's consumer health watchdog Rospotrebnadzor on January 19 told TASS news agency that Russia's second Covid-19 vaccine EpiVacCorona proved 100% effective in early-stage trials.
The data, based on Phase I and II trials, were released before the start of a larger Phase III trial which would normally involve thousands of participants and a placebo group as a comparison.
"The effectiveness of the vaccine is made up of its immunological effectiveness and preventative effectiveness," the TASS news agency reported, citing Rospotrebnadzor.
"According to results of the first and second phases of clinical trials, the immunological effectiveness of the EpiVacCorona vaccine is 100%."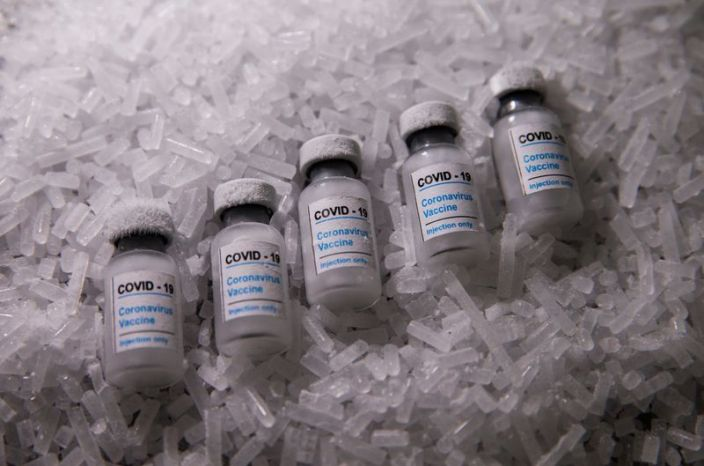 Vials labeled "COVID-19 Coronavirus Vaccine" are placed on dry ice in this illustration taken, December 5, 2020. Photo: Reuters/Dado Ruvic/Illustration
The Phase I and II studies tested the safety, side-effects, and immunogenicity of the potential vaccine in 100 people aged 18-60, according to the state trials register.
Typically early-stage vaccine tests on humans are based on blood readings showing an immune response in participants who have not been exposed to the virus, while the results of larger late-stage trials are based on actual infections suffered by participants in their normal lives.
Russia began testing EpiVacCorona, which is being developed by Siberia's Vector Institute, in November.
EpiVacCorona will be used in mass vaccinations from March, Deputy Prime Minister Tatiana Golikova told the Interfax news agency.
Previously, Moscow said its other approved vaccine, Sputnik V, was 92% effective at protecting people from COVID-19 based on interim results.
As reported by Medical Express, the calculations were based on results from 16,000 individuals who received both doses of the vaccine, Russia's health ministry, the state-run Gamaleya research center, and the Russian Direct Investment Fund (RDIF) said in a statement.
"The Sputnik V vaccine had an efficacy rate of 92 percent after the second dose," the statement said, after 20 of the volunteers—some of whom were given the placebo—tested positive for coronavirus.
The adenovirus vector-based vaccine uses modified viruses of the regular flu.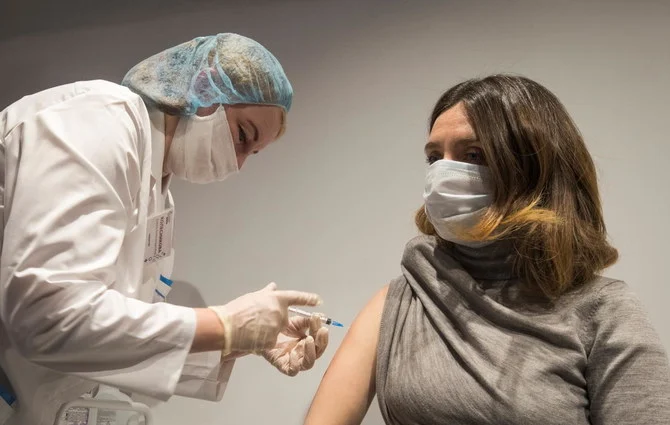 Russia has said it can inoculate 60 percent of its population against COVID-19 this year. Photo: Reuters
Some of those vaccinated experienced "pain at the injection site, flu-like syndrome including fever, weakness, fatigue, and headache," the statement said.
"I assume there was political pressure after the press release from Pfizer and BioNTech earlier in the week to now draw level with their own data," said Bodo Plachter, deputy director of the Institute of Virology at the Mainz University. "What is missing for now is an analysis of statistical significance."
Russia has said it can inoculate 60% of its population against COVID-19 this year, and although the Sputnik V vaccine has been readily available in Moscow, the rollout across the country has been slow.
Russian President Vladimir Putin has ordered mass vaccinations to start this week.
To date, 3,591,066 coronavirus cases have been confirmed in Russia, with 2,978,764 patients having recovered from the disease. Russia's latest data indicates 66,037 fatalities nationwide. Earlier, the Russian government set up an Internet hotline to keep the public updated on the coronavirus situation.
US biotech firm Moderna earlier also unveiled that its COVID-19 vaccine candidate is more than 94 percent effective based on provisional data from the late-stage clinical trial.
Moderna said that early analysis from its Phase 3 trial shows its Covid-19 vaccine is 94.5 percent effective at preventing the illness, offering hope of a second breakthrough in as many weeks, NBC News reported.
Moderna's interim analysis was based on 95 infections among trial participants, who received either a placebo or the vaccine. Of those, only five infections occurred in those who received the vaccine.
Furthermore, it appears to have prevented more serious outcomes of Covid-19. Eleven cases of severe disease were reported in those who got the placebo. No severe disease was reported in those who received the vaccine.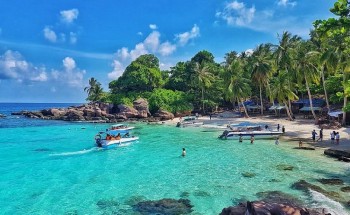 National
Vietnam News Today (Jan. 18): Vietnam confirms 21,691 new local Covid-19 cases; Logo marking 30 years of Vietnam-RoK diplomatic ties unveiled; Phu Quoc represents golden hope for Vietnamese tourism rebound; Int'l searches on Vietnam tourism reopening on the rise.