NGOs Rush to Deliver Gifts to the Poor Ahead of Tet Festival
Many organizations seek to spread joy during the upcoming Lunar New Year (Tet) celebrations amid the pandemic
Many organizations are speeding up the provision of gifts to needy people as the Lunar New Year (Tet), the largest traditional festival of the Vietnamese people, approaches.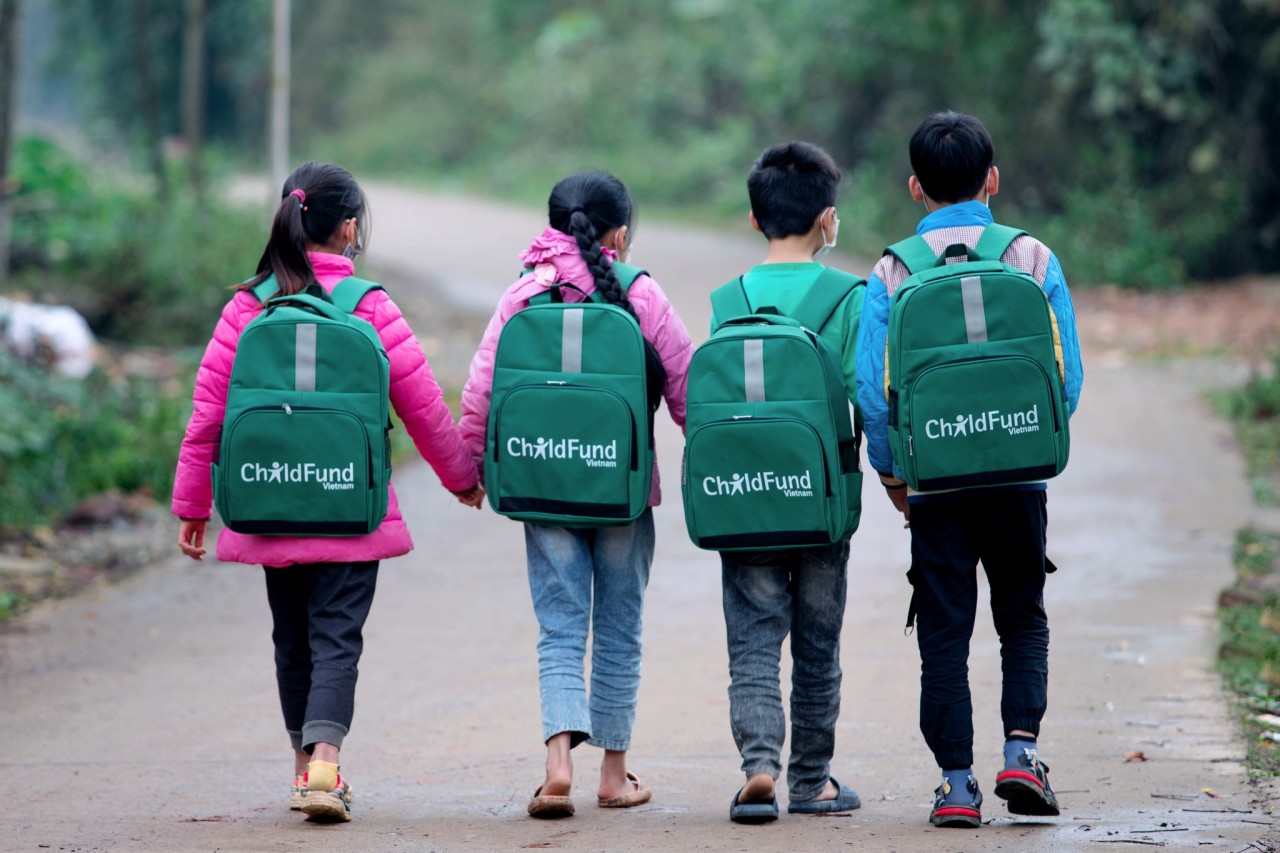 Children received gifts before Tet holiday. Source: ChildFund Vietnam
When the Lunar New Year is around the corner, nearly 4,000 children in projected communes of Tan Lac District, Hoa Binh province had a great joy receiving the meaningful gifts of backpacks from ChildFund.
16,454 backpacks will be gifted to children in three provinces of Hoa Binh, Bac Kan and Cao Bang in January and February, 2022. Gift giving is an annual activity of Child Sponsorship Program, aiming at sharing the burden of enrolled children's parents in creating good conditions for their learning.
In similar activity, another international organization World Vision Vietnam has cooperated with the local People's Committee and the District Red Cross Association to hand over bicycles to disadvantaged children in Minh Long district, Quang Ngai province.
Specifically, with a total value of US$ 30,000, the organization handed over bicycles to 392 children from their five project communes.
The prolonged floods and complicated developments of the Covid-19 pandemic in the community and across the country have left many heavy impacts on people's lives in Minh Long district, especially the most vulnerable children. The difficulties of families to pay for basic education facilities for their children not only affects their children's academic performance but can also cause children to drop out of school.
This activity is part of World Vision Vietnam's series of persistent efforts to reduce children's daily hardship to go to school, thereby encouraging them to be diligent and make efforts in their studies.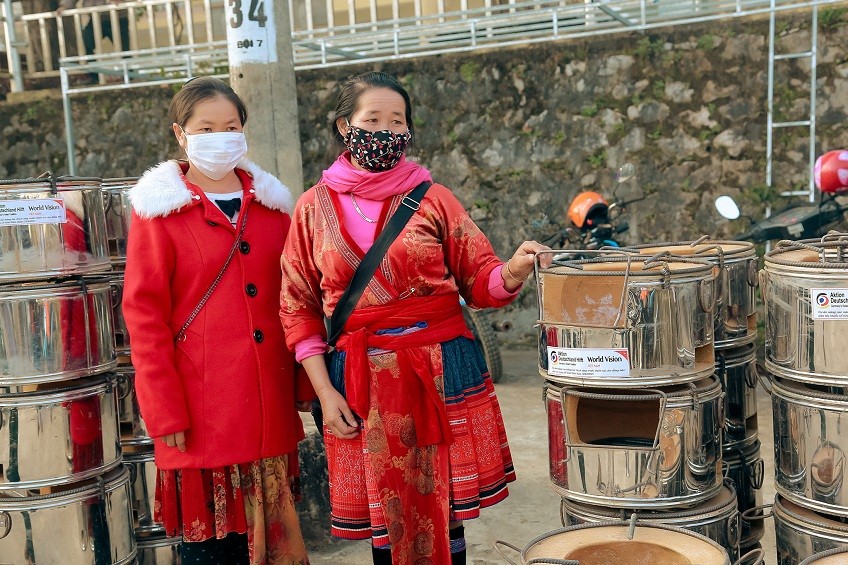 Wood-saving stoves delivered to poor and near-poor households. Source: World Vision Vietnam
In this January, World Vision Vietnam had promptly collaborated with the People's Committees of Muong Bang, Sinh Phinh, Tua Thang, and Xa Nhe communes and Tua Chua town to hand over wood-saving stoves to 150 poor and near-poor households in Tua Chua district, Dien Bien province on the threshold of the most important and longest holiday in Vietnam.
This type of stove has many advantages such as fast cooking, easy grouping, low smoke, reduced emissions, and saving 50% of fuel compared to traditional stoves. The use of fuel-efficient stoves will also contribute to environmental protection, combating climate change, saving time, and protecting people's health.
With a total value of US$ 2,405, this activity is part of the German Relief Alliance-funded Dien Bien Ethnic Minorities Resilient to Disasters project.
In Ho Chi Minh City, the epicenter of the fourth Covid wave, workers of Caritas - an independent Catholic development and relief organization, and parish council members from the parishes of Nhan Hoa and Xom Moi provided gifts for some 400 families whose members had died or lost jobs because of the pandemic, disabled people and street vendors.
People who could not afford to get food for the five-day traditional festival starting Feb. 1, were given money, rice, cooking oil, fish sauce, sugar, cakes and other items worth VND 1 million (US$ 45) each.
Earlier, Catholics from Hoa Hung Parish offered 166 poor households traditional Tet foods such as sticky rice, pork sausages, confectionery, olive oil, and spices, which were from funds run by Caritas in HCM City Archdiocese and the Catholic Bishops' Conference of Vietnam.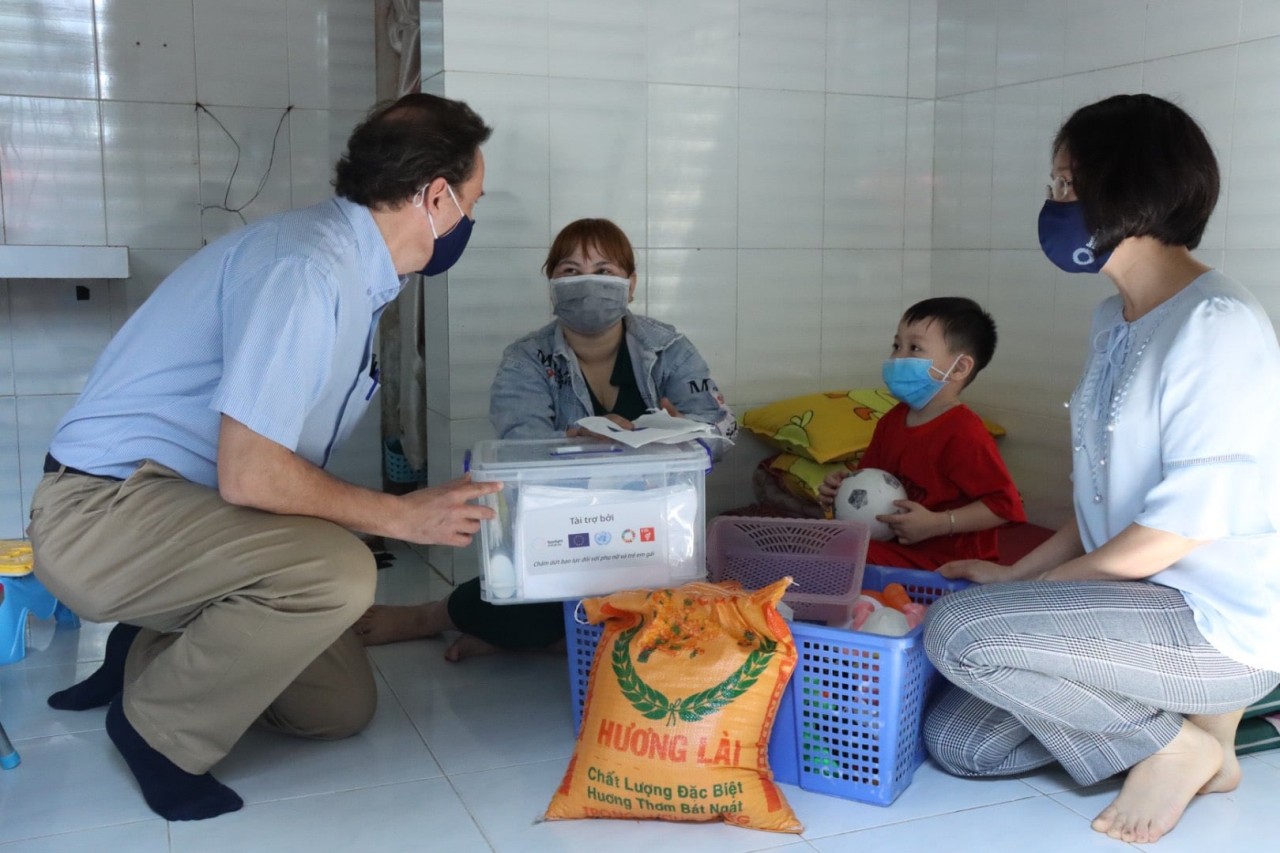 3,000 essential packages have been being delivered to migrant female workers in difficulties in several provinces. Photo: UN Women/Thao Hoang
From Jan. 18-23, UN Women and Vietnam Women's Union distributed 3,000 essential packages and communicated about gender-based violence to 3,000 women migrant workers in Thai Binh, Nghe An provinces and HCM city.
These are migrant workers who are facing difficulties due to the Covid-19 pandemic and are also at high risk of gender-based violence.
The activity is part of the Safe and Fair program aimed at eliminating violence against migrant women in the ASEAN region, funded by the European Union.
"We believe that the delivery of essential packages helps migrant women be ready to respond to violence, ensuring their dignity and safety. For instance when they have to find a temporary shelter to escape from violence," Jesús Laviña, Deputy Head of Cooperation Section, EU Delegation Vietnam said at the delivery ceremony on Jan.21.