Ship sinks off central Vietnam with 1,500 tons of fly ash
A 2,560-ton ship carrying 1,500 tons of fly ash sank Sunday night off the Mui Ne coast, but the seven people on board were saved.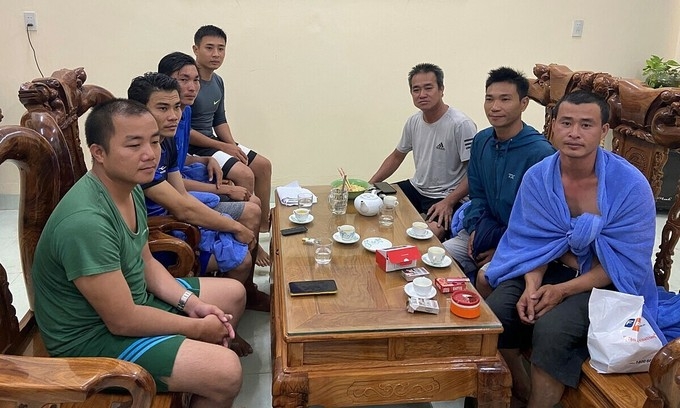 Seven crew members saved from a sunken ship off Mui Ne in the south central coast on March 14, 2021. (Photo courtesy of Mui Ne border guards)
The ship, Bach Dang, drifted into waters off Hon Rom - Mui Ne in the south central Binh Thuan Province on its way to carry fly ash from Vinh Tan 2 thermal power plant in the province to the southern province of Ba Ria-Vung Tau.
Rescue forces mobilized canoes, fishing boats and water scooters as soon as they received an SOS from captain Nguyen Duc Trung saying the boat was in rough waters. The seven people on the ship were safely brought ashore in about an hour.
Binh Thuan border guards said the ship was hit by waves of up to 1.7 meters high.
After the incident, authorities tightened their monitoring of the Mui Ne area, watching out for eventualities like oil spills. The ship was sailing with 8,000 liters of oil.
According to the Vinh Tan 2 thermal power plant, Bach Dang is a specialized ship, so there was no fly ash spill when it sank.
Fly ash is a fuel source for the thermal power industry, which plays an important role in electricity production in Vietnam.
Earlier in December 2020, 15 crew members, including 11 Chinese and four Vietnamese, were missing after a Panama-flagged cargo ship sank off central Binh Thuan province.
The ship, carrying clay from Malaysia to Hong Kong, was in the Binh Thuan sea area at 4:30 p.m. when its captain contacted border guard forces of Phu Quy Island to inform them that the vessel was tilting due to the clay leaning on one side of the ship, according to the Binh Thuan border guard force.
Google Maps image of Phu Quy Island (red marker), about 56 nautical miles from Phan Thiet Town of Binh Thuan Province. Photo: VnExpress
The ship's captain requested that it docks at the Phu Quy Island to resolve the problem and was given permission to do so. But while it was about 1.5 nautical miles away from the Phu Quy Port, the ship tilted hard and sank. Emergency signals for rescue were continually broadcast from that point. Despite rough seas and strong winds near the island, the search is ongoing. The search radius has been expanded to three to five nautical miles from the scene of the accident, and additional ships have been deployed, according to Nhan Dan.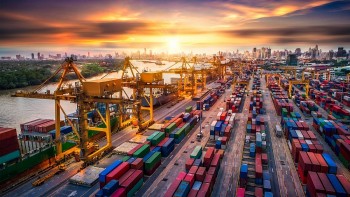 National
Vietnam, a rising star in the global supply chain, has the potential to become a new tiger in Asia, economist Brian Lee Shun Rong at Maybank - Malaysia's largest financial services group and the leading banking group in South East Asia – has reportedly said.