Single Mother with Single Leg Conquers Dangerous Hiking Route in Ha Giang
After losing a leg to cancer, Duong Thi Thanh Nga conquered one of Vietnam's most dangerous mountian and A Pao cliff in a 3-day trip to celebrate her 30th birthday.
Duong Thi Thanh Nga, (30 years old, residing in Gia Lai) is a single mother and businesswoman.
Two years ago, Nga had constant leg pain. After medical check-ups, doctors found a tumor in her leg and said she needed further examinations. In March 2022, Nga had the final result. It was bone cancer, as a result, she had to remove one leg.
After the surgery, Nga experienced terrible pain that she could never forget. She had to take painkillers continuously. She could not sleep, arousing feelings of despair. Her daughter and family were the driving force to lead her through the trauma. After recovery, she practices yoga, plays guitar, reads books, and travels.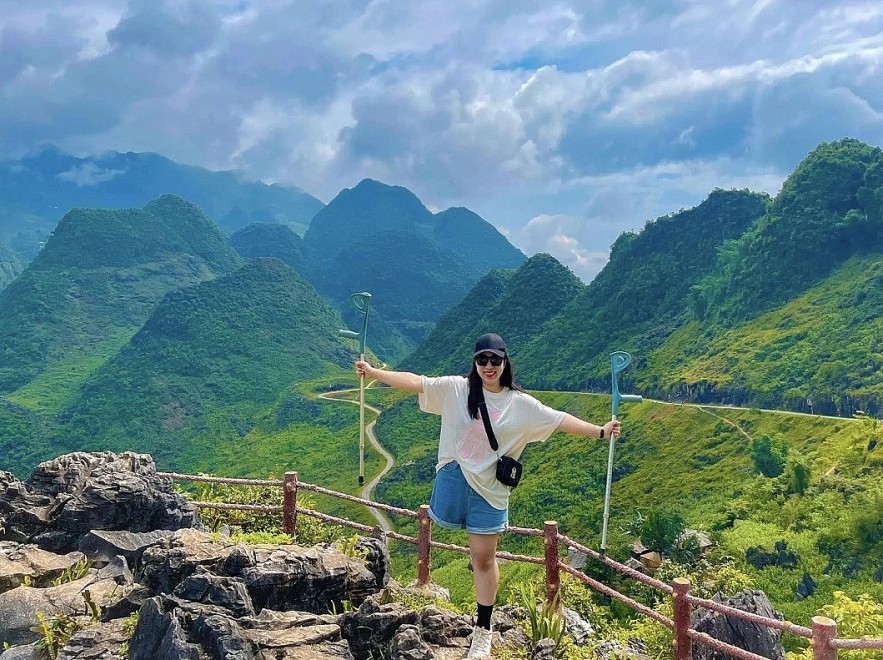 Duong Thi Thanh Nga on a rocky peak. (Photo: Zing News)
On her 30th birthday, Nga took a solo trip to Ha Giang. "I hired a tour guide to ask him to drive me and show me around. We accidentally met a couple who were also on a Ha Giang trip. They became my new friends," Nga said.
In Ha Giang, the group rode to different destinations such as Dong Van plateau, Tham Ma slope, Chin Khoang slope, and the shooting scene of "Pao's story," a famous Vietnamese movie about a Hmong girl.
"When we set off, it was raining but thanks to the rain, we met an impressive sea of clouds," Nga said.
"On my birthday, my friends held a surprise party for me. Everyone gathered around a H'Mong black chicken hot pot, enjoying corn wine. It was a small and warm party," Nga recalled.
The next day, the group set out to conquer the Ma Pi Leng pass and Nho Que river. In the afternoon, they returned to Du Gia village to enjoy local delicacies. On the third day, Nga visited Lung Tam village to learn about the plant that indigenous people use to make fabric and how they embellish their traditional costumes.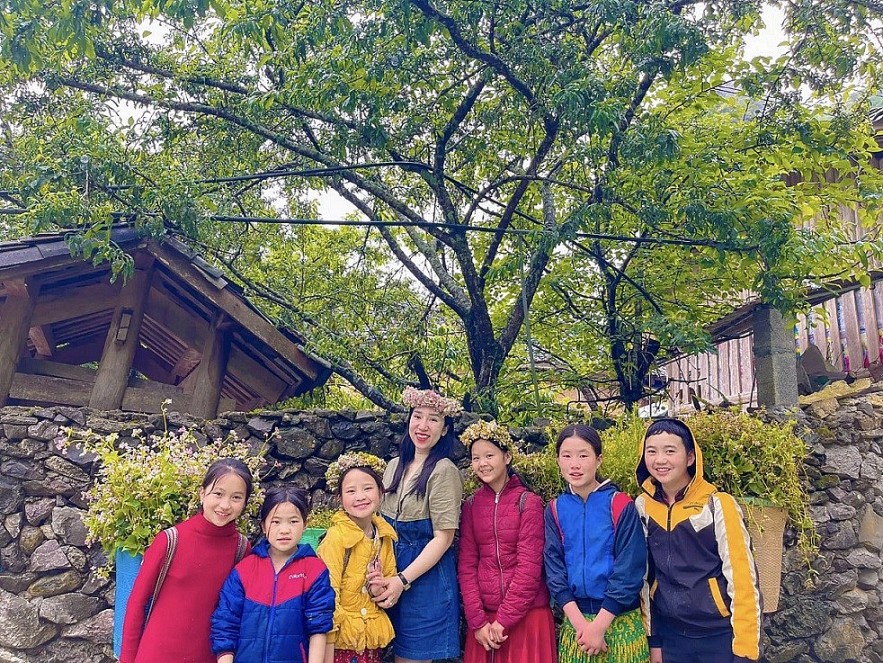 Nga and children in Ha Giang. (Photo: Zing News)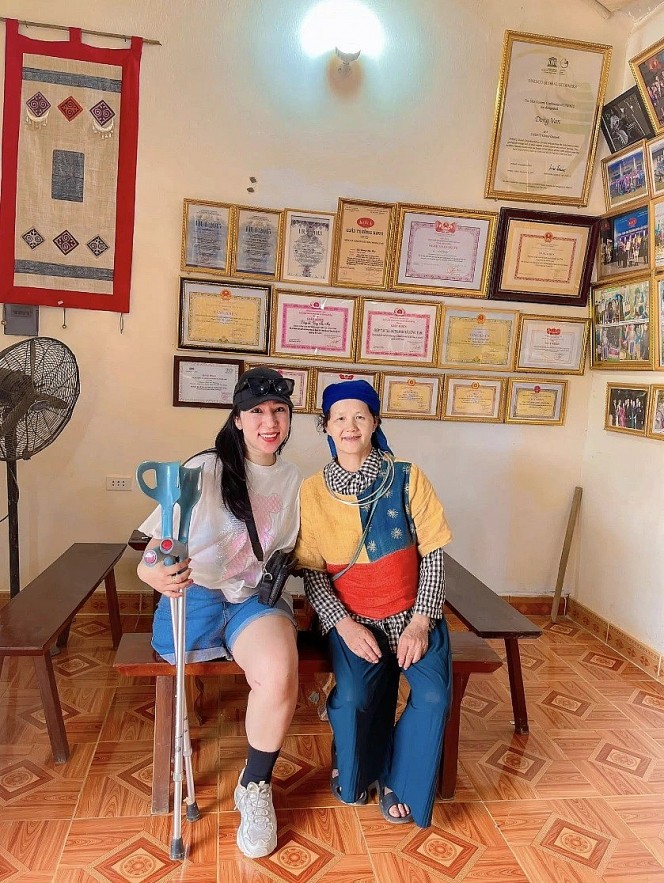 Nga and a weaving artisan named Mai. (Photo: Zing News)
The slippery road after getting off the boat station on the Nho Que river was the most difficult part, Nga said. However, she tried to overcome that one-kilometer-long trail to admire the river with her own eyes.
"I used to wish to have normal health to set foot in all the beautiful destinations, but I know it cannot come true, now I have my own way to travel around."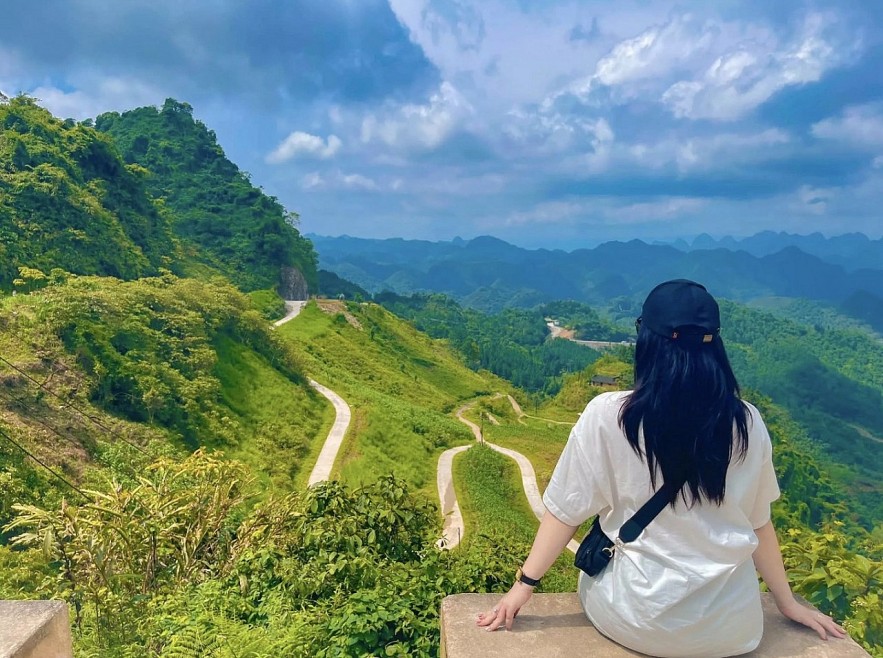 Overlooking the Ma Pi Leng pass. (Photo: Zing News)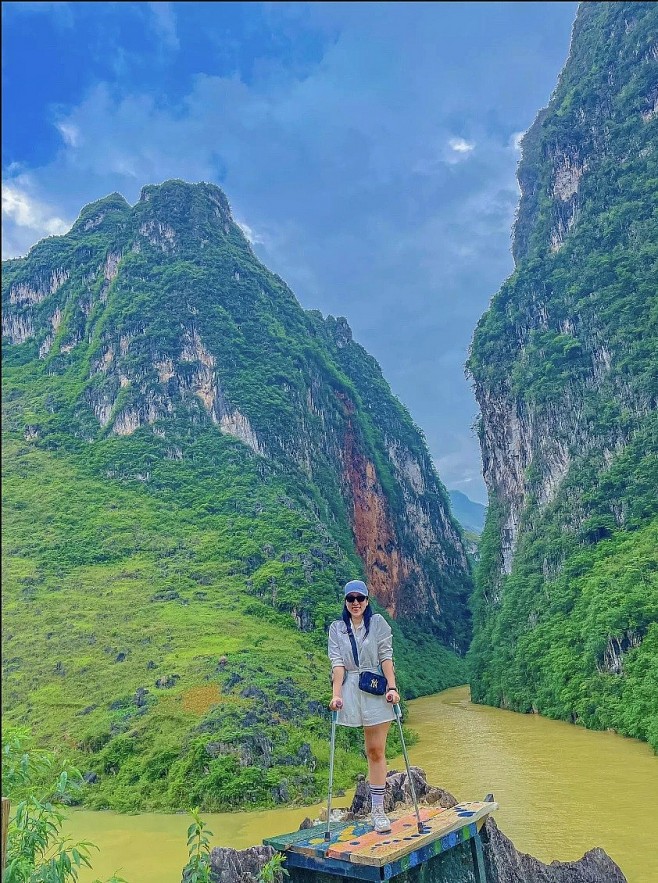 In Nho Que boat station. (Photo: Zing News)
Traveling more than 350 km in three days, Nga did not feel tired, thanks to the support of her companion, and to the beautiful landscape of Ha Giang. She was welcomed by the local people, which was the greatest thing during the trip.
"Every time my bike passed, the children waved hello and smiled brightly. When I stopped by Pao's house, I complimented the big plum tree, the local people heard it and gave me a big bag of plums," she said.
In the past few years, Nga has traveled to many destinations such as Da Nang, Da Lat, Ninh Binh, Ha Long, Phu Quoc, Quy Nhon, Vung Tau, Hanoi, Ho Chi Minh City. Traveling to a new land, and discovering culture, cuisine, and people have brought her more happiness and meaning.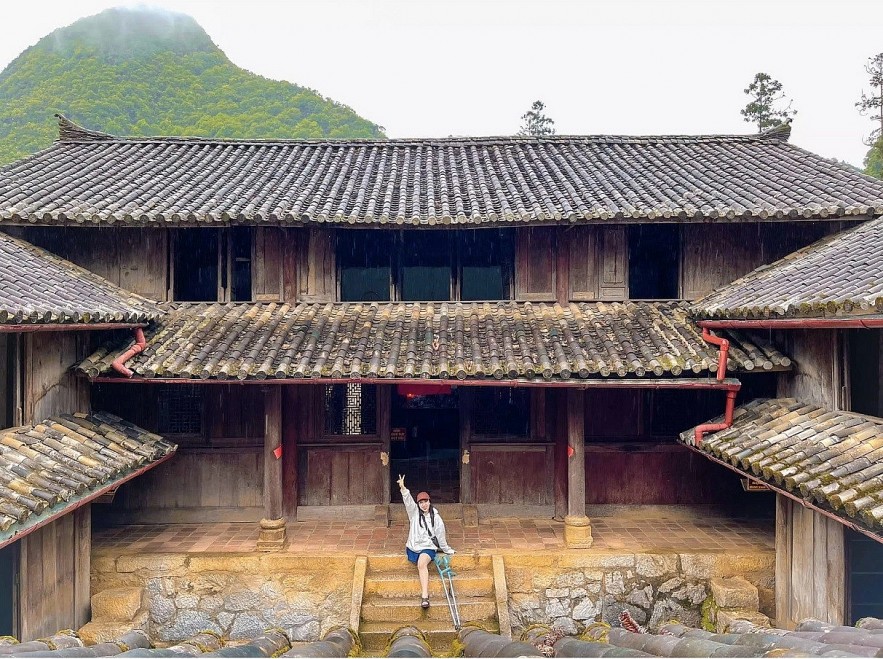 (Photo: Zing News)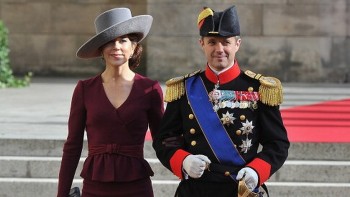 Friendship
Denmark's Crown Prince and Crown Princess will visit Vietnam to celebrate 50 years of diplomatic relations and promote green solutions.