Some disagreements dominate EU-China summit
EU and Chinese officials are meeting on Monday, but it will not be the grand ceremony they had hoped for. The European Union's chairman told Chinese President Xi Jinping on Monday that the bloc would no longer be taken advantage of and demanded a fairer relationship in trade.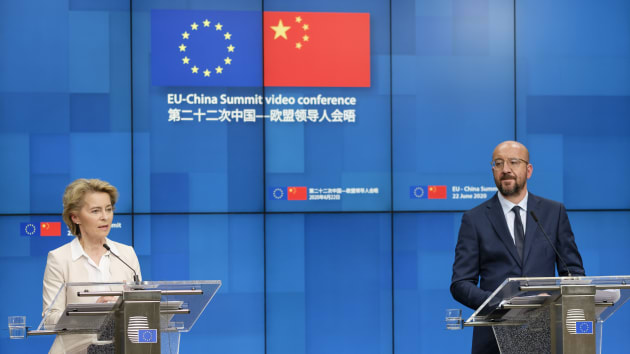 President of the European Commission Ursula von der Leyen (L) and the European Council President Charles Michel (R) are talking to media after an EU-China Summit on June 22, 2020 in Brussels, Belgium. Photp: cnbc
"Europe needs to be a player, not a playing field," European Council President Charles Michel told reporters following a video summit with Xi.
"We want more fairness. We want a more balanced relationship that also means reciprocity and a level playing field."
Both sides had planned to meet in Leipzig, Germany this month as they looked to sign an investment agreement before the end of 2020. However, with a global pandemic and little progress in their negotiations to date, the grand summit has been scaled down to a video call.
"Trust is very thin," Yu Jie, senior research fellow at Chatam House, told CNBC.
The EU and China have often clashed over human rights issues, trade and economic policy. In June, just days after meeting with European officials, China passed a new security law for Hong Kong that dented people's ability to protest — a move that Europe had expressly opposed.
The coronavirus pandemic, which emerged in China in late 2019, has complicated the two regions' delicate relationship even further.
"We have to recognise that we do not share the same values, political systems, or approach to multilateralism," Charles Michel, president of the European Council, said in June following a call with the Chinese President Xi Jinping.
No significant progress?
Both leaders will take stock of their investment negotiations, discuss climate change and their responses to the coronavirus on Monday. European Commission President Ursula von der Leyen and German Chancellor Angela Merkel will also participate.
However, experts doubt that there will be any major developments.
"I don't think we will hear any significant progress," Janka Oertel, Asia director at foreign policy think-tank the European Council on Foreign Relations, told CNBC.
The two sides started negotiations over an investment agreement back in 2014, which Europe hoped would ultimately grant easier access to the Chinese market for European investors.
The EU has argued that European companies working in China don't enjoy similar levels of transparency and fair competition as those given to Chinese firms in the European Union. However, negotiators have not made significant progress on this issue and there are questions if they will reach a deal by the end of year, as had been planned.
Uncertainty over who will win the upcoming U.S. election, and a more sceptical EU stance toward China, were also hitting the EU-Sino talks, Oertel added.
While expectations for policy breakthroughs are low, Beijing is seeking to stabilize a relationship shaken by the pandemic, economic downturns, the police crackdown in Hong Kong and American demands for a united stand against Beijing. The summit comes ahead of the U.S. presidential election, which could alter Washington's approach to Brussels, and a European Council summit later this month, in which leaders aim to craft a more uniform China policy.
French Finance Minister Bruno Le Maire told German newspaper Welt am Sonntag that Europe needed to adopt a unified position on dealing with China. "The EU has to define its own interests, has to be strong and independent -- from both China and the U.S. This is crucial to be successful in the 21st century," Le Maire said, according to the bloomberg.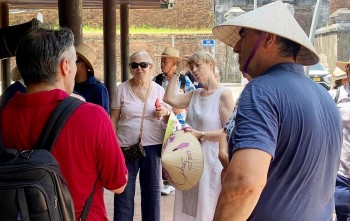 National
Vietnam News Today (Mar. 29): Vietnam to issue e-visa to foreigners of all countries; Vietnam, China beef up defence ties; Outbound tours prove popular during April holiday; Vietnam International Travel Mart 2023 to spotlight cultural tourism.