Vietnam 100 years ago through French photographer's lens
Vietnamese noblewomen used to wear five-paneled aristocratic gowns while officials grew long fingernails during the 19th century… that were depicted by French photographer Pierre Dieulefils on his "Dong Duong Xinh Dep và Ky Vi" (Picturesque and Monumental Indochina) book.
Vietnamese women later 19th century were fond of wearing five-paneled aristocratic gowns and string of beads. Designer Si Hoang, the founder of theAo Dai Museum said that during the period, Vietnamese noblewomen used to wear the gown, which comprises two gauges sewn together to form the front of the gown in a discreet style.
These photos were taken by Pierre from 1885 that depicting the lifestyle and living habits of Vietnamese people, which has became the precious documents.
A meal of some Southern women. Females in urban who had fewer household chores preferred to wear Ao Dai to distinguish them from the ones in the poor class. The fashion trend of five-paneled aristocratic gowns was lasted until the early 20th century before being gradually replaced by Le Mur Ao Dai with more western details such as bulging arms, and a heart-shaped collar that was attached with a bow.
An official in Sai Gon wore long fingernails. The custom originated from the conception that of status symbol, showing that the person literally didn't have to lift a finger to do any work. Otherwise, Confucian scholars thought the body was basically given by parents, as a result, they have to preserve the origins.
The group of Chinese people making duck meat in Cho Lon, Saigon.
Cho Lon was established from the 17th to 19th centuries when the Chinese people community settled and built a bustling urban area. During the French colonial, Cho Lon is a city that was separated from Sai Gon before the merge in 1956. Nowadays, the Cho Lon area belongs to District 5 and 6 in Sai Gon.
Funerals of the rich in the South of Vietnam.
Dad and son in a Northern family. Vietnamese males during this period fond of Ao Dai with straight collars and wore a turban in some significant events.
Family of an official in the North of Vietnam.
Officials in the north of Vietnam used to travel on horseback with parasols and escorts.
Emperor Duy Tan stood among his guards at Hue Citadel. Emperor Duy Tan, born Nguyen Phuc Vinh San ascended to the throne at age 7.
Lo Lo ethnic teenage girls and women in the north of Vietnam. Lo Lo women often use turban wrapped in layers on their heads. Turban was usually decorated with floral motifs and colorful fabric tassels.
A group of Tho ethnic people in Dong Dang, Lang Son.
Pierre Dieulefils (1862-1937), French photographer and postcard publisher, based in Indo-China. He arrived in Tonkin as a soldier in 1885, in 1888 established a photographic studio in Hanoi, and exhibited at the 1889 Paris World Fair. His major legacy is a huge series of postcards (over 5, 000 items, mostly on Indo-China) published between 1902 and the 1920s.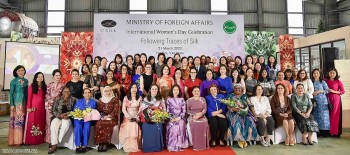 Friendship
Female ambassadors, representatives from diplomatic corps and international organizations, along with spouses of diplomats in Vietnam gathered together to find about more about silk weaving and silk products in Vietnam.