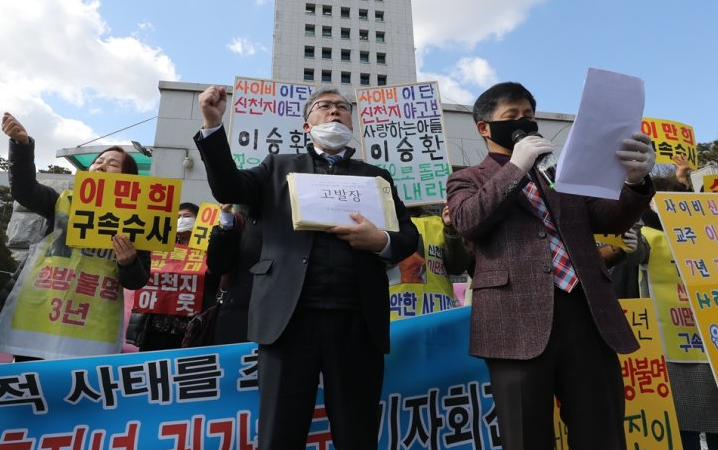 Former members of Shincheonji Church and activists demonstrate in front of the Supreme Prosecutors' Office in Seoul on Thursday, condemning church founder Lee Man-hee for playing a role in spreading the coronavirus. Photo: Yonhap
So far, 22 people, mostly ones with underlying illnesses, have died in South Korea from the respiratory virus that emerged in China.
About 60 percent of confirmed cases have been linked to a branch of Shincheonji religious sect in the southeastern city of Daegu.
Of the 476 new cases, 377 are in Daegu, 300 kilometers southeast of Seoul, and 68 are in neighboring North Gyeongsang Province, according to the Korea Centers for Disease Control and Prevention (KCDC). The total number of cases in Daegu and North Gyeongsang stood at 3,081 and 624, respectively.
Criminal investigation
Suwon District Prosecutors' Office is investigating Shincheonji Church founder Lee Man-hee for his alleged role in the fast spread of the coronavirus in Korea, the office said Sunday.
Of 3,526 confirmed patients, 2,113 are Shincheonji members, according to the government, Sunday.
Last Thursday, a group of former Shincheonji members filed a criminal investigation with the prosecutors' office accusing Lee of disrupting the government's effort to contain the virus.
"By submitting fake documents, he has impeded the government in its epidemiological efforts against the new coronavirus," the group said in front of the district prosecutors' office. Failing to comply with the government in the infectious disease-led crisis can be punished with up to two years' jail.
Initially, the church refused to share the list of more than 200,000 church members with the government. Under growing pressure, the church finally handed the list to the government, but still drew criticism because it was allegedly incomplete and inaccurate.
The group claimed Lee was behind the church's misinformation attempt.
Shincheonji Church said Monday its founder will hold a press conference at the church's training center in Gapyeong, Gyeonggi Province, at 3 pm (local time).
"Lee will take part in the press conference," Shincheonji in a statement. The venue is in the basement of the Palace of Peace, the training center./.
VNA/Yonhap/Korea Times