South Sudan's people send gratitude to Vietnamese peacekeeping forces
The Vietnam's blue beret peacekeeping forces working at field hospitals in South Sudan have left strong impression on local people.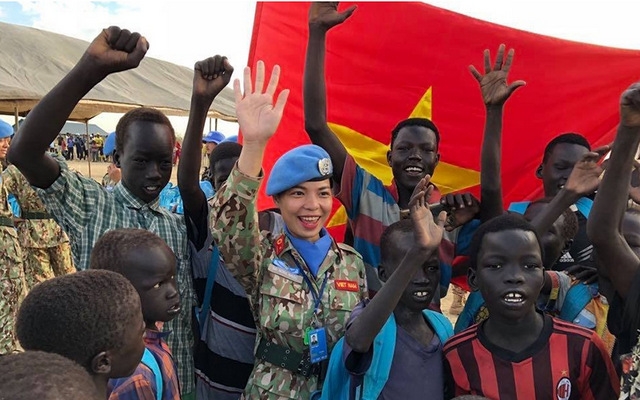 A female member of Vietnam's Level-2 Field Hospital No 1 with South Sudan children. Photo Nhan Dan
As many 63 military medics and five officers were sent to perform their peacekeeping tasks at a field hospital in South Sudan in 2019 and 2020.
On the evening of August 2020, the Vietnam's Level-2 Field Hospital No 2 received an emergency case of a man working at Aweil Base suffering from cramping pain and suspected of a heart attack.
The patient was supposed to be sent to Juba capital city for treatment but due to South Sudan curfew which banned airplanes from taking off after 6pm, the flight carrying the patient to Juba could not depart.
The man was rushed to Vietnam's Field Hospital No 2 that night and received intensive care from doctors, nurses and other staff there.
Not too long after that, he could recover quite well.
He said when the doctors came to the airport which was 6km from the base to receive him, he felt he had found a right place for treatment because the doctors showed their excellent performance in responding to an emergency case.
"The Vietnamese doctors' professionalism was always shown during my stay at the hospital, which made me feel less anxious and reassured. From the emergency room to the active treatment room, I was regularly examined, treated and encouraged by doctors including deputy specialized directors and nurses," he said.
"They always sincerely cared about my worries and explained treatment procedures to me. Doctors, nurses and staff of the hospital are very friendly. The food was good and I also learned how to use chopsticks to have meals."
"I'm very happy to learn about Vietnamese soldiers. You are so wonderful," he added.
Feeling close to Vietnamese peacekeepers
There was another story about the wholehearted dedication of Vietnamese peacekeepers in South Sudan reported by a local military officer.
Lieutenant Colonel Le Ngoc Son was the only Vietnamese officer working at Aweil Base in Northern Bahr El Ghazal.
One day when Son was on the way back home from the office in October 2020, he heard a voice calling him and asking "Are you Vietnamese?". He turned back and realised that's a stranger that he had never met before.
The man introduced himself as Thomas Mtaisi, head of Relief, Reintegration and Protection Department at Aweil Base.
He said "I just moved to the Aweil Base. I guess you are Vietnamese because the uniform you are wearing is similar to the uniform of staff at Vietnam's Field Hospital No 2 in Bentiu."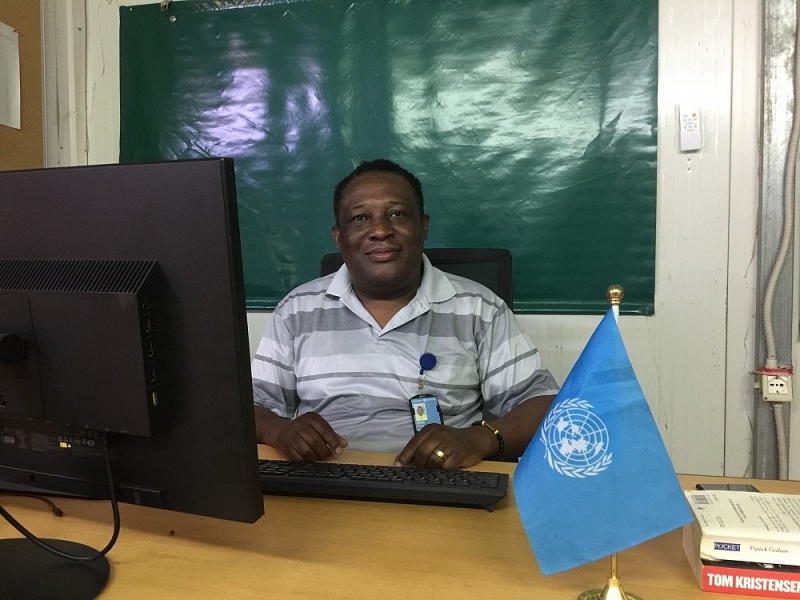 Thomas Mtaisi, a South Sudan military officer, was treated by Vietnamese doctors at the Level-2 Field Hospital in 2019. Photo courtesy of Thomas Mtaisi
He told Son about his experience at the field hospital and took occasion to thank Vietnamese medical workers for saving his life.
Thomas Mtaisi had a high fever in July 2019 and was sent to the Level-2 Field Hospital No 1 of Vietnam in an emergency case.
After three hours of treatment, he gradually improved his condition and recovered well.
"Not only me but also more than 2,200 colleagues working at Bentiu Base feel secured because there are Vietnamese hospitals there. We highly appreciate the professionalism, professional capacity, treatment, wholehearted and attentive service of Vietnamese doctors and nurses," he said.
"Vietnamese hospitals have become close and reliable medical facilities of military staff in South Sudan. I visited the Vietnamese hospitals to have periodic health checks regularly," he said. That's why at the first time he saw Lieutenant Colonel Son in the green beret uniform, he felt something very close and wanted to talk to Son./.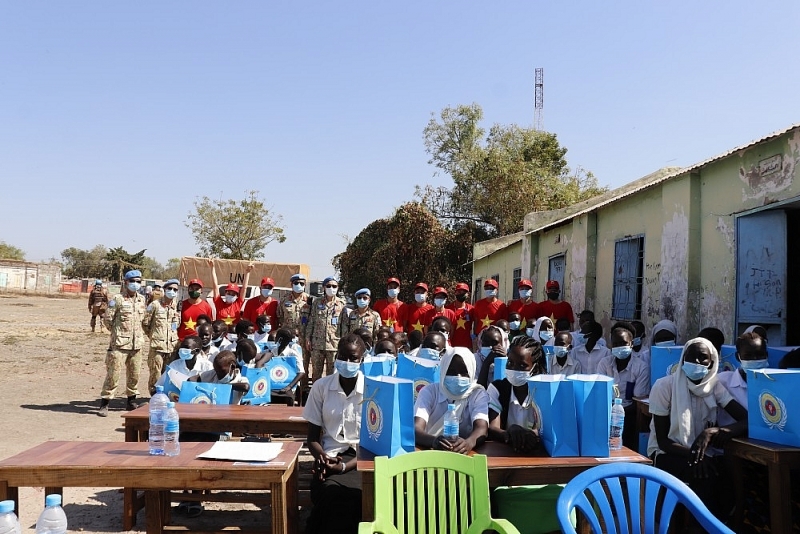 Vietnamese peacekeepers at the second Level-2 Field Hospital make woodened chairs and tables to donate to a local primary school in Bentiu, South Sudan. Photo courtesy of peacekeepers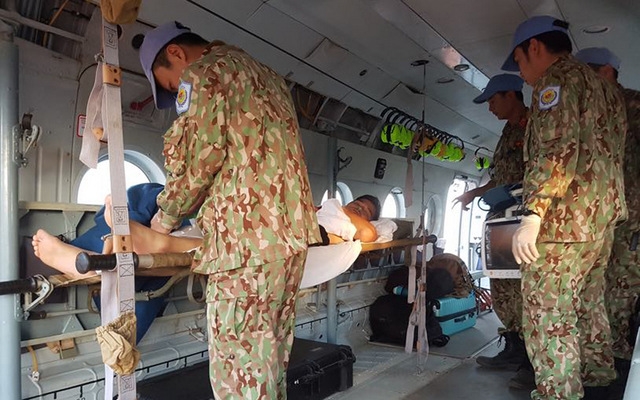 Air transport for a patient of Vietnam's Level-2 Field Hospital No 1. Photo Nhan Dan
Vietnam first joined the UN peacekeeping missions in 2014 with the establishment of the Vietnam Department of Peacekeeping Operations of the Ministry of Defence and the dispatch of the first two officers to the UN Peacekeeping Mission in South Sudan.

Besides sending military officers to work at three level-2 field hospitals in South Sudan, since June 2014, as many as 180 staff of the Vietnamese Ministry of National Defense have been deployed to perform peacekeeping tasks in South Sudan, Central Africa and UN Department of Peacekeeping Operations.

Vietnamese officials in those places have recently received recognition and high appreciation from the United Nations and international friends for their fruitful contribution to the UN-led peacekeeping mission.