Vietnamese peacekeepers' activities in South Sudan earn high appreciation
Vietnamese officials in South Sudan have recently received recognition and high appreciation from the United Nations and international friends for their fruitful contribution to the UN-led peacekeeping mission.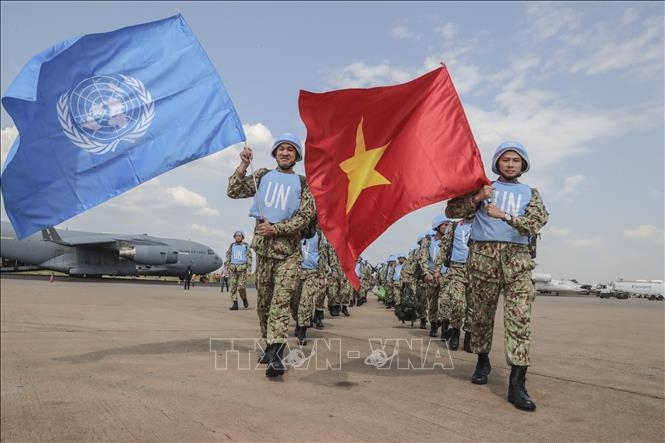 Vietnamese medical personnel at Juba International Airport (Photo: VNA)
Lieutenant Colonel Stéphane Pierrat, UN-affiliated advisor to the Vietnam Peacekeeping Department, said that Vietnamese peacekeeping force was capable of responding to all UN requirements. His evaluation was based on Vietnamese peacekeepers' support to not only the army but also local people.
"I learn that the UN highly appreciates Vietnam's contribution. I see Vietnamese officers who have fulfilled their mission returning to Vietnam with a bright smile. I also see those departing to South Sudan are all smiley as they say goodbye. They must take great pride in undertaking the mission", Pierrat was quoted by Bao Tin Tuc.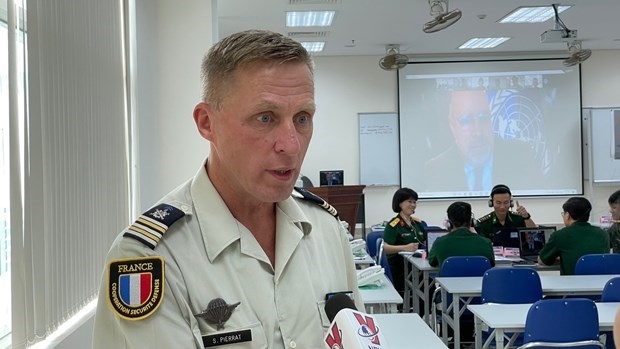 Lieutenant Colonel Stéphane Pierrat, an European Union expert for peacekeeping at the Vietnam Department of Peacekeeping Operations (Photo: VNA)
As of June 2014, Vietnam has set up three field hospitals level 2 in South Sudan. The first two hospitals have accomplished their mission and sent officers home while the third one is about to welcome another 24 peacekeepers in the next few days.
"Vietnam's mission in South Sudan is exemplary in medical aid, especially in the context of the current epidemic challenge", Major Adam R. Lulay, Bilateral Affairs Officer from the US Officer of Defense Cooperation, said.
During the Covid-19 pandemic time, Vietnamese peacekeepers have been strictly abiding by anti-pandemic regulations in South Sudan. One female officer earlier made 800 face masks for officers.
Along with performing tasks given by the UN, Vietnamese peacekeepers also extend helps to local people by means of humanitarian activities, including raising and teaching children, giving locals gardening tips, etc.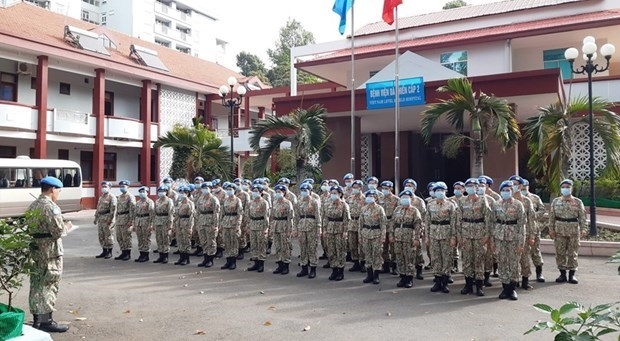 Members of the level-2 field hospital No 3 in a training session (Photo: VNA)
Lulay said the peacekeepers from Vietnam have "done an incredible job leading the way in many ways", especially the percentage of women higher than the level recommended by the UN.
Over the last six years, Vietnam has included 20 servicewomen in its level-2 field hospital staff, accounting for nearly 16 percent, and four others individually deployed to UN peacekeeping operations, higher than the recommended 15 percent.
Major General Hoang Kim Phung, Director of the Vietnam Department of Peacekeeping Operations, noted though the country has just taken part in UN peacekeeping operations, it has made a great impression on international friends, particularly the UN and the missions in South Sudan and the Central African Republic, Vietnamnet reported.
The performance by both the first and second level-2 field hospitals has been highly valued by the mission leaders and the UN. The UN Under-Secretary-General for Peace Operations Jean-Pierre Lacroix also sent a thank-you letter to the Vietnamese Government for the medical contribution.
On April 21, twenty-four medics of the 3rd level-2 field hospital departed for the United Nations-led peacekeeping mission in South Sudan from Ho Chi Minh city.
Before boarding on Australia's C-17 aircraft, all the officers were vaccinated against COVID-19 epidemic and participated in intensive training courses in giving first aid for traumas, driving trailers and BRT 152 armored vehicles, and other subjects of must-know things in South Sudan.
On March 24, 33 field hospital medics were dispatched to the African country for the first phase. Two days later, they landed safely at South Sudan's Juba International Airport. After experiencing the required quarantine period, they arrived at Bentiu base to begin their mission from last Saturday, according to VOV.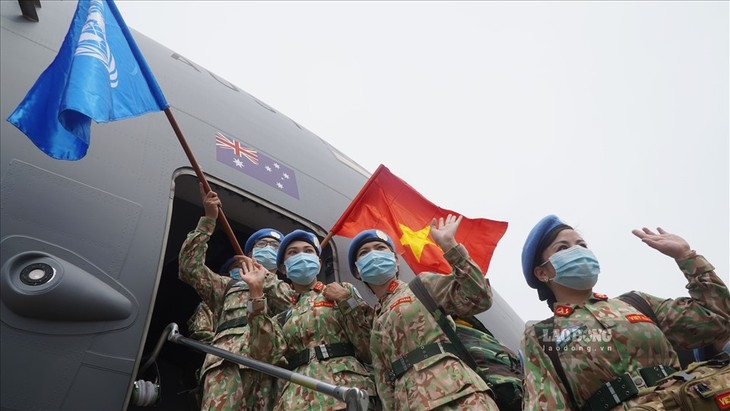 24 Vietnamese peacekeepers deployed to South Sudan on April 21, 2021 board on C-17 aircraft flown by the Royal Australian Air Force (RAAF). (Photo: laodong.vn)
Earlier on the afternoon of March 23, 63 soldiers from the field hospital No. 2 participated in the deployment ceremony before leaving for Bentiu, South Sudan.
Speaking at the ceremony, Lieutenant General Hoang Xuan Chien, Deputy Minister of Defense, said that in 2020, the world had witnessed the unprecedented effects of the Covid-19 pandemic, forcing countries to close borders, halting international aviation, and much other trade and cooperation activities. This has affected the peacekeeping operations of the United Nations, including the troop's exchange at the South Sudanese Mission, which has been prolonged for nearly 5 months.
Chien directed the Field Hospital No. 2 in South Sudan to perform the following missions:
(1) Receive comprehensive operation of the Field Hospital to ensure uninterrupted health for UN staff, raise awareness of pandemic prevention, strictly comply with the professional direction and guidance of agencies and units in the host country as well as the UN to avoid Covid-19 infection, perform reasonable treatment and thoroughly isolate suspected cases.
(2) Continue monitoring the Covid-19 pandemic in the locality; regularly report to the Vietnam Peacekeeping Department and its authorities for guidance.
(3) Actively research and improve medical expertise in order to provide quality and prestigious healthcare services in the locality.