Spreading Love for Vietnamese Culture Among Young Overseas and International Friends
Overseas Vietnamese publish bilingual books on Vietnamese idioms and proverbs, modern Vietnamese textbooks; providing free bilingual stories about Vietnam. They want foreigners and overseas Vietnamese, especially the younger generation, to understand more about Vietnamese language and culture.
Learn Vietnamese through idioms and proverbs
On July 24, in Berlin, Germany, Ngo Thi Bich Thu, a Vietnamese teacher, and her husband, Prof. Dr. Martin Großheim has introduced 3 German-Vietnamese bilingual books.
This is a project lasting nearly 10 years by two authors, aiming to bring the Vietnamese language and culture closer to those who want to learn about the Vietnamese language, culture, and to generations of children of the Vietnamese community in Germany.
Three books were introduced to the Vietnamese community in Germany, including the Vietnamese-German idioms and proverbs book "Die Heuschrecke tritt den Elefanten oder David gegen Goliath", the book "Modernes Vietnamesisch 1" and "Modernes Vietnamesisch 2" (Modern Vietnamese 1 and 2).
Cover photo of the book "Modernes Vietnamesisch 2" (Modern Vietnamese 2) by Ngo Thi Bich Thu and Martin Großheim. (Photo: Ngo Thi Bich Thu).
The first book, which included about 1,500 common idioms and proverbs, was the first bilingual book of idioms and proverbs to be published in Germany.
These are idioms and proverbs drawn from reality, going through many periods. New variations of widely used idioms are also updated in the book.
The two Modern Vietnamese books are built on different topics, making it easy to learn the Vietnamese language and culture. They also contain up-to-date information about Vietnam in various fields, suitable for German language levels from A1 to C2.
According to Professor Großheim, understanding idioms and proverbs will also help to understand the two cultures.
Regarding the two books "Modern Vietnamese," Professor Großheim emphasized the need for a modern Vietnamese textbook in the context of the growing demand for Vietnamese language learning and Vietnamese culture in Germany.
Standard Vietnamese pronunciation is extremely difficult for foreigners and Modern Vietnamese books contribute to solving this problem. They help readers learn all 4 skills of listening-speaking-reading-writing in Vietnamese according to each topic, the topics are carefully translated and explained in German.
Helping Vietnamese children access Vietnamese language
From the desire to preserve the Vietnamese language and help children of Vietnamese origin access Vietnamese language and culture, the Stories of Vietnam project has brought free bilingual books and stories about Vietnam to children.
Nguyen Nghia Tai, the initiator and head of Stories of Vietnam in California (US) said: "We believe that parents reading books to young children in their process of learning to speak and learning words is one of the best ways to develop language skills. Once your child knows where they are from and who they are, they are less likely to feel at odds when faced with two different cultures."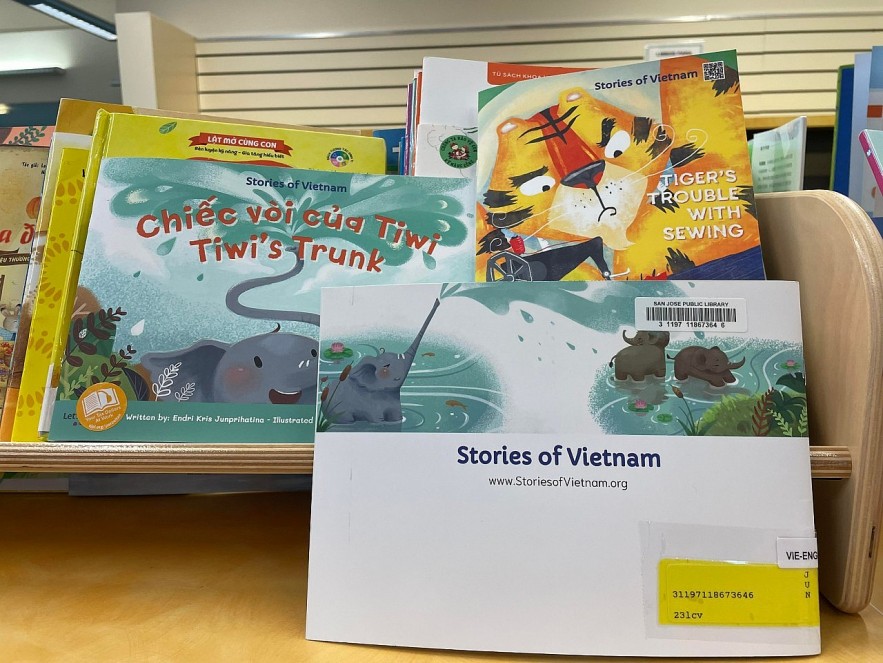 Several bilingual books published by Stories of Vietnam. (Photo: Tai Nguyen)
Stories of Vietnam invites parenting experts, linguists in both English and Vietnamese, illustrators, and Vietnamese cultural experts to join the project.
The Stories of Vietnam books published are all illustrated children's stories and are stories with messages about the good things in life. All books are published in bilingual format - English and Vietnamese so that children who do not know Vietnamese can also read them.
Each book also introduces more about Vietnamese culture. For example, the book "Children go to the market" tells the story of the Turtle Tower in Hoan Kiem Lake. Recently, Stories of Vietnam added "Art of Parenting" to the last page of each book, which suggests activities parents can do with their children after reading the book.
According to Nguyen Nghia Tai, since the beginning of the project, nearly a year ago, the project has printed three books with more than 3,000 copies. They sent these books to 1,000 families in the US for free.
People like Nguyen Nghia Tai and other Stories of Vietnam members, Ngo Thi Bich Thu and Martin Großheim help spark interest in learning, and discovering the Vietnamese language and culture among international friends.
It also helps the younger generation of overseas Vietnamese to learn about their roots, love Vietnamese culture, and contribute to building a stronger Vietnamese community.
Exploring Vietnamese Culture in UK

"International friends are interested in Vietnamese culture, want to learn and discover the culture of the country and people of Vietnam. This is an opportunity ...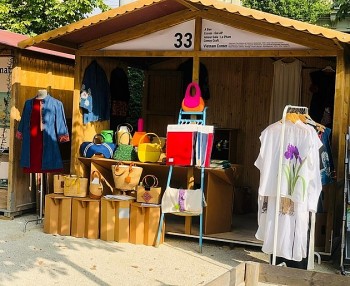 World
Vietnam's GDP grew by 8.83% in the first nine months of 2022, the highest increase in the period of 2011-2022.