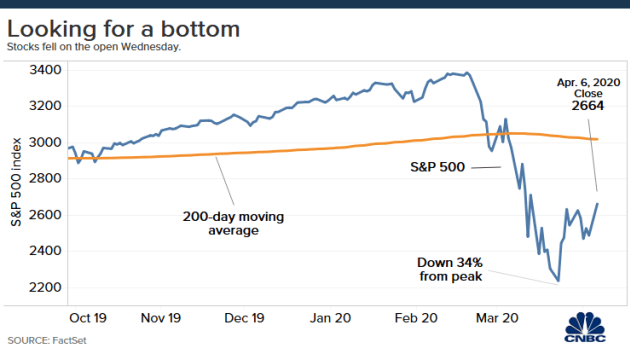 Photo: CNBC
Major European markets opened significantly higher after Asian markets picked up steam later in their trading day. Futures markets were predicting a robust opening when trading begins in the United States.
The global economy still faces daunting challenges before it can get back on track. But the two-day rally was fueled in part by signs of progress in the fight against the coronavirus outbreak in the United States and Europe.
There are indications the pandemic may be easing in Italy and Spain, and New York Governor Andrew Cuomo said Monday that daily deaths caused by the coronavirus in his state have been "effectively flat for two days." China recorded no new deaths from the virus on Monday for the first time since late January.
The CNN Business Fear & Greed Index, which looks at the VIX (VIX) volatility gauge and six other measures of market sentiment, is now registering Fear levels as opposed to Extreme Fear. The index is at 32. Anything at 25 or under is Extreme Fear.
Amazon is becoming a go-to for Bulls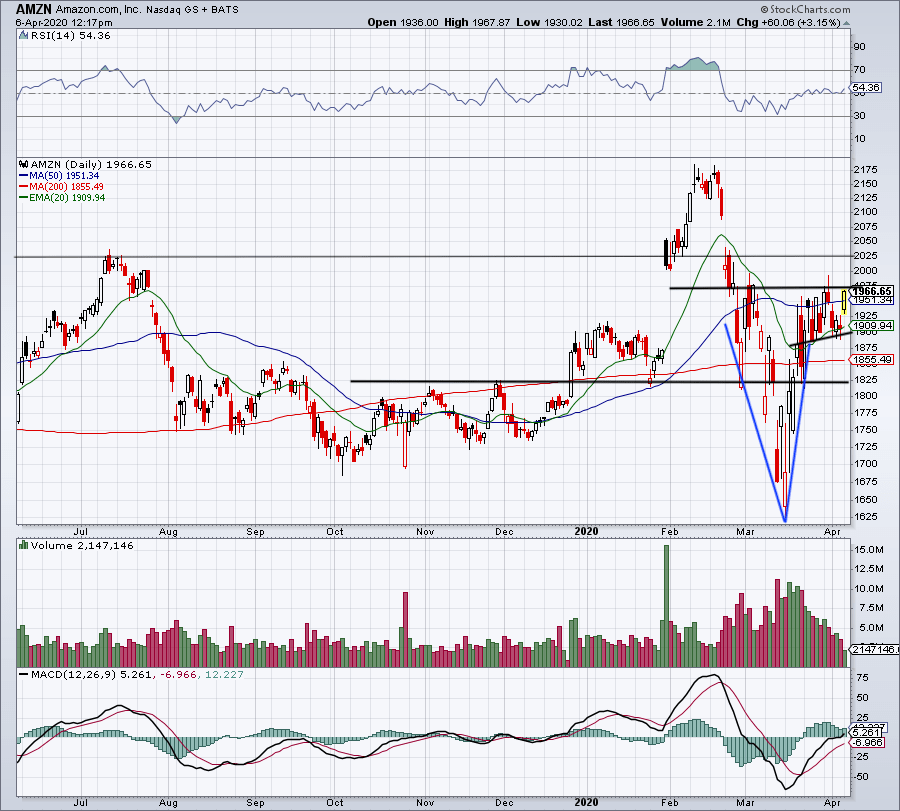 Daily chart of Amazon stock. Chart courtesy of Stockcharts.com
According to The Street, Amazon stock is down 'just' 10% from its highs, easily outperforming the Nasdaq. Normally it's bad news when a stock is 10% off its high. For Amazon.com (AMZN) - Get Report though, that's not the case. In fact, down 10% is actually good in this market environment.
Even though the Nasdaq's 5.6% rally on Monday is roughly double Amazon's 3% jump, the latter is easily crushing the former in terms of outperformance, with the index still down 21.2% from its February highs.
Amazon is in prime position to take advantage of the coronavirus outbreak - even though its Prime Day will be delayed. Not that investors would root for such pandemonium, but few companies are seeing such a rush from its customers.
The initial coronavirus panic sent Amazon stock into a tailspin, sliding from $2,175 in February to $1,625 in March. The $550 drop represented a 25.3% correction, which was still better than the peak-to-trough decline in the Nasdaq, which fell 32.6%.
Apple's stock price up in pre-market as the company is now producing masks
Today's pre-market rise of Apple (AAPL) stock up over 4% follows its CEO's announcement about designing and producing face shields for medical workers. The company is already in the process of donating over 20 million masks to healthcare professionals, Coinspeaker reported.
On Friday, the stock of the Big Four technology company Apple Inc (NASDAQ: AAPL) closed 1.44% down at $241.41. Today, the situation has improved, and Apple stock is trading 4.06% up in the pre-market. At the moment of writing, it makes up $251.20 per share.
Opinions on the future stock movements have divided. Some Wall Street analysts have taken down their estimates for Apple stock because of the coronavirus pandemic. For example, Morgan Stanley analyst Katy Huberty cut her price target to $298 from $328, which is already the third time she changes her mind this year. However, Huberty still believes that in the long run, after the coronavirus crisis is over, Apple (AAPL) stock is a good investment.
Stock markets in Europe and Asia are on an upward trend
Stocks in Europe and Asia gained on Tuesday alongside U.S. equity futures amid continuing optimism the spread of the coronavirus may be slowing in several major economies. Bonds extended declines and the dollar weakened.
The Stoxx Europe 600 Index jumped, led by travel and leisure shares, as every major national gauge in the region advanced. Futures for the three main American benchmarks also all climbed after the S&P 500 Index on Monday closed at its highest since March 13. The MSCI Asia Pacific Index rose more than 2% after adding nearly 3% a day earlier.
Japan's Nikkei advanced 2%, while Hong Kong's Hang Seng (HSI) added 2.1%. China's Shanghai Composite (SHCOMP) increased 2% as investors returned from a holiday. In Europe, benchmark indexes in Paris, Frankfurt and London opened with gains of more than 3%.
Dow (INDU) futures were up 3.1%, or 690 points, suggesting the index could move higher again after closing with a 7.7% gain on Monday. S&P 500 (SPX) futures added 2.7% and Nasdaq (COMP) futures increased 2.5%.
Stocks
Futures on the S&P 500 Index climbed 2.5% as of 9:19 a.m. London time.
The Stoxx Europe 600 Index increased 3.2%.
The MSCI Asia Pacific Index advanced 2.3%.
Global equity rebound has been on below-average volume
According to Bloomberg, Riskier assets including stocks and corporate bonds have started the week resuming a remarkable rebound amid the ongoing pandemic. Unprecedented and rapid stimulus by the world's policy and law makers helped to spur the bounce, which has been given new impetus by signs the rate of increase of both the death toll and new infections may be easing.
But there are still major challenges ahead. The US surgeon general said this week is going to be the "hardest and saddest" for Americans as the coronavirus outbreak continues to ravage the country. And JPMorgan Chase (JPM) CEO Jamie Dimon said in his annual shareholder letter on Monday he expects a "bad recession" because of the impacts of coronavirus on the economy.
VNT