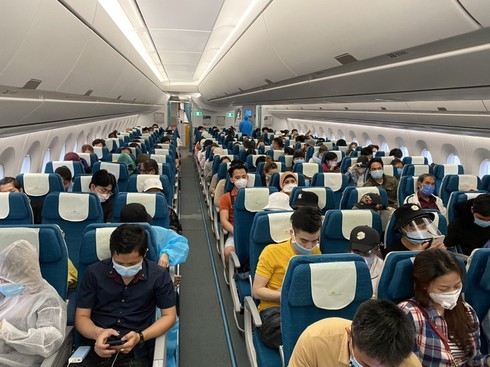 (Photo: VOV)
The airline said it will utilize the Airbus A350 wide-body aircraft, one of the airline's largest and most modern aircraft, to transport the stranded holidaymakers, according to VOV.
Two of the flights are expected to carry more than 400 people back to Hanoi on August 12, while a further flight is to be arranged to take over 300 people back to Ho Chi Minh City.
To prevent the further spread of the epidemic, all flights have to abide by Covid-19 prevention and control measures, with crew members and passengers being equipped with protective suites and having their body temperature checked ahead of departure.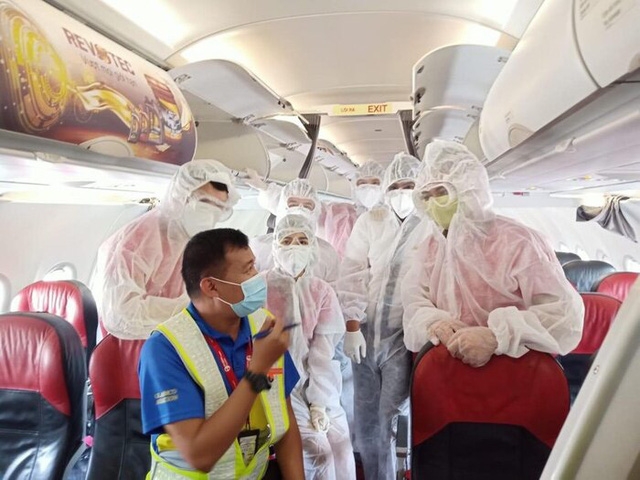 (Photo: MOH)
Passengers with tickets of Vietnam Airlines, with confirmed seats on flights departing from Da Nang from July 26 to August 31, 2020, will be supported by Vietnam Airlines to redeem tickets free of charge to travel on these flights. This is the policy of Vietnam Airlines to ensure benefits for passengers who have bought tickets from the airline but are affected by COVID-19 translation, reported by MOH.
Low-cost airline VietJet Air said it has arranged four flights on August 13-14 to evacuate the stranded tourists in Da Nang.
As many as 1,695 tourists, including many children, have been left stuck in Da Nang after the central city implemented social distancing measures on July 26 to curb the spread of the novel coronavirus (COVID-19) outbreak.
(Photo: MOH)
Tens of thousands of other holidaymakers had left Da Nang before the social distancing order took effect. Da Nang is currently the epicenter of the country's latest coronavirus outbreak. It has confirmed nearly 300 new COVID-19 patients in the community since the first such case was detected on July 25.
Before, the Ministry of Transport received Official Letter No. 5206 dated 6/8/2020 of the People's Committee of Da Nang City on supporting tourists who are staying in Da Nang city to return to their locality. The number of tourists is 1,695, of which 961 guests return to Hanoi, 734 visitors return to Ho Chi Minh City.
Meanwhile, the Ministry of Transport requires the Civil Aviation Authority of Vietnam to direct airlines to organize a plan to transport tourists who are staying in Da Nang City to Noi Bai International Airport and International Airport. Tan Son Nhat complies with the Health Ministry's regulations on epidemic prevention.
Candy Lee