Strategic cooperation to enhance activities supporting autistic children in Vietnam
Saigon Children's Charity held a ceremony announcing strategic cooperation among organizations operating in the autism field in Vietnam and launching an information website on autism (www.tukylagi .com) on April 6 in Ho Chi Minh City. Saigon Children's Charity is a UK charitable organization in Vietnam aiming to support and care for disadvantaged children.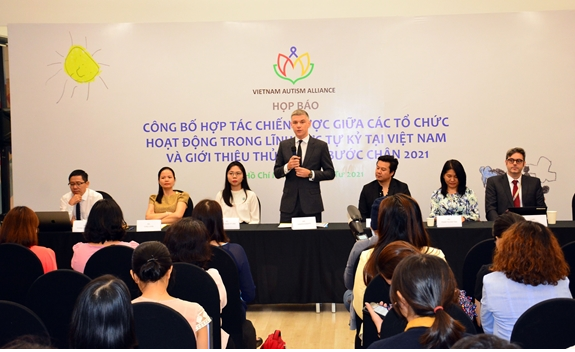 A Saigon's Children's Charity representative provides information on strategic cooperation supporting autistic children. Photo: People's Army Newspaper
This strategic partnership aims to mobilize organizations and individuals who are leading experts in the areas related to supporting the autistic such as medicine, therapy, education, care, and technology, etc. Thereby, enhancing activities supporting the autistic and their families. In addition, organizations and individuals working in the autism field can coordinate and create momentum for common resources to aid autistic patients in Vietnam, People's Army Newspaper reported.
Members of the strategic partnership on autism include Saigon Children's Charity, Vietnam Autism Network, musician - singer Thanh Bui, experts from the Center for Population and Health Initiatives, National Center for Special Education - Vietnam Institute of Educational Sciences, Ho Chi Minh City Pedagogical University, Children's Hospital 1, Gia Khang International Hospital, CMI International Hospital, etc. In which, Saigon Children's Charity raises funds for projects within a collaborative framework, including the translation and sharing of world-leading research and resources for students, teachers, and parents, providing support and therapy, increasing the community's awareness, and promoting a comprehensive national program for autistic children.
Mr. Damien Roberts, Saigon Children's Charity CEO said "Autism spectrum disorder in Vietnam is still a relatively new problem. So as to provide the best support to the Vietnamese people, it is important to gather all people working in the autism field to improve research, therapeutic intervention, and support children with autism and their families".
At the event, Saigon Children's Charity also announced to launch the 2021 Footsteps Challenge program themed "Footsteps for autism" to call on the community to participate in the online walking challenge to raise awareness about autism spectrum disorder. At the same time, each registration also directly contributes VND 130,000 ($5.6) to activities supporting autistic children, providing free early therapeutic intervention courses for them. Participants register at the page: bit.ly/thuthachbuocchan. The registration time is until April 2021. Participants will choose challenge levels: 50,000, 100,000, 200,000, and 300,000 steps to complete within a 30-day challenge period (from 00:00 the next day after successful registration).
Keeping children water-safe this summer

According to statistics, over 2,000 children lose their lives in drowning accidents every year in Vietnam, making drowning the country's leading cause of death among ...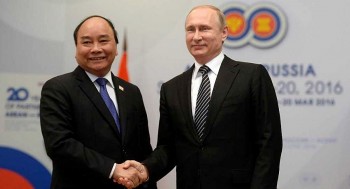 Friendship
The visit is expected to boost bilateral cooperation in Covid-19 prevention and control, especially in promoting Russia's support for vaccine production and technology transfer.