Survey: Vietnam has highest satisfaction about government's response to COVID-19
Up to 96 percent of Vietnamese said they are satisfied with their government's response to COVID-19.
A medical worker collects samples for COVID-19 testing. Photo: VNA
Up to 96 percent of Vietnamese said they are satisfied with their government's response to COVID-19, the highest in the ranking by Latana polling station in collaboration with the Alliance of Democracies.
Results of the survey are based on nationally representative interviews with over 53,000 respondents from 53 countries conducted between February 24th and April 14th 2021.
The survey found that in the spring of 2020, 70 percent of people around the world said their country was responding well to the pandemic. One year later, satisfaction has dropped down 12 points to 58 percent globally.
People in Asia are most satisfied with their country's response. Average satisfaction in Asia (75 percent) is significantly higher than in Europe (45 percent) and Latin America (42 percent), according to the survey.
Vietnam tops the ranking with 96 percent, followed by China (93 percent).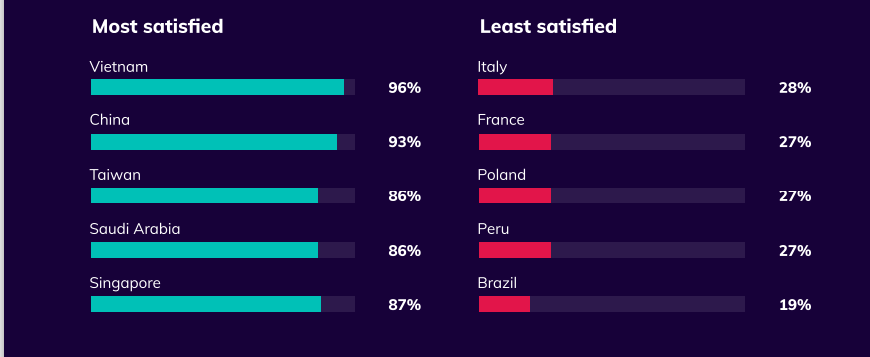 Vietnam tops the ranking with 96 percent saying they are satisfied with the government's response to COVID-19.
Last year, a survey by British market research and data analytics firm YouGov also found that 88 percent of Vietnamese saying the COVID-19 situation is improving and 97 percent trusting the government's handling of the epidemic.
Vietnamese also overwhelmingly trusted the COVID-19 reporting in their country, with 89 percent of respondents saying they either "completely" or "somewhat" trusted the media as of May 13, 2020, the highest among all surveyed countries and territories.
Vietnamese had great trust in the government, with 97 percent, the highest of any country, believing it was handling the crisis "very" or "somewhat" well. It was followed by Malaysia (93 percent) and Taiwan and India (90 percent).
In another survey last year by multinational market research firm Ipsos, 80 percent of Vietnamese respondents said they believed the economy would recover quickly post-COVID-19, the highest rate in any of the 15 countries polled, followed by China (68 percent).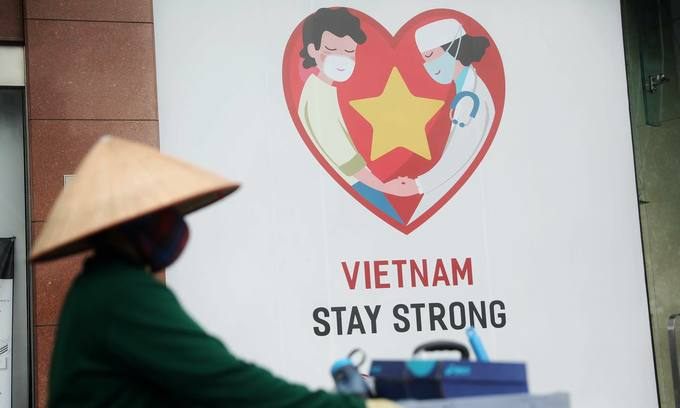 A banner advocating Vietnam's Covid-19 fight in HCMC, March 2020. Photo: VnExpress
Until April 27, Vietnam had gone over a month without local transmissions.
Since then, Vietnam has recorded 120 COVID-19 community transmission cases as a fourth coronavirus wave swept through the country. Cases have been recorded in 14 localities: Hanoi, Da Nang and HCMC and the provinces of Ha Nam, Vinh Phuc, Hung Yen, Quang Nam, Dong Nai, Hai Duong, Yen Bai, Thai Binh, Bac Ninh, Lang Son and Quang Ngai, VnExpress reported.
The nation's infection tally is 3,090, including 2,560 recoveries.
Over 675,000 people in 48 localities have been vaccinated against COVID-19 as of Wednesday. Over 40,000 are in quarantine.
Vietnam has extended its quarantine policy from 14 to 21 days for both foreign arrivals and those who come into contact with COVID-19 patients.
The decision, which took immediate effect on May 5, was taken after the Health Ministry consulted experts on ways to keep the larger community safe, said Minister Nguyen Thanh Long.
The decision has been made after several individuals contracted the virus after they'd already completed the 14-day quarantine and tested negative twice or thrice./.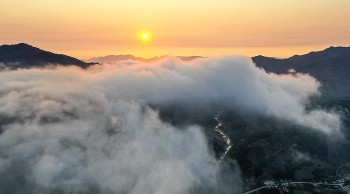 Multimedia
The gorgeous dawn behind a sea of fluffy white clouds creates a wonderful and beautiful picture of Truong Son Dong peak, Quang Ngai.