Talented Vietnamese student at Harvard raised the voice for int'l learners over US' new visa policy
On 15 July, U.S  rescinded a plan to strip visas from international students who went entire online classes due to Covid-19 but only a few people knew that a Vietnamese student at Harvard has contributed to the decision.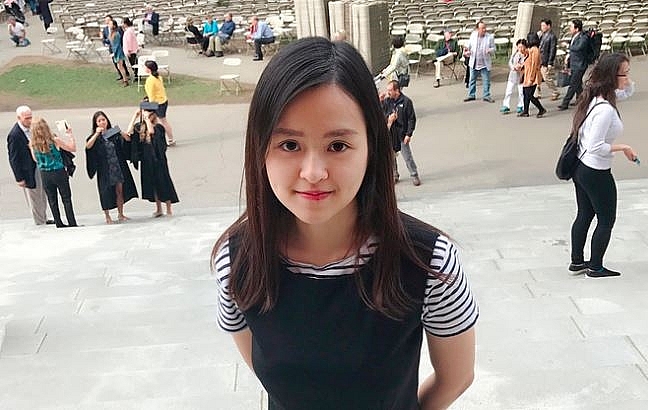 To Hien Anh at Harvard. Photo by La Thanh Ha.
Hien Anh, a student at Harvard University, was one of those students who were directly affected when the new law was applied. If she might gave nothing to care about as she had registered a citizen rescue flight back to Vietnam in early August. However, Hien Anh decided to "do something" when many other international students could not find tickets to be back to their home and may be sent to a refugee camp if new law comes into effect.
After the official announcement of U.S. Immigration and Customs Enforcement's (ICE) on 06 July, Hien Anh stayed up all night to study the law, analyzing its negatives impact on international students and proposing possible solutions such as offline course basing on her study about solutions of other universities. These solutions do not cost too much but still ensure the safety and benefits of students.
After completing the petition, Hien Anh sent an application for a representative of an international student stuck in the United States to the management board of Harvard University. At the same time, she mobilized the related organizations and individuals to send a letter prepared by her to express support.
On the morning of 7 July, school leaders have an emergency meeting. The principal personally answered Hien Anh that the school would officially sue ICE to the court.
Within the first 20 hours, Hien Anh's petition had more than 1,000 signatures from Harvard professors, students, and alumni including more than 50 students as chairmen or co-chairs of institutions at the school. Harvard President Rakesh Khurana submitted Hien Anh's application to the Board to directly consider implementing the fall learning plan and thanked her for speaking up.
On July 8, Harvard University and MIT sued for new visa regulations. This created a wave that attracted dozens of universities, state governments and more than a dozen technology companies to oppose the policy. This pressure forced the White House to abolish the visa restriction policy on July 15.
Upon receiving this news, Harvard professor of philosophy and theology, David C. Lamberth sent a letter to praise Hien Anh for her contribution in raising voice for international students.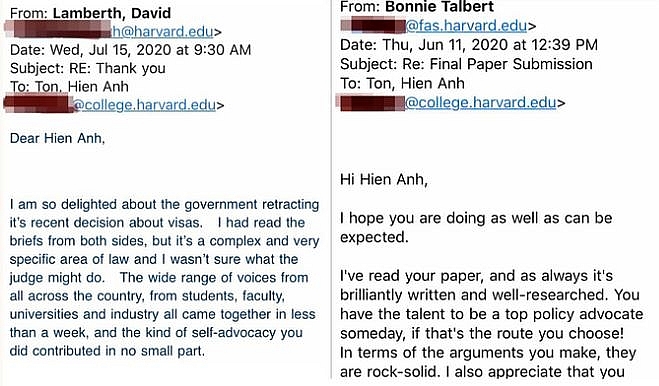 Email from Harvard professors. Photo: Internet
In the process of advocacy, Hien Anh has faced many challenges. Some do not understand the law and questioned for her action. Even in the conversation with the school management team, a professor also advised Hien Anh to stop this.
In Vietnam, her parents were very worried about their daughter as they think Huyen Anh was only an international student and she may be sent home after she discussed this serious topic.
Hien Anh reassured her mom that she would like to raise the voice of Harvard students and helping the management board have an overall view of the issue if international students must return homes in the pandemic outbreak, then finding a proper solution.
After Hien Anh's reassurance, her parents fully supported her and closely following the lawsuit. They only feel better after the final decision from The Trump administration.
Last semester, Hien Anh is one of the top students in the class. The professors said she was talented at essay writing and her writing was righteous. Professor Bonnie Talbert after reading Hien Anh's final essay on racism in the US and the Black Lives Matter movement impressed and sent this essay to the school's president, Rakesh Rakesh Khurana.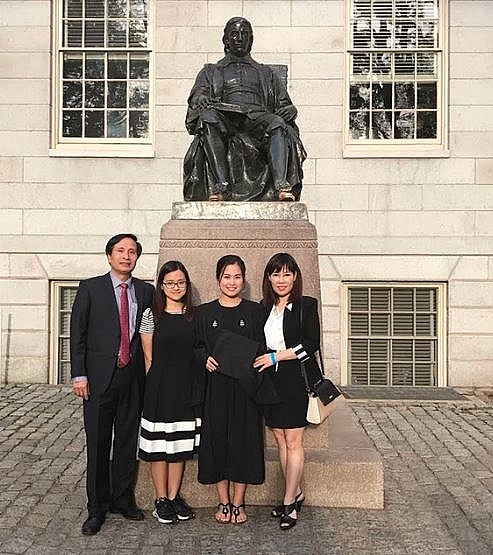 Hien Anh and her family in the graduation of her older sister. Photo provided by her family
Hien Anh was born in Hanoi, she and her eldest sister Ton Ha Anh received full scholarships from Harvard. Unlike her sister Ha Anh who is extraverted - now a senior advisor at international management in McKinsey, New York, Hien Anh is thoughtful and profound and interested in social activities relating to policy and justice for the underprivileged.
In addition to studying at Harvard, Hien Anh also participates in extracurricular activities to help people in difficult circumstances. She is also in the board of directors of Harvard Vision, raising more than 100 eye operations for poor children, or managing meals and accommodation provided at the Harvard shelters for homeless.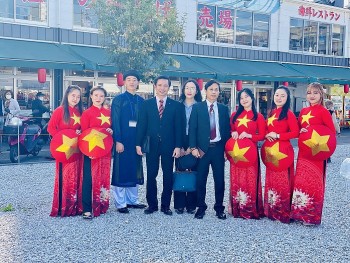 Overseas Vietnamese
The Kochi-Vietnam Cultural Exchange Festival has been organised in Kochi Prefecture, Japan, recently for first time in an effort to boost cultural exchanges and cooperation between the two countries.