Temple Shelters Vietnamese Trainees in Japan Amid Covid-19
43-year-old nun Thich Tam Tri opened a temple in Tochigi, Japan to take care of Vietnamese trainees and people who lost their jobs during Covid-19.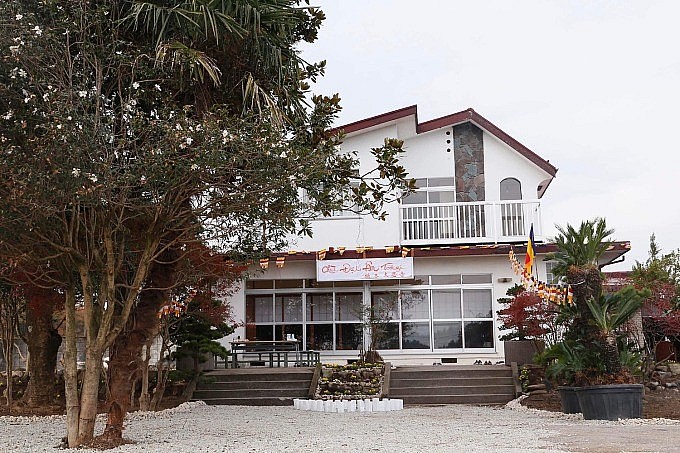 Tochigi Daionji temple in Tochigi city, eastern Japan. Photo: Thich Tam Tri
Tochigi Daionji temple in Tochigi city, eastern Japan, was inaugurated on November 19. This is the second temple founded by nun Thich Tam Tri. The 43-year-old aims to provide food and accommodation for trainees and Vietnamese who have lost their jobs, and are facing difficulties due to the Covid-19 pandemic.
The first Daionji temple in Honjo, Saitama Prefecture, was established in January 2018. Nun Thich Tam Tri supports Vietnamese people who came to Japan under the trainee program but lost their accommodation, because of company bankruptcy or other problems. Flights between Vietnam and Japan were canceled due to Covid-19 causing an increasing number of people to seek refuge in temples. Daionji Honjo temple only accommodated 20 people at the time of its establishment, but the number later increased to 60-70 people.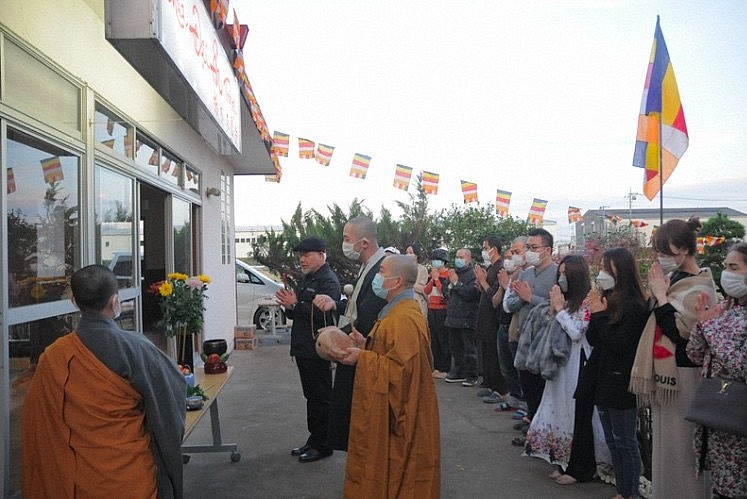 Thich Tam Tri, center front, chants a prayer to celebrate the completion of Tochigi Daionji temple in Nasushiobara, Tochigi Prefecture, on Nov. 19, 2021. Photo: Mainichi/Naoto Takeda
When hearing about the overcrowded temple, 72-year-old Michio Tomita, a resident of Kodaira City, a suburb of Tokyo, offered to open a second temple at his home in Nasushiobara, Tochigi Prefecture. Tomita, who owns a long-standing paint company, said he had witnessed the hard work of Vietnamese trainees in his customer electronics factories.
"I am very moved to see these young people working hard abroad. I want to help them," he said.
The two-story house was abandoned after its occupant died two years ago. The house consists of one room of 18m2 and 6 small rooms, the walls and floor are old. Outside the garden is overgrown with trees and lots of garbage. After a month of cleaning and renovation, the new temple was completed and put into use.
Ho Van Kha, 27 years old, who helped with home renovation, moved into Daionji Honjo temple in summer 2020. He came to Japan in 2018 to work as a trainee at an auto parts factory in Toyota City, Aichi, but lost his job last year due to the pandemic.
"There are a lot of kind Japanese people, but I'm still relieved to find a place where Vietnamese can take care of each other," Kha said.
The room overlooks the garden in Daionji Tochigi Temple. Photo: Thich Tam Tri
According to the Japanese immigration agency, by the end of December 2020, 448,053 Vietnamese citizens were living in Japan, more than 10 times higher than 10 years ago. Currently, there are nearly 8,000 Vietnamese people residing in Tochigi province. In 2019, the Vietnamese surpassed the Chinese, becoming the largest foreign community living in Japan.
"There may be many more compatriots who are in a difficult situation. For such people, even if they are cornered, I still hope they can go to the temple and consider it the last home to return to," the nun said.