Tet of Overseas Vietnamese in Australia
Although the Covid-19 pandemic is complicated globally, the Tet atmosphere is still present in Vietnamese families in the land of kangaroos.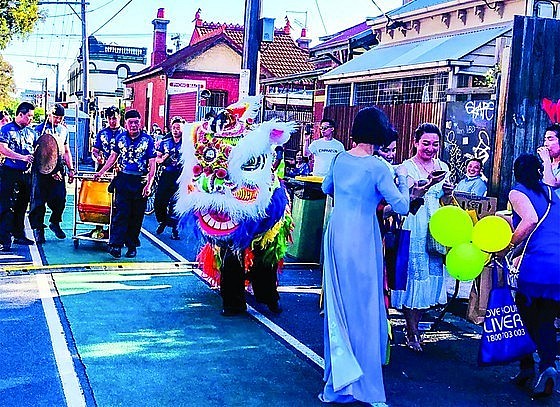 Tet atmosphere of Vietnamese people in Melbourne.
Tet atmosphere in Melbourne, Australia
Like overseas Vietnamese in other countries, Vietnamese people in Australia are also excited to welcome the traditional Lunar New Year 2022. Unlike last year's prolonged lockdown, this year, there are a few outdoor Tet fairs in areas where many Vietnamese people live in Melbourne such as St Albans, Richmond.
A number of large Vietnamese temples such as Quang Minh and Quang Duc (Melbourne) after a long period of lockdown have opened for Vietnamese Buddhists to offer incense, watch lion dances and New Year's Eve fireworks. The pagodas all have food stalls with a variety of vegetarian dishes for Vietnamese people to enjoy.
To share with expatriates far from home, many Vietnamese groups in Melbourne have planned to organize programs to welcome the Lunar New Year for Vietnamese people. The Australian Vietnamese Women's Association organizes a spring meeting for mothers and children to participate in many programs such as lion dance and giving lucky money.
The Northern Melbourne Vietnamese Elderly Association Group also organizes a spring party at the park with food and music. Every year, this party is usually held in a large hall with many programs reminiscent of the Vietnamese New Year atmosphere such as cooking contests, music, and costumes.
Before the Lunar New Year , the Vietnamese markets in Melbourne were applicable with all kinds of items for Tet. Going into Asian shops, people can easily shop for everything from ginger jam, banh chung, to a tray of five fruits and flowers for Tet.
Kim Oanh, owner of Kim Oanh shop in Lalor regional market, said that on the days before Tet, her shop is open until 9-10 pm so that Vietnamese people coming home late from work can shop and prepare Tet tray for the new year.
In Australia, New Year is the main festival, so many Vietnamese people still have to go to school and work normally during the Vietnamese Lunar New Year.
However, the atmosphere of the Lunar New Year in Vietnamese families in foreign countries is still very cozy. For many international students were unable to return to Vietnam, they gathered to celebrate the New Year's Eve, or video calls home to wish their families a happy New Year. For families living in a foreign country for a long time, having many friends and relatives, they meet, eat, give lucky money and travel at the beginning of the year.
On the days of the Lunar New Year, although it is not as joyful and pleasant like at home, the Vietnamese people in Melbourne still have the atmosphere of Vietnamese New Year.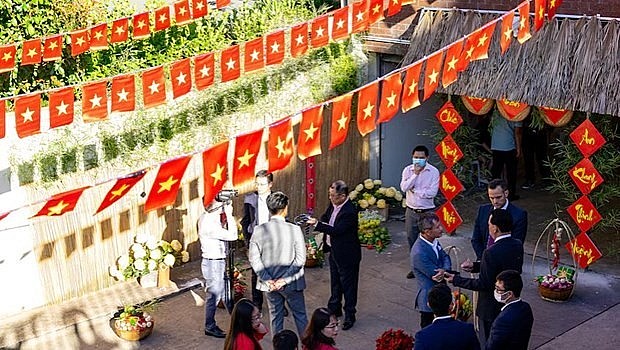 Illustration of the Tet atmosphere on ABC.
Australian media praise Vietnamese New Year
Because of Covid-19, many Vietnamese living in Australia were unable to return to their homeland to celebrate the traditional Lunar New Year with their families, ABC radio broadcast a report emphasizing the union meaning of Vietnamese traditional Tet.
For Marianne Bogard, a French-Vietnamese, Tet 2022 marks the third year she cannot celebrate Tet with her Vietnamese family in Ho Chi Minh City. Tet away from home this year makes her miss the memories and Vietnam.
Before the pandemic, every year, Bogard and her mother and sister returned to Vietnam to celebrate Tet with their family. Her mother in Vietnam has 11 siblings.
Bogard said: "Tet is a time for family, to gather with loved ones. I remember the times when I visited my aunt and uncle's house to wish a happy New Year and receive lucky money."
She also remembers the traditional dishes on the occasion of the coming New Year and Spring.
When she was still in Vietnam, Bogard took Tet for granted. Since moving to Australia in 2013, she has realized the value of Tet holidays, and the joy that Tet brings.