Thai Blogger Explores Beautiful Hoi An
If you have the opportunity to visit Hoi An at the end of the year, these are some of the best recommendations for fun activities you can do from Peter R – a Thai travel blogger.
Hoi An ancient city has long since been the most popular travel destination in Vietnam. Thanks to its unique history and poetic beauty, this place attracts a large number of travelers every year, especially foreign tourists.
Recently, Peter R – a Thai travel blogger who has a passion for exploring famous landscapes and unique cultures in the world visited Hoi An ancient town. After that, he wrote an article sharing "10 activities not to be missed in Hoi An" as a guide to other tourists.
If you are going to travel to Hoi An and are also curious about the activities that foreigners often do when coming here, and if they are different from what you often do and experience.
Stroll around the striking yellow old town
Hoi An ancient town still retains its colonial architecture from streets, houses, assembly halls, communal houses, pagodas, etc. The houses here are painted with a strikingly golden color, mossy tiled roofs, with many green trees and bougainvillea in front. When coming here, the first thing that you should not miss is walking around the small streets, witnessing the peaceful view of the old town, and joining in with the daily life of the local people.
Visit The Cau Temple (Chua Cau) – a beloved symbol of Hoi An ancient town
Located across the Hoai river, Cau Temple (Chua Cau) is considered a typical symbol of Hoi An that any visitor wants to visit. This pagoda was built by Japanese merchants, and possesses a unique architectural style, with the house on top and at the bottom a bridge. The entire place is made of wood, painted in vermilion color, roofed with yin and yang tiles, and have many finely carved Vietnamese-Japanese style motifs. This is also a place where locals often go to pray for good fortune, health, and happiness.
Have a cup of tea at Reaching Out Tea House
Reaching Out Tea House is always on the list of the most recommended cafés that you should visit when you come to Hoi An for its classic designs, lovely decorations, and exceptional customer service. All the staff here are hearing impaired, so customers are advised to put a small piece of wood with pre-recorded phrases for the staff to see. The cafe mainly sells tea in ceramic cups and traditional Vietnamese coffee. Coming here, you will be able to feel the tranquility and the beats of the local people's life in this ancient city.
Visit Ba Mu Temple
The pagoda is a complex of religious architectural works, including Cam Ha Cung and Hai Binh Cung, also known as Ba Mu pagoda. Ba Mu pagoda relic was built in 1926 at another location. Then, due to some reasons, the pagoda was moved to its current location on Hai Ba Trung Street. Tam Quan Ba ​​Mu Pagoda has undergone many restorations and shaping on a large scale, ensuring to keep the most features here. Its ancient beauty distinguishes tam Quan Ba ​​Mu Pagoda. The typical beliefs of the old town people are still preserved through the images and motifs depicted on the gate. Coming here, you feel like you are lost in the royal space of the old days.
See Hoi An at night
If Hoi An makes you fall in love with its colorful beauty during the morning time, then the ancient roads and houses even become more alluring and gorgeous at night, when hundreds of lanterns shine up the darkness to create a fairytale scene, and travelers can participate in fun activities on the streets. Besides, you can also enjoy sitting on a boat and sailing along the Hoai river.
Have a taste of Phuong bread
Coming to Hoi An, you can not miss the most delicious and famous Phuong bread. Even though this restaurant is small, with only 1 glass cabinet for storing the ingredients, a toaster, and a few sets of tables and chairs, customers still wait in long lines for their orders every day, especially international tourists. The shop only sells bread with a variety of fillings such as eggs, hams, sausages, chickens, etc. Each bread is carefully toasted, stuffed, and handed to each customer with care, and is added with a special kind of sauce that is made from secret family ingredients.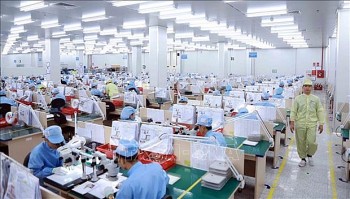 National
Vietnam News Today (Jan. 26): Vietnam - important partner of RoK; HCM City maintains growth momentum, reaps successes in 2022; Vietnam's tourism forecast to strongly rebound in five years; Many localities attract a large number of visitors during Tet.