Thanksgiving Day 2020: Best messages, wishes, quotes for your loved ones
Thanksgiving is coming to town. Like any other annual festive occasion, Thanksgiving is often showered with joyous preparations and celebrations, as well as meaningful gifts. Heartfelt messages and quotes are, of course, never the outliners. Below we recommend to you some best messages and quotes for this year's Thanksgiving.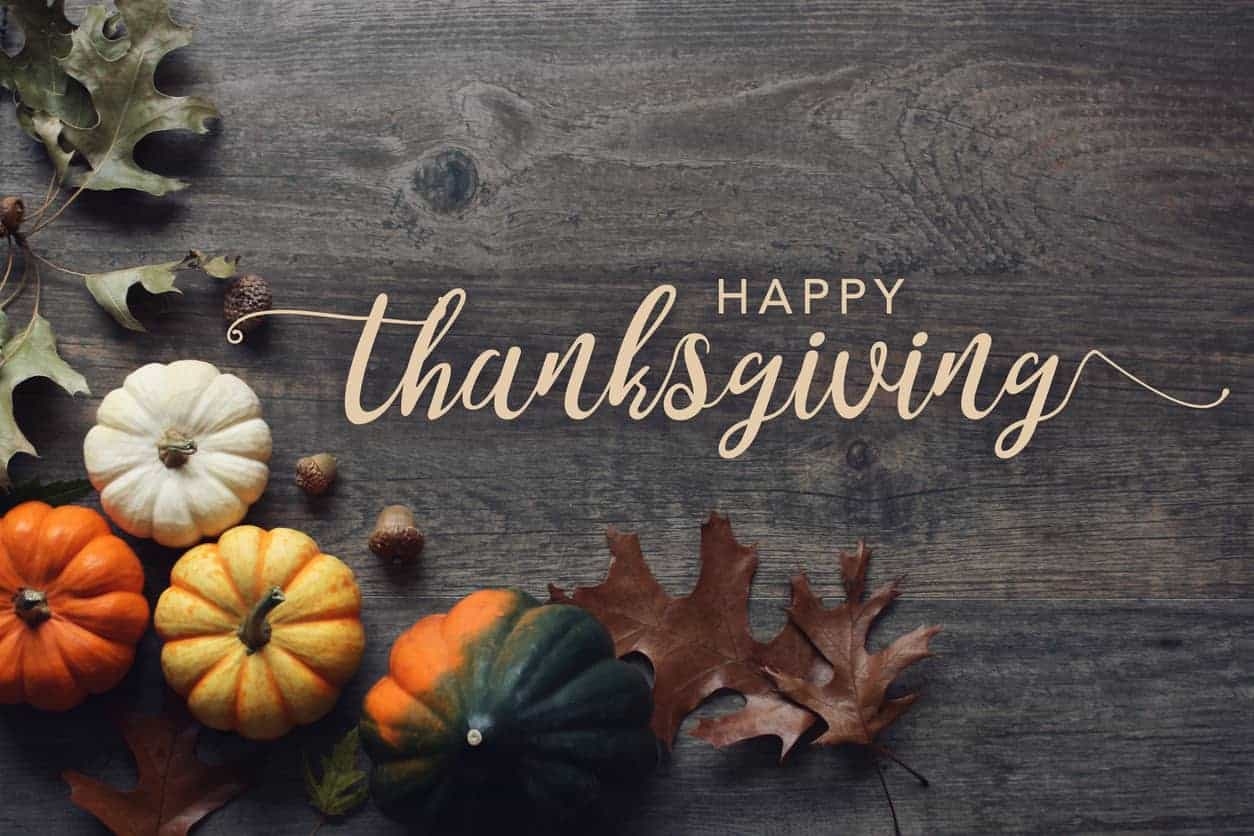 (Photo: Awareness Days)
The collection below is from Home-made gifts, Amsterdam Printing, and Shutterly.
Happy Thanksgiving Messages For Family And Friends
Happy Thanksgiving!
Happy Thanksgiving Day!
Have a blessed Thanksgiving!
Happy Thanksgiving to you and your family.
May all the good things of life be yours, not only at Thanksgiving but throughout the coming year.
Our homes may be far apart, but our hearts are as close as always.
There have been times when I forgot to thank you for being there for me. I take this day to tell you how special you are and how great my life has become because of you. Have a memorable Thanksgiving.
Thanksgiving is more than the festivities, it gives us time to ponder upon what lessons we learnt and how we can spread happiness around, to look back at all the great memories and good people who came into our lives. We appreciate you so much. Happy Thanksgiving Day to you and your loved ones.
At this time of Thanksgiving celebration, our thoughts turn gratefully to you with warm appreciation. Our best wishes for a Happy Thanksgiving.
Being a family means you are part of something very wonderful. It means you will love and be loved for the rest of your life. No matter what. Happy Thanksgiving!
Gratitude unlocks the fullness of life. Happy Thanksgiving to those closest to my heart.
Thanksgiving Wishes For Family And Friends
May the good things of life be yours in abundance not only at Thanksgiving but throughout the coming year.
May you enjoy a bountiful Thanksgiving, a joyous holiday season and healthful, Happy New Year.
A special greeting of Thanksgiving time to express to you our sincere appreciation for your confidence and loyalty. We are deeply thankful and extend to you our best wishes for a happy and healthy Thanksgiving Day.
One of the joys of Thanksgiving is wishing you a happy and healthy holiday season.
At this time of Thanksgiving we pause to count our blessings. The freedom of this great country in which we live. It's opportunity for achievement. The friendship and confidence you have shown in us. For all of these things we are deeply thankful. Our best wishes for a Happy Thanksgiving.
Thanksgiving for people is…The morning sun and the setting moon, The cheerful bird and the dancing mood, The silent waters and the playful dunes, But more than that I cherish you. Wishing you a happy and healthy Thanksgiving Day.
Gratitude is the heart's memory. Wishing you a Happy Thanksgiving.
May your stuffing be tasty. May your turkey plump, may your potatoes and gravy have nary a lump. May your yams be delicious, and your pies take the prize, and may your Thanksgiving dinner stay off your thighs.
November is the time to be thankful, a time to remember and to embrace those who enrich our lives. I'm thankful for a lot of things, but I'm most thankful for you.
Because today is a special day, I want to let you know that I appreciate you every single day. Happy Thanksgiving wishes!
Thank you Mom and Dad for giving me food, shelter and unconditional love.
Thank you Mom for always making spectacular meals throughout the years! Thanksgiving won't be the same without your special dishes.
A heartfelt thanks to you on this day, for being my guide, my teacher and my father. Happy Thanksgiving Dad!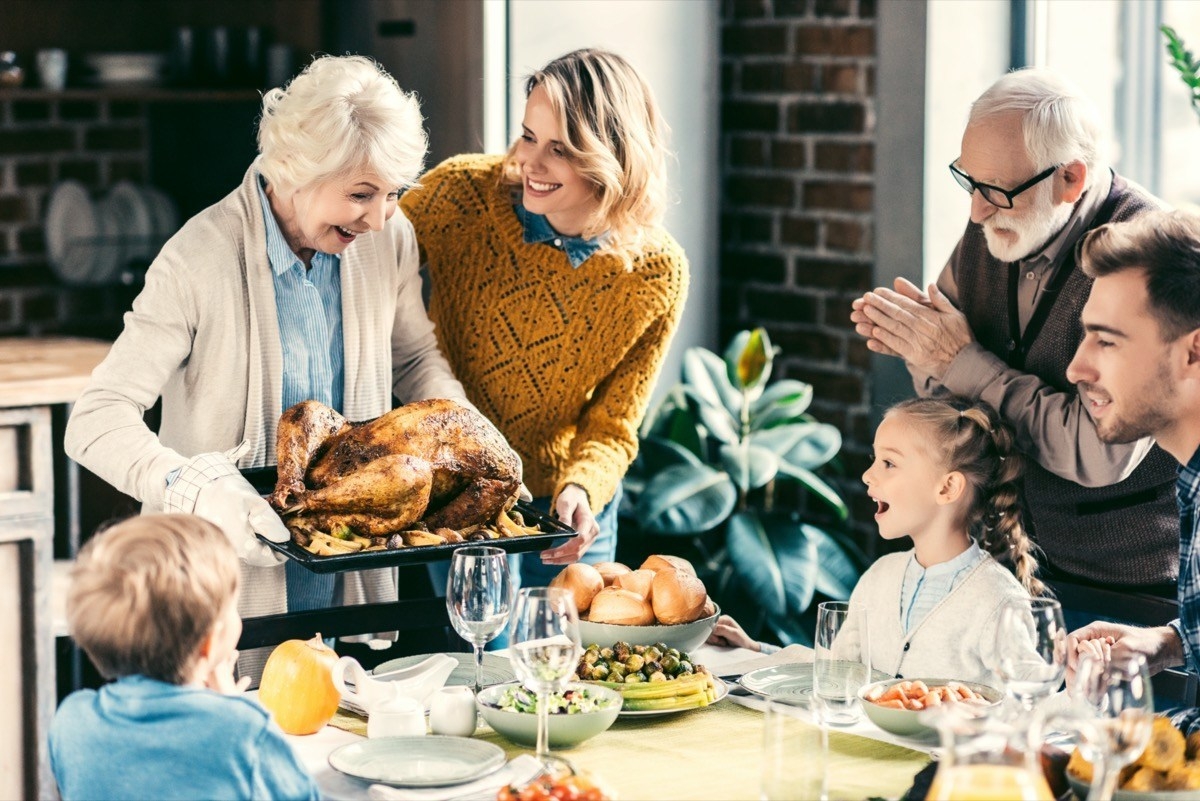 Gathering time with family is part of the ThanksGiving rituals (Photo: Eat this not that)
Happy Thanksgiving Wishes For Everyone
If you are unsure of what to say to your card recipient, these general Happy Thanksgiving wishes for everyone, can be used to complete your message.
Here's a heartwarming thanks to you for the hope, peace and joy that you bring to my life.
Hope that you're surrounded with the love of your dear ones on this festive season. Happy Thanksgiving to you and yours.
I'm really glad that we're family. Thanking God for having you in my life on this special day.
Thanksgiving wishes from across the miles from our house to yours. May your home be filled with laughter and happiness!
Sending you my warm wishes from home to home and from heart to heart to wish you a very Happy Thanksgiving! May this day be a beautiful reminders of the wonderful things in life.
November is the time to be thankful, a time to remember and to embrace those who enrich our lives. I'm thankful for a lot of things, but I'm most thankful for You!
Wish you a very happy and blessed Thanksgiving!
Wishing you the gift of faith and the blessing of hope this thanksgiving day!
We gather on this day to be thankful for what we have, for the family we love, the friends we cherish, and for the blessings that will come. Happy Thanksgiving!
May your blessings be multiplied this year and throughout all your life. Happy Thanksgiving wishes to you!
Wishing you a harvest of blessings, good health and good times. Happy Thanksgiving day!
Here's to enjoying the company of good friends and family. I wish you a happy Thanksgiving!
May you enjoy the feast and the company of your family on Thanksgiving day.
May you enjoy this celebration with your family full of laughter and peace. Happy Thanksgiving greetings!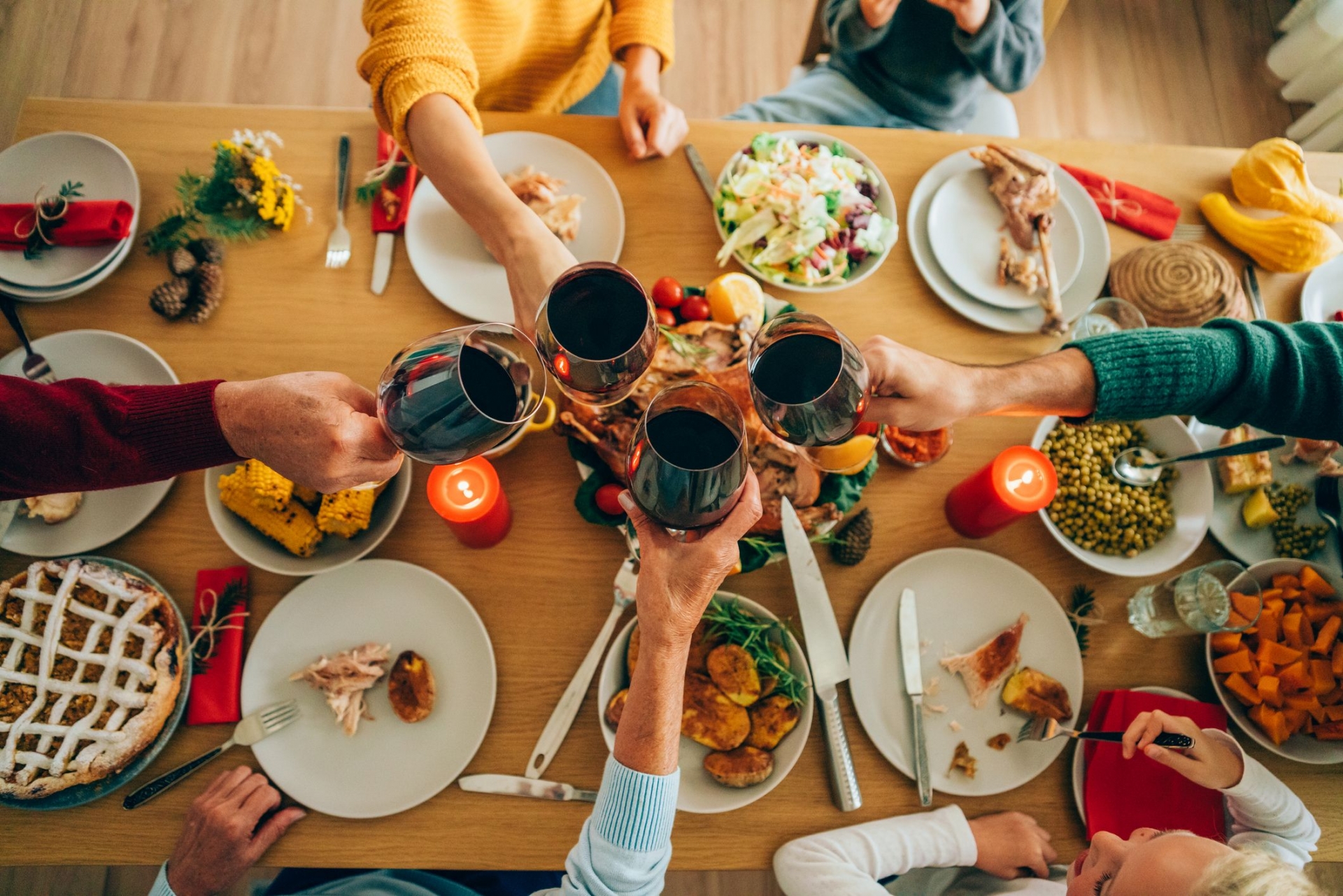 Thanksgiving gathering (Photo: Country Living Magazine)
Thanksgiving Quotes
Between all the big day preparation and cooking that has to be started, it's easy for all of us to get swept up in the festive chaos and lose sight of a thankful heart. Quotes serve as the perfect reminder and inspiration for all that we have to be grateful for. Let the experts lend their hand, or should we say lend their pens, to assist in sharing Thanksgiving blessings.
"Thanksgiving is one of my favorite days of the year because it reminds us to give thanks and to count our blessings. Suddenly, so many things become so little when we realize how blessed and lucky we are." -Joyce Giraud
"The roots of all goodness lie in the soil of appreciation for goodness." -Dalai Lama
"Gratitude turns what we have into enough." -Anonymous
"I love Thanksgiving because it's a holiday that is centered around food and family, two things that are of utmost importance to me." -Marcus Samuelsson
"Forever on Thanksgiving day the heart will find the pathway home." -Wilbur D. Nesbit
"Each day I am thankful for nights that turned into mornings, friends that turned into family, dreams that turned into reality and likes that turned into love. Most importantly though, I am thankful for you today and everyday." -Anonymous
"You are my pumpkin pie. I love you and am so thankful to have you in my life." -Anonymous
"Thanksgiving after all, is a word of action." -W.J. Cameron
"Thanksgiving Day is a jewel, to set in the hearts of honest men; but be careful that you do not take the day, and leave out the gratitude." -E.P. Powell
"Celebrate the happiness that friends are always giving, make everyday a holiday in which you celebrate just living." – Amanda Bradley
"Family isn't always about the people in your life who are blood relations. It's about the people in your life who want you to be in theirs. It's about the people in your life who accept you for who you are, support you in the things you choose to do and no matter what, are there for you. It's the people in your life who love you, respect you and who you can depend on. Now that's family!" -Anonymous
"We may not have it all together, but together we have it all." -Anonymous
"We have so much to be thankful for. One day a year hardly seems adequate…"-Anonymous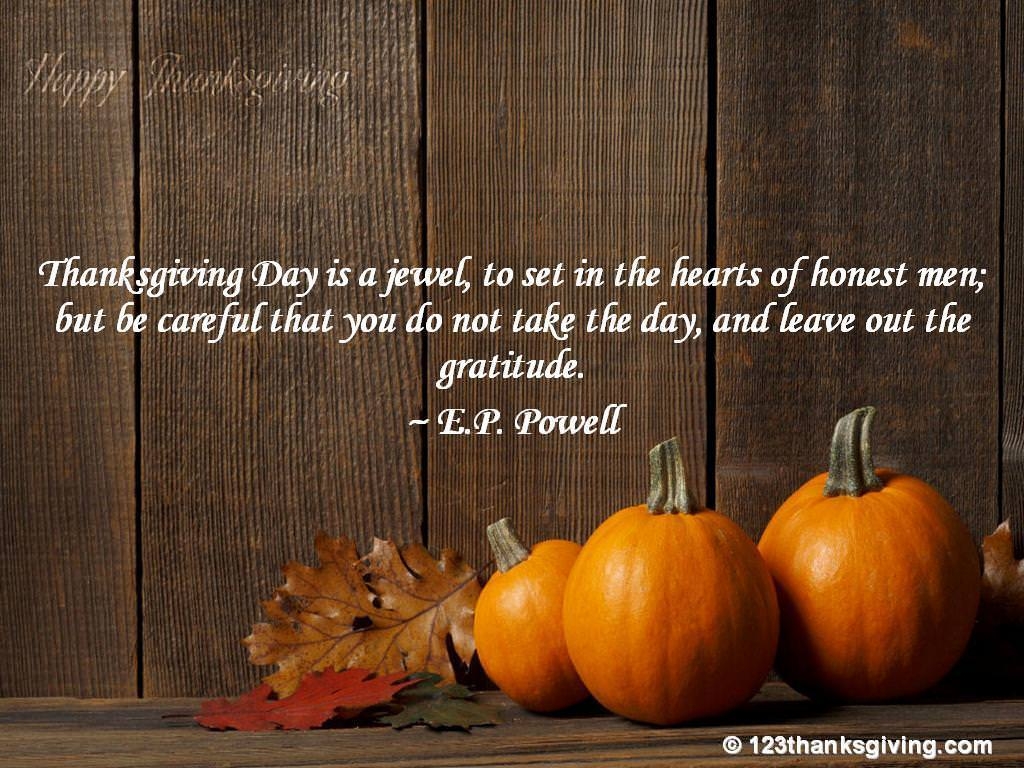 (Photo: WallPaper Access)
Funny Thanksgiving Quotes
If you know your card recipient will appreciate a good laugh, then you might want to add one of the following funny Thanksgiving quotes to your message.
"An optimist is a person who starts a new diet on Thanksgiving Day."-Anonymous
"Thanksgiving dinners take eighteen hours to prepare. They are consumed in twelve minutes. Half-times take twelve minutes. This is not coincidence." -Erma Bombeck
"Toasted, roasted, baked and done! Hope your Thanksgiving is loads of fun." -Anonymous
"This Thanksgiving I hope you're able to avoid the tragedy of the different foods on your plate touching one another." – Anonymous
"This Thanksgiving, cherish the time spent with your family as a reminder of why you moved very far away from your family." -Anonymous
"Vegetables are a must on Thanksgiving. I suggest carrot cake, zucchini bread and pumpkin pie." – Jim Davis
"Black Friday: because only in America people trample each other for sales exactly one day after being thankful for what they already have." -Anonymous
"Thanksgiving. Bringing out the best in family dysfunction since 1863." -Anonymous
"Happy Day after Thanksgiving! Hope you didn't forget to set your scales back 10 pounds last night." -Anonymous
"Cooking tip: Wrap turkey leftovers in aluminum foil and throw them out." -Nicole Hollander
"I come from a family where gravy is considered a beverage." -Erma Bombeck
"The Thanksgiving tradition is, we overeat. 'Hey, how about at Thanksgiving we just eat a lot?' 'But we do that every day!' 'Oh. What if we eat a lot with people that annoy us then?'" -Jim Gaffigan
"Last Thanksgiving I shot my own turkey. It was fun. That shotgun going, BLAM! Everybody at the supermarket just staring. Why track them when I know where they are?" -Kenny Rogerson
"You can tell you ate too much for Thanksgiving when you have to let your bathrobe out." -Jay Leno
Happy Thanksgiving Wishes & Messages for Co-workers
Co-workers, clients, and employers play a part in helping our successes and making our lives easier, despite whatever ups and downs work may offer. While it's important to remain professional for business messages, it can also be perfectly appropriate and well-received to express your gratitude and sincere appreciation of your colleagues.
I'm thankful for all that you do. Have an amazing holiday!
I'm so glad to work with someone like you. Happy Thanksgiving!
I'm very fortunate to have the opportunity to work with someone of your expertise and understanding. Thank you for sharing your wisdom with me throughout this year. I hope you have a wonderful and restful Thanksgiving!
I appreciate the way you are always able to motivate me and keep me going. You've been a real gift to work with. Wishing you a joyful Thanksgiving.
Every morning, I'm grateful for your positive energy and calm guidance. Happy Thanksgiving!
Wishing you a restful and relaxing holiday!
I'm lucky to have a colleague like you who helps to build this workplace into a thriving community. Enjoy your holiday to the fullest!
Happy Thanksgiving to our amazing team. This [business/organization/shop] wouldn't be the same without you. We are grateful for your continued work and dedication, which is the root of our success. We wish you a restful and enjoyable holiday!
Thank you for all that you have done and given. We count you among our blessings and send our warmest wishes to you and your family this Thanksgiving.
I couldn't be more thankful to have a selfless teammate like you. Have a wonderful holiday with your friends and family.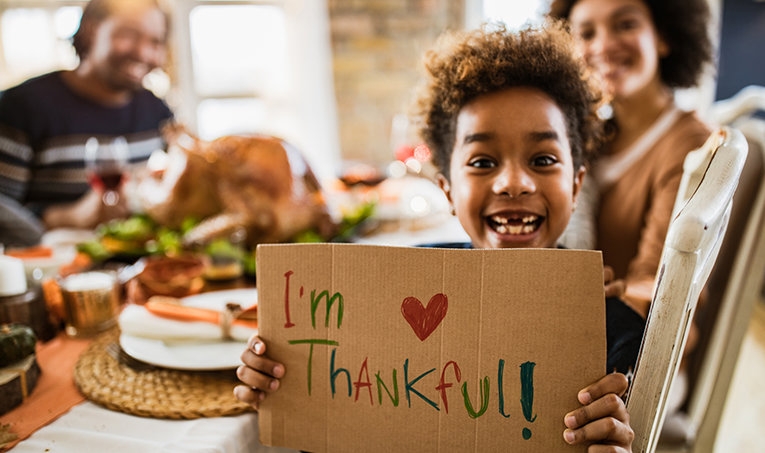 (Photo: Retail Me Not)
Happy Thanksgiving Wishes for Coronavirus Pandemic 2020
Many of us have had a difficult year this year with illness, loss, uncertain employment, and isolation due to COVID-19. With that in mind, here are some greeting card messages you could use as a starting point to write your own notes of encouragement to friends and family this Thanksgiving.
Happy Thanksgiving! We may be apart today, but you're always in our heart. Take care and stay safe in these uncertain times. We miss you!
Sending all our love to your family this Thanksgiving. We know that this past year has been challenging, and we pray that the coming months bring more certain times for your family. Sending all our love and good wishes for better days ahead.
This card is packed full of virus-free hugs and kisses just for you! May you have a blessed and happy Thanksgiving.
We are so grateful for all the sacrifices that you have made this year to support and serve others. May this Thanksgiving be a time for you to rest and reflect on all that you have achieved. Wishing you a joyful and blessed day.
Gratitude offers us a direct connection with the powers above. Today, let us remember that no matter how turbulent and difficult our lives may feel, we can always find something to be thankful for.
Happy Thanksgiving to you and your family. We're so sorry you've been ill and hope you are feeling stronger and better every day. May this holiday season be a time of rest as you recover, and may the coming months bring you renewed health and happiness.
We want you to know that you are in our thoughts and prayers every day as we remember [name] and miss him terribly. We know this Thanksgiving will be very difficult, and we wish we could gather around you in person to support you more. We are sending all our love from afar, and if there is anything you need please let us know.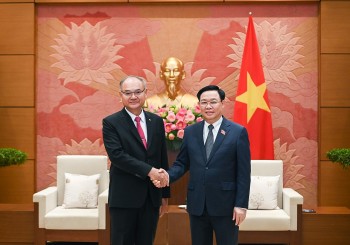 National
A Thai delegation is visiting Vietnam to learn about the guidelines and policies in the fight against corruption in Vietnam; exchange experiences with relevant Vietnamese agencies.