Happy New Month: Best Wishes and Quotes
A new month will come easily and luckily when nice words are spoken out. Here are the most beautiful inspirational quotes and messages to wish your beloved well on the very first day of the month.
If you are holding your mobile phone but thinking of the right words to text your friends or everyone in your group, check on the list below.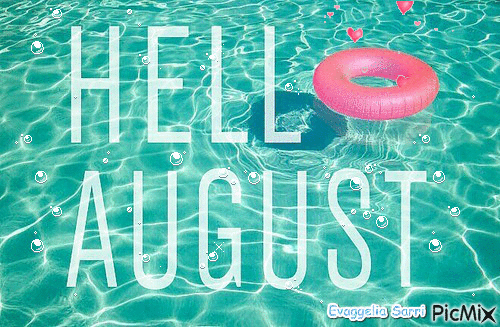 Photo: Pic Mix
10 Best Happy New Month Wishes for Aug 2021
1. I wish you a month of Happiness, Success, Peace, Prosperity, Good Health, and Wealth, as compiled by Daily Wishes.
2. May this new month bring you more joy, gladness, laughter and fun than ever before. Happy New Month to you
3. Cheers to an awesome and interesting month ahead. A month full of fun, adventures and gladness. Happy New Month.
4. It's my prayer that you make every second, minute, day and week of this month count. Happy New Month
5. May all that you do in this new month be productive and successful. Happy New Month to you
6. I just want to wish you a beautiful, amazing and sweet month ahead of you. Happy New Month to you.
7. May you today and always experience God's favor and mercy upon your life. Happy New Month to you.
8. I pray that God will take your worries, failures and anxieties away from you in this new month. Happy New Month.
9. May you soar above every failure and disappointment in this new month and beyond. Happy New Month to you.
10. In this new month, you shall experience joy unspeakable and abundance of happiness. Happy New Month.
These new month quotes suggested by Everyday Power will motivate you to keep striving towards your goals and inspire you that with each month, comes a fresh start if you need it.
Optimistic new month quotes
1. "Whatever the new month is bringing for you, be it good or bad; always keep that smile on your face no matter what." – Unknown
2. "Cheers to a new month and another chance for us to get it right." — Oprah Winfrey
3. "Happiness and prosperity shall be yours. I hope this new month brings you everything you desire." – Unknown
4. "For it's a long, long while from May to December. But the days grow shorter when you reach September." — Maxwell Anderson
5. "Each and every month I get so excited because it's such a good opportunity to start something new! Make your dreams come true! You have everything you need for it. Happy new month!" – Unknown
6. "No matter what happens, or how bad it seems today, life does go on, and it will be better tomorrow." – Maya Angelou
7. "Let go of the past. Embrace the new month. May you have beautiful days ahead." – Unknown
8. "Tomorrow is another day." – Margaret Mitchell
9. "Here's to a month of possibilities, overcoming challenges and all-round success." – Unknown
10. "Every day is a chance to begin again. Don't focus on the failures of yesterday, start today with positive thoughts and expectations." – Catherine Pulsifer
13. "A new month is here. Get ready for great harvest. Get ready for prosperity. It shall be well with you." – Unknown
14. "I wish you a beautiful new month from the first day of this month to the last day." – J. K. Rowling
15. "Happy new month to those who matter a lot in my heart. I wish you the most interesting days ahead." – Unknown
16. "Let this new month bring great miracles, new adventures, incredible breakthroughs, new visions & greater blessings for you & your beloved ones." – Rajesh Goyal
17. "I pray this new month every drop of your sweat will yield sweet reward. May excellence mark you out for favor. May it be well with you all your days." – Unknown
18. "May the love of the Lord fill your heart in a speed of light as we enter this blessed month; smiles because the Lord is with you." – Unknown
If you're enjoying these quotes, make sure to read our collection of blessed quotes to help you idenity the blessings in your life.
19. "Let from this month onwards your days become more happier, fulfilling, purposeful, satisfying & joyful." – Rajesh Goyal
20. "May you find endless peace in your life as you made it into this month! New opportunities shall open for you." – Unknown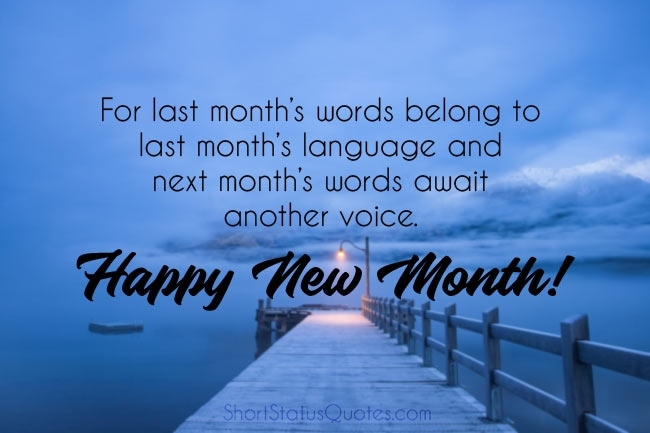 New Month Quotes. Photo: Short Status Quotes
Wise new month quotes
21. "The beginning is the most important part of the work." – Plato
22. "Do you know what a new month represents for you? You are getting older and wiser and more mature with every month added to your life." – Unknown
23. "We must be willing to get rid of the life we've planned, so as to have the life that is waiting for us. The old skin has to be shed before the new one can come." – Joseph Campbell
24. "Wishing you a colorful new month with lots of achievement and promises fulfilled. You never know what tomorrows have in store for you!" – Unknown
25. "Be willing to be a beginner every single morning." – Meister Eckhart
New month quotes about setting goals
26. "Wow, it is another month again, may you find every single thing you desire to achieve achievable." – Unknown
27. "Learn from yesterday, live for today, hope for tomorrow. The important thing is not to stop questioning." – Albert Einstein
28. "This new month comes with grace; may you find your heart desires achievable one after the other." – Unknown
29. "Keep on beginning and failing. Each time you fail, start all over again, and you will grow stronger until you have accomplished a purpose — not the one you began with perhaps, but one you'll be glad to remember." – Anne Sullivan
30. "As the first sun rises in this new month, may your fortunes begin to raise one after the other until you reach your goals." – Unknown
31. "You have lots of dreams to achieve; I pray that your entire dreams be achievable this month because you are special." – Unknown
32. "Make every minute of this month count. Embrace every second with enthusiasm. Live your days with excitement. Have a blissful month." – Unknown
Inspirational new month quotes
33. "The first step towards getting somewhere is to decide you're not going to stay where you are." – J.P. Morgan
34. "Nothing in the universe can stop you from letting go and starting over." – Guy Finley
35. "You may have a fresh start any moment you choose, for this thing that we call 'failure' is not the falling down, but the staying down." – Mary Pickford
36. "The beginning is always today." – Mary Wollstonecraft Shelley
37. "Every moment is a fresh beginning." – T.S. Eliot
38. "It is never too late to be what you might have been." – George Eliot
39. "A journey of a thousand miles begins with a single step." – Lao Tzu
You might also like these beautiful July quotes about the hottest month of the year
Funny New Month Messages
The arrival of a new month means having to pay all the bills again! Hope you pull through another month without getting bankrupt! Happy New Month!
✺ Happy New Month to you! Your life will not suddenly become happier next month if you do not change your habits! So better start working hard!
✺ You have been awesome in this month and will be even more awesome in the upcoming month. Just kidding! Anyway, wish you all the best for the new month.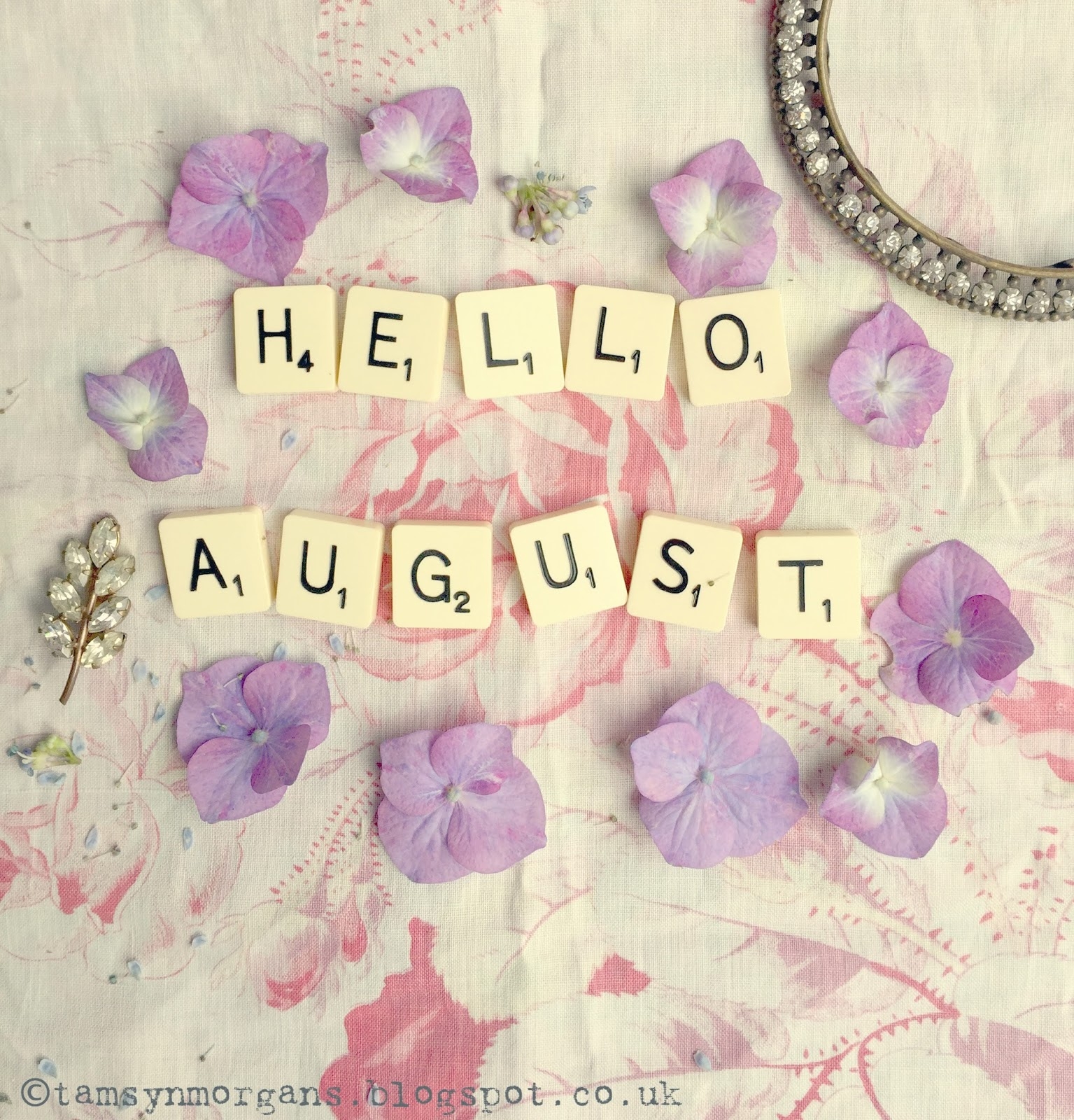 Photo: Tamsyn Morgans
✺ Wave goodbye to your empty pockets and exhausted soul. Welcome the new month with a new life full of energy.
✺ Breaking News! As the new month has come, your license for dreaming has been renewed with even more facilities. Please contact me for details.
✺ Being the vamp of your life, I wish that May the new month unfolds some ravishing twists and turns in the life that you have never expected. I meant only the good ones. Happy new month.
✺ Just wanted to remind you that the deadline for reaching your goals and doing your leftover works has been extended for yet another 30 days. So be glad and challenge the new month.
✺ Look around and you'll see that there's no difference between the number of hours in the old and new month. Hope you use this new month, wisely. Happy new month.
✺ The deadline for reaching your goals has been extended for yet another 30 days. So smile and explore the colors of the new month.
✺ There is no bad month. There are only 12 months and a new month every 30 days. So, don't be hopeless as you always are and Keep on pushing towards your goals.
✺ May the new month unfolds the turns and twists in your life that you have never expected. I meant only the good ones.
The new month brings hope with it. Sometimes, people become lethargic, disoriented, distracted and uninspired due to discouragement, or challenges confronting them. It breaks them apart, but on their most vulnerable days- they need positive energy to get re-energized and start everything is a fresh way. New months are always a blessing towards people. It offers hope of fresh starts, new beginnings, and a new season to many.
As it is compared as a fresh beginning, inspire others to take their chances and challenges in a new spirit and overcome their fear. As the new month comes 12 times a year, grab your chance to remind your closed ones that you care about them and wish them the best luck in every aspect of their life. Show them the warmth of your heart and help them get over any difficulties with your words only. Cheers to a fabulous new month!
Mother's Day: Quotes and Message

Mother's Day is a special day for honoring your mother and the motherhood, contributing to all the hardships that they have been through to raise ...