The Best Vietnamese Trending Destinations In 2022
In a survey this year, Booking.com has revealed its top 10 Vietnamese destinations to visit in 2022, including both unique and lesser-known sites which are filled with hidden gems.
Booking.com's annual Travel Predictions research found that four out of five (80%) of Vietnamese travelers say that they wish to make up for lost vacation time caused by the pandemic. In addition, nearly half (43%) would rather go somewhere off the beaten track in 2022, as opposed to going to a well-known destination, according to VOV.
Thang Tam of Vung Tau city topped the list as it is an interesting and impressive destination for spiritual culture lovers, according to Booking.com.
"If you get the chance to visit, don't miss dropping by Thang Tam God Temple - a complex of 3 relics: Thang Tam Temple, Ba Temple, and Ong Fish Mausoleum. Apart from having an ancient architectural design and valuable cultural and historical values, this place is also visited by many tourists to pray for luck and peace," says the platform.
The southeastern province of Tay Ninh ranked second in the list, as it is home to Caodaism, one of the most intriguing indigenous religions in southern Vietnam, and the Black Virgin Mountain, known locally as Nui Ba Den, the highest mountain in the region.
According to Booking.com, the Cao Dai Great Temple is definitely a must-visit site for culture lovers, for it is one of Asia's most unusual and astonishing religious structures. Indeed, it appears to blend the architectural motifs of a French church, the intricate designs of a Chinese temple, and the grandeur of an Islamic mosque.
The third place went to Meo Vac, a rural district of Ha Giang province. It is a small and scenic valley surrounded by karst mountains and is home to the H'Mong ethnic group. As a result of its charms, it represents a great destination for 84% of Vietnamese travelers who want to have authentic experiences that are representative of the local culture of their chosen destination.
"Its unique culinary specialty, Thang Co, a dish made from the organs of cows, pigs, and buffalos, and cooked over a big pan is definitely a must-eat for 70% of Vietnamese travelers who want to try new and different cuisines while traveling in 2022," says Booking.com.
"For adventure lovers or photographers, a trip to Meo Vac would be incomplete without a motorbike ride to Ma Pi Leng Pass to admire spectacular views of the mountains, the deep green winding river of Nho Que, and mossy stilt houses that are sometimes hidden by moving clouds," the article concludes.
The other destinations to make the top 10 include Pu Luong in the north-central province of Thanh Hoa, Pleiku in the Central Highland province of Gia Lai, and Bao An in the southern province of Ninh Thuan. This is in addition to Bien Hoa - the capital city of Dong Nai province - and Cam Ranh of the south-central province of Khanh Hoa.
The Best Vietnamese Trending Destinations For Travelers In 2022
1. Thang Tam Commune, Ba Ria – Vung Tau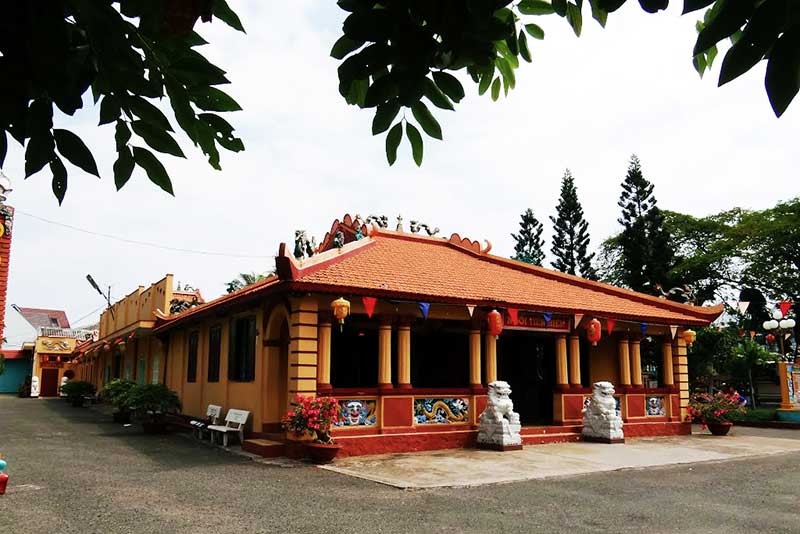 Photo: Halo Travel
Dinh Than Thang Tam (Thang Tam Temple), Thang Tam Ward, Vung Tau City (From the Front Beach, follow Truong Cong Dinh St. to Tran Hung Dao Park. Here take Hoang Hoa Tham Street to Thang Tam).
Aka Thang Tam's Local Gods Communal House is a special feature in Vung Tau. According to legend, it was built in the Minh Mang dynasty (1820-1840) as a place to worship the three men who set up the 3 villages of Thang in Vung Tau. Visit this site to discover the story of the three men who led three villages' inhabitants to Vung Tau and started a new way of life. The architecture is particularly interesting around the Tam Quan gate, the sanctum, the public commune, the meeting room, and the scene for the military opera stage that is skillfully engraved.
As one of 15 national big festivals, every year the Whale festival in Thang Tam communal house, Vung Tau city involves thousands of locals and tourists. This is a traditional festival of Vung Tau fishermen and also the most important occasion for fishermen to acknowledge the Whale- the savior of fishermen and marine jobs in general.
The Thang Tam communal house is an architectural population including three relics: Thang Tam communal house, Miss of Five elements, tomb of Mr. Nam Hai. According to legend, The Thang Tam communal house worships three people who had the great merit in building 3 Thang villages of Vung Tau. They are Pham Van Dinh, Le Van Loc, and Ngo Van Huyen. The festival in the Thang Tam communal house is annually held in four days from 17th to 20th of February lunar calendar. This is the festival for peace and the time to end and start a harvest of sea products.
The Whale festival is associated with the belief of worshipping the Whale in fishing villages from the Central to the South. Each fishing village shall organize the festival at different times but all have the thought that the Whale is a divine savior of fishermen and marine jobs in general. The Whale Festival is held in all fishing regions of Ba Ria- Vung Tau such as Binh Chau commune (Xuyen Moc district), Phuoc Tinh Commune, Long Hai (Long Dien district), Phuoc Hai (Dat Do district), Nhat Dinh Thang, Thang Nhi, Thang Tam (Vung Tau), etc. but most special is the Whale festival in Thang Tam communal house (Vung Tau city).
2. Tay Ninh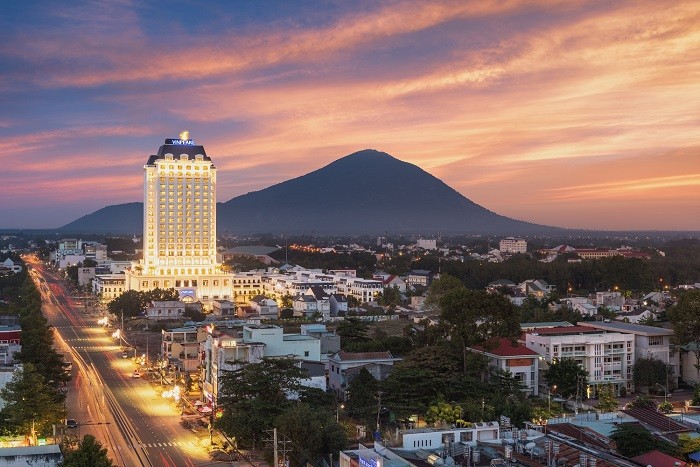 Photo: Vinpearl
Tay Ninh town, the capital of Tay Ninh province, serves as the headquarters of one of Vietnam's most intriguing indigenous religions, Cao Daism. The Cao Dai Great Temple at the sect's Holy See is one of Asia's most unusual and astonishing structures. Built between 1933 and 1955, the temple is a rococo extravaganza blending the dissonant architectural motifs of a French church, a Chinese temple, and an Islamic mosque.
Tay Ninh province, northwest of Ho Chi Minh City, is bordered by Cambodia on three sides. The Vam Co River flows from Cambodia through the western part of the province. The area's dominant geographic feature is Nui Ba Den (Black Lady Mountain), which towers above the surrounding plains.
The climate in Tay Ninh is hot and humid all year round, with an average temperature of 27.5 Celcius degrees. November to March is when it gets cooler, and will be more pleasant to travel to Tay Ninh. Moreover, as January and February is the Tet holiday, you will have the chance to enjoy the traditional activities with the locals.
It is advisable to spend one day or two days here. Many people make a day trip from Ho Chi Minh to Tay Ninh at weekends to visit Toa Thanh Temple and Ba Den Mountain (The Black Virgin).
3. Cao Dai Great Temple
Photo: Vietnam Travel Guide
Cao Dai Temple (also known as Cao Dai Holy See) was constructed in 1933 in a unique architectural style that reflects its blended traditions. Of all the places most people visit on a day trip from Ho Chi Minh City, going on a day tour to Cao Dai temple is one of the best things to do in Ho Chi Minh city to fully embrace the unique local vibe. The Cao Dai religion (Caodaism) is unique to southern Vietnam and was established in 1926, this temple was built by the French around that time. It's something completely different and rather mysterious. Cao Dai blends Buddhism, Christianity, Taoism, Confucianism, and Islam. It is the 3rd largest religion in Vietnam and the temple you will visit is absolutely stunning.
The founder of the Cao Dai religion was Ngo van Chien, a Vietnamese official who worked for the French administration. The literal translation of Cao Dai is A Top Place. This religion has distributed 5 million adherents by Vietnam, Europe, and The United States. Its symbol is an eye within a triangle, the third eye or the eye that everything he sees and the triangle is the triangle of justice.
Cao Dai's pantheon of saints includes such diverse figures as the Buddha, Confucius, Jesus Christ, Muhammad, Pericles, Julius Caesar, Joan of Arc, Victor Hugo, and the Chinese revolutionary leader Sun Yat-sen. These are honored at Cao Dai temples, along with ancestors.
4. Meo Vac, Ha Giang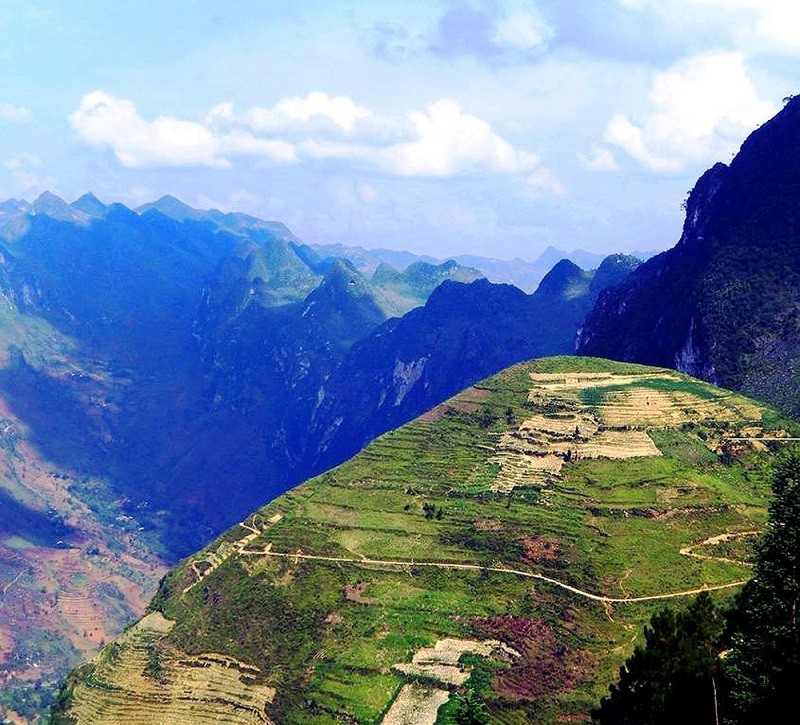 Photo: Travelgear
Meo Vac district is located in the geological park of Dong Van karst plateau, Ha Giang province. It's at the end of the happy road, 160km from the center of Ha Giang. Meo Vac has majestic scenery in the northern part of Vietnam. This place is worth every season, every season is worth seeing.
Trip to Meo Vac visitors not only in the context of space. But also in the unique cultural color of ethnic people here. Such as Vu Mong, Khau Vai love market, Phong Luu market. Those who love to Ha Giang motorbike tours will go to the remote village to explore the life of indigenous people. Tourists will go to the field with the bandwagon, drinking corn wine… singing and meeting at the community culture.
Many tourists come to Meo Vac in the spring, because they want to enjoy the natural beauty of peach blossom flowers. On the roads to the villages, or around the houses of Hmong people dyed red brilliant of peach blossom and plum blossom flowers. Many visitors have come here to experience the wild beauty of the majestic rocky cat ears, along with hard-working people.
Coming to Meo Vac, to the geological park of highland Dong Van karst. If not conquered Ma Pi Leng. It is not the end of the journey. Because this pass is considered as the top pass of Ha Giang.
5. Pu Luong, Thanh Hoa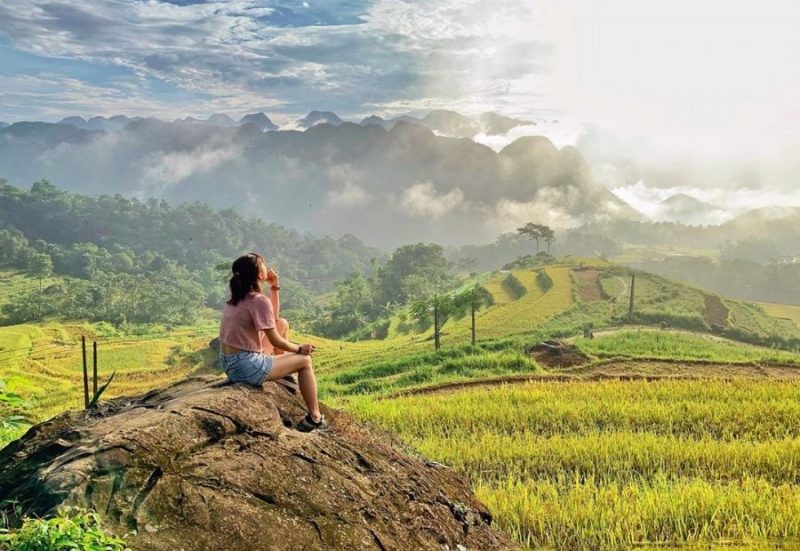 Photo: Motogo
While Mai Chau is crowded with tourists, Just 80km away, Pu Luong remains as calm as it was decades ago. Visitors who venture off the beaten track will discover pristine forests, terraced rice fields, and thatched-roof stilt huts. Recognized as a nature reserve, Pu Luong straddles the two districts of Ba Thuoc and Quan Hoa in Thanh Hoa province. An ecological treasure trove, this area has great potential for ecotourism, if it is managed sustainably.
Adventurous visitors come here to sleep in stilt houses and escape modern life. There is no Wifi, no electricity in places. Most of the area's residents are hospitable ethnic Thai people who farm rice. Passing along old lanes, visitors will reach the hamlets of Hieu, Don, Kho, and Muong. Here, stilt houses stand side by side, encircled by terraced rice fields. Some of the locals speak only faltering Vietnamese, while local children hide behind their mothers and cast shy curious glances at foreign travelers.
Visitors delight in trekking through the core of the reserve and camping overnight in Don Village, Thanh Son commune. They also enjoy the beauty of Cham fountain, which flows through the valleys in Ban Cong commune, Ba Thuoc district. While water wheels are rare in the most mountainous areas, they still operate here, carrying water along small canals in a sophisticated system that reaches the furthest furrows, according to Vietnam Tonkin Travel.
Top 10 trending destinations in Vietnam for 2022
1. Thang Tam Commune, Ba Ria – Vung Tau
2. Bao An Village, Ninh Thuan
3. Tay Ninh
4. Meo Vac, Ha Giang
5. Bien Hoa, Dong Nai
6. Cam Ranh, Khanh Hoa
7. Pu Luong, Thanh Hoa
8. Pleiku, Gia Lai
9. Thanh Hoa
10. Xuan An, Binh Thuan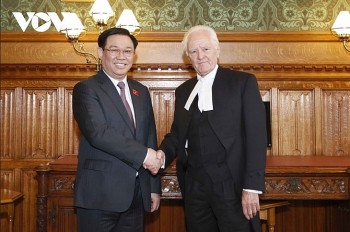 Friendship
Vietnam is willing to create all favourable conditions for investors of the UK to operate in the Southeast Asian country, National Assembly (NA) Chairman Vuong Dinh Hue told UK Secretary of State for International Trade Anne-Marie Trevelyan during their meeting on June 29 (UK time).